Adventure bike or road bike – or does it even matter what you call it? Alun Davies checks out Kawasaki's new entry into the best-selling 1000cc adventure class
The Review
The last time I rode a Kawasaki in Wales was in the late 1980s. Back then, as I no doubt falsely recall, construction companies could build a new bypass and knock up a couple of roundabouts in a few hours as opposed to the millennia it seems to take now. The speed of construction had its advantages alright, but as the back end of the ZX10 bucked and bounced wildly in an attempt to overtake the front, I also remember thinking that maybe the odd road sign or two, warning of a new roundabout up ahead, would be a worthy addition.
The location was the new A5 Oswestry bypass and I was astride a ZX10, which was briefly the fastest bike in production, en route to Dublin via the Holyhead ferry. It was early morning, there was no other traffic in view and I was on a road which I thought I knew intimately. This was also back in the days when the North Wales Constabulary would doff their caps to riders taking on the A5 at warp speed as opposed to the current policy of waterboarding bikers who stop on their patch for a bacon sarnie.
Anyway, even with the brakes full on the immediate future for both the Kawasaki and I looked as if we'd be going on gardening leave starting with a high-speed plough through the freshly manicured roundabout just up ahead. As it happened, due to having no great affection for gardening, I decided to chance a high-speed chicane manoeuvre which, to my great surprise and relief, the ZX10 pulled off with aplomb and a sure spell of smelling flowers in the local casualty ward was averted.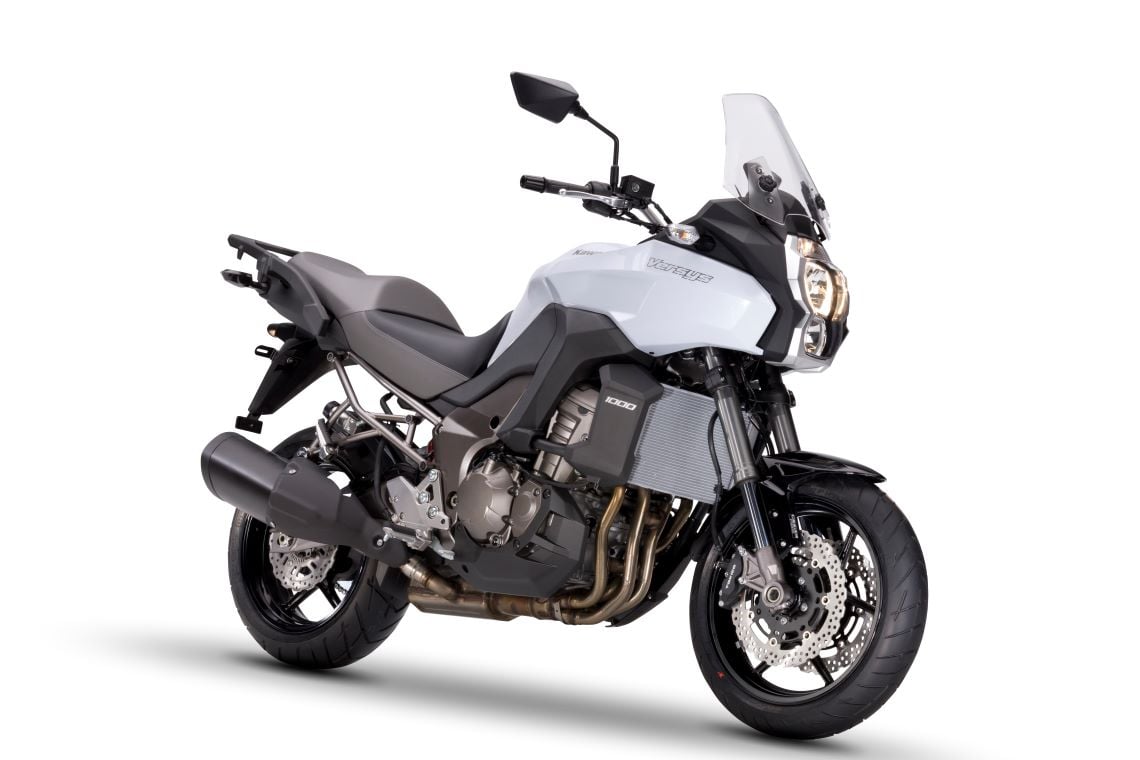 I was reminded of my great Oswestry escape during a rain-sodden approach to a roundabout on the Brecon bypass in South Wales as I rode down to join the recent ABR Welsh Rally. Sat astride a Kawasaki Versys 1000, my approach speed was far too fast for the conditions (though nowhere near my North Wales experience), but then what a difference a couple of decades makes when it comes to slamming on the brakes.
Instead of the mad, terrifying bucking experience of the ZX10 there was a firm, controlled deceleration as the ABS took over. I felt in total control, capable of executing evasive action should I wish, or if the weather was kinder, even rolling a cigarette as I safely approached the entry point. So, there we have it. The ABS on the Versys 1000 is a friend of the smoker. But what about the adventure bike rider?
I suppose the first thing to do is bring up the old argument of 'what is an adventure bike?' If you subscribe to the line that it's got to have a genuine dual-sport (off-road/on-road) capability then that would rule out the Kawasaki before the starting blocks are even made. If, on the other hand, you're of the view that an adventure bike needs to be comfortable for long distance touring, capable of satisfying your on-tarmac adventure aspirations and have the looks and stance of a tall trallie, then the Versys could be for you.
There's little doubt that a motorcycle can induce an amazing level of lust at first sight if the design department has done its job. There's also little doubt that beauty (and lust) is in the eye of the beholder, and whereas I personally find, say, the BMW R1200 GSA desirable others may not.
However, the Kawasaki design team has managed to achieve something almost unique with the Versys in so much as, over the past couple of months, only one person has gone weak at the knees when confronted with it. It has, how shall I say this…? Slightly odd looks that manage to be bland at the same time, while the horn looks as if it's been stuck on after a long night out on the town. That said, and as we all very well know, love, trust and affection grow over time and are still there when wobbly-knee moments are but a distant, fading memory.
As with the other Japanese manufacturers, with the possible exception of Yamaha, Kawasaki was caught with its pants down when you consider the appeal and sales success of big-cc adventure bikes over the past decade. The Versys 1000 is the company's first stab at claiming a share of this lucrative market and it's gone about it in a way where there is an ocean of clear water between the sector leading BMW GS and the Versys.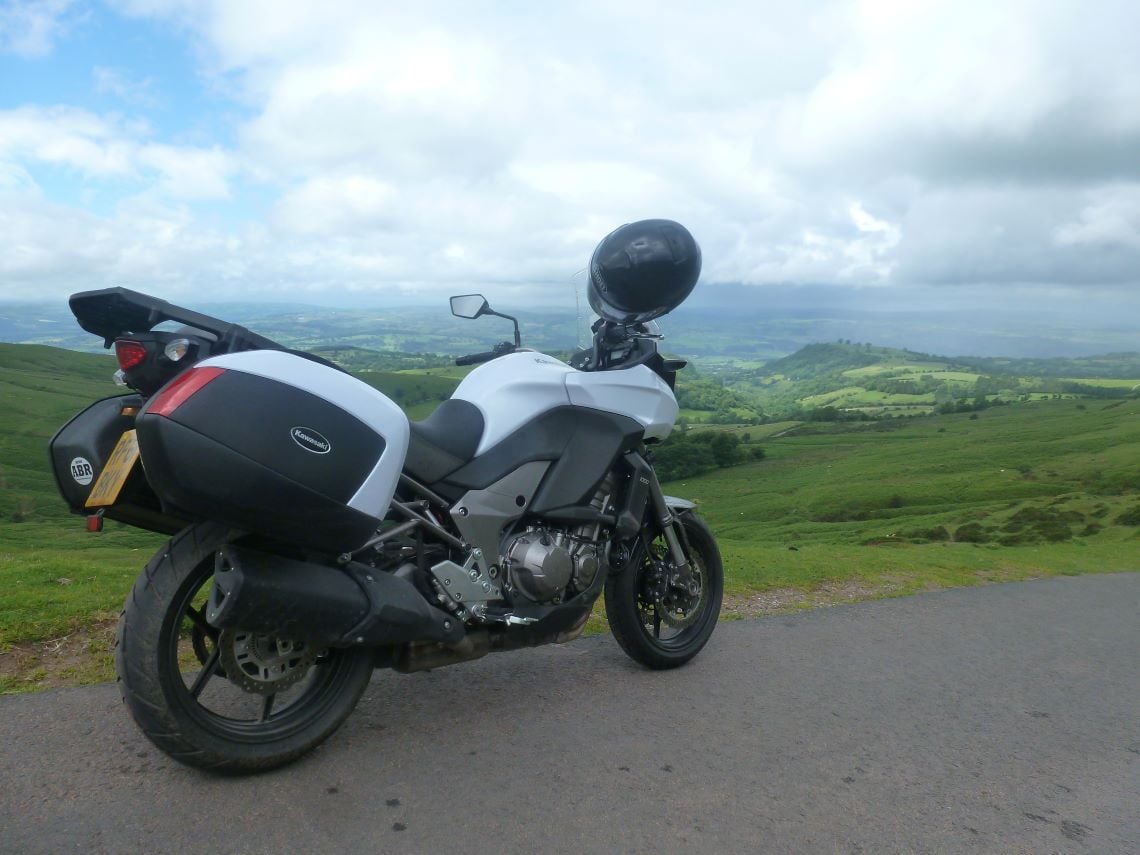 Kawasaki is insistent that this bike is no off-roader, and I concur with that view. It is, in effect, a modified road bike where the company has taken the four-cylinder power plant from the Z1000 and Z1000SX, made a few changes (more about these later), then strapped it back into a modified chassis with added strength and stability, again from the same bikes, before installing a taller suspension, a bit of plastic here and there and a wonderfully comfortable seat. The Versys 1000 is, without doubt, a long-distance adventure road tourer with an upright riding stance. And there's nowt wrong with that, if that's what you're after.
From the off the Kawasaki neither feels nor sounds like what we've come to expect from an adventure bike, confirming, if it were needed, that the heritage and ancestry is firmly from the tarmac line of the family. The Versys is quick, no doubt about that, and if speed and power are your main priorities then this bike will give the current crop of adventure bikes a good run for its money.
Better still, the power is where you're most likely to make use of it and this is down to the changes to the internals of the Z1000 shell. The valve lift has been reduced in both height and duration; there's a new combustion chamber and the compression ratio has been reduced, along with the size of the throttle bodies. The gear ratios have been changed for more versatility and with touring in mind, and when you throw in new engine mapping and exhaust system, plus a wider spread of torque, you get a level of performance which sees a 16-percent increase in fuel economy and a bike suited to fast-paced, stress-free touring with enough lowdown and mid-range oomph to play with sportsbikes on Alpine twisties.
There's no doubting that the Kawasaki is at the fast-and-furious end of the adventure bike spectrum, but the biggest surprise was in how little I needed to change gear and the immediate power delivery from low revs in top gear. Many times I found myself rolling along in sixth gear at 30mph and approximately 1500rpm and having to open the throttle to reassure myself that the immediate and pacey pickup was not something I'd previously imagined. This excellent low-down grunt was not what I'd expected from the Versys and a feature I came to value.
The ride down to Wales on what had become a typical summer day in 2012 – torrential rain and cold – showed up both the strengths and weaknesses of the Kawasaki as an out-of-the-box tourer. First off, the ABS and traction control are as I like them; they worked without fuss and I was hardly aware of them 99 percent of the time. On saying that, I did have the back wheel spin out a touch before the system kicked in while accelerating hard on a single-track lane heading up and over the Black Mountains into Hay on Wye, but in fairness the road conditions were very loose, slippery and wet.
On the downside the stock bike comes without hand guards/wind defectors and there are no heated grips either, which on a bike that's essentially aimed at the adventure touring market, I'd expect to see at least one or the other (preferably both) as standard. In the wind and rain of a late June day in the Brecon Beacons, my hands were so cold – I was wearing a full winter glove ensemble at the time – that at one point I considered stopping to warm them up. Not good.
The stock screen is easy to adjust, which is nice, but it's not big or effective enough for a long-distance tourer, at least it's not if you're 6ft 2. I'm sure there'll be a few aftermarket options available soon, but why not get it right from the off and save customers a few bob in the process? The lack of an efficient screen is not exclusive to Kawasaki and could be aimed at almost all manufacturers, with the notable exception of BMW.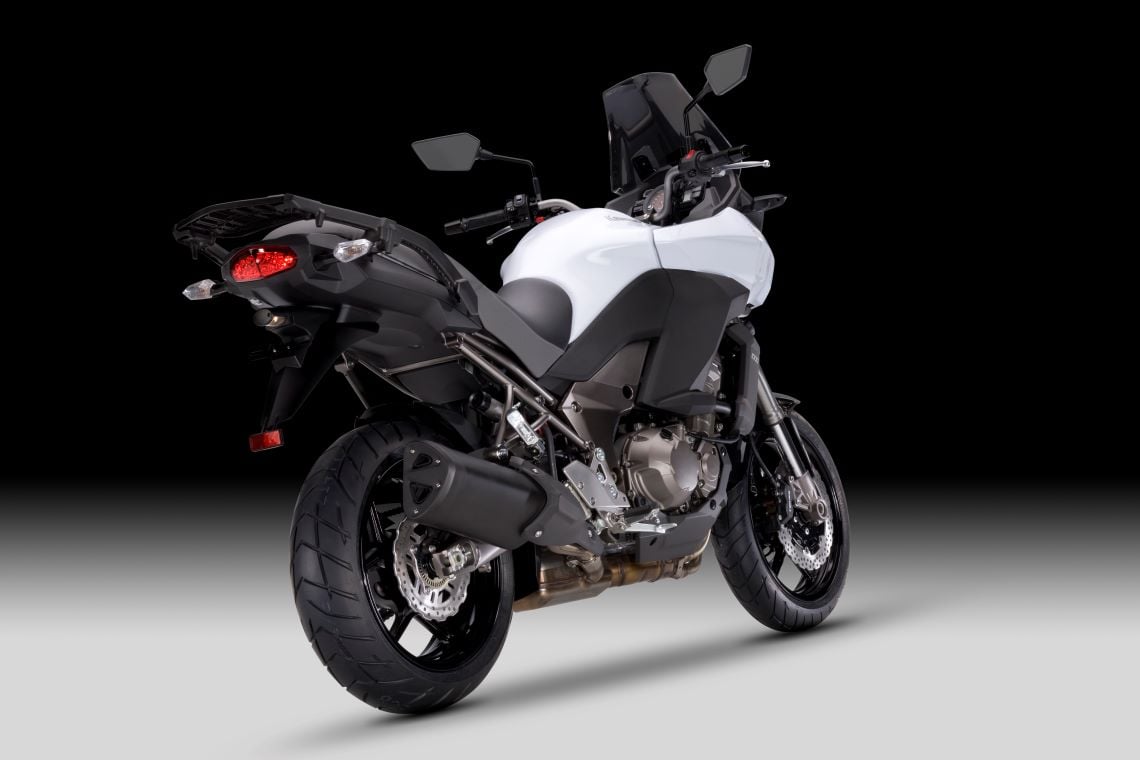 Most riders will find the ergonomics of the Versys friendly and comfortable, and those of a shorter stature will value being able to get their feet down far easier than on some of the taller adventure machines. At 6ft 2, I never felt cramped and the seat is one of the best if not the most comfortable in its class; in fact it's better than some of the specialist aftermarket products I've spent a small fortune on in the past.
At legal speed limits on motorways the Versys feels like it's ticking over with bags of power in reserve. If you like your continental trips to include a blast down the unencumbered autobahns then I can tell you now that I've no idea what the top end speed is but can advise that, fully loaded and with panniers attached, all is blissful until a slight wobble kicks in at around 135mph, which I'd guess is fast enough for most.
At the ABR Welsh Rally I led a ride-out which included many of my favourite roads and took in some of the best views in South Wales. These ranged from fast paced snaking dual carriageways to valley roads with Alpine bends and single-track mountain roads which hug the contours of the hills and are fast turning into green lanes. On the fast twisties, the Versys is a class above most other adventure bikes and performs more like the road bike it essentially is. On loose, slippery single tracks it was a blast; I found it easy and willing to flick around and the power on tap, in all gears, meant the pace could be as fast or as relaxed as anyone who's going to buy an adventure bike is likely to want. If you need more, buy a ZX10.
One area where the Versys could be better when measured against other adventure bikes is the suspension. Overall, and especially on well-maintained roads, it's fine and not a deal-breaker, but when riding uneven back roads – which are becoming the norm these days – it's not as plush and forgiving as most and could be described as bumpy and hard. In general use I've been returning around 46mpg, which means just over 210 miles before a refill is needed, and the longer I've been in the saddle the more I've come to value the excellent comfort and performance of the Versys. Could this be the start of something big?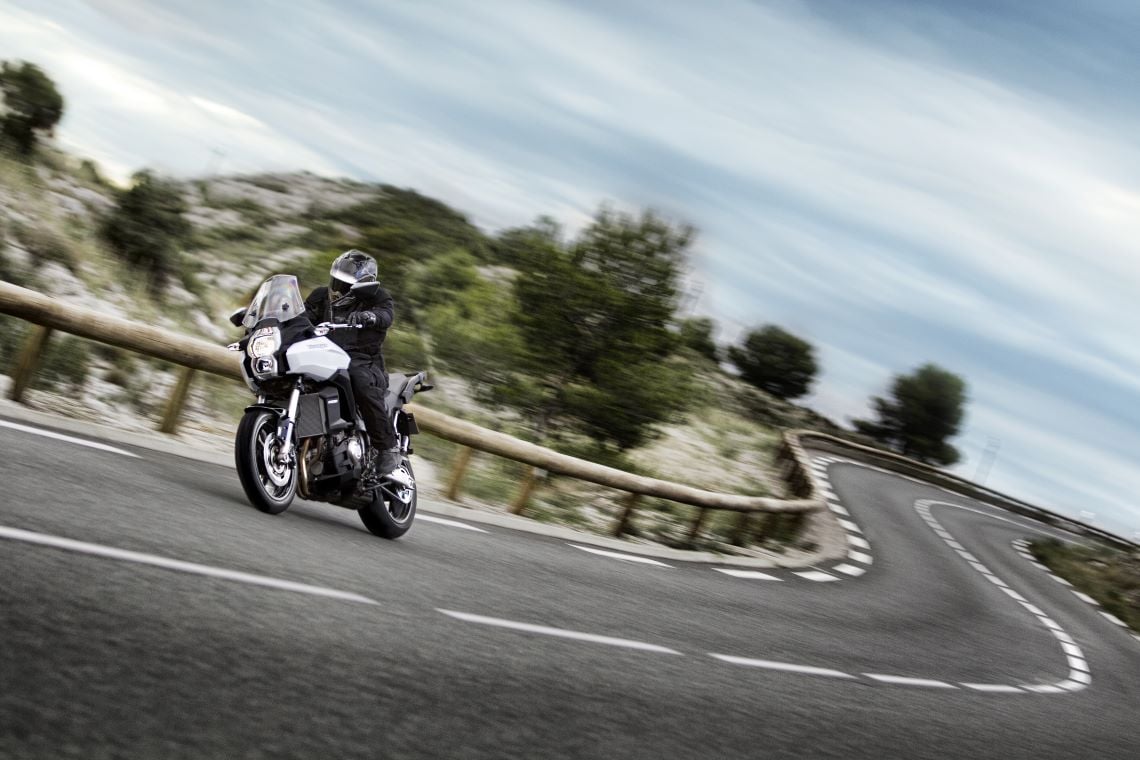 Off-Road
As it stands the Versys is no off-roader, there is nothing about this bike which is suited to the rougher stuff. For example, the layout of the exhaust system means that if you were to add even the flimsiest of bash and skid plates it would reduce ground clearance to the point that you'd have a problem going up kerbs. If you want off-road capability, look elsewhere.
Conclusion
The Kawasaki Versys 1000 stretches the definition of 'adventure bike' in to one that includes 'solely built for road-going trips' and that is where this bike excels. At £9,499 it's less expensive than other 1000cc-plus adventure machines and if you've no off- tarmac aspirations and are comfortable enough in your own skin to live without ego-boosting 'that's a lovely bike' comments, there's very little to fault on this bike.
It's got enough power, comfort and two-up touring ability to ensure you'll end up having a long and happy relationship and that's something you can't say with some of the stunners with which it competes.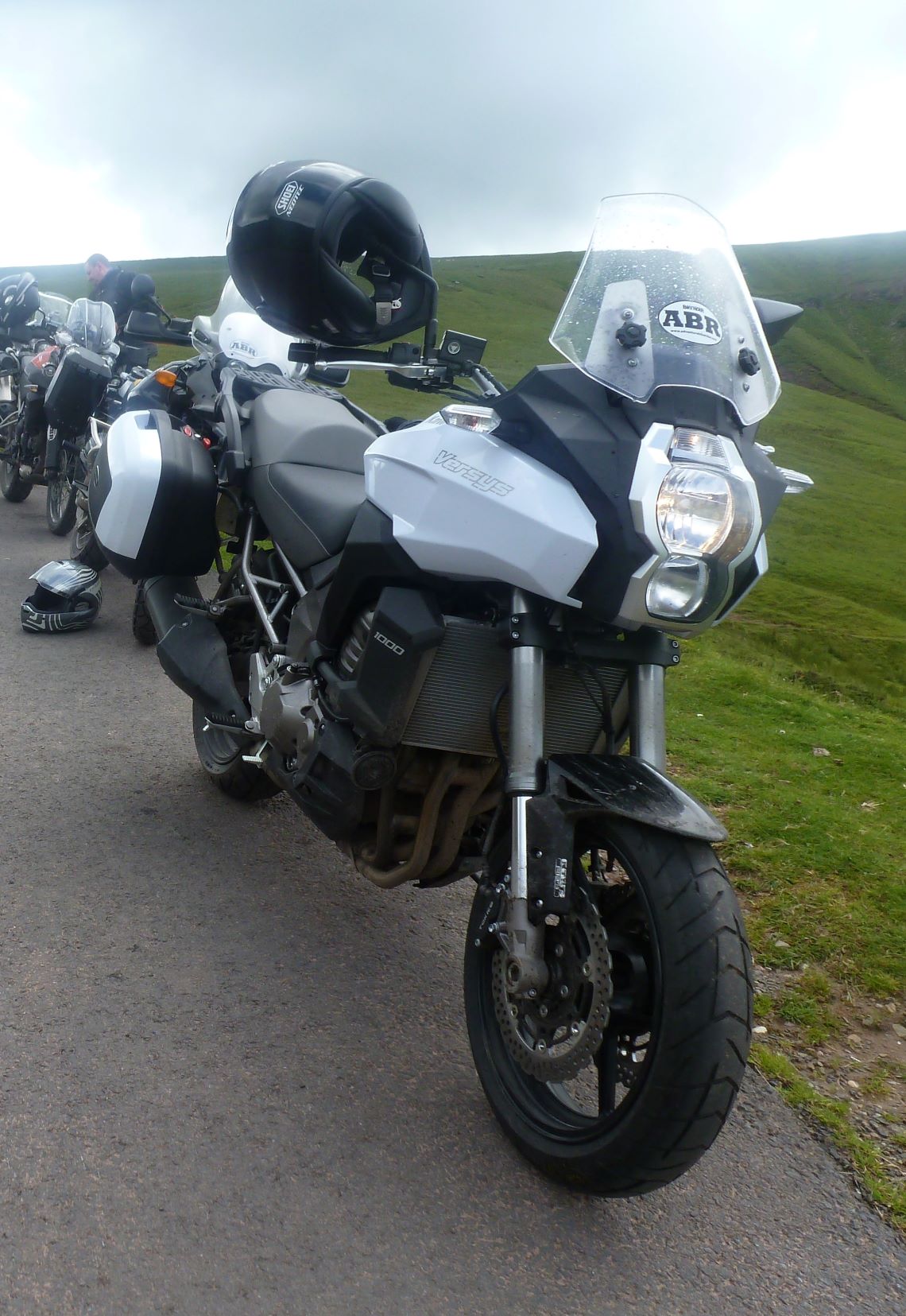 How Versatile is the Kawasaki Versys 1000…
AS A COMMUTER?
Having used the Versys for a month travelling across the very heavily congested badlands of Stratford upon Avon en route to the ABR office – and bearing in mind this is a big 1000cc adventure-style bike – I'm happy to report there's nothing about the Kawasaki that's made me think 'I wish I was on…'. What I do wish is that my commute to the office was longer and on open roads, which is where the Versys 1000 comes into its own. If I have a complaint then it's that I can't fit my laptop case in the standard Kawasaki panniers.
AS A WEEKEND TOURER?
The Versys 1000 is spot on for comfortable, fast-paced touring and copes just as well when fully loaded with a pillion. There's bags of power for no-stress high-speed motorway cruising and it handles well enough to bring a smile to your face on twisty A roads. It's just the job for nipping down to Cornwall or up to Scotland to re-charge your batteries.
AS AN OFF-ROADER?
If you've any off-road aspirations, look elsewhere. The Versys 1000 is an adventure-style bike where the adventure ends when the tarmac runs out, and in fairness to Kawasaki, the company wouldn't argue with that statement. In reality you could take this bike 'off road' but only in the same way that you could take a BMW RT off road. In other words, it just isn't designed for the rough stuff.
AS A CONTINENTAL ROAD TOURER?
Good MPG, a 210-ish tank range, superbly comfortable seat, copes well fully loaded and with a pillion on board, effortless high-speed motorway cruising and enough zing to turn those Alpine twisties into a two-wheeled playground.
AS AN RTW OVERLANDER?
Not every RTW adventure involves getting up to your goolies in equatorial mud or riding for thousands of miles across desert pistes. It is in fact possible to ride around the world without ever leaving tarmac and if that's where your aspirations lie then the Versys 1000 would do quite nicely.
AS A PILLION CARRIER?
Reports from the back seat have been mixed. The seat is possibly the most comfortable in its class, and based on the glowing pillion reports I wouldn't be surprised if I came home one night to find the settee in a skip and the Versys seat in the middle of the lounge. However, and despite my best efforts to ride smoothly, we've been having more helmet-banging moments on the Versys than on most other adventure bikes.
QUICK SPEC
MODEL: Versys 1000
PRICE: £9,499
CAPACITY: 1043cc
MPG: 46mpg (actual)
TANK CAPACITY: 21 litres
RANGE: 212 miles
POWER: 116bhp at 9000rpm
TORQUE: 75lb ft at 7700rpm
TRANSMISSION: 6 speed chain drive
SEAT HIGHT: 845mm
WEIGHT: 239kg (wet)
WHEELS: 120/70ZR17M/C (58W) front; 180/55ZR17M/C (73W) rear
SUSPENSION FRONT: 43mm inverted fork with stepless rebound damping and spring preload adjustability
SUSPENSION BACK: Horizontal Back-link, gas-charged, with stepless rebound damping and remote spring preload adjustability
BRAKES: Dual semi-floating 300mm petal discs calliper: Dual opposed 4-piston front; single 250mm petal disc calliper: Single-piston rear
COLOURS: Metallic Magnesium Grey/ Pearl Stardust White