Warmer days call for cooler clothing, so Bryn Davies puts eight pairs of summer riding gloves to the test
In the years that I've been testing gear for Adventure Bike Rider, I've come to notice something about motorcycle clothing. It seems as though hours and hours are spent researching the best motorcycle jacket, pair of trousers, helmet, or boots in an effort to make our riding experience that bit more comfortable.
We spend hundreds upon hundreds of pounds on insulated linings and Gore-Tex jackets only to put a smidgen of that thought into the gloves that we wear.
While a good jacket, helmet, or pair of boots will certainly have a huge impact on your enjoyment once you're in the saddle, it's amazing how much difference a decent pair of summer gloves can make to your riding experience in the warmer months. 
A good summer glove should do all of the following: keep your hands cool, comfortable, and protected. How it will do this varies from manufacturer to manufacturer, but we like to see good ventilation options, a nice, soft inner lining, and armour in places that need protecting if you take a tumble.
Typically, you'll see a combination of all of these in various ratios, as more armour will typically mean less comfort and a warmer glove.
With this in mind, we've compiled a list of the eight of the best summer gloves you can buy to help your hands feel comfortable and stay safe in the saddle.
£149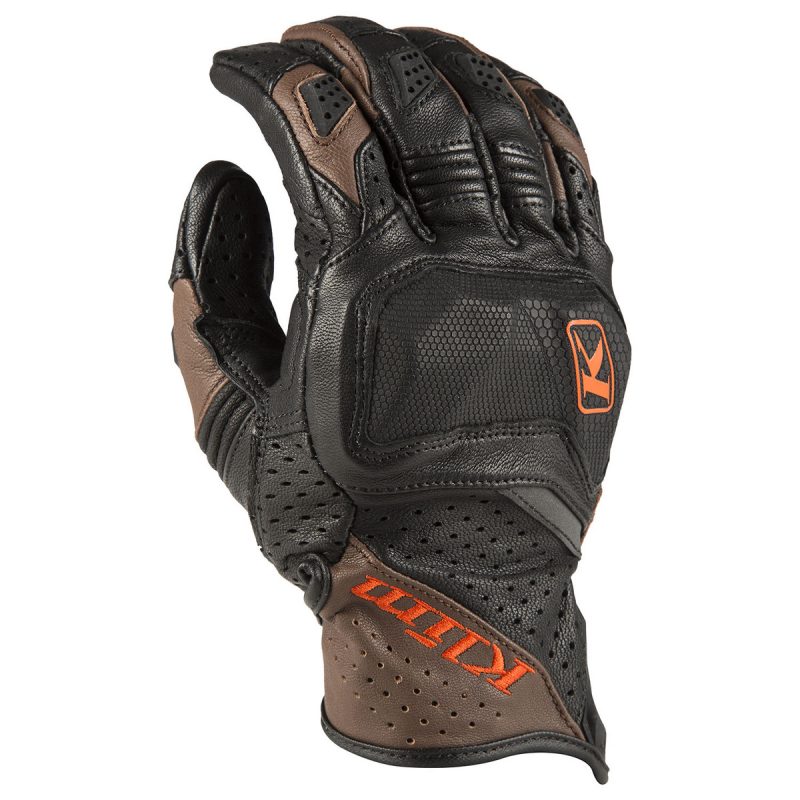 Klim has a rich heritage of manufacturing top quality riding kit that's designed to perform well for adventure motorcyclists, and the Badlands Aero Pro gloves look set to live up to the company's reputation. According to Klim, these gloves have been built to meet the demands of the intercontinental adventurer and are designed to be your "go-to glove for the majority of riding conditions". I don't know about the majority of riding conditions part, but for summer weather, these are one of the best pairs of gloves around.
This is down to the effective combination of excellent ventilation, sufficient protection, and top-level comfort that the Badlands Aero Pro gloves provide. They're very lightweight and tactile, offering a fit that allows you to feel your bike controls with accuracy, and the leather outer is premium and attractive.
If you're riding in warm conditions, these are the gloves you want. The leather is perforated throughout, and my hands were kept cool when riding in the recent heatwave we've had. I wouldn't want to wear these when the temperature drops, though that's not when they're intended to be used. Protection is provided by a hard knuckle protector, which feels sturdy and reassuring, some padding on the fingers and thumb, and a reinforced and padded palm. The fingertips are also touch screen friendly.
They're expensive, but there's no doubt that they're an excellent pair of summer riding gloves.
In a line: Top quality summer riding gloves.
£139.99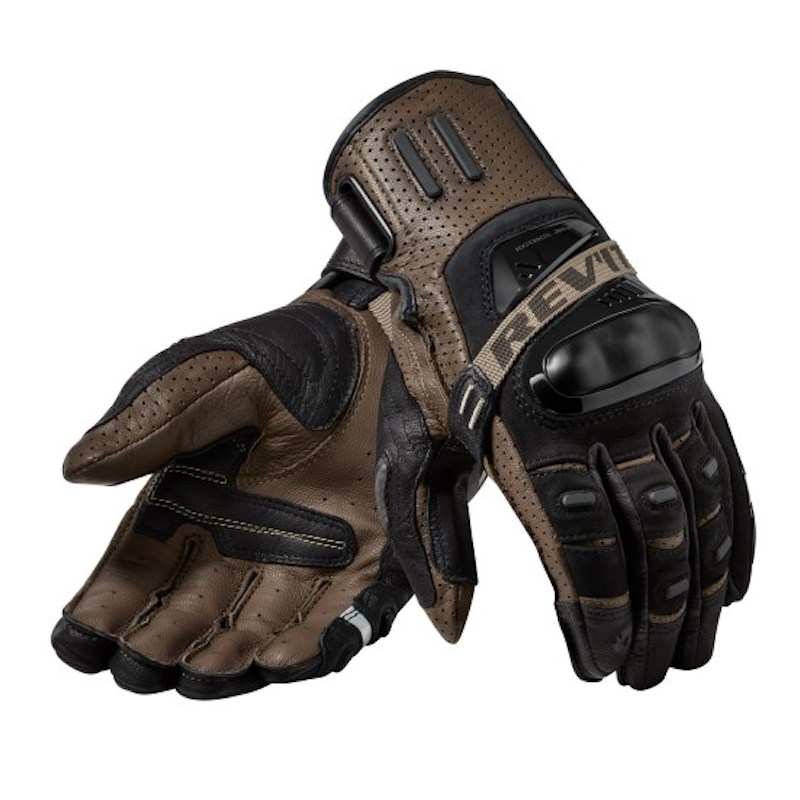 When a pair of gloves cost as much as some jackets do, they better offer something special to be deemed anything other than a rip off. Fortunately, the Cayenne Pro gloves are pretty amazing, and like most other Rev'it! kit that I've tested, they do a good job of justifying the humongous price tag. Upon handling the gloves, the quality of construction is instantly noticeable, along with the premium materials that are used. The outer is 100% leather, with ours coming in a very attractive brown and black colourway.
Protection on the Cayenne Pro gloves is quite simply outstanding. The knuckle protector is the most solid I've felt, while the fingers all get protectors, the thumb gets a substantial hard armour insert, the palm is reinforced, and a hand slider is nicely positioned. Amazingly, despite all of this armour, the Cayenne Pros are both lightweight and tactile, allowing a good feel of the bike's controls in your hands.
Comfort wise, these excel. The inner is delightfully soft, there's padding where the armour is placed, so that it doesn't cause discomfort, and the ergonomic shaping is spot on. I did have a bit of a niggle with something digging into my little finger, though this ceased after the gloves were broken in (which took about an hour of use). The wrist strap is one of the best I've seen on any gloves before as well, bringing the cuff securely and snugly around the wrist in a very easy-to-use motion.
Ventilation is superb, with perforations throughout allowing for a good in-flow of cooling air.
In a line: These gloves ooze quality and style.
£64.99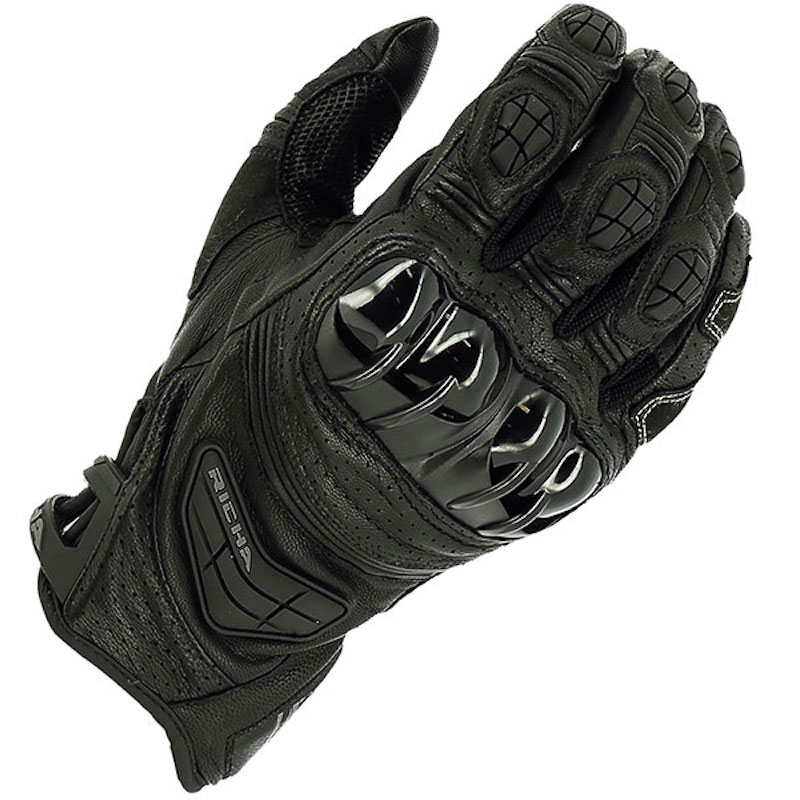 Richa is a brand that consistently produces very good quality kit, and the company's textile suits are excellent if you're in the market for one. We've been testing the Stealth gloves, which are just one of Richa's 70-strong lineup of riding gloves. The Stealth gloves features a goat leather outer, aramid reinforced seams, an aggressive styling, and at £64.99 they sit comfortably in the middle of the price range.
The gloves are nice and light, and the leather is perforated throughout to allow for a good amount of ventilation, making these suitable for road-based adventures in warmer climes. Comfort is good from the off, with no seams digging in, though the sizing does seem to be slightly off, with my L coming in a bit small, so I would recommend trying these on before buying. The cuff is short and features a Velcro adjuster, and for added comfort, there's foam padding.
In terms of protection, the Stealth gloves come fairly well equipped and are CE-approved. The goat leather and aramid reinforced stitching provide a good amount of abrasion resistance, while a hard knuckle protector and rubber finger reinforcements will help protect your hands from impacts. The palm of the gloves also features reinforcements and extra padding for comfort and impact absorption.
All in all, if you can get the right fit in these gloves, then you won't be unhappy with them. They provide a good amount of comfort, they perform well in warm weather, and there's a decent amount of protection on offer.
In a line: A solid pair of summer riding gloves.
£79.99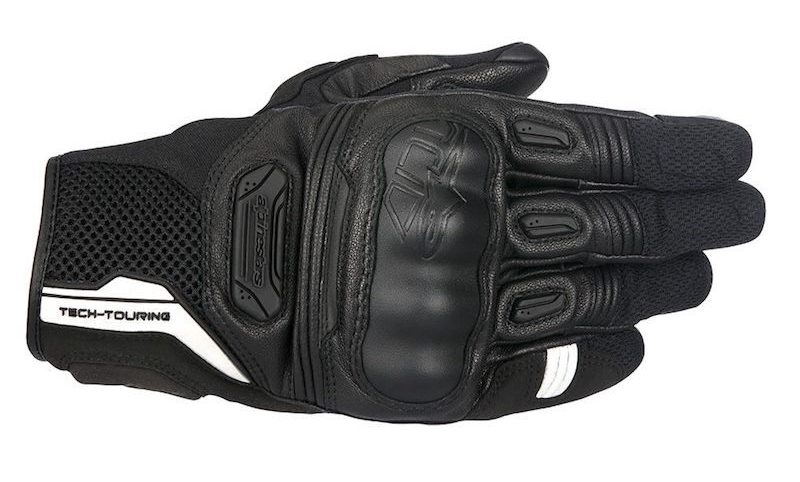 As we approach the £80 mark in this group test the gloves take a bit of a turn in terms of the quality on offer, and there's a noticeable difference in the overall feel of them. The Highlands gloves that we have here are Alpinestars' entry for review, and they're a short-cuffed, leather glove which are surprisingly well-featured.
Right from the off it's immediately apparent that a lot of thought and effort has gone into the design and creation of the Highlands gloves. It seems as though every aspect, from protection to comfort to style has been thought of, and everything comes together to create an exceptional pair of summer riding gloves. Comfort is fantastic from the off, with the ergonomic fit moulding to the natural curve of your hands, there are no irritating seams and the armour is well placed and moulded to sit comfortably on the hand.
Speaking of armour, and you get a lot of it on the Highlands gloves. The knuckles are reinforced with a substantial guard, the fingers and backhand feature sliders for impact and abrasion resistance, there's EVA foam padding on the thumb and aramid reinforcements on high wear areas. All of this, along with the quality goatskin leather used throughout and strategically placed reflective panels, means that protection is more than an afterthought here, and it's great to see.
One thing to beware of, however, is the fit. Like most Alpinestars products, the sizing is on the small side, so you'll want to try these on before you buy, and you'll probably see yourself go up a size.
In a line: An excellent pair of summer gloves that cover all bases.
£79.99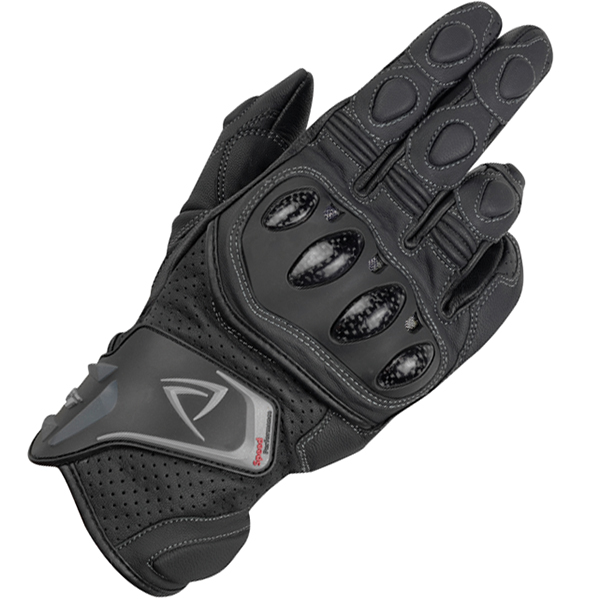 Difi is a motorcycle clothing brand that's relatively new to the UK, though it has been plying its trade over on the mainland for a number of years now. The company's entry to this review is the Spike gloves, a pair of summer riding gloves that have a short cuff, a full goatskin leather outer and a number of protective features to make them suitable for motorcycling.
The leather that's used here is luxuriously soft and makes for a supremely comfortable wearing experience, even straight off the shelves, when combined with the ergonomically curved fingers. The leather is perforated on the backhand to help keep you cool, but the best inclusion for warm days is the three vent holes under the knuckle armour, which do a fantastic job of allowing cooling air to flow into the gloves.
Protection is provided by a very substantial feeling knuckle guard, padded fingers, double leather reinforcements on hard-wearing areas and the inclusion of the highly-rated Knox Scaphoid Protection system on the palm, which is a great addition. Safe to say, for such a light and airy pair of summer motorcycle gloves, the Spikes come surprisingly well-equipped from a protection point of view.
In terms of the fit of the gloves, I went a size larger than usual and they were then spot on, and the ergonomic shaping of the gloves went a long way to increasing comfort. The short cuff is Velcro adjustable, is lined with a soft material, and it features extra padding for protection. Unfortunately, the gloves aren't touchscreen friendly.
In a line: Superb comfort and great ventilation.
£89.99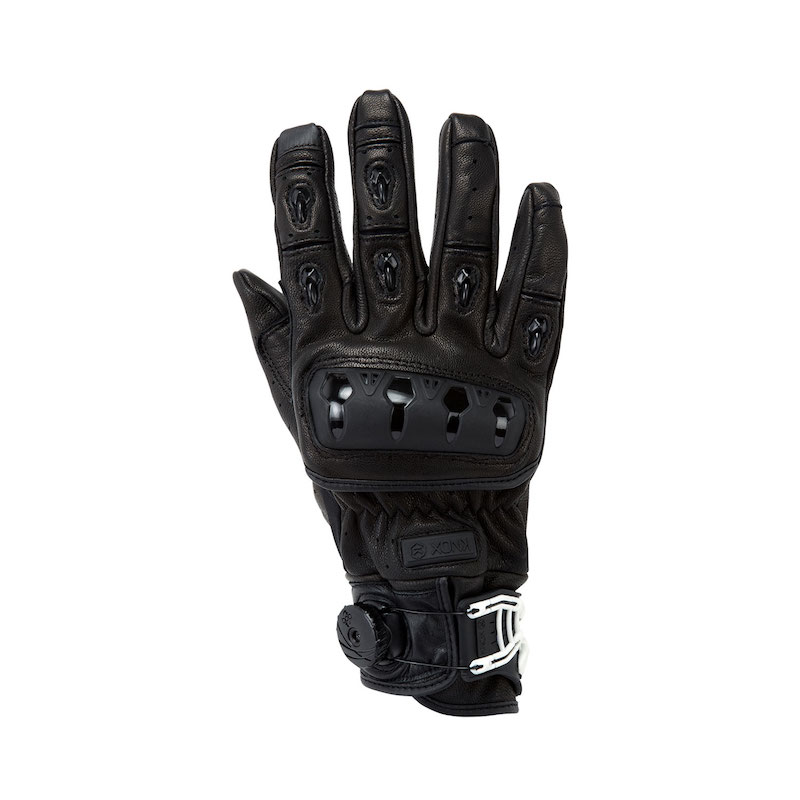 Knox has an excellent range of motorcycling gloves, and in the past we've been very happy to wear the Zero 2, one of the company's winter glove offerings. With the temperatures rising, we've been testing out the Orsa gloves, a pair of lightweight, mostly goat leather, short-cuff summer riding gloves, which retail at a reasonable £89.99. As with all things Knox, the Orsa gloves are very well made and designed, with a few features that make summer riding even more enjoyable.
Protection is provided by a floating hard knuckle protector, which is backed by memory foam for extra comfort, abrasion-resistant sliders on the fingers, and a low profile Scaphoid Protection System on the palm, which will help you avoid injuries caused by your palm hitting the tarmac. The goat leather also provides a high level of abrasion resistance, and it's perforated in places to provide ventilation, making these gloves ideal for warm days.
One of the best things about these gloves is the BOA wrist closure system, a micro-adjustable dial which allows you to tighten the cuff with ease. It's a system I've used on my snowboard boots and running shoes before, and it allows you to get an accurate, snug and comfortable fit effortlessly and quickly. At first, it can be a bit of a fiddle, but once you're used to it, you'll be wondering why all gloves don't come with a BOA closing system.
In a line: Top quality summer riding gloves with excellent features and comfort
£99.99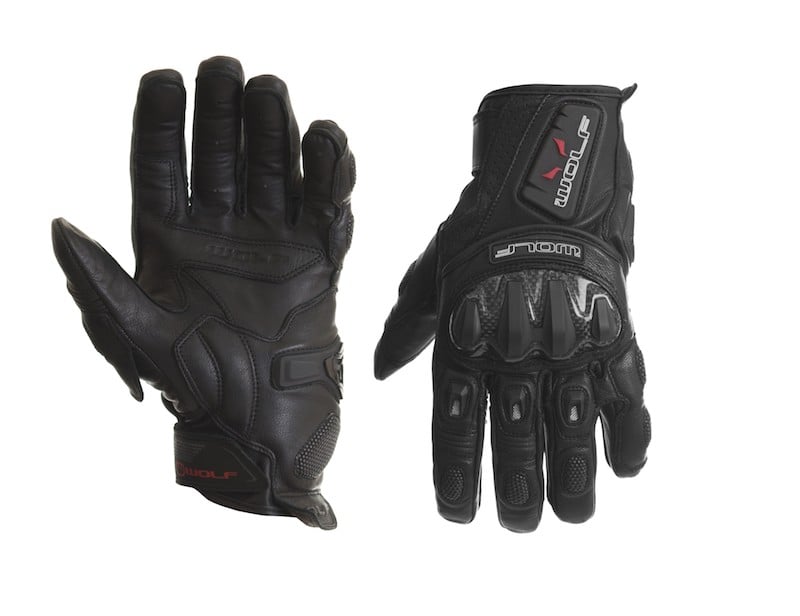 At just a penny shy of £100, the Wolf Kangaroo GT-S Sport gloves sit themselves towards the higher end of the price range, but for your money, you get a very well-featured pair of gloves, that have just about everything you'd want a summer riding glove to have. They're made with a full leather outer, while the inner is a soft polyester lining for added comfort.
The Kangaroo GT-S gloves are perhaps the most well-featured gloves in this test from an armour perspective. You get a carbon knuckle protector, extra knuckle padding on the fingers, a palm slider, extra padding on the scaphoid, and an armour insert on the thumbs. Amazingly, all of this is included while also allowing exceptional levels of comfort and dexterity, though you may find the thumb armour slightly annoying in use, as it's allowed to flop around, being attached only towards its upper end.
Ventilation points along the fingers, as well as perforated patches of leather, allow cooling air to enter, which is welcome in warm weather, while the inner lining helps to keep your hands comfortable in use. Unfortunately, the fingertips aren't touch screen friendly, though I'd be willing to overlook the omission based on how well the gloves perform in other areas.
Stylistically, the gloves have an aggressive look to them, and they wouldn't look out of place on a Mad Max set.
In a line: Great looking, fully-featured summer riding gloves.
£94.99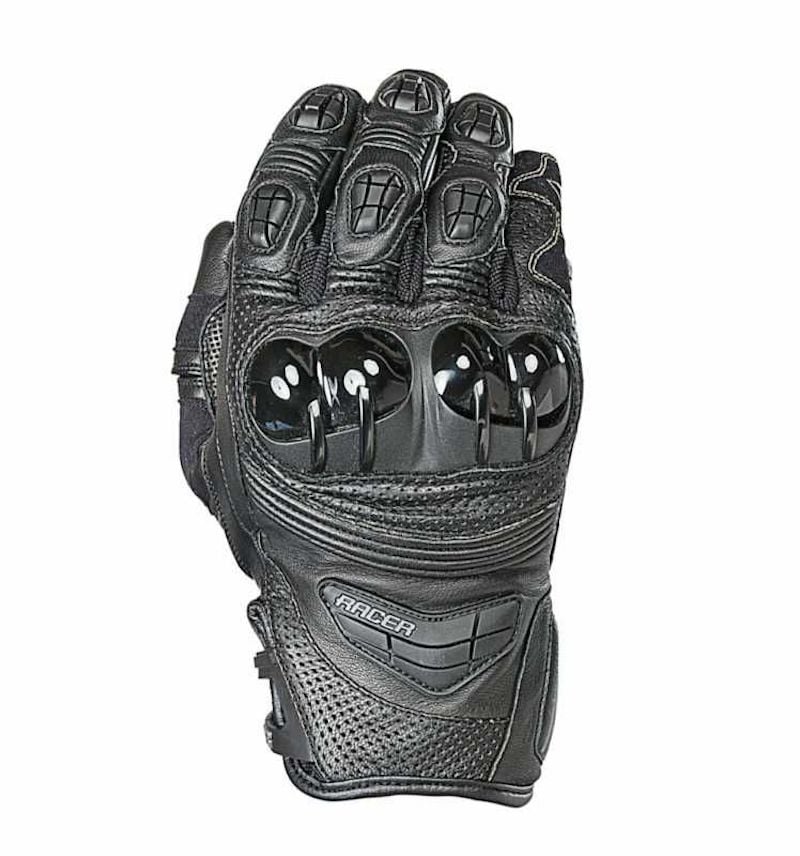 To give you an idea of just how little these gloves affect dexterity, I've decided to write this review while wearing them! The Sprints are a pair of leather summer riding gloves from Racer, and at £94.99, we're getting very close to that £100 mark, where you'd expect gloves to be exceptional. For the most part, these are very good gloves, providing comfort, protection, and dexterity to very high levels.
These gloves come well equipped for summer road riding, with the leather being perforated for about half of its coverage, allowing a lot of cooling air to be drawn in. The hard knuckle protector is sturdy and well-placed, while knuckle sliders and a padded palm reinforcement help provide further impact and abrasion resistance. This amount of armour helps the gloves to provide a reassuring, snug fit while still retaining dexterity.
Comfort-wise, the gloves excel, thanks to the well-placed armour, the lightweight leather and the soft inner lining, and I'd be more than happy to wear these on long days in the saddle.
If touch screen compatibility is a must for you, then you'll be disappointed to learn that these don't offer it. If you're happy to overlook this, however, then the Racer Sprint gloves are an excellent, lightweight pair of summer riding gloves.
In a line: Comfort for days with little impact on dexterity.