Buying motorcycle gear can be an expensive business, particularly for new riders. Once you've shelled out for that rugged adventure jacket, the best helmet you can afford, and waterproof but breathable boots and gloves, you can easily have spent more than £1,000.
At this point, it can be tempting to scrimp on your motorcycle trousers, or simply throw on a pair of casual jeans and hope for the best. I'll admit to committing this sin when I started riding. That was until it was pointed out to me that the abrasion resistance of your everyday fashion jean is akin to that of tracing paper when rubbing along asphalt at speed.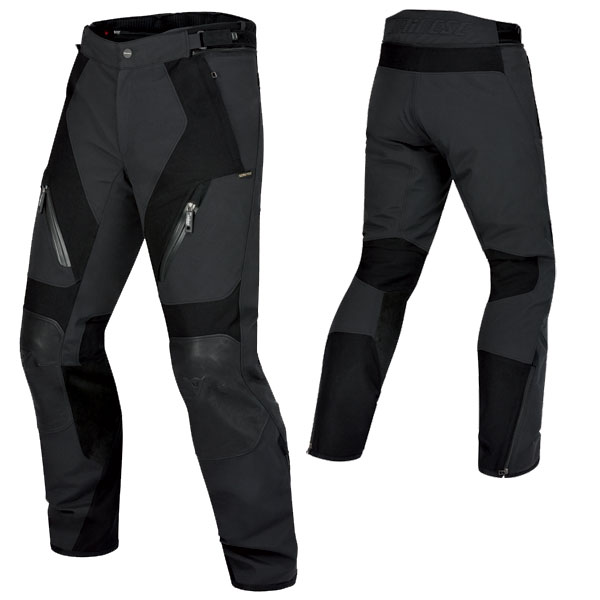 So, while motorcycle trousers may not be the most glamorous of purchases, a well-made pair will save your skin, keep you comfortable, and be equipped with features that make daily biking life easier.
To help with your next purchase, we've teamed up with online store XLmoto to highlight what to look for when buying motorcycle trousers. For this buying guide, we'll be sticking to textiles as they lend themselves to the demands of adventure biking more so than leather or motorcycle jeans.
Fit
Fit is the most important thing to consider when buying textile trousers. An ill-fitting pair will dig in, ride up, or drag along the floor. You will also want to make sure your trousers fit properly if they are to effectively protect you from the elements and in the event of an accident.
Sizing, cut and fit can differ significantly between manufacturers, so either try them on before you buy, or don't be afraid to return them for another size if you are buying online. It is also worth reading online reviews left by people who have bought a product. They will often comment on sizing variations between manufacturers.
Armour
We like to see substantial armour at the knees and hips as a minimum, though extra protection on the coccyx is welcome. Ideally, it should be included with the trousers when you buy them rather than you having to pay out more money afterwards. The armour should be CE-approved and detachable for washing.
Thermal liner
Most trousers will come with a removable inner liner, but these do not always perform as effectively as they should. While it is a good idea to have one, if you plan to ride in cold weather it is worth investing in a good set of thermals as well.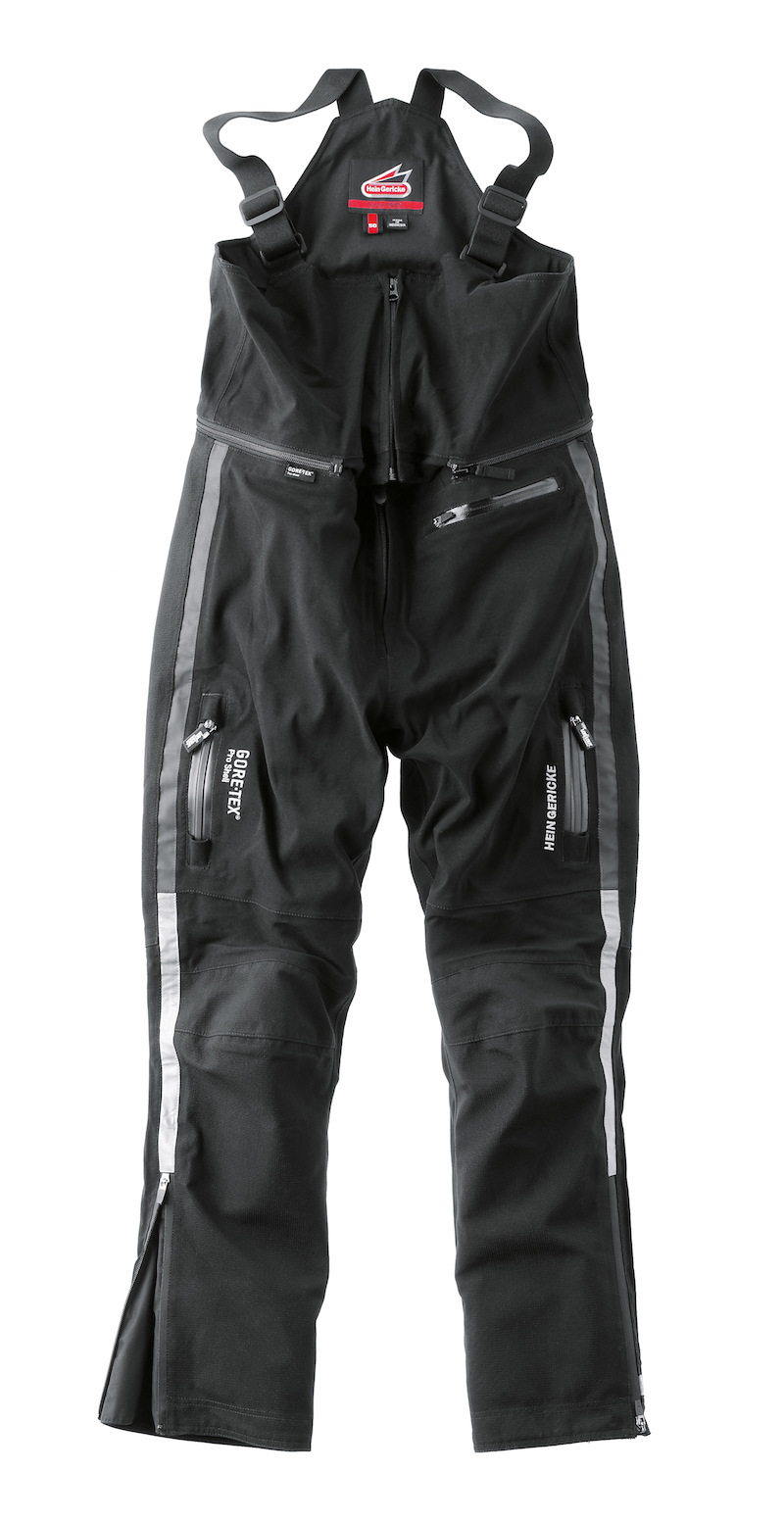 Ventilation
Wearing textiles in summer can get uncomfortably hot, even when travelling at speed. Ensure your trousers have vents that allow for a good amount of air flow, are positioned effectively and are protected by a storm flap or water-resistant zip for when it rains.
Waterproofing
If you're riding in the UK, you will want to ensure your trousers keep you dry when it inevitably rains. We recommend opting for laminated trousers with a waterproof membrane bonded to the inside of the outer shell. The alternative is a three-layer system which has an outer, a removable waterproof lining, and a removable thermal layer.
Laminate trousers tend to be more expensive because of the increased costs of manufacturing, but they offer better comfort, are less hassle to use and they are usually lighter and less cumbersome to wear.

Strong zips
Ideally you will want to have water resistant zips on your trousers. If not, ensure they can be covered with a storm flap. Zips should be sturdy enough to stand up to years of use and be big enough to use when you are riding and wearing gloves. It is frustrating trying and failing to use a fiddly zip on the road.
Storm flaps
Substantial storm flaps will help keep you dry in the rain. They are designed to cover zips which are a weak point for water seepage. Ensure your trousers are equipped with sturdy storm flaps if you don't want zip leakage.

Braces
Here at ABR, we think braces should come as standard on all motorcycle trousers. Don't worry about looking like Gordon Gekko, a good pair of braces will keep your trousers in the right place and prevent the armour moving around.
Pockets
A good set of deep pockets will allow you to keep all those things you need close to hand while riding. They need to be deep enough so your wallet or phone don't fall out. And make sure they are not so tight that you struggle to get your hands in and out. This can be annoying when fishing around for your credit card at toll booths.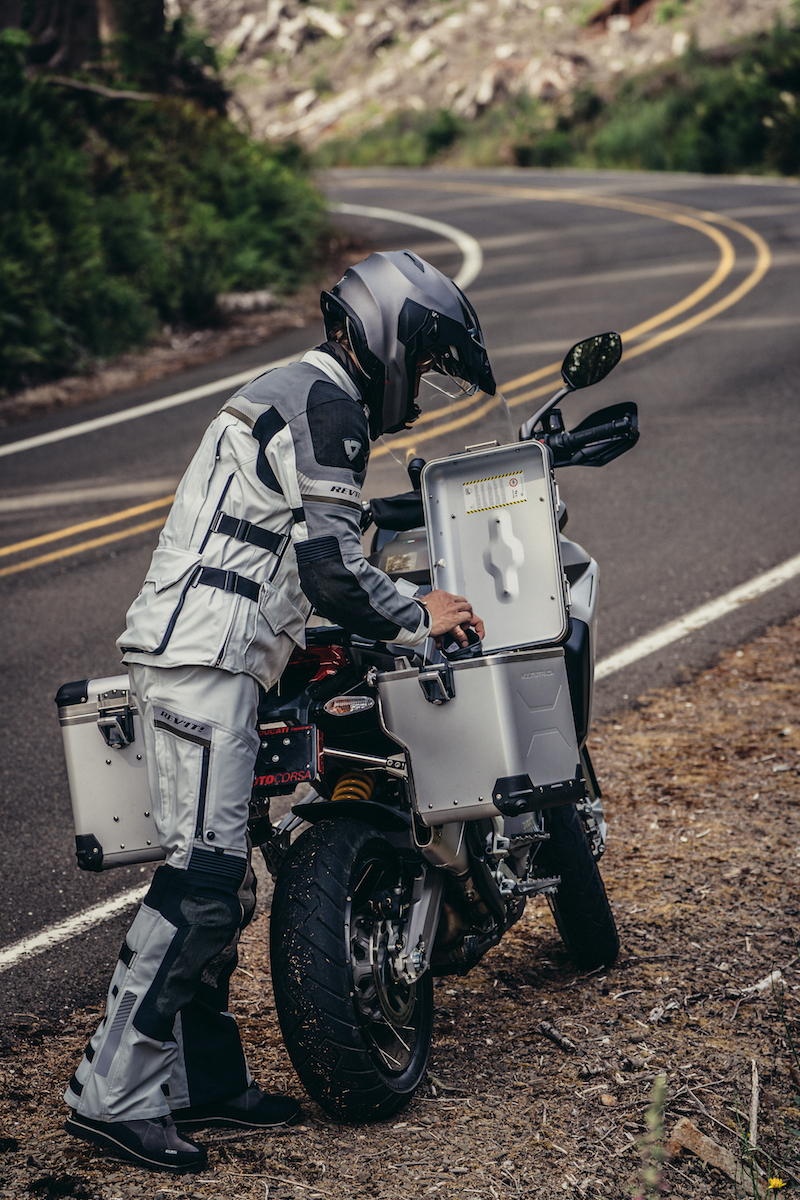 Inner mesh liner
If you opt for laminated trousers, you should look for an inner mesh liner which will allow sweat to be wicked away from your skin. It will also protect the membrane from abrasions and dirt on your body, as well as making the trousers more comfortable to wear.
Waist fastener
Whether your waist fastener is Velcro, a press stud or a clip, it is best to have two, a main and a back-up, in case of failure.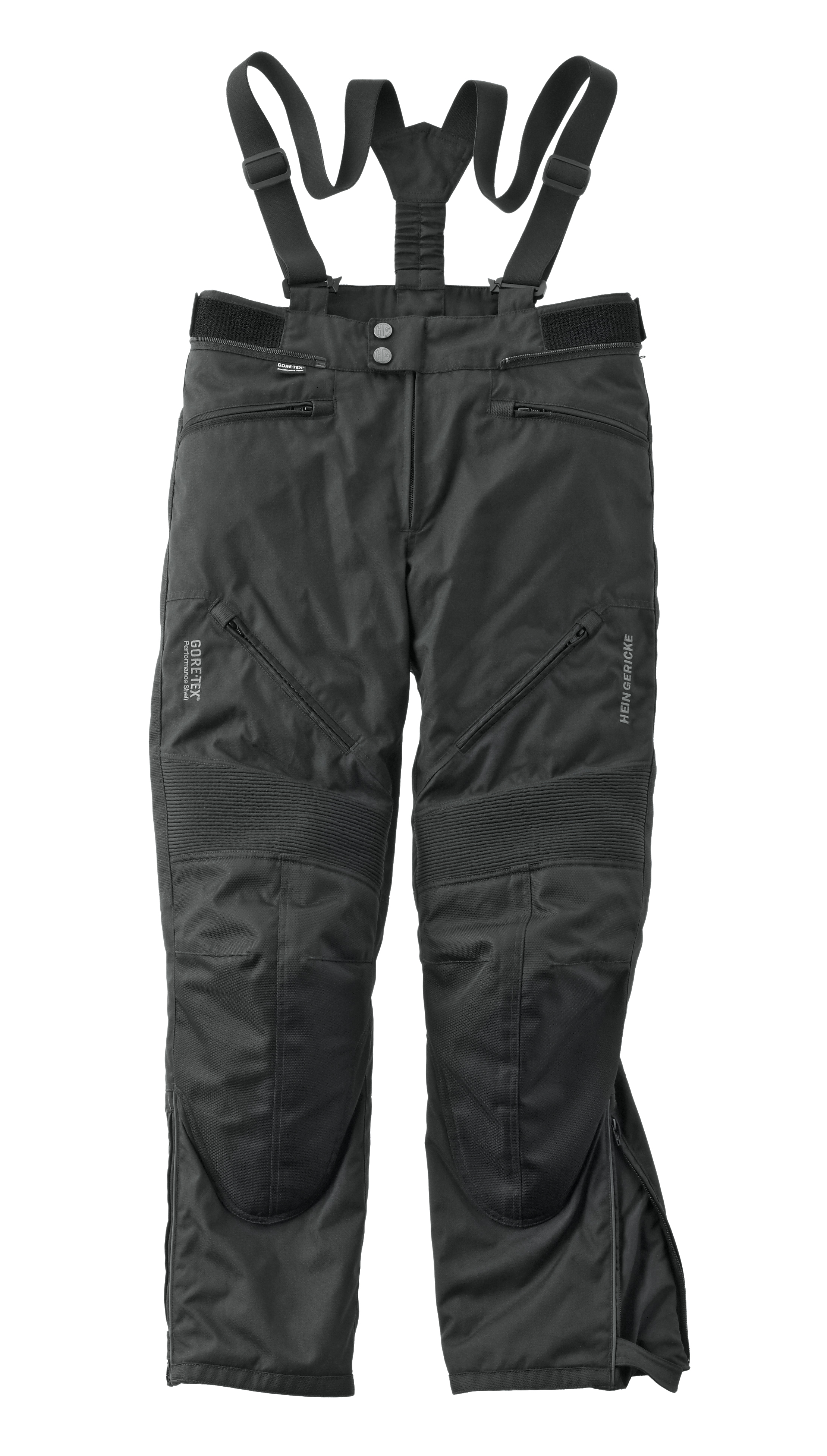 Waist Velcro straps
It is an unfortunate fact of life that our waist lines expand and contract overtime (well, mostly expand if you're anything like us). Having the ability to tighten and loosen your trousers will allow you to get the perfect fit, even after a big lunch.
Reflective materials
It is a good idea to have some form of reflective material on all your motorcycle clothing. You don't need to look like a lollipop lady, just some reflective piping on the product, or hi-vis patches will help make you more visible on the road.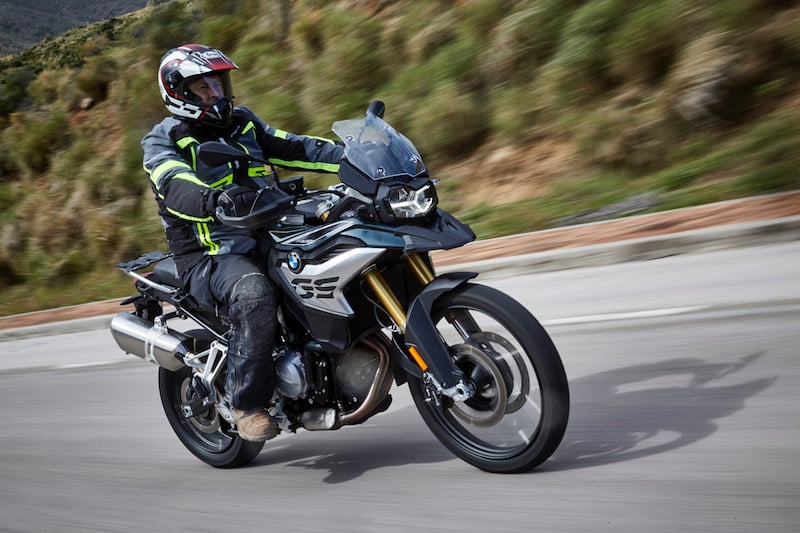 Taped seams
Any item of waterproof clothing should have taped seams which stop water from seeping through the tiny holes made by stitching two pieces of material together.
Ankle closures
It can be annoying if you can't get your trousers over your boots, so you will want to ensure your ankle closures are big enough to do this. Which mechanism you choose is up to personal choice as they all have strengths and weaknesses. Velcro and press studs can clog up with mud and a zip can be too tight if your boots are too large. For standard road riding, Velcro will do the job.
XLmoto
Different pairs of motorcycle trousers will incorporate some or all of these features, depending on their price. Keeping them in mind when you buy should allow you to tailor your purchase to suit the type of riding you do. As a rule, the more you spend, the more likely you are to get better performing kit, but there are strong-performing trousers on the market to suit all budgets. For a wide selection, head over to XLmoto, which provides a handy breakdown of the features of each item, to help you make the right choice.