Finding the right helmet can be an arduous task. Is it the right shape? Will it give me enough protection? If I buy a flip front, can I ride with it open? Do I look daft having devil horns on the top? All reasonable questions. When it comes down to actually purchasing a motorcycle helmet, having that extra bit of knowledge can go a long way – not only saving you money, but potentially saving your life.
A startling statistic from Carole Nash revealed that 41% of motorcyclists in the UK are wearing helmets that 'need to be replaced' – a frightening thought. The figure comes from the fact that 41% of bikers have owned the same helmet for five years or more. It's standard practice for manufacturers to recommend purchasing a new helmet once every five years, due to general wear and tear, yet this worrying stat shows that we don't replace helmets unless involved in a collision. The thing is, a decent helmet can bring many more benefits than just protecting your face from solid concrete.
Technology is moving rapidly and companies are taking full advantage of this fact, with newly updated specifications for helmets releasing yearly. Keeping on top of these trends is Europe's largest motorcycle store, XLMOTO, which has partnered with ABR to help bring attention to the following essential tips that every motorcyclist needs to consider before putting money down on a helmet.
What type?
There are so many different types of helmets on the market these days, that it can all feel a little daunting when deciding which one you should purchase. Typically, the type of riding you do most will have the most influence on the style of helmet you opt for, and when you're scouring the shelves in your local bike shop, you'll likely see the following types of helmet:
Touring helmets: This is our bread and butter. Looking at travelling by road around the globe? This is your bona fide answer. What touring helmets have going for them over alternatives is the superb ventilation. The benefit of this is that it allows for a cross flow of air to cool you down when the mercury climbs – perfect for long-distance trips.
Street helmets: The most common on the market, and for good reason. Street helmets provide substantially more protection than any other helmet listed. The only argument against them is that your view can potentially be limited, reducing your overall vision line.
Flip front helmets: Sometimes known as modular helmets, these types of helmets allow users to flip the front part of the helmet (the chin bar and the visor) over their head. Designed for convenience, flip fronts make simple tasks like eating, speaking or paying for petrol a breeze. Not having to remove your helmet just makes the whole ordeal a hell of a lot easier. If your flip front lid is dual homologated (approved for use in both flipped and un-flipped settings) then you'll find the open-face ideal for scorching summer days.
Motocross helmets: Typically seen in motocross, these helmets come with no visor meaning riders typically wear goggles to protect their eyes from flying rocks, dirt, and water. The purpose of having no visor is to give better airflow to the face, due to the sport being so gruelling. This benefit applies to any off-roading exploits too. The other tell-tale features of a motocross helmet is an extended chin bar (again, for ventilation's sake), and a peak that helps deflect sunlight out of the rider's eye.
Adventure helmets: Combining street and off-road styles, adventure helmets (can be known as dual-sport) possess a larger peak, preventing any muck from sticking to the built-in visor. They're well ventilated and have decent all-around capabilities to adapt to any situation. Think of these as a jack of all trades. They suit the style of an adventure motorcyclist to a tee (you want to look like a world traveller, right), though unless the peak is well designed, you'll want to make sure it's removable for motorway travel a they tend to catch the wind.
Open face helmets: If safety is your top priority (and it probably should be) you'll want to these like the plague. Open face helmets provide the minimal amount of protection when compared to all your other options and for safety reasons alone, we just can't recommend them in any good faith.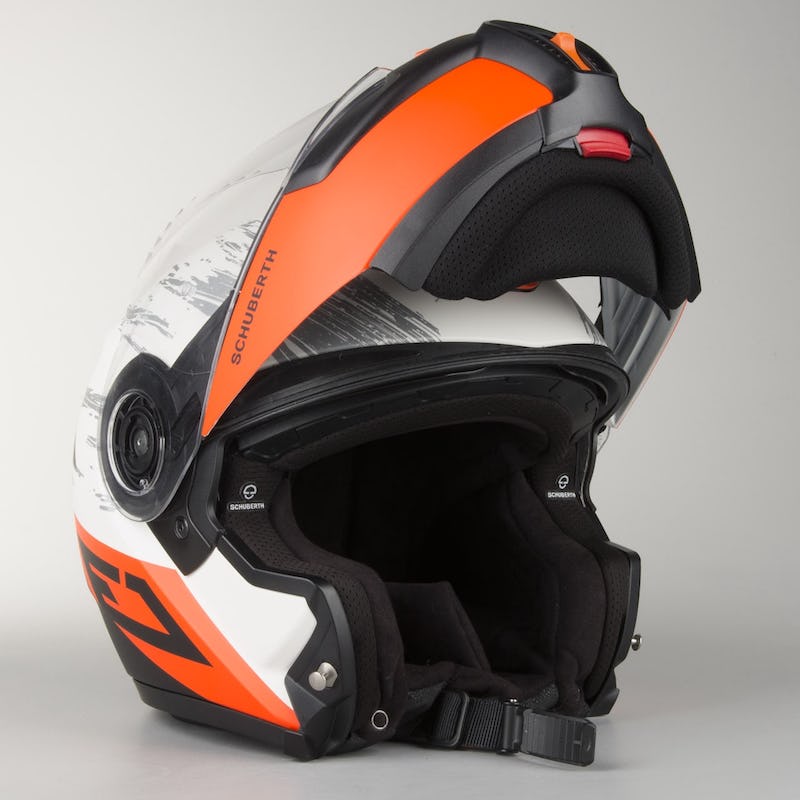 Safety and helmet care
Every helmet used on UK roads must meet various safety criteria and meet one of the three following standards:
British Standard BS 6658:1985 and carry the BSI Kitemark
UNECE Regulation 22.05
a European Economic Area member standard offering at least the same safety and protection as BS 6658:1985, and carry a mark equivalent to the BSI Kitemark
Anything else just won't cut it.
The outer shell is made from tough, deformable material – such as carbon fibre, with the middle layer's EPS's (styrofoam) used to absorb any hit to the head, consequently spreading the impact across the helmet and cushioning the blow. It also holds all the pieces of the helmet together in place. Lastly, the inner padding layer is all designed around comfort and stability for the wearer. The material consists of a low-density flexible polyurethane layer that is attached to a soft fabric which then touches the head.
Apart from this, make sure to treat your helmet with the upmost care. Any sign of fault (cracks, splits, dents, serious scratches etc.) and you must replace it immediately. Remember to check regularly as its possible for damage to be concealed – especially if you don't clean your helmet that often.
Other factors can be a result of extreme temperatures. For any extreme weather experienced, the shell and foam should not suffer due to the vigorous tested conducted by the manufacturers for safety reasons, although the soft lining may not fair as well. In extreme heat, the lining can sometimes melt if left out in the sun, alongside the biggest concern to your helmet; sweat. Sweat degrades the inner lining of the helmet much faster due to the chemicals causing the adhesives not to work as effectively. This will then make the helmet much looser and therefore less safe. Wearing a balaclava or bandana for instance will help reduce this effect.
Another hindrance is harmful gases that seep into the material. The most common of which is caused by petrol tanks, when riders leave their helmet on the bike. Over time the chemicals will damage the lining of the helmet, again making the product less effective.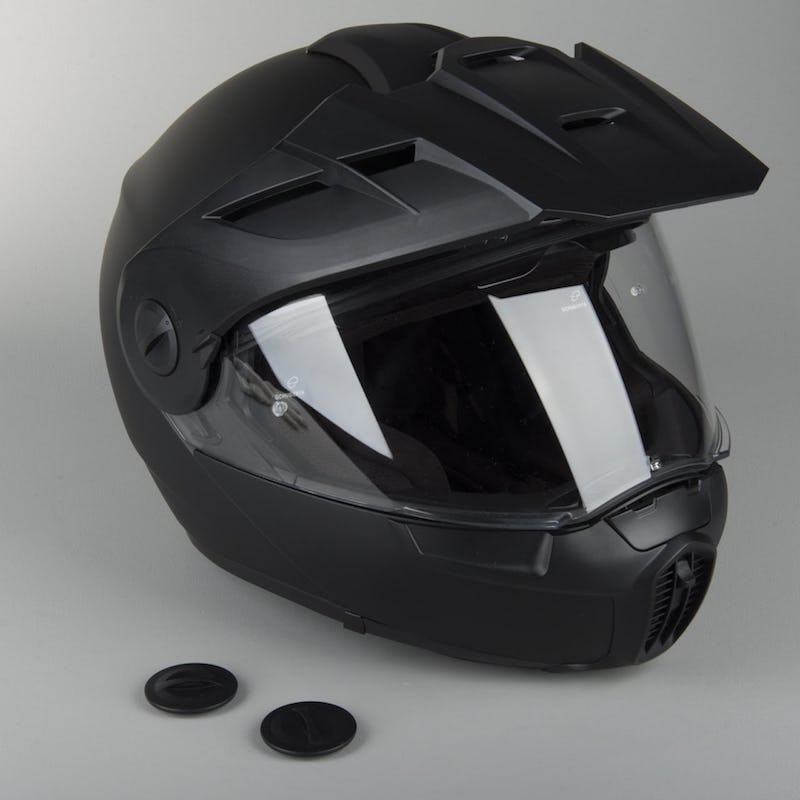 Size and comfort 
These two essentially go hand-in-hand. How does the helmet feel when on your head? Does it feel tight or are there any pressure points? Does it move around too much when you look from left-to-right? Take this all into consideration, as well as whether you would be comfortable with the product on your head for long durations. For better results, test for extended lengths of time before committing.
Most shops carry a return policy (as long as you don't use the helmet while riding), so don't worry about making a decision on the spot. Keep an eye open for helmets that come packaged with removable padding too. By being able to take the inner material out and give it a good wash, you're much more likely to extend the lifespan by removing the numerous chemicals that get wrapped up in the lining.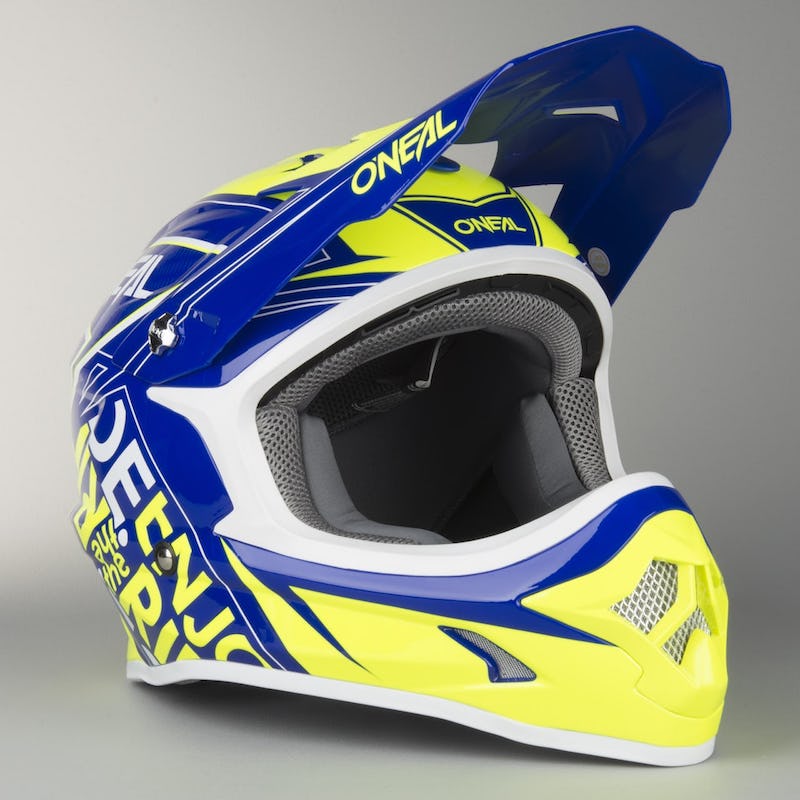 Price
We all like to save some extra cash where possible, but when it comes to helmets, you do need to be sensible. Naturally, you can go splash out on a brand-new helmet that has all the bells and whistles, however every UK helmet has to hit a certain minimum safety rating, therefore paying over the average is not always necessary. Saying that, the materials used in higher costing helmets are noticeable. A £400.00 helmet more often than not has a better mould for the outer shell and a is made from more quality materials, such as the foam lining. It's worth visiting the UK government run website SHARP, that assess all helmets before giving them a rating on their quality.
Additional things to consider are branding, technology and custom makes, which all factor in. Finally, don't bother with a second-hand helmet either. You have no idea where its gone and what its gone through, and it's just not worth the risk.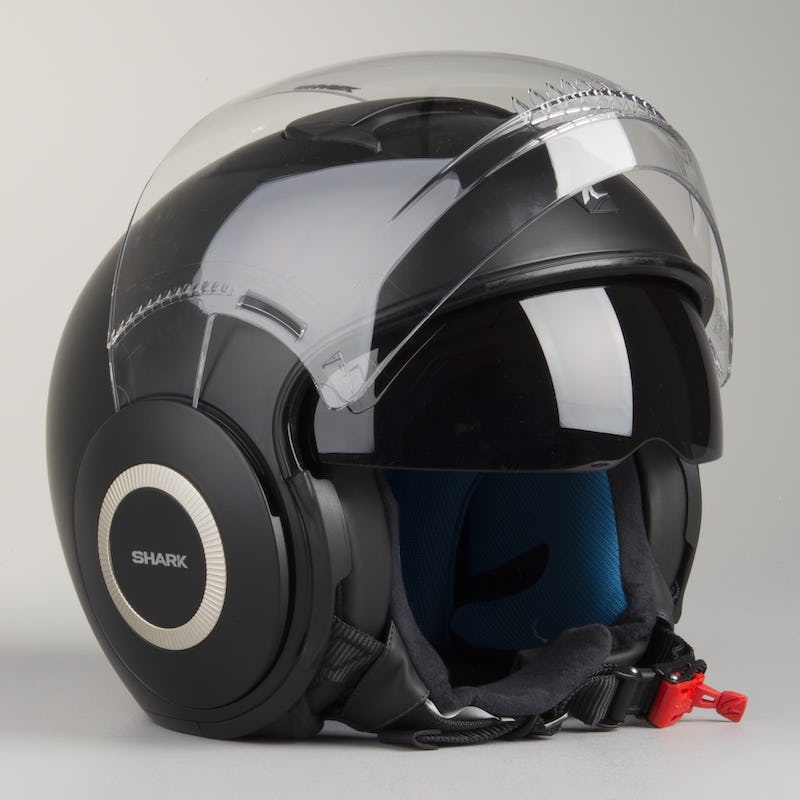 We're hoping that gives you better ideas and more clarity around buying a helmet. Still, as ever please use your own judgement for what's best for your own noggin. For a wide variety of helmets and other motorcycle gear, head to XLmoto, where right now the company is celebrating its 10 year anniversary with a number of products – including their brand-new motorcycle jacket range.
What is your biggest tip for buying a motorcycle helmet? Share your thoughts.