A new year means new adventures, and to get you off on the right foot we've teamed up with Bennetts, the motorcycle insurance specialist, to provide you with all of the tools and knowledge you need to make your adventures this year the best yet. As part of Bennett's #MakeYourOwnAdventure campaign, last week everyone at Adventure Bike Rider discussed what's on their bucket list for 2018 (for me personally, it was Blue Ridge Parkway in eastern USA) and this week we're going to tell you how to plan a motorcycle trip to make it as interesting and exciting as possible.
For some, the only planning that's required is deciding where you're going to be riding and then just seeing what happens when you get there, but for others, trips require military precision when it comes to planning, with all food stops, petrol stops and roads planned out before they're even on the bike. In my experience, somewhere between these two is the best for making sure you get the most out of your ride. Without proper planning, you could miss some incredible roads and sights, and with too much planning you can become too fixated on your schedule that you forget to actually live in the moment and enjoy your ride!
So, here I'll discuss exactly how I plan rides when plotting routes to be featured in Adventure Bike Rider magazine. Follow these steps and you'll be in for a great time, but if you've got any tips of your own, let us know in the comment section below!
Pick your destination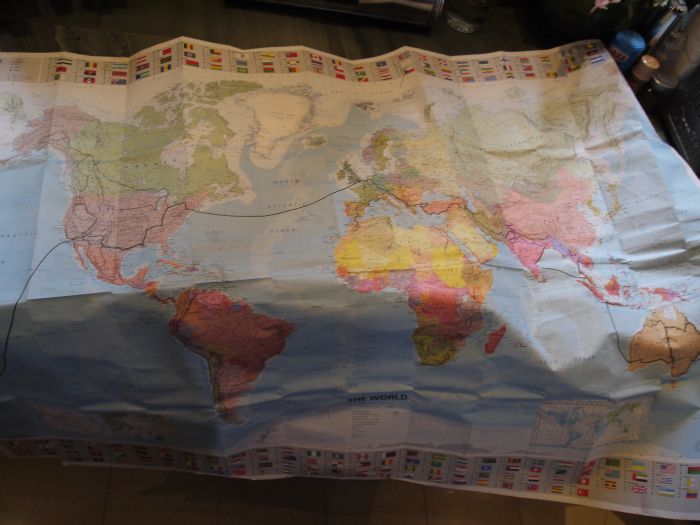 There are so many places in the world to ride, and trying to narrow it down to one can seem like hard work. Consider how far away is realistic for you to travel, whether you'll be riding your own machine there, or whether you'll be happy to rent if you're aiming for a far flung destination. One of the best ways to get inspiration of where to ride is to make use of social media by following well-known motorcycle travel accounts. I may be bias, but the Adventure Bike Rider Facebook page will give you a plethora of ideas and the inspiration you need to decide on where to explore.
It's also worth considering what sort of traveller you are. It's always good to get outside your comfort zone, but if the idea of riding somewhere where there are few amenities terrifies you, then you might be best off looking at somewhere in between to ease yourself into it. Let's face it, a motorcycle tour should be a holiday, and you should enjoy every second of it! Once you've picked the country or countries in which you'd like to tour, move on to the next step.
Start researching
As soon as you know where in the world it is you'd like to ride, start researching that location. The more specific you are on your destination, the easier this is going to be. Rather than trying to plot out a route step by step initially, search out some landmarks and places that you'd love to incorporate onto your route, plot them on a map and then join them up by the best roads that you can see. General searches of 'things to do in X' are a good place to start, and you'll find a wealth of information on forums, while there will also be tons of information on the internet about the best roads to ride in these areas.
When scouring Google Maps, street view is a valuable tool to help you discover great roads. Look for squiggly roads, drop the street view pin and check it out – if it looks like it'll be a great ride, include it in your route.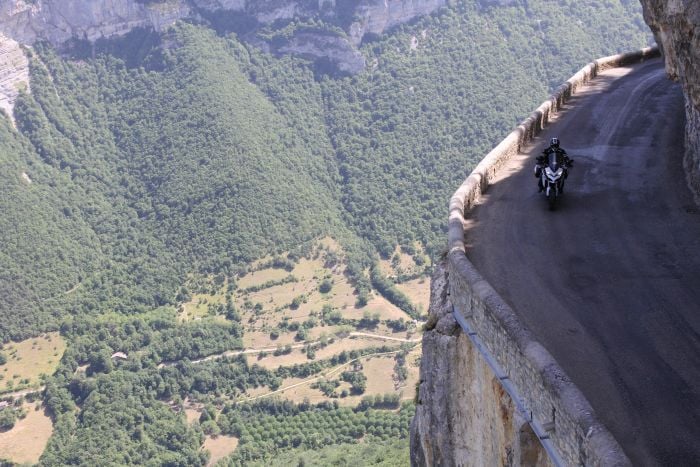 Get active in forums
Chances are, no matter where you want to ride, there's someone else who's ridden there. And when there's someone else who's ridden there, there's usually information about that ride on the internet, particularly in forums. The big adventure motorcycling communities are right here on the Adventure Bike Rider forums, and also at AdvRider. Both of these websites are filled with knowledgeable and friendly riders who are more than willing to share advice about locations in which they've ridden. Perhaps they will have already posted up a trip report from when they went. Scour through these and look for any snippets that you might find interesting, and then add them to your itinerary.
How far in a day?
It's important that you get a realistic idea of how many miles you're willing to comfortably ride in a day. One 600 mile day would be fine, but if you're doing five of them back-to-back in the week, it'll get old real quick, and you won't have any time to explore out of the saddle. When deciding how many miles you can do, it really depends on the type of rider that you are. If you want to spend as much time in the saddle as possible, you can aim for 250 – 300 miles per day. If you'd rather take your time and explore the locations that you found out about while you were researching, reduce this figure to 150 miles.
Planning out your accommodation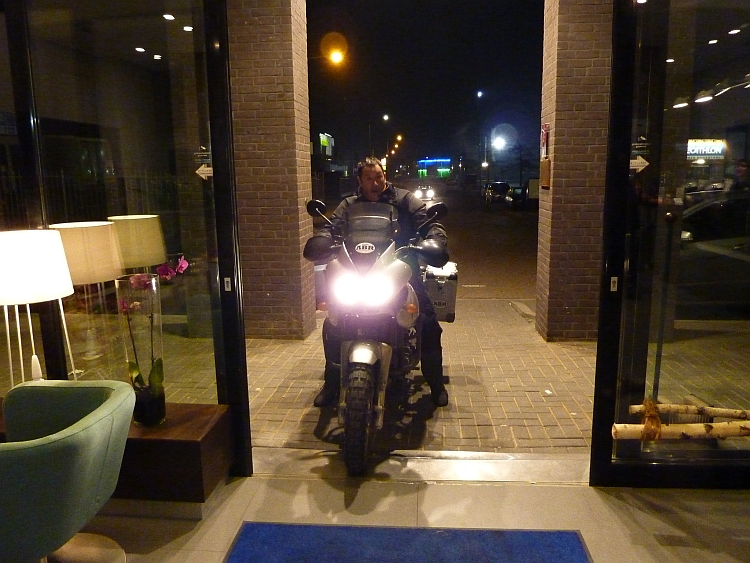 This may come as a surprise to many readers, but when I'm out discovering routes to be featured in Adventure Bike Rider, I very rarely book accommodation in advance. By doing this, you're restricting the freedom you have when it comes to the end of the day, and if you've got to make it to a certain place by a certain time, it ruins the possibilities of venturing off route for considerable amounts of time. In all of the times that I've been out on multi-day tours, I've only found it difficult to find accommodation once, but even then, after a few phone calls I found a nice hotel to stay in 30 minutes away.
Here's what I do. When you get to your lunch stop, you'll usually have a pretty good idea of where you're going to be that evening. So, now's the time to fire up either Late Rooms, Trip Advisor or Expedia, and search for last minute deals in that location. If the hotels are all booked up, consider a different location a few miles away, and you'll be incredibly unlucky not to find somewhere. It might sound like a leap of faith leaving the hotel the next day with no idea of where you'll be staying the following evening, but it all adds up to making it a bit more of an adventure and giving you the freedom to enjoy yourself.
If you've decided that you're going to be camping, things are a bit different as there aren't as many campsites around as there are hotels. It'd be wise to have a rough idea of where you want to stop that evening, and to make sure the campsites in the area aren't fully booked up.
Don't be afraid to speak to the locals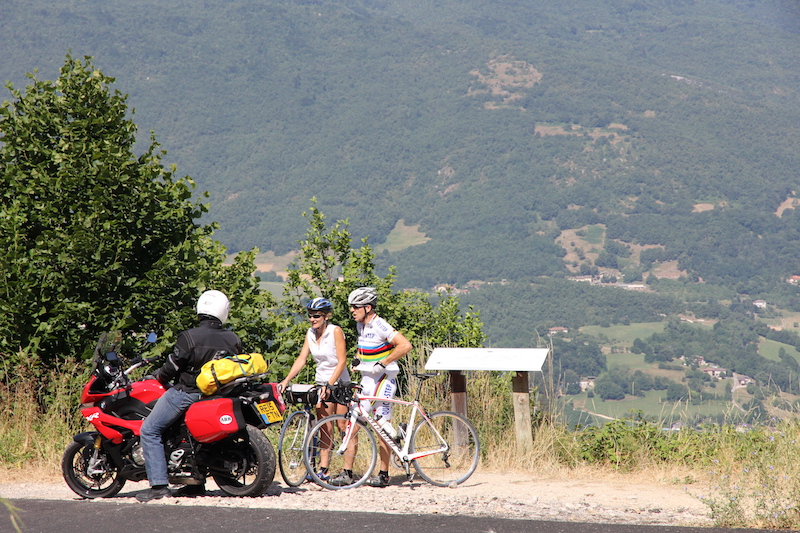 OK, so you've plotted the route and you're off riding it, following your SatNav to conquer the incredible roads you've researched and to see the amazing sights that you've uncovered, but to think you're finished with your route planning would be a big mistake. No matter how much research you do prior to a ride, there's nothing better for discovering the best an area has to offer than to speak to the locals.
I've lost count of the times when we've been riding routes for features in Adventure Bike Rider magazine and our plans have completely changed based on the information given to us by someone we've spoken to along the way.
I'm not saying you have to go out of your way to formally interview people who live where you're riding, but strike up conversations when you can. The great thing about touring by motorcycle is that people are usually interested in what you are doing. Stopped for a coffee? Ask the waiter or waitress if there's anything interesting nearby. And that group of bikers chatting outside, go and have a natter to see where the best roads are. Once you've been told about some places, adjust your route to include them, these guys and girls usually know the best kept secrets.
Be prepared to ignore your plan
Even the best made plans can fall apart, so don't be afraid to change things up if you realise that you've mis-calculated how many miles you can do in a day, or if you decide you'd rather head off in another direction. In my opinion, it's also a bad idea to try and plan everything step by step. Spontaneity often makes a trip, and you'll find yourself having a great time if you just decide to go with the flow to an extent.
All that's left after you've done all of the above is to choose a time of the year to go. The obvious things to factor in here are the weather conditions, and also national holidays. For example, if you're planning a trip through the Alps, you'll want to make sure you travel at a time when the mountain passes are actually open and free of snow. Similarly, it's probably best to avoid riding in desert terrain in the middle of the summer heat! As for holidays, you'll find the roads to be noticeably busier if you tour during the holiday seasons, so avoid these times if at all possible.
So, choose your destination and get planning! We'd love to hear about your plans for 2018, so let us know in the comment section below.