Price: £119
www.ls2helmets.com
If other companies want an example of how to make a budget helmet they should look no further than the LS2 MX436 Pioneer. There has been quite a buzz around this lid since it was displayed at 2016's Motorcycle Live, and after trying it out for the past few months we've been impressed.
For just a few quid over £100 you get a lot of helmet, and the whole package is bundled into an extremely attractive shell that's made from a proprietary blend of polycarbonate, thermoplastics and LS2's own specially developed Kinetic Polymer Alloy. These three materials come together to offer a light, yet strong shell, meeting both ECE 22.05 and DOT requirements.
While you get the impression that the peak on most budget helmets is a mere afterthought, on the Pioneer it actually looks like it's been designed to fit with the overall aesthetic of the lid. And not only does it look good, but it performs well with the large amount of adjustment allowing you to get the best positioning for your needs.
The cheek pads and inner linings are removable and they're delightfully soft and smooth, making for a very pleasant wearing experience.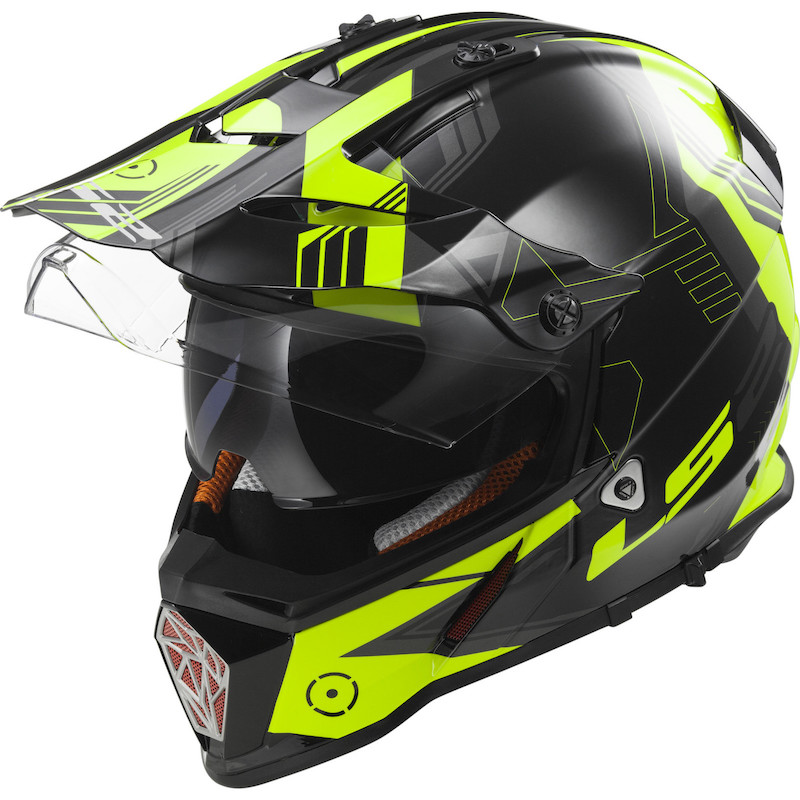 Overall the helmet impresses, but if there's an area that could be improved, it's the visor. It offers a large field of vision and allows for the use of goggles, but it lacks Pinlock mounting points and the anti-fog coating that's been applied isn't quite up to the job.
You get a very good internal sun visor that's easy to operate and when it comes to ventilation, the Pioneer is well equipped, with a total of five front-facing vents and a large exhaust vent that allows for a great cross flow of air.
The quick release ratchet strap is comfortable against the skin and simple to use.
LS2 MX436 Pioneer Verdict
The LS2 MX436 Pioneer is one of the best budget adventure motorcycle helmets on the market right now. When we tested it when it first came out, it was priced at £99, which seemed incredibly low, and although it's recently increased to £119 you're still getting a lot of helmet for your money here.
I found comfort to be brilliant (though you'll want to try one on first to make sure it suits your head shape), and the peak was very well designed for a budget lid. Unlike other 'cheap' helmets, the LS2 MX436 Pioneer has a feeling of quality about it, and the shell is well constructed.