As an Irishman, I learned from a young age that my country's coastline is a spectacular destination, full of fascinating places just waiting to be explored. Whether it was a weekend in Dingle, or a family holiday in Lahinch, the seaside was the place to be, and that continues to this day.
So, when the Wild Atlantic Way was conceived in 2014, as an avid biker, sailor, and angling enthusiast, the chance to ride it needed no second invitation. Since then, the 1,600-mile coastal route has become famous throughout the world, and let me reassure you, it more than lives up to its glowing reputation.
Now, I could stop writing here and just tell you to keep the sea on your left and the sun on your back, and you'll have the trip of a lifetime, but since you're curious…
What is the Wild Atlantic Way?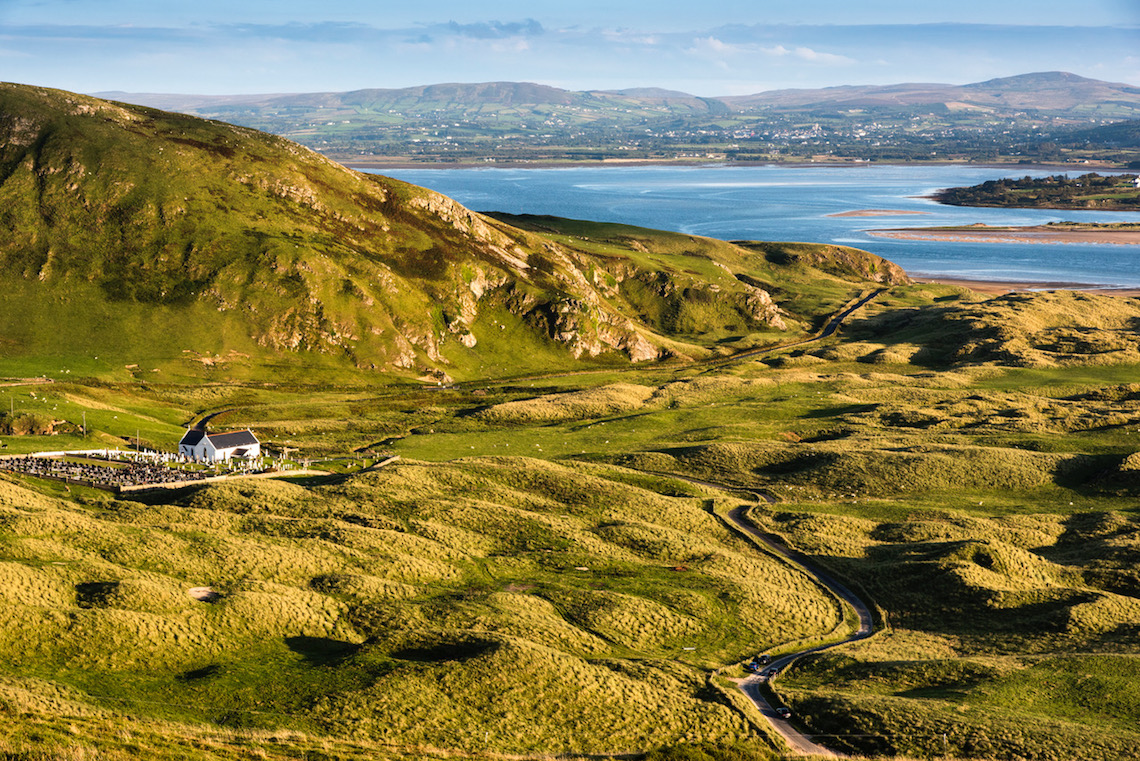 The Wild Atlantic Way is solely designed for its scenic value. The roads are not highways, motorways, or really anything designed to get you from A to B fast. In fact, it's a biker's delight as you cruise around highlands running down to the roaring Atlantic Ocean.
The route is not designed to necessarily ride in one visit, and it's not an iron butt event. It's more a chance to explore Ireland in a more intimate way, stay in small villages, and soak up the atmosphere.
The route has quite a few options where you'll see signposts pointing in different directions, all branded with the ubiquitous Wild Atlantic Way logo. So, you could ride the route several times and find new hidden gems not previously encountered. One thing is for sure, the very best direction to take is starting from the south and riding northwards.
That allows you to ride on the left-hand side of the road, with the best scenery on your left, and easy access to pull in and stop at the many viewing vantage points.
What bike?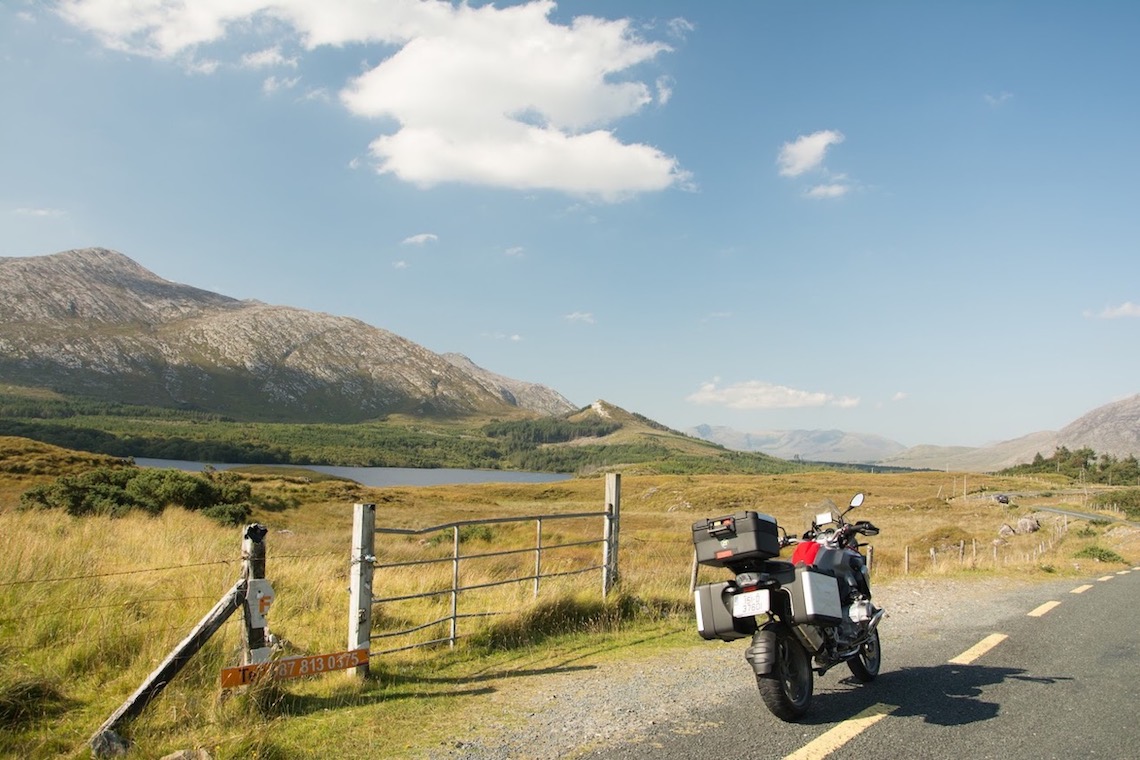 So, what type of bike should you ride on the Wild Atlantic Way? Well, that's a personal decision and probably the one you have is just fine. If you ask me, I'd recommend a low revving torque-y twin, as it will amble along while you take in the scenery.
While there is no official off-road element to the Wild Atlantic Way, some of the roads are very remote with green grass going down the centre, so dual-sport tyres are certainly an advantage. Typically, I ride around 200 miles per day, so I want a comfortable bike.
This average distance gives me time to stop for morning coffees and lunch, with a few scenic places to dismount and stretch the legs. I know 200 miles might not sound a lot, but bear in mind there will never be a moment to turn on the cruise control, sit back, and eat up the miles. The roads are twisty, engaging and demand full rider attention.
The journey begins
Let's start our route in Kinsale, County Cork, the most easterly point of the Wild Atlantic Way, and really a jewel among all of the destinations you'll discover. Getting there is straightforward. From Dublin, I'd recommend taking in some of the Wicklow Mountains, and riding south before joining the motorway for a brief stint to Cork City, and then onwards to Kinsale. Coming from the UK or France, I'd recommend Rosslare ferry port, which is an enjoyable day's ride to Kinsale.
You may have heard that Kinsale is known as the culinary capital of Ireland. However, that accolade can justifiably be shared by many towns on the Wild Atlantic Way, as Ireland has made fantastic strides in terms of food quality in recent years. It's worthwhile arriving early in Kinsale to explore the fortress town which has an excellent natural harbour used by fishing and sailing fleets.
From here, the Wild Atlantic Way route takes you westwards towards Killarney. You can enjoy getting lost among the myriad of small tracks and headland as you ride to Courtmacsherry, and onto the Seven Heads Headland, through the colourful town of Clonakilty. If you're making good time, detour to the coast by Red Strand Beach. The roads here are quiet and you'll see parts of Ireland less travelled where the Celtic Sea meets the Atlantic.
Hug Eve and avoid Adam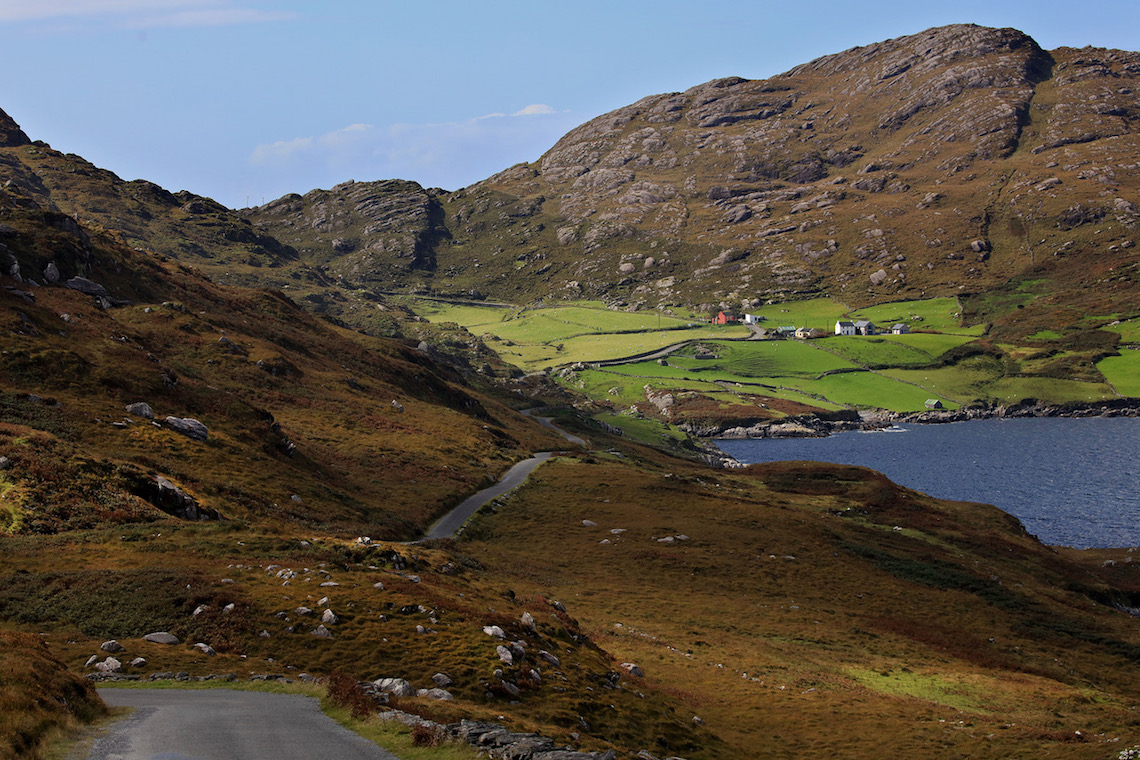 The Wild Atlantic Way takes you through the seaside town of Rosscarbery and onto Glandore, along the R597. Make sure you stop to see Drombeg Stone Circle, which is Cork's answer to Stonehenge. Glandore itself, and its neighbouring town of Union Hall, offer spectacular views of Glandore Bay, and there are lovely pubs and restaurants to stop off and have an early lunch or coffee.
As you gaze out onto Glandore Bay, try figuring out the local sailors' advice to 'hug Eve and avoid Adam'. A hint: it's to do with the rocky islands that guard the bay.
Keeping the coastline close by, make your way through to Castletownshend, where Mary Ann's Bar is a great spot for lunch, or head to the castle for its lovely cafe and grounds. Make sure you ride down to the small quay and sample yet more maritime scenery. Further down the road, Baltimore is a favoured destination for bikers for an afternoon run out of Cork city. It also has a selection of cafes and lunch stops overlooking Roaring Water Bay.
The ride back up to Skibbereen, with the River Ilen on your left, is a pleasant route. Depending on your schedule, you can shorten your ride by taking the N71 towards Bantry, or if you have the time to spare, ride out to Crookhaven. It's a gorgeous seaside location with the spectacular Barleycove Beach only minutes away.
The next major stop on our journey is the Beara Peninsula where you'll soon notice the scenery becoming more rugged. Exploring the peninsula can be a day's ride in itself, especially if you want to visit Dursey Island on its cable car across Dursey Sound. However you decide to tackle it, be sure to ride Healy Pass from Adrigole to Lauragh. It has the dubious title of being one of the most dangerous roads in Europe, which is a bizarre exaggeration, but it is a mountain pass with plenty of switchbacks to enjoy.
The Ring of Kerry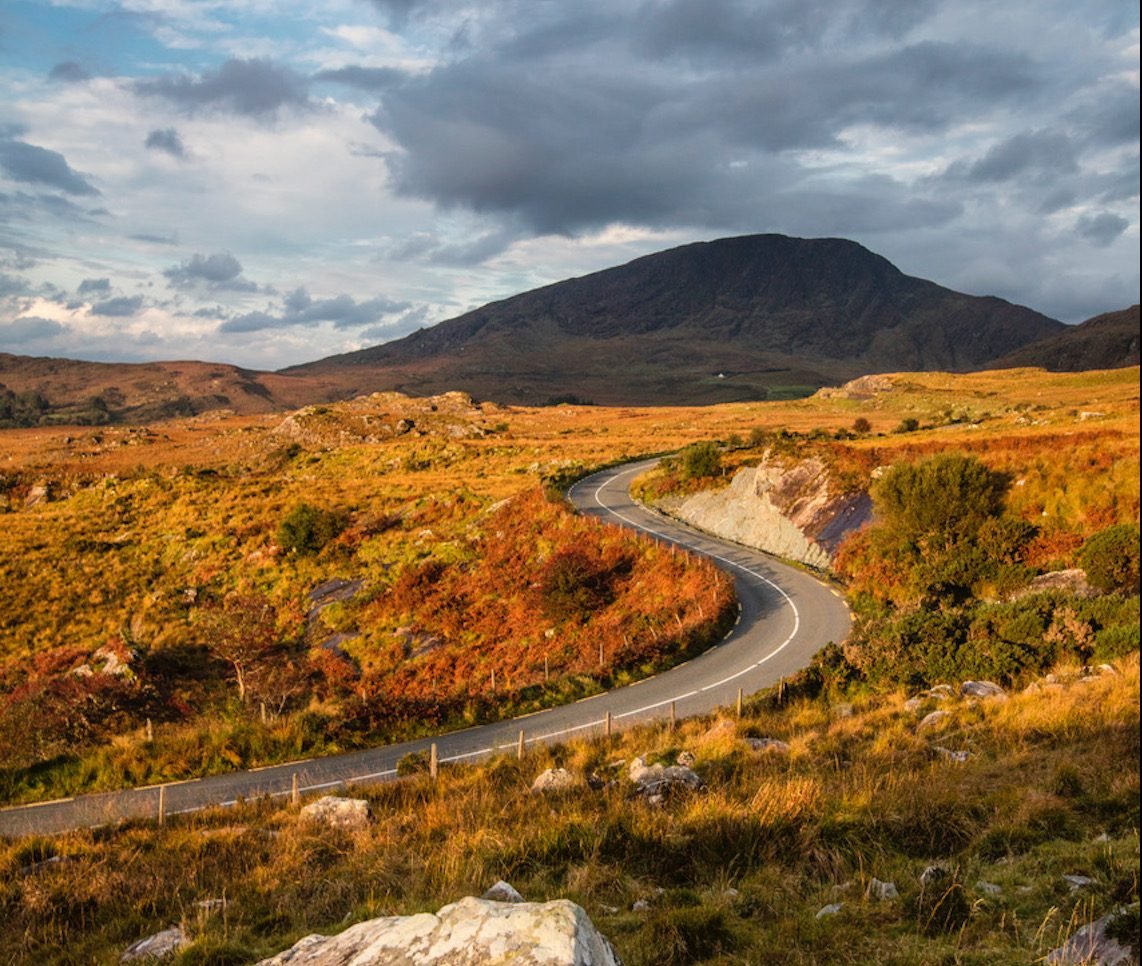 An hour or so further north, you'll find the famous Ring of Kerry which takes you around the picturesque Iveragh Peninsula. The route is firmly on the tourist trail, and at peak times, can be littered with cars, campervans, and coaches, but don't let that put you off.
Just make sure you ride it in a clockwise direction, which is the opposite way coaches are obliged to take. I'd recommend you peel off after Waterville onto the Skellig Ring, where you will find less tourist traffic and views of the impressive Skellig Islands.
As well as looping the Iveragh Peninsula, I also like exploring the interior by riding to Molls Gap, and then down into the Black Valley. The route will take you over to the Gap of Dunloe, which is truly spectacular. The roads are narrow and twisty but for an adventure biker, are well worth exploring.
I love the town of Dingle's quirky nature with its music, craic (fun), lively bars, and good food. But, there are also some good riding routes nearby, notably the road around Slea Head with its wonderful Atlantic views, especially at sunset across to the Blasket Islands.
There's also the magnificent Conor Pass, which is world famous. A lesser known route is the Caherconree Pass, a remote, narrow road well suited to adventure bikers that will take you back down to the southern shoreline of the Dingle Peninsula. 
County Clare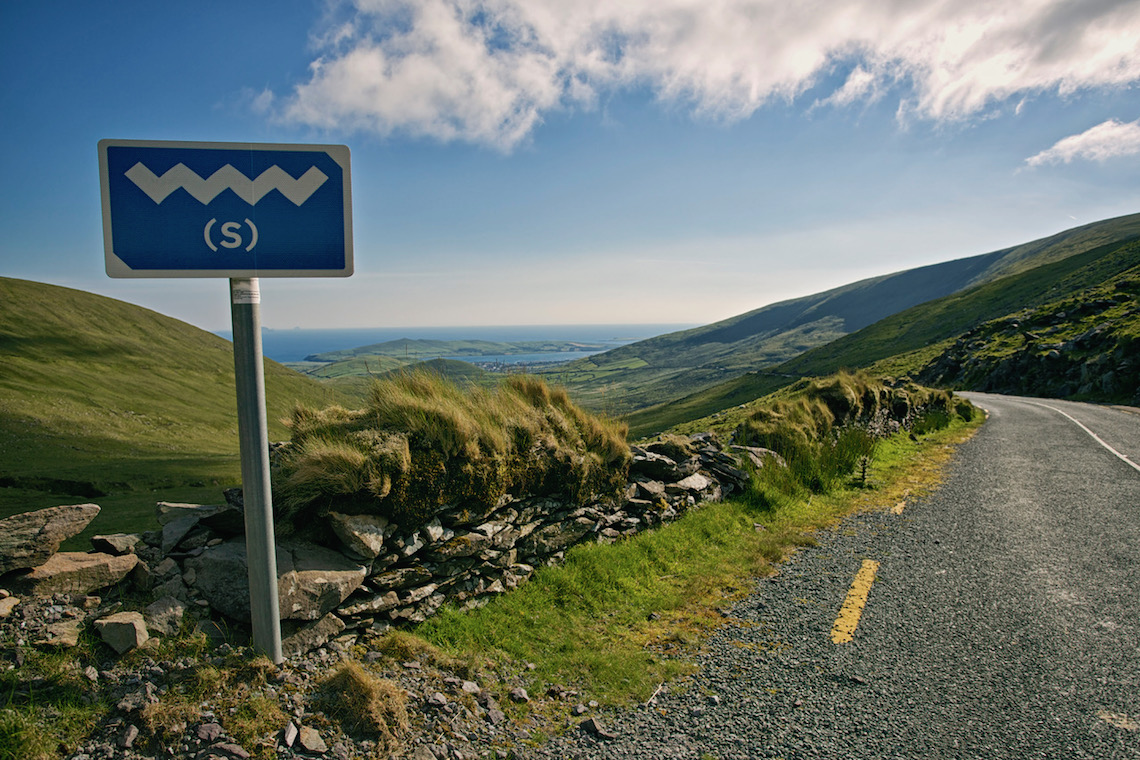 Our route now takes a more northerly direction where we're aiming for the Tarbert Ferry to bring us into County Clare. But first, take your time to visit Ballyheigue and Ballybunion by the coast, which will avoid the busier N69 route. When you get to Tarbert, take the ferry across the Shannon Estuary, and then forge onwards to Loop Head peninsula. On your way, stay close to the northern shores of the Shannon Estuary, and stop off in the picturesque fishing villages of Carrigaholt or Kilbaha for an early lunch.
Loop Head Peninsula is the starting point of the famous cliff shoreline which crescendos into the Cliffs of Moher, a spectacular but popular tourist attraction. You can ride right out to the Loop Head Lighthouse before continuing up the coast towards Kilkee. Make sure you take every opportunity to turn left. This will lead you to the lesser travelled route along the Kilkee Cliffs.
County Clare is also home to the Burren, which is where Father Ted's house from the television series is located. While not technically on the Wild Atlantic Way, the Burren itself is an intriguing area to explore. Its landscape is rocky, almost moon-like, and it has a myriad of small lanes and tracks to keep the occupied. It's certainly worth a detour.
Seaside memories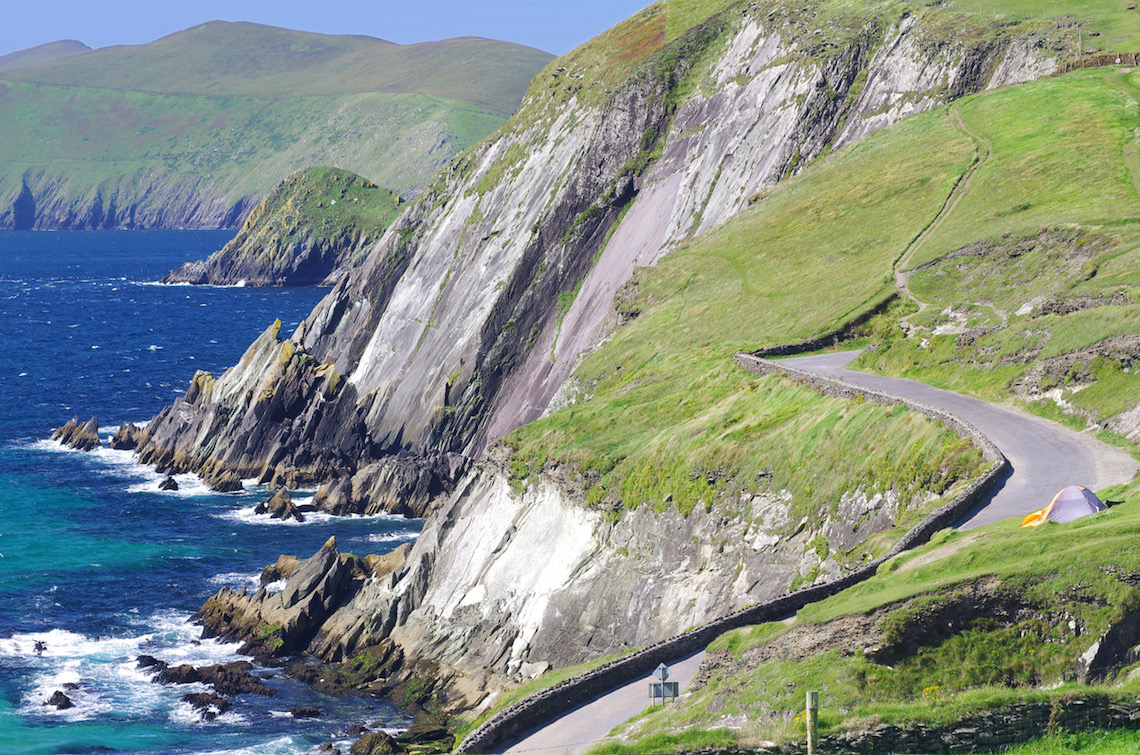 As we travel further along the Wild Atlantic Way, there are numerous seaside destinations that generations of holidaymakers have visited during their summer holidays. Places such as Kilkee, Spanish Point, Lahinch (spelled a few different ways just for the craic) are all lovely seaside towns, which you should make sure to ride through whenever you see the signpost.
Heading northwards to County Galway, make sure you explore places like Flaggy Shore and Kinvarra, which give fantastic views of Galway Bay. Galway City is next on the route. If you plan to stay overnight, get there early as there is so much to explore for city lovers. While your Sat Nav might recommend you take the ring road around the city, don't! Even if you are just passing through, ride down the Lough Atalia Road and into Galway Harbour, then around by Spanish Arch, and you can get an idea of why you might want to visit again on a city break.
Leaving Galway behind, I always include a ride out to Lettermullan, which is a series of islands strung together by stone bridges or causeways. It's a Gaeltacht (Irish speaking) district and always seems to convey a feeling of times past.
From here, the coastal road to Roundstone (R340) is a nice route for biking, and you can hug the shoreline to witness spectacular views, or head through Connemara National Park, via Maam Cross, over to Clifden. When you get to Clifden, you can take the Sky Road out to one of the many Wild Atlantic Way discovery points.
Continue along the N59 to Letterfrack towards Killary Harbour, which is Ireland's longest (and only) fjord. Along the way, you will have an iconic view of Kylemore Abbey from the stone bridge as you cross the loch. When you reach Leenaun, you have the opportunity to ride a very scenic circular route down to Maam Cross and back to Recess along the R336, and back up to the R344.
County Mayo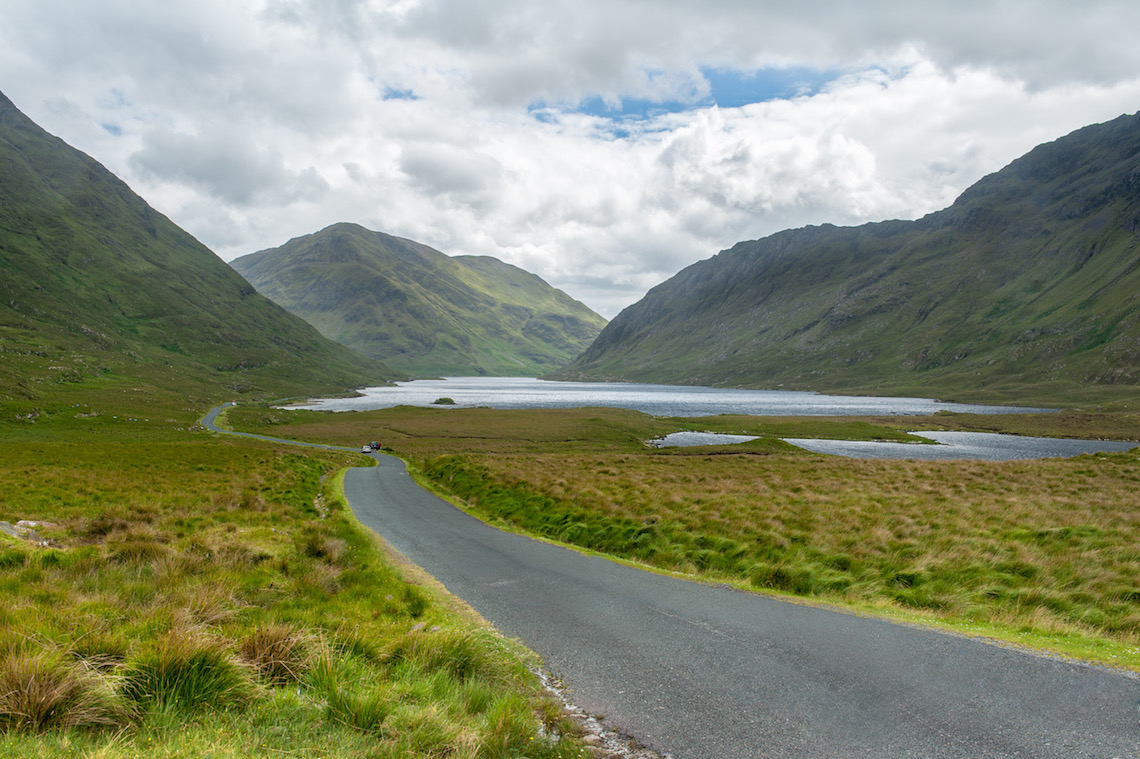 Now you are entering County Mayo, a favourite part of Ireland for me. Ride up to Doolough, where you have a choice to continue along the Doolough Pass, or turn right just beforehand and take a more mountainous road to Westport. The town is a buzzing place with bars, music, and good food. It also has a self-service laundry, which might be a good idea by now. 
Further up the road, you will pass through Newport, which has an historic viaduct, and then onto Mulranny which was a famous destination for wealthy tourists in the 1800s. Mulranny is also the gateway to Achill Island. You could spend a day or two on Achill, but be sure to ride the southern shoreline which offers remote and splendid views all the way out to Keem Bay.
Leaving Achill, we are now heading northwards into Ireland's least known National Park, Ballacroy. Its N59 is a great biking road which brings you into Bangor Erris. Follow the coastline along to the town of Ballina before taking the coastal route to Enniscrone and Easky. This will bring you onto the N59 to Ballysadare. On a fine day, take a detour out to Strandhill Beach and stop by Mama Johnston's Cafe bar for a nice seaside treat.
Following the N15 through Ballyshannon, we come to the town of Donegal before turning westwards towards Killybegs. This is the hometown for commercial fishing in Ireland where you can sample the local catch in the mobile fish and chip van. After filling your belly, I'd recommend continuing onto Slieve League where the sea cliffs are reputed to be the highest in Ireland.
Following the narrow L1125 will bring you onto the Glengesh Pass, a scenic twisty route with great views into the valley below. This leads to the lovely town of Ardara, a great spot to consider as an overnight stop.
Beautiful Donegal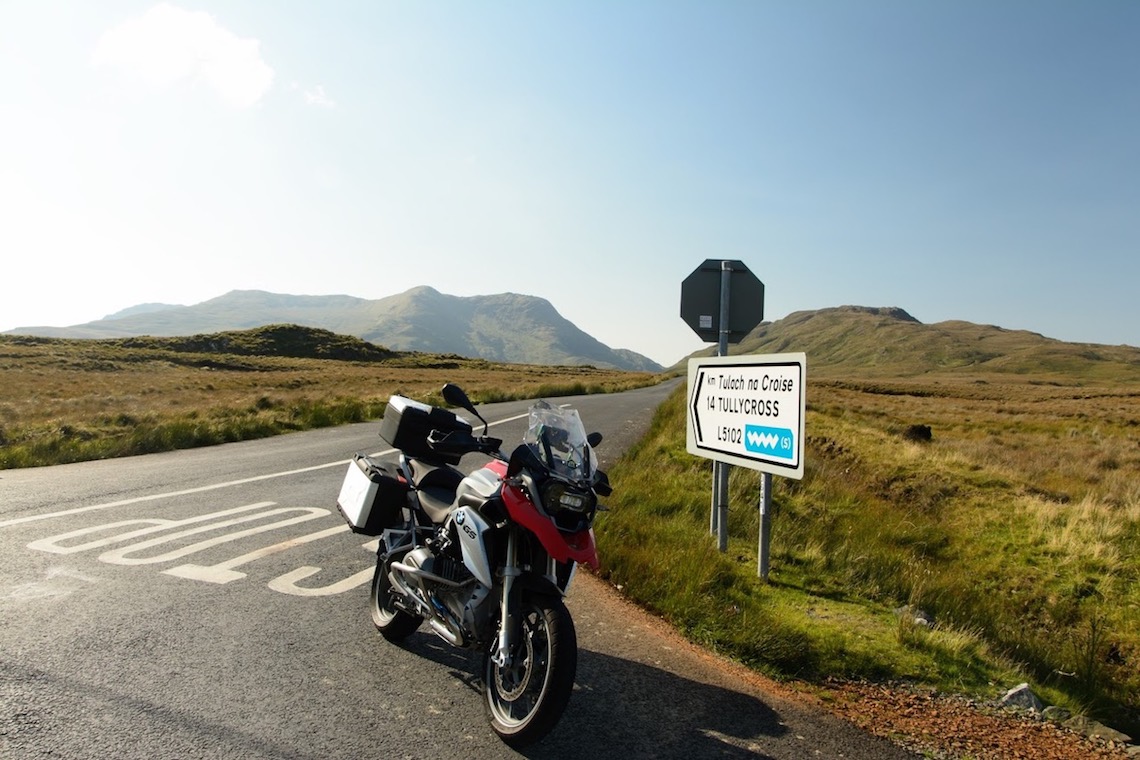 Now we are in the wilds of Donegal. Argued by locals and visitors alike as one of the most beautiful parts of Ireland, I'd recommend spending a couple of days exploring. From Glenveagh National Park, to the coastal route out to idyllic seaside ports such as Burtonport, it is spectacular.
Next, we jump on the N56 which takes you by Falcarragh as you approach the more northern parts of Donegal. As you approach Dunfanaghy, take a left and ride out to view Horn Head, one of the most northerly Wild Atlantic Way vantage points.
Up the road is Malin Head, the most northerly part of Ireland. It's also the end of the Wild Atlantic Way, but for us bikers, it's not the end of the trip. Hop across to Northern Ireland at Quigleys Point, via a short ferry, and explore yet another fabulous coastline. But we'll have to return to that another day. Safe riding!
Who's writing the Insider's Guide to Ireland's Wild Atlantic Way?
Paul French is a co-founder of Lemonrock Bike Tours, a premium motorcycle touring company in Ireland which operates a fleet of BMW adventure bikes.
Paul and his team of local experts offers a series of motorcycle tours throughout Ireland, including its most popular tour along the Wild Atlantic Way. Find out more about Lemonrock Bike Tours, as well as its motorcycle rental service, by visiting HERE.