Why should I use a SatNav over a phone for navigating from my motorcycle? It's a reasonable question given the fact you're probably already carrying around a smartphone, and there's a variety of free and paid apps that exist to direct you.
So is it worth spending a chunk of cash on a dedicated SatNav unit? The answer is that it depends on your needs. But if you're planning serious adventures, want to get off the beaten path, or simply enjoy reliable navigation, then it's absolutely worth considering a SatNav.
I've tried everything from Post-It notes taped to the bike's tank, paper maps, and my phone on a mount, but I've only just discovered how useful a SatNav can be.
I've been using a Garmin Tread to help me get around recently, and it's done a lot of things to win me over. Here's my takeaways from spending time with this device.
It's a lot more rugged than your phone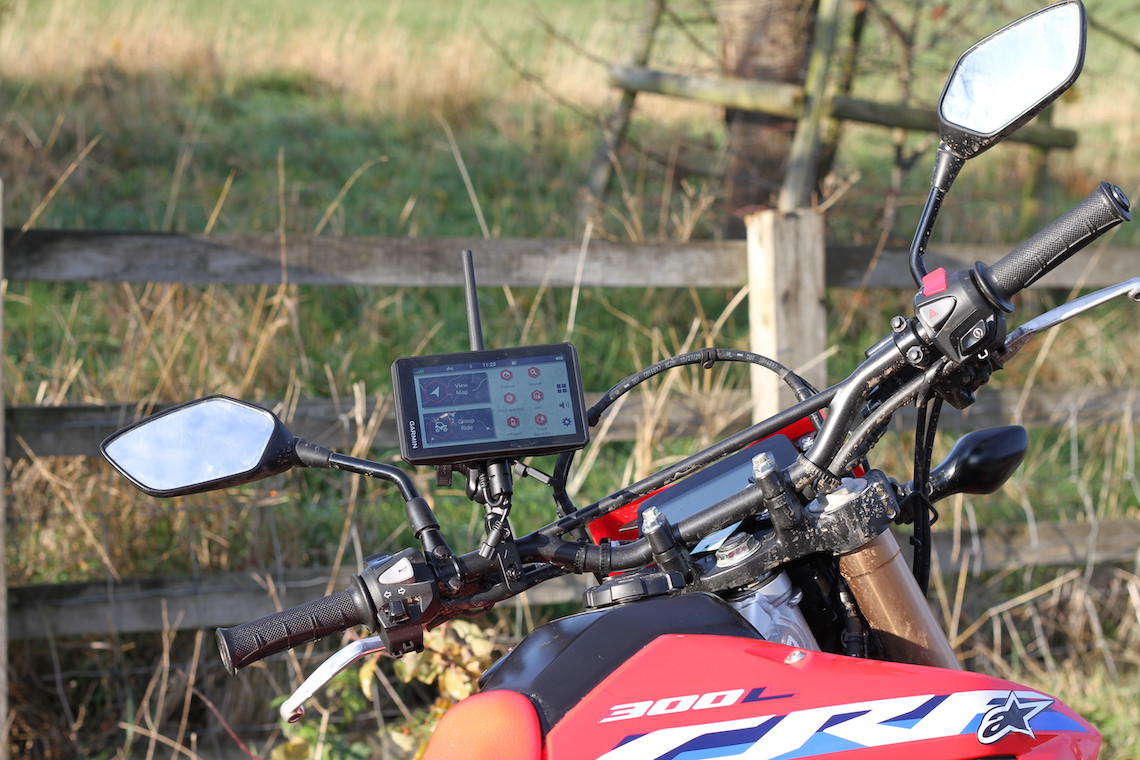 The Garmin Tread is an even more off-road focused version of Garmin's popular motorcycle SatNav, the zumo XT. It's rugged, it's packed with map layers and functions, and it has specialised navigation software so you can find the perfect route. And I'm still discovering new features.
One of the key factors that distinguish it from simply using your phone as a navigation device is just how rugged the Tread is. Anything mounted to your handlebars will be subject to vibrations, water, dust, and direct sunlight, none of which are friendly to your phone. The Garmin Tread, however, can handle anything that you can throw at it.
It's waterproof, and constructed to a U.S military standard for thermal and shock resistance. You can be confident that it will survive getting whacked about on the trails or riding through torrential rain.
It's a SatNav with a premium finish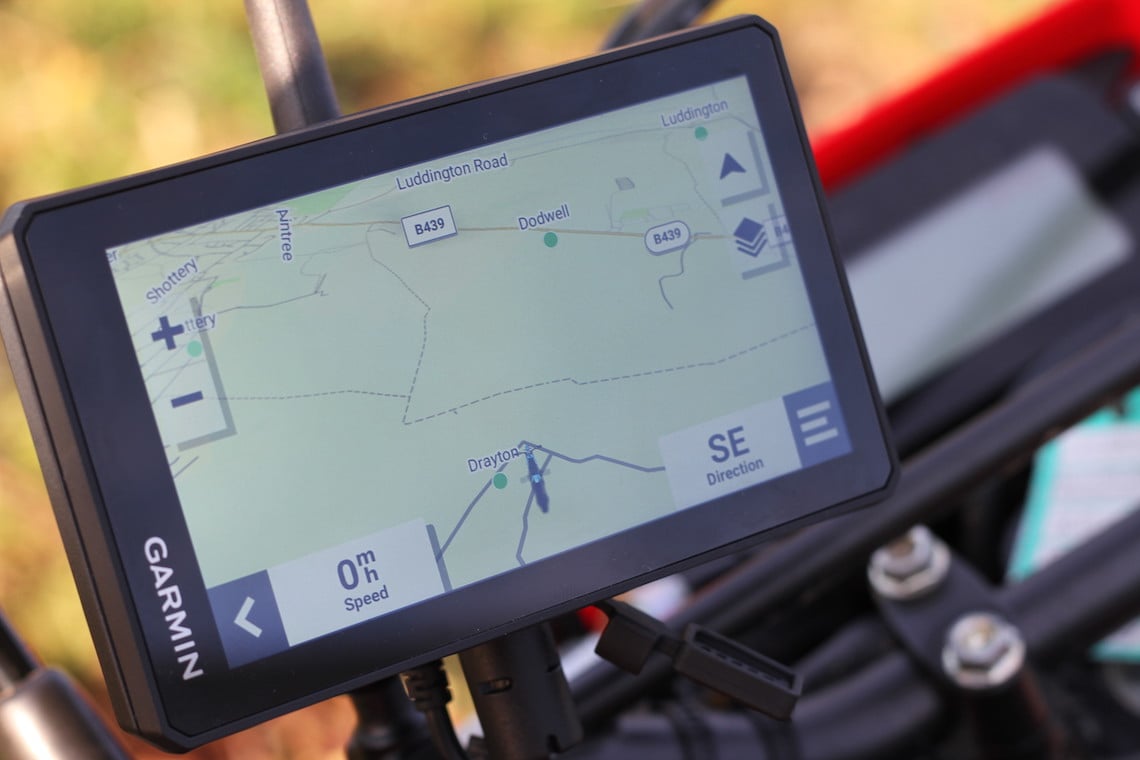 Despite the heavy-duty construction of the Tread, it has a premium, sleek design that looks and functions great. The ultrabright 5.5-inch screen is easy to read even in harsh sunlight, and it's very responsive to most gloves that I've used with it (I've found my winter gloves require a bit more force and dexterity, but that's to be expected).
It's easy to input directions and find what you're looking for through Garmin's interface, even though it's packed with functions.
The Tread can last up to six hours using its own battery, or you hook it up to your bike's battery and run it off that, which I would suggest doing to ensure the device doesn't die while you're using it.
It's got maps, maps, maps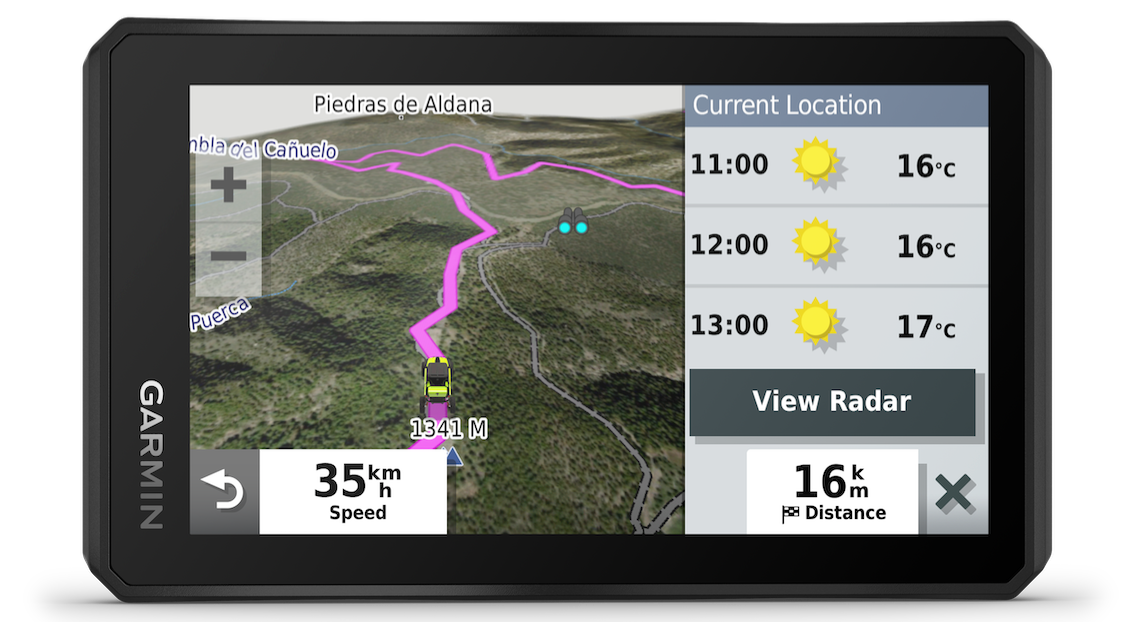 The Garmin Tread comes ready to go with topographic and street maps of Europe, Africa, the Middle East, North and South America, Australia, and New Zealand, which you can choose to install or uninstall depending on your region. Being in the UK, mine was preloaded with European maps.
In addition, you're able to download high-resolution BirdsEye satellite imagery direct to the device so you can fully orient yourself and explore local features, for example when you're looking for a place to wild camp.
I found the maps to be accurate and up to date, and being able to switch between map layers depending on what I was doing was easy and helpful.
For guidance, you can enjoy turn by turn directions whether you're cruising the streets or tackling trails. The Tread benefits from Garmin's 'Adventurous' routing feature, which modifies the directions based on your desired riding experience.
For example, with the Adventurous slider at level 1 the Tread will take you along the fastest route on paved roads, but if you slide it up to level 4 it will factor in as many curves, unpaved roads, and hills as it can on the way to your destination.
I found that with the Adventurous routing at level 4 it gave me mostly enjoyable B-roads and byways while still being a logical route, and although sometimes it wasn't as good as my human knowledge and experience of an area, it was still great for finding new ways to go and spicing up otherwise routine journeys.
The Tread is packed with features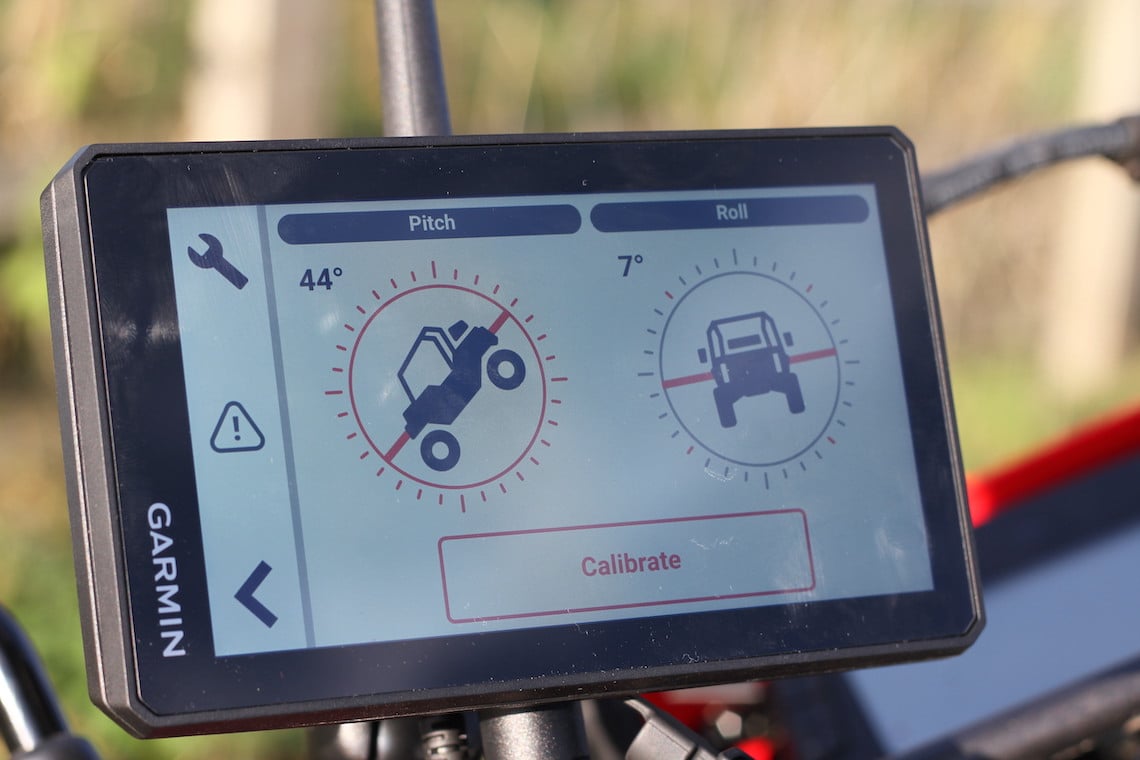 And that's just scratching the surface. It features a Group Ride function that links you up to others using a compatible device. It's excellent for tours since it's preloaded with iOverlander points of interest, along with TripAdvisor ratings for hotels, restaurants, and attractions. Using the campsite search feature, I've found loads of great places to camp, both established and wild.
If you're truly venturing out into the wild, the Tread can be paired with one of Garmin's InReach satellite communicators (which are sold separately), so you can stay in contact with people no matter how far away from civilisation you travel. This functionality does require a subscription, but the interactive SOS and two-way text messaging features makes the Tread a serious choice for adventurers.
It also has an altimeter, a barometer, and a compass, as well as pitch and roll sensors, which are all fantastic features to have if you're tackling tough trails out in the wilds.
It's even great in the car as a commuting or city navigator. If you connect it to your smartphone via Bluetooth and the Tread app, you can access live traffic and weather updates, view notifications, make calls, and control your music. Plus, you can keep track of safety cameras and speed limits, an ever-appreciated feature.
Using the Tread app also makes planning routes especially easy, and you can sync .gpx files, waypoints, and saved routes between your phone, your computer, and the device.
Is the Garmin Tread the right SatNav for you?

Some say getting lost is all part of the adventure, and while that's true in a metaphorical sense, in reality it can be frustrating and inconvenient. Whether you're navigating around a new city for the first time, finding your way along green lanes and backcountry trails, or on a tour, knowing where you're going makes the whole experience a lot more enjoyable.
It's safe to say that I've been converted from using my smartphone for navigation to using a SatNav, and the Tread does an excellent job. There is a bit of a learning curve to discover how all the features work and I can't help but feel like I'm not utilising its full potential, for which I'd need to travel to the American backcountry or the African bush to really appreciate how good it can be. But being overqualified is certainly not a problem in my eyes, and here in the UK I've found it does a fantastic job at guiding me where I want to go, whether I'm exploring green lanes on a trail bike, off on a weekend trip, or even just commuting in a car.
I'd highly recommend adding a Garmin Tread SatNav to your adventure biking arsenal. To find out more about this feature-filled piece of kit, head over to the Nevis website here.