Al Henderson found himself with a bit of free time last week, so what better way to occupy himself than with some riding!? As the TET (Trans Euro Trail) has recently opened, he decided he'd have a blast over to France to see what it's like.
>>> Related: The Trans Euro Trail: Europe's epic off-road motorcycle adventure is now open.
Al had ridden ridden around France quite a few times on the road, but had never touched a trail there. So, this would be a completely new experience for him. With no idea what to expect, he packed up his trusty DRZ and headed for the overnight ferry from Newhaven to Dieppe. Here's how he got on…
Day 1: Dieppe to Maintenon
147 miles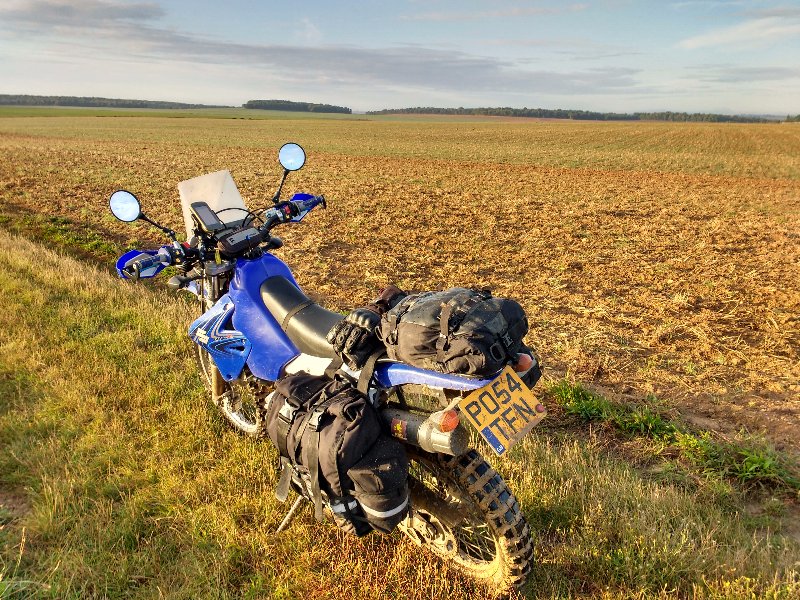 I rolled off the Dieppe ferry at 5.30am, it was cold, dark and very wet. As I knew I'd be landing in France in the dark, I decided to blast an hour or so of tarmac to my chosen start point some six miles south of Beauvais to be there in time for sunrise.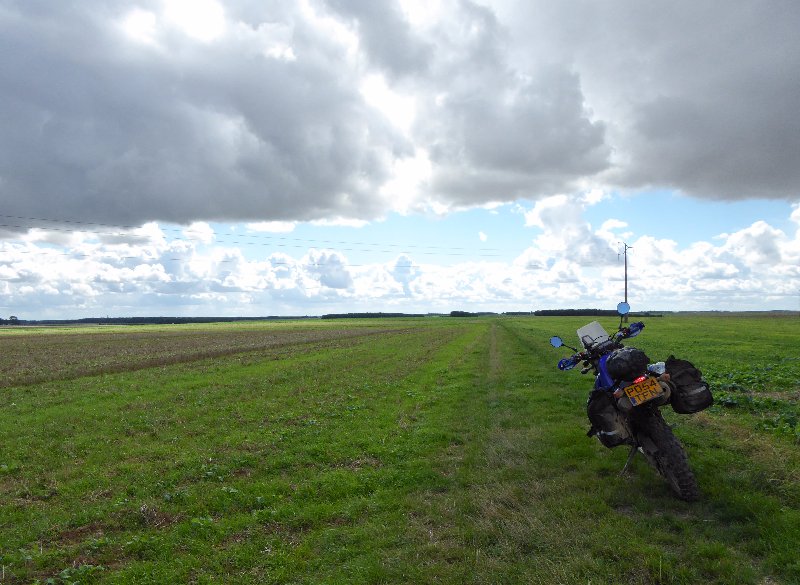 As the sun was coming up I hit my first trail. Lots of wet, slippy, muddy farmers fields for a fair few miles and then into some nice long woodland tracks. More rain and more crossing fields which by now were resembling marshes! Slipping, sliding and squelching all over the place. Great stuff! (If you like that sort of thing).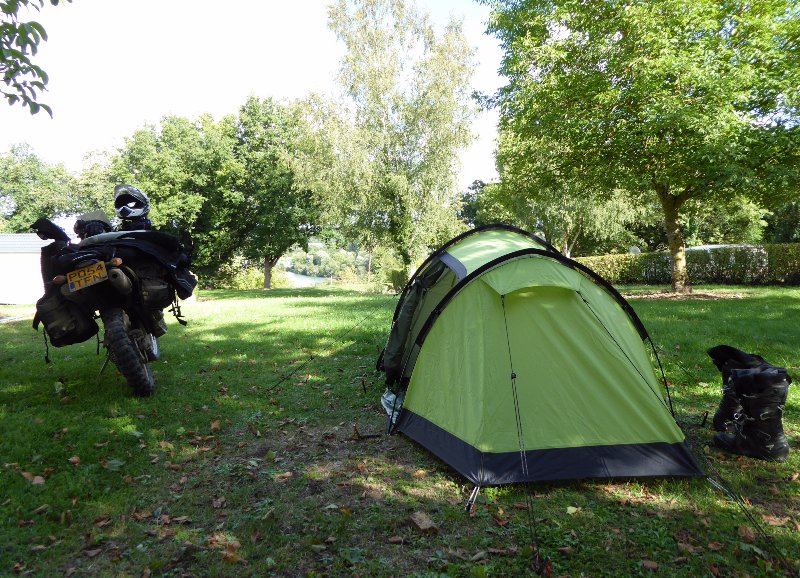 After around seven hours on the trails, the late ferry crossing and early start started to catch up with me, so I decided that was me done for the day. I headed to a campsite 12 miles north of Chatres, just outside of Maintenon to rest, eat and dry my gear.
Day 2: Maintenon to Preuilly
170 miles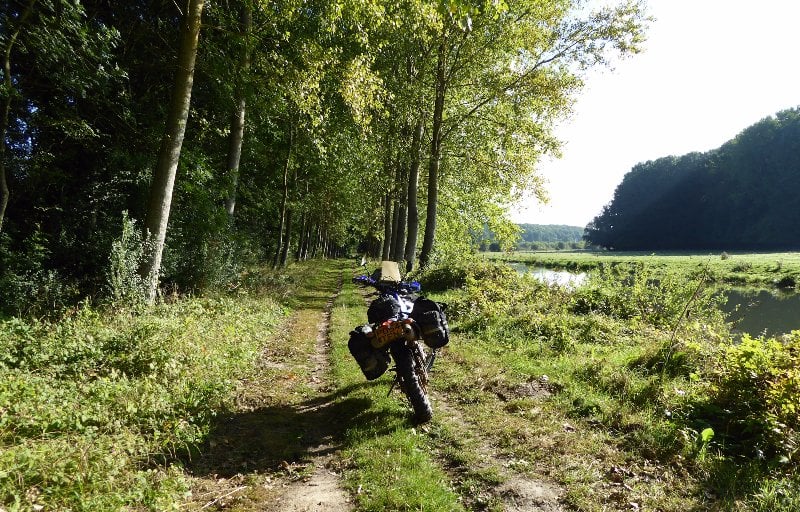 I woke up to the sound of rain, but luckily not heavy. With excitement brewing, I packed up and headed straight for the trails. The route down to Orleans was very similar to yesterday. The fields and tracks were still soaking wet so nice and slippy, especially with all the early morning dew!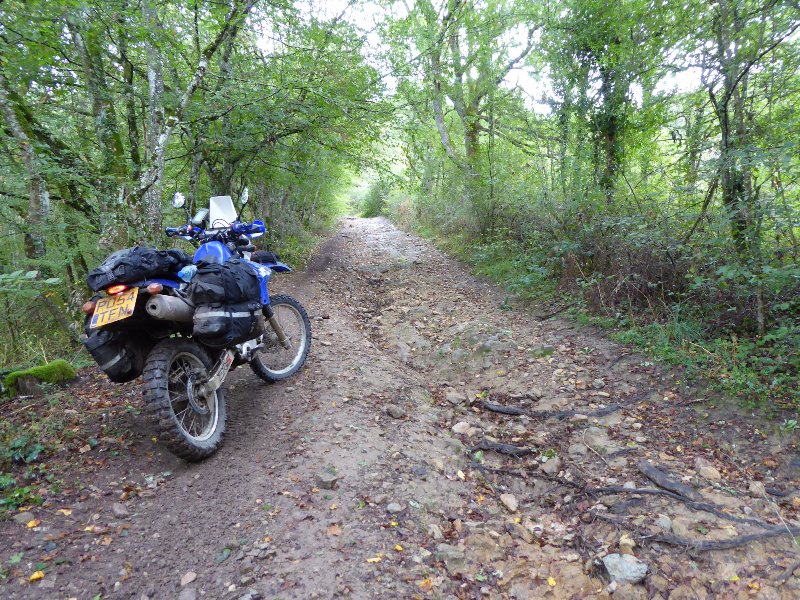 I stopped for lunch on the other side of Orleans, followed by some cracking forestry trails that seemed to go on for miles! Plenty of green lanes flowing down the route. These were a mixture of either fully graded or just good old fashioned mud. Great stuff!
I found a nice little camp site west of Bourges, in Preuilly, and managed to get set up and fed before the rain came again.
Day 3: Preuilly to Rochemaux
131 miles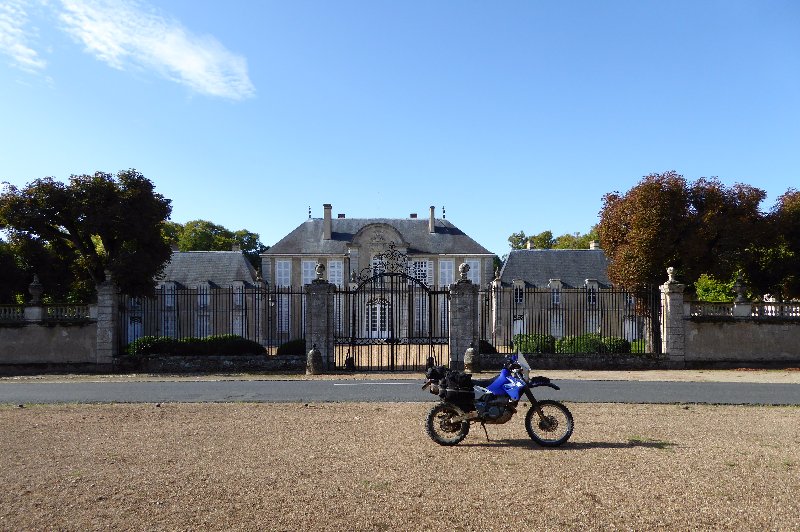 I woke up to heavy rain that kept going on and off all the way to Montlucon. The trails were slippy again, but were definitely changing with more hardpack and some superb pine forest trails. I arrived in Montlucon at lunchtime, it was cold and wet so I headed for some proper French cuisine (and free WiFi) at the Golden Arches.
I looked at the weather and maps, and tried to decide whether to press on or duck into a hotel as a) the weather said rain all afternoon and b) my tent was absolutely soaking. 'But I'm here to ride the TET' I thought to myself. So, I decided to crack on.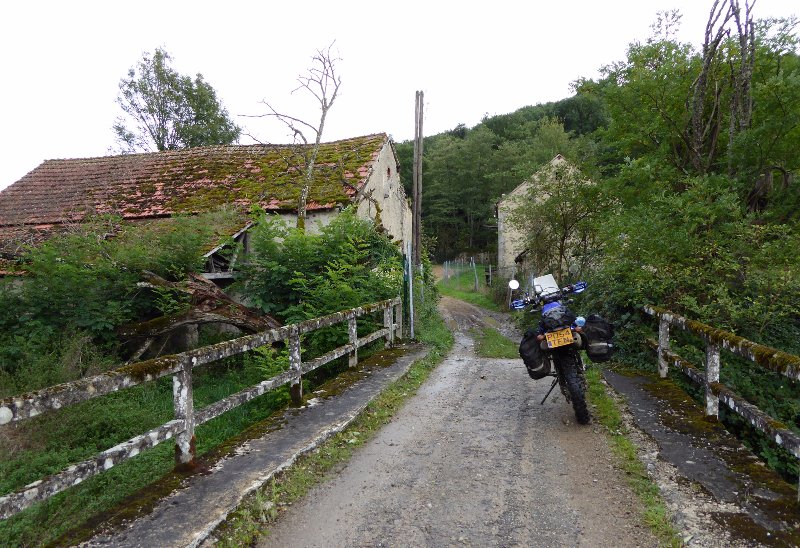 Out of Montlucon, the trails were changing as the miles passed. There were some nice forest trails and tracks through rolling countryside, which reminded me of a few trails in north Wales. In the south of Montlucon I found my first really gnarly trail! One of those 'should I – shouldn't I?' moments. It was steep, chalky, stoney, washed out, with a few steps and sharp turns thrown in. Hard work, but what a cracking trail!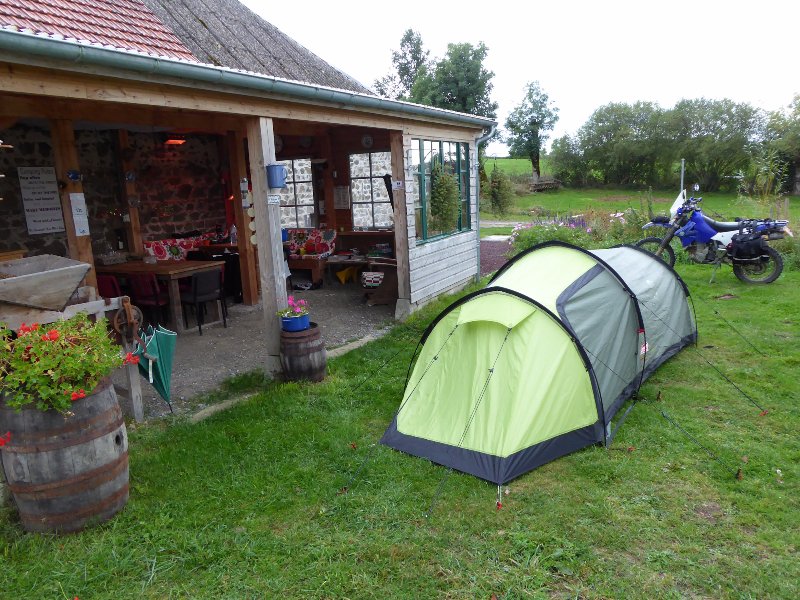 The weather was closing in again, so around 6pm found a superb little campsite in Rochemaux. No one else was there, so I had the outdoor area to myself with heating to dry my gear and more importantly, hot showers!
Day 4: Rochemaux to St Jaques des Blats
136 miles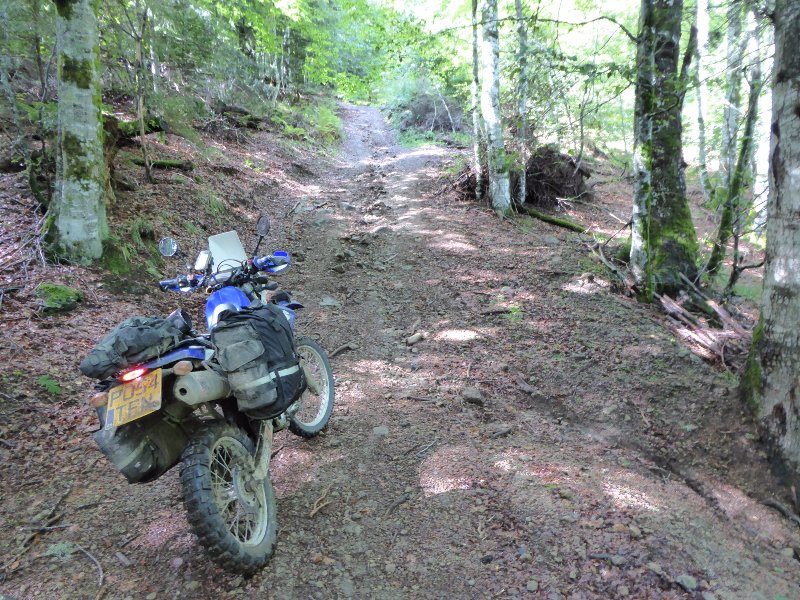 A misty start to the day, but dry (yes!). So I jumped straight onto the trails just outside Sauvagnat. I noticed that the scenery was starting to become more impressive, you could tell that there were some mountains coming! I rode some great hardpack trails, plenty of up and down trails running through the pine forests. Brilliant!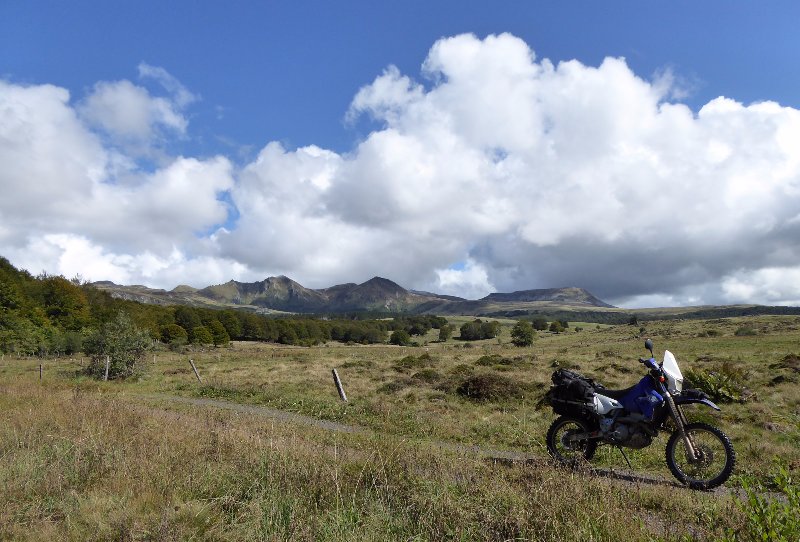 Just a few miles south of La Bourboule was a proper gnarly climb. As you follow the stone track, it starts taking you up a nice gradient for a few miles. Then, as you turn a corner it suddenly gets very steep. It has plenty of run up to it though (although it took me two attempts to get up it!) Hard work, but worth it.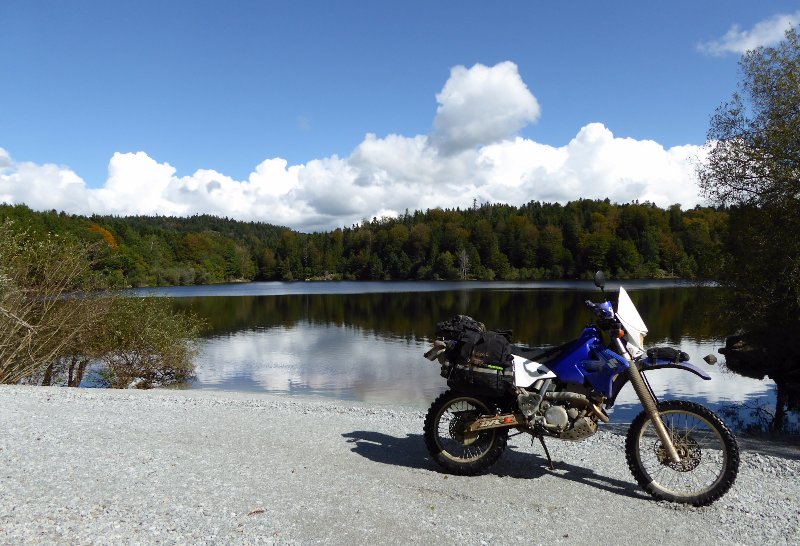 Carrying on through the forest trails brings you out on some fantastic twisty alpine-like tarmac through the volcanic national park. Once you're back onto the trails, the landscape is stunning. It reminded me of the Brecon Beacons. Hardpack trails flow nicely to take you to the Gorge de La Rhue.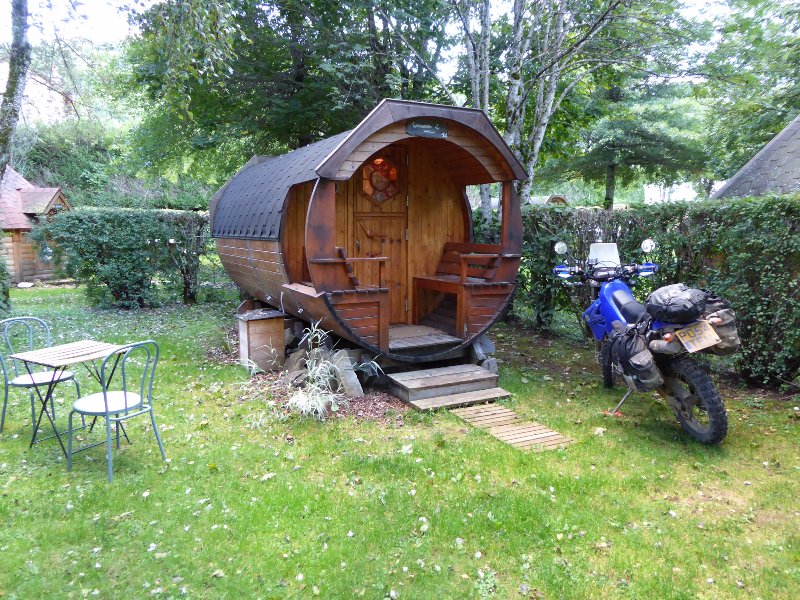 A few more trails and some tarmac and I reached the point where the TET splits. So, which way now? East or south? I decided to head east over the mountains. After about 18 miles I was approaching 6pm, so I planned a stop for the night. Checking the map, the trail passed a campsite in St Jaques des Blats. I've stayed here before and knew it would be open at this time of year.
I got lucky again, the campsite had little cabins to rent. Double bed, heating, gas hob – fantastic!
Day 5: St Jaques des Blats to St Remy de Chaudes Aigues
111 miles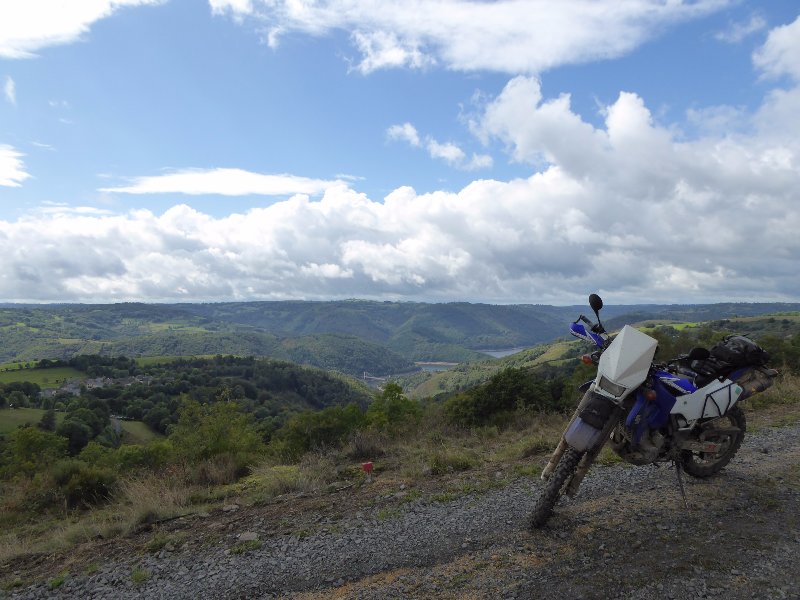 I woke up to light rain, checked the weather forecast east and didn't look good. Decision time. This would be my last full day on the TET before having to head north to the ferry home. So, having had a cosy night in my cabin I decided to stay there another night. This meant a day on the trails without the weight of luggage, excellent! So, bags off the bike and off I went.
The campsite was near the route, so I jumped on and it took took me via some cracking tarmac twisties over the mountains. The first few trails took me through some gorgeous open scenery and there were some fantastic easy trails that I could open the bike up on.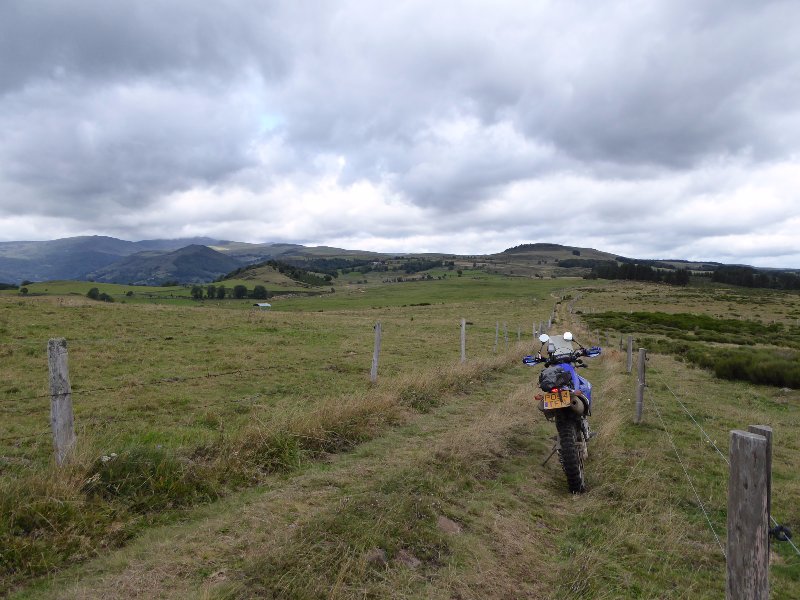 I bumped into a farmer on his quad who was herding cattle along the trail. With my rusty language skills we managed to chat about my trip and the weather (being British one must always discuss the weather with strangers). Great bloke, he moved the cattle off the trail into field to allow me to pass. Can't see that happening in the UK!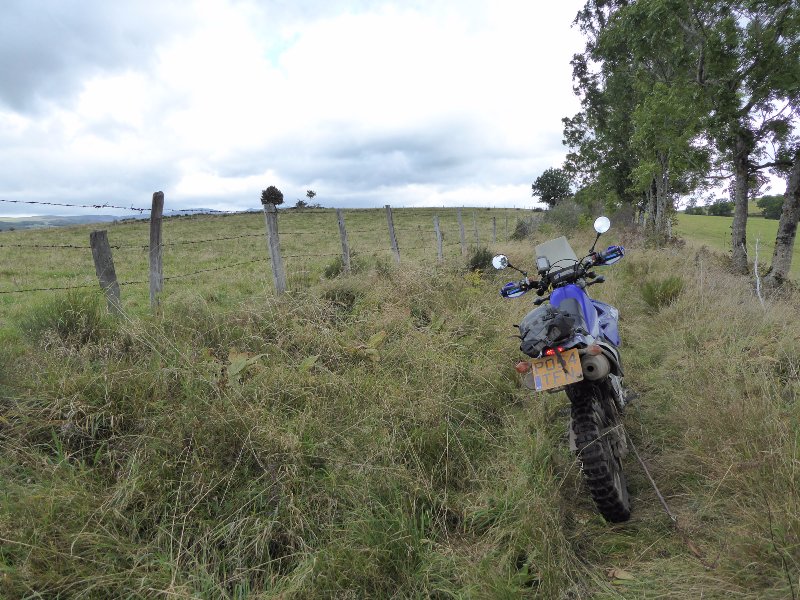 Further into the route I passed through a tiny village called Vigouroux, which has a lovely old chateau. A mile further, you jump back onto the trails and it starts off a little overgrown, but rideable. All of a sudden the trail is filtered between 2 wire fences into almost single-track. The ground is fully overgrown and absolutely covered with an old collapsed drystone wall. Glad I didn't have my luggage as this was a real challenge for my bash plate. This is one of the only lanes I would say would be quite difficult on a big bike.
You could not see what was on the floor and the boulders were massive and the ruts deep. Every movement forward resulted in bashing into another obstacle. My DRZ is narrow and lightweight, but it barely got through. Proper bouncing the front end, blipping the throttle and rocking the bike stuff. Hard work, but great fun! But, if I was on my Tenere I'd probably still be there now!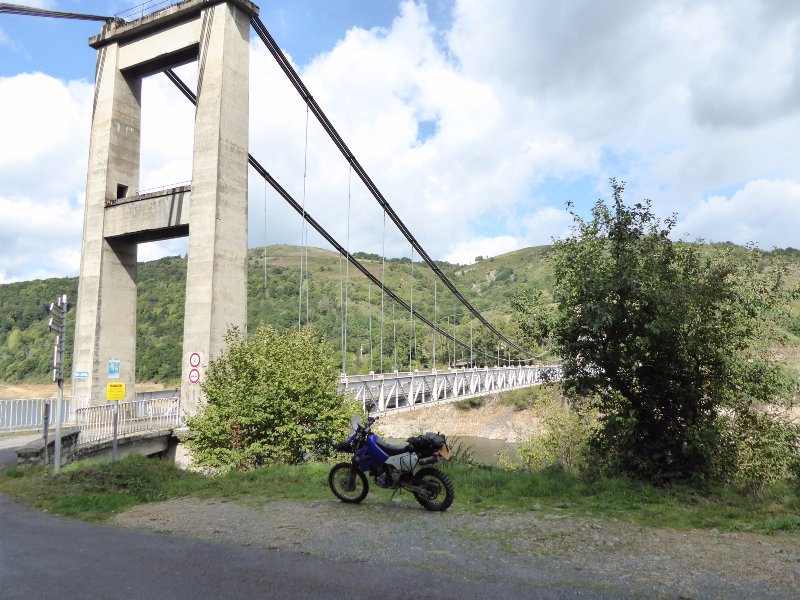 After, it was back to some superb rocky trails and rolling countryside. Passing through Sainte-Marie it dropped down onto a suspension bridge, over a reservoir, then tarmac takes you on some fab twisties. The trails picked up again through a pine forest, these trails were fantastic and I followed a few different ones playing in the forest for an hour.
After dropping out of the forest, along the trail, I arrived at St Remy de Chaudes Aigues. It was about 4pm. Checking the maps I was about 90mins away by tarmac back to the campsite. So, as the rain was drawing in a decision was made to make my way slowly back.
Day 6: St Jaques des Blats to Meaulne
195 miles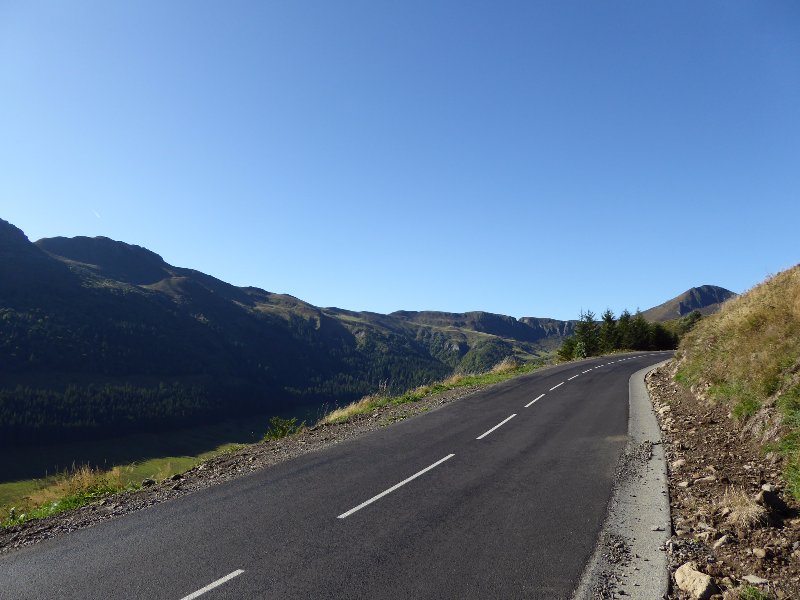 A lovely sunny start to the day, although pretty chilly being at 1,100m. I packed up and headed off on the tarmac north. I took some really scenic twisty roads over a few different cols, stopping off for a few pics and a coffee. Bit of route planning and around lunchtime I dropped back onto the TET to take in some trails, this time with no rain! Some fantastic forest tracks that made the afternoon disappear.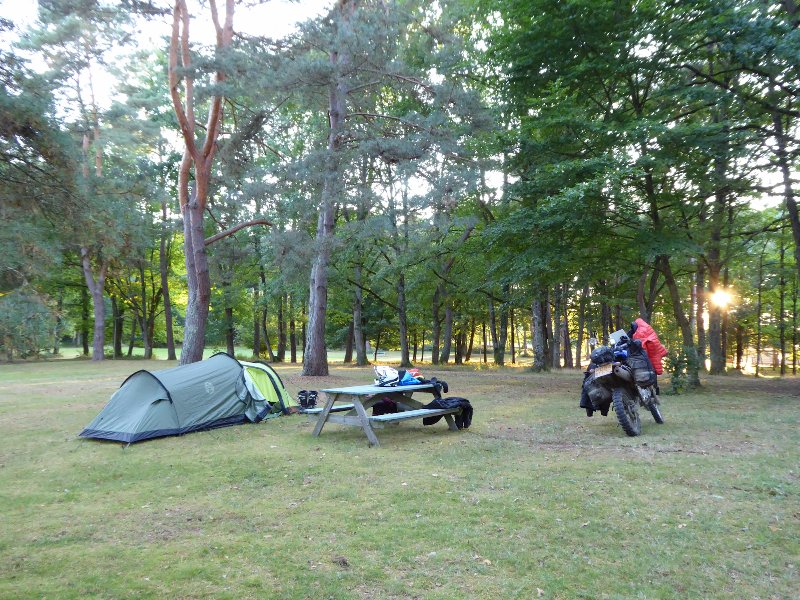 Around 4pm, I decided to put a shift in on the tarmac again to get further north. I found a beautiful campsite in the middle of a forest. A massive place with a few Dutch pensioners dotted around. GPS said around 298 miles to Dieppe, so another day tomorrow jumping on and off the TET would get me half way there ready to finish the last few miles Friday.
Day 7: Meaulne to Maintenon
211 miles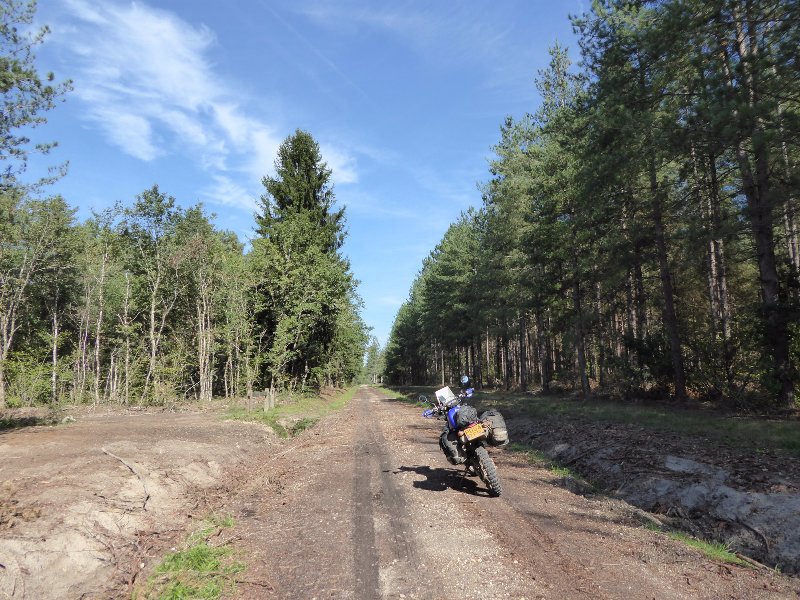 Early morning start to get a shift on north with beautiful autumn weather. I made my way north for an hour on the back roads through the forests. Hardly a soul in sight again. The plan for the day was to get a few miles north in the morning and hit the trails from Vierzon to north of Orleans, then tarmac to the campsite I stayed at on the first night.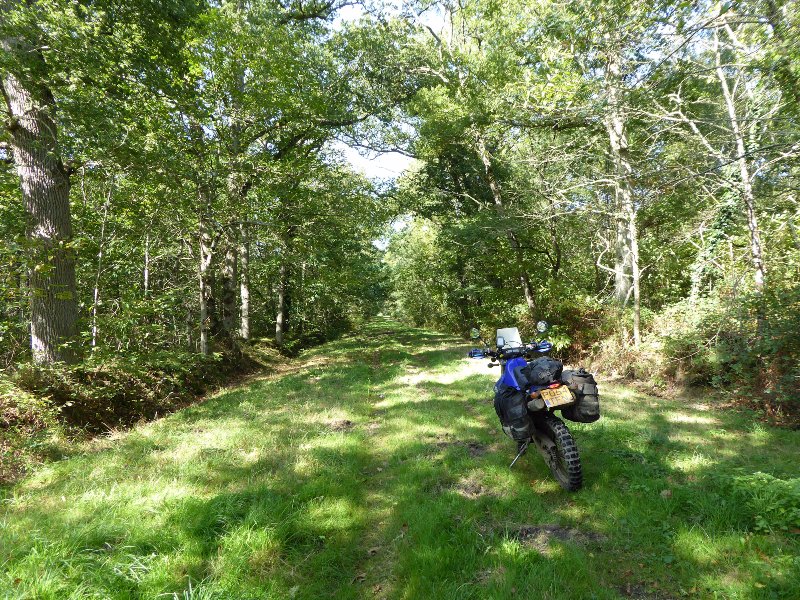 It was a cracking to ride the trails in the dry with the sun on my back. Some lovely forest trails and the tarmac sections were great too. The trails around there were mostly green lanes so were all graded and quite wide. In the dry you can get a proper braaap on!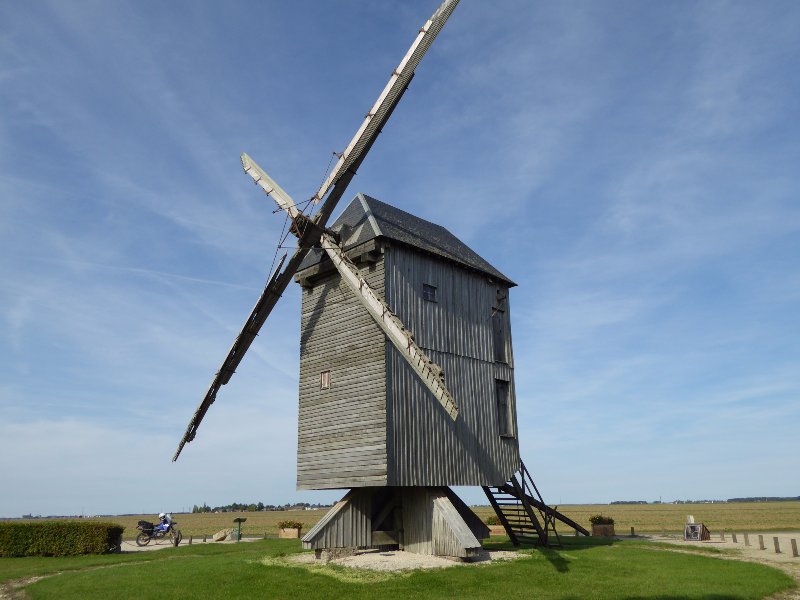 I headed back to the campsite around 6pm. I was only about 111 miles from Dieppe, so the plan for the next day was to take a relaxed start and spend the day on the TET trails heading north. Then, before dark to jump on tarmac to Dieppe to find something to eat and somewhere to hang out until the ferry at midnight.
Day 8: Maintenon to Dieppe
169 miles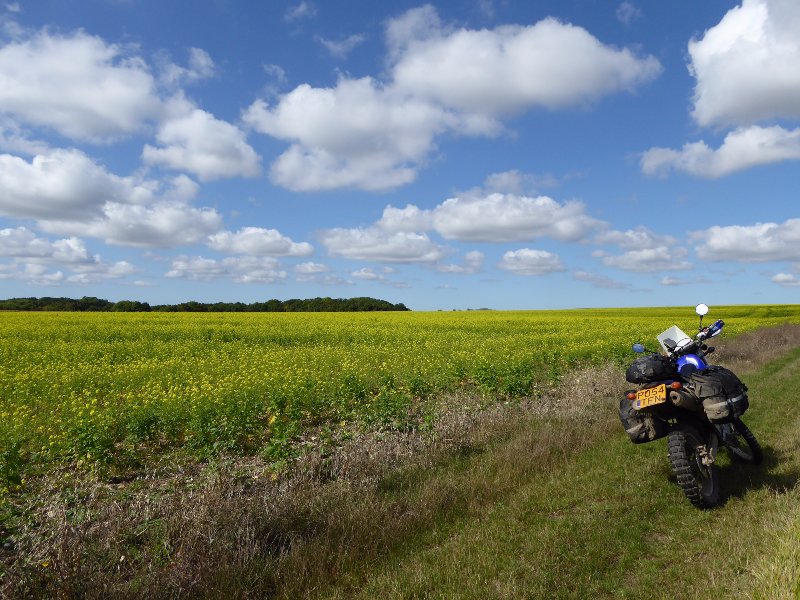 Easy morning as no rush that day, I packed up and jumped right onto the trails by the campsite. I spent the day retracing the route I rode on the first day. Wow, what a difference in the dry, cracking stuff! I even bumped into two fellow TET riders heading south along the same route as me. They were the first other off road bikes I'd seen in the whole trip.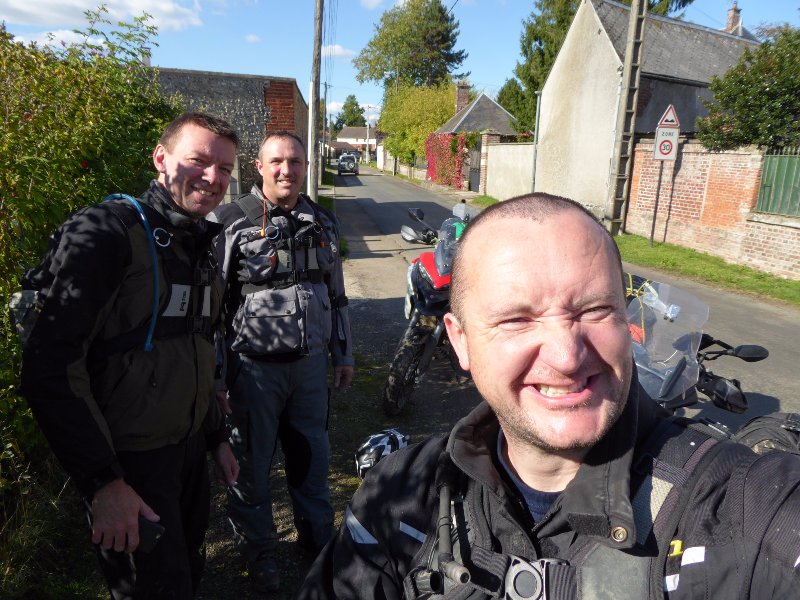 I finished my last trail around 6pm, just outside Beauvais, then took the back roads to Dieppe to catch my Ferry home.
So, conclusion? I had a cracking eight days on the trails through France. I bloody loved it. Even riding in the wet and cold conditions for a few days was fun and it was brilliant to explore new places. I will definitely be riding more of the TET next year!
Head over to the Trans Euro Trail website to find out more about the route. You can also watch Al's video he put together from his trip…
Big thanks to Al for the trip report, his photos and video which he shared on the ABR Forum. You can reply to him in the thread and also follow him on his YouTube channel.