.In The Third Instalment Of His UK Green Lanes Series, Mike Beddows Checks Out Routes In The Peak District And Wales
Key To Green Lanes Above:
Issue 9 Kiln Bent Road/Ramsden Road (W Yorks)
Issue 9 Stanage Edge (Peak District)
Issue 10 Salter Fell (Lancashire)
Issue 10 Wayfarer Trail (N Wales)
Issue 11 Rowland (Peak District)
Issue 11 Sarn Helen, Betws-y-Coed (Wales)

Green Lane 5: Peak District
Rowland, Peak District
2 miles
WOW factor ★★★
The Peak district has a fantastic network of trails and one of these runs from a small hamlet called Rowland to a village called Calver. It's a relatively easy trail and can be attempted by novice riders if care is taken.
The local area has a high mining presence and the access road for the local quarries is used on this trail. I have never seen any large machinery while riding here and the tracks are well maintained but do keep an eye out for any tra­ffic.
The two main materials mined from these quarries are fluorspar and limestone. A lengthy legal battle to try to halt mining in this area has recently been lost. Concerns were over permanent damage being caused to the Peak District National Park by large-scale limestone aggregate removal, but the High Court has ruled that the owners may take as much limestone as they like, for the next 34 years.
This is a fantastic trail and can be completed in both directions. ­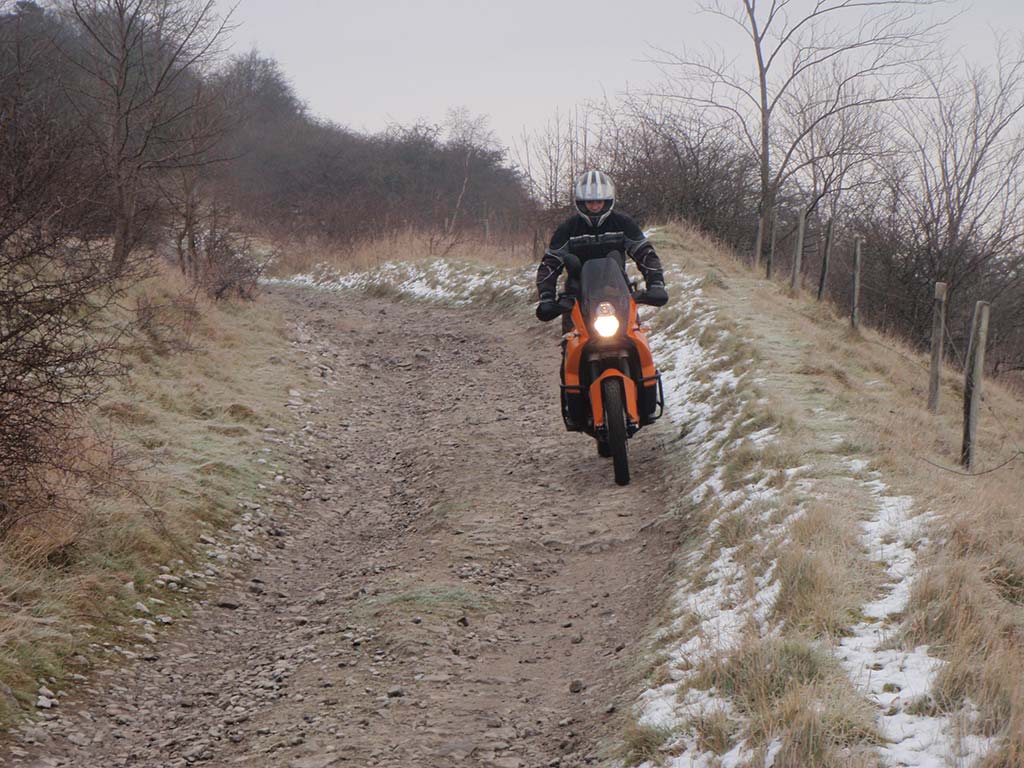 ROUTE FACTS
Distance: 2 miles
Nearest town: Calver; Bakewell to the south
Maps: OL Explorer Map OL25,
The Peak District, White Peak Area 1:25,000
Start/end grid reference: SK215727/SK238744
Di­fficulty rating (out of 5): 2
Wow factor (out of 5): 3
Other trails: It's the Peak District so lots to choose from, the best being Houndkirk Moor, Banford Clough, Pindale, Roych Clough (keep an eye on www.adventurebikerider.com for member-organized ride-outs)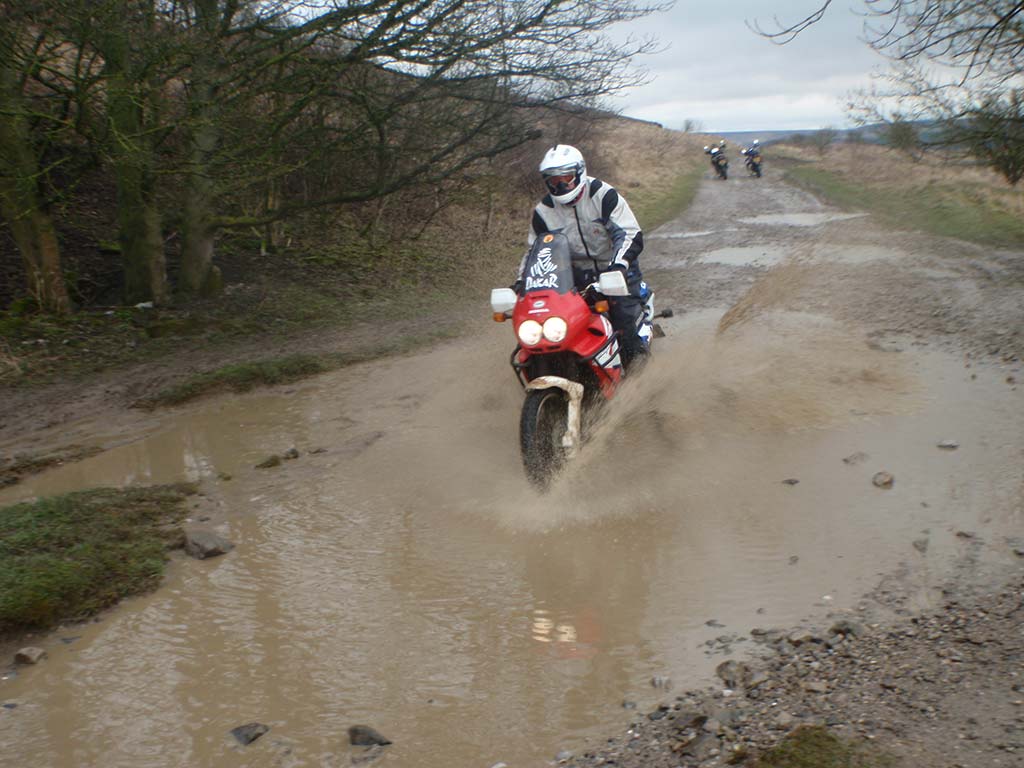 1–2
Starting this trail, you proceed through the hamlet of Rowland. Take care as this is a very quiet, quaint hamlet that obviously suffers a lot of trail tra­ffic; I've seen convoys of 4x4s passing through here. Proceed through the hamlet and continue along the single tarmac road marked 'unsuitable for motor vehicles'. The trail turns from tarmac into a gravel farm track. This section is easy and can be achieved on any bike.
2-3
Proceed up the slope and the terrain become a bit tougher. At the very top is where the fun really starts! The views from here looking out over Hassop Common below are fantastic. The trail is fairly wide, and this section collects a lot of knee deep water. The puddles are big and are great fun to splash through. The trail has numerous jumps in between the water splashes. Take care, though, as most of the opportunities to jump the bike will end up with it landing in water! Be cautious through the puddles as there are large,
loose stones in them that may catch you out. There is nearly always space to the side of the puddles if you don't want to go through them.
3-4
Be careful here. There are signs on the left stating that trail-users should stick to the path. There used to be clear evidence of heavy off-piste activity here, but this is slowly being regained by the vegetation. Although there is a trail leading to the left, it's marked on the map as restricted, even though it's used by quarry vehicles. Stay right and keep to the legal trail. The trail from here follows the access road to the local quarry workings. It's wide, well compacted, but still has a loose gravel surface with the occasional washout. Proceed down the trail and be careful on some of the steeper sections.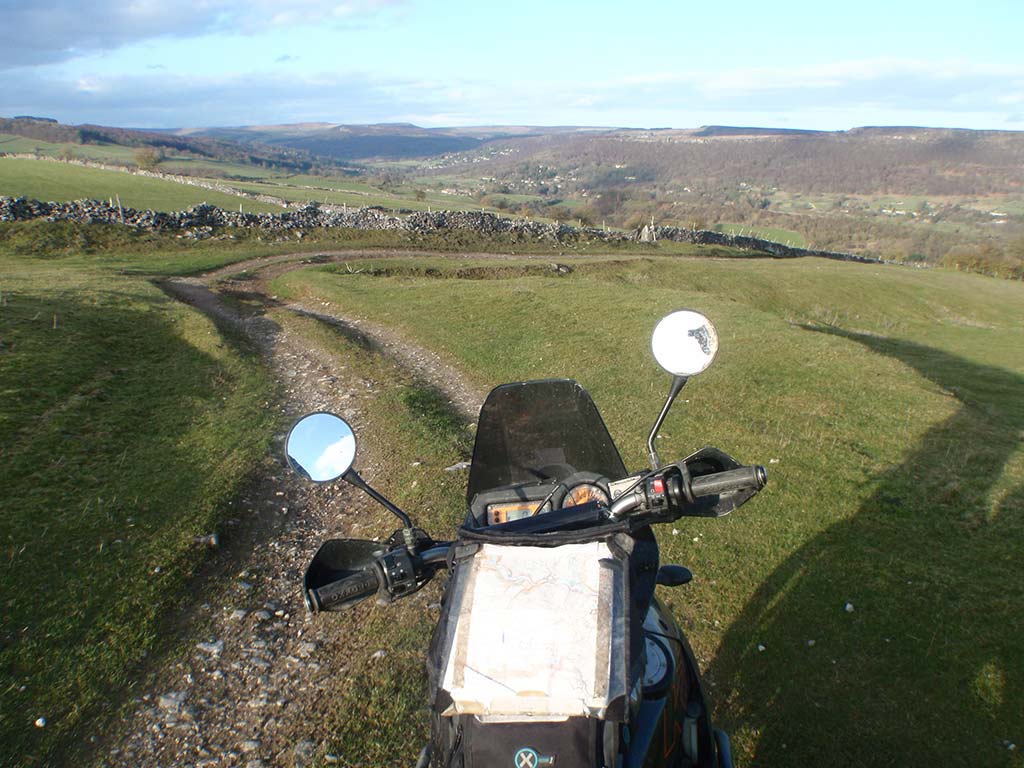 4-5a
As you proceed down the trail from 3-4 it's easy to miss the farm gate on the left. The section from 4-5a is along a farm track with fantastic views down to Calver. Take care as there are a few switchbacks as the
trail descends the hill.
4-5b
Continue down the quarry access road to the B6001. At the very end, take extreme care as the trail meets the road on a bend on a downward slope.
Did You Know?
Fluorspar is a crystalline form of calcium fluorite which is commonly found deposited in limestone and is
used to produce aluminum fluoride and hydro‑ fluoric acid. Limestone is a sedimentary rock composed largely of calcium carbonate, which has a huge number of industrial uses like cement and mortar, soil conditioner and being crushed for aggregate, which is the solid base for many roads.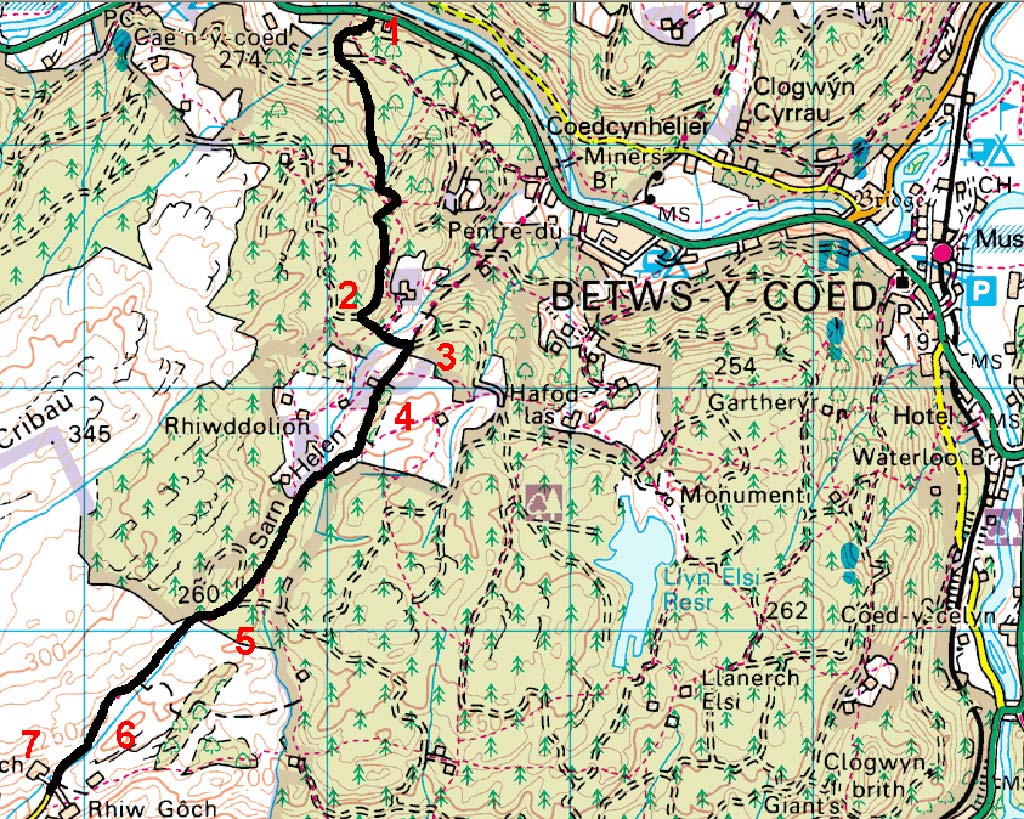 Green Lane 6: Wales
Sarn Helen, Betws-y-Coed
2.73 miles
WOW factor ★★★
The Sarn Helen was a Roman road in Wales, running from Aberconwy in the north to Carmarthen in the south. The most famous section is in the Brecon Beacons in South Wales and as such, most people probably won't know the true extent of this ancient long distance road.
The original north-to-south route was some 160 miles in length. Today, some sections are modern highways, others still traceable as Roman roads, though very degraded, and at various places, there is still much debate as to where the road actually ran. A good section in North Wales can still be ridden and stretches from near Betws-y-Coed to a small village called Pont-y-Pant.
The trail isn't technically di­ cult, with the exception of one short section. As this trail doesn't have a suitable route around the tough bit, it's been given a rating of 3. Any novice riders wishing to complete it should be able to do so with the aid of other riders. After all, if you get stuck you can either turn around or get a friend to get your bike down the technical part, so why not give it a go? ­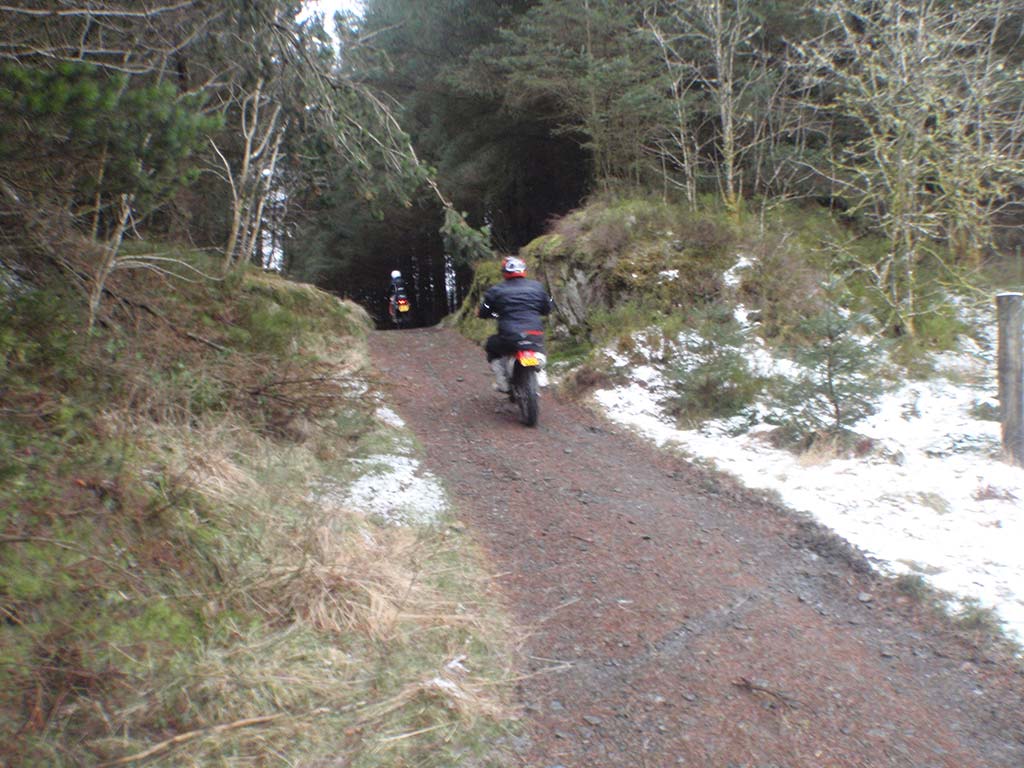 ROUTE FACTS
Distance: 2.73 miles
Nearest town: Betws-y-coed
Maps: OL Explorer Map OL17, Snowdon. 1:25,000 (trail start) and OL Explorer Map OL18, Harlech, Porthmadog. 1:25,000 (trail finish)
Start/end grid reference: SH77257/SH759543
Di­fficulty rating (out of 5): 3
Wow factor (out of 5): 4
Other trails: Some fantastic trails in the local area. (Keep an eye on www. adventurebikerider.com for member organised ride-outs)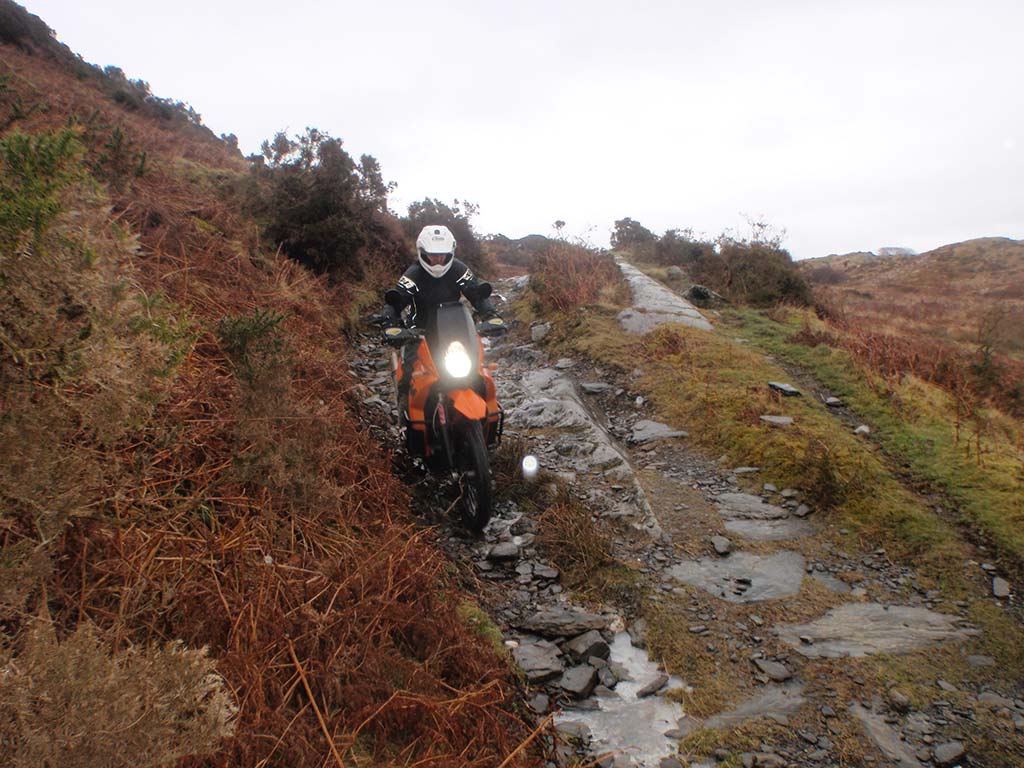 1–2
Access to the forest track is on the left when heading west from Betws-y-coed, just othe A5. Take care as this section of the A5 is a fast road and you'll need to keep an eye out for the track's entrance. The forest track is easy going and is used as access for walks from cars. Beware, however, because the surface is extremely slippery, even though it doesn't look it. I've had my rear spinning while riding slowly, and I've witnessed a heavy off due to the nature of this section.
2-3
Make sure you take the left fork at this section. It's easy enough to tell if you've gone the wrong way, as once round the left fork, you're looking to take a right turn onto a tarmac road. If there's no tarmac road, you've taken a wrong turn!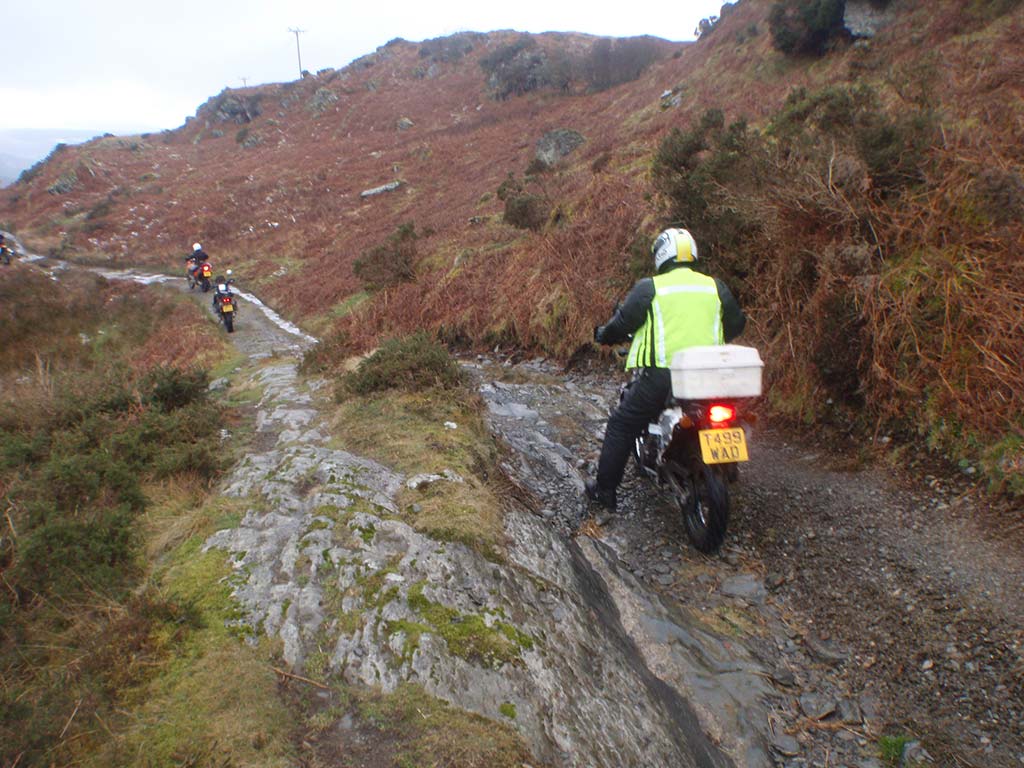 3-4
Make sure you turn right here onto a deteriorating single-track tarmac road. Take care as this tarmac proceeds uphill and can be covered in debris and moss from the forest.
4-5
Proceed past the houses and the tarmac turns into a good-condition forest trail. The trail is still easy going and will present no problems, even for novice riders.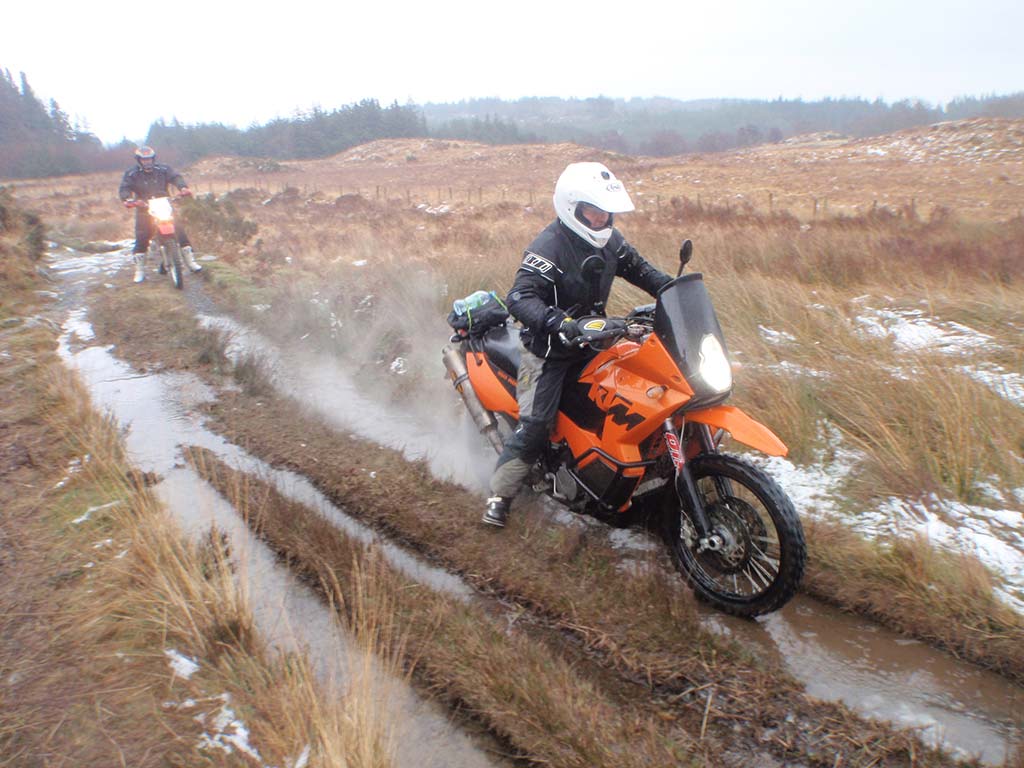 5-6
Once out of the forest the trail turns into a moorland track. It's rutted in sections that can hold knee-deep water, so take care on this section. The scenery is fantastic and really shows the remoteness of the area: very wild and rugged. There's a di­fficult stretch on this section that proceeds downhill and the safest route is to take the washout that's been created by run-off water. It may prove tricky for novice riders, which is why this trail's been given a di­fficulty rating of 3.
6-7
The trail continues, and once you've gone down a slope to a gate, it turns into a farm access track. The trail continues and ends once you reach the tarmac.