It's not just that heated motorcycle gear makes your ride more pleasant, although a warm cocoon around your body is a glorious change from thawing out frozen fingers around a mug of tea, or hugging a radiator when you get to work. Heated gear also makes riding safer. When you're cold your body works overtime to warm you up. Shivering can burn 400 calories an hour, causing fatigue and impacting your ability to concentrate.
This isn't pleasant when you're walking or stood outside, but on a bike, it can have a much graver impact. You become more likely to skip those little checks – the lifesaver, the glance in your mirror, that final check before pulling out. It doesn't make you a bad rider, but when you're pushing your body to the limit, something will eventually give.
Using heated gear will not only solve this issue, but also means you do away with the bulky extra layers usually associated with winter riding. Added bulk reduces your flexibility in the saddle and thick gloves can reduce your ability to use the controls. This all adds up to slower reaction times which is never a good thing on a motorcycle.
So without further ado lets take a look at some of the best heated gear on the market at the moment.
How we're judging
All gear designed for motorcyclists must fulfil the basic function of allowing us to ride our motorcycle as safely and as comfortably as possible. An item's rating will not only take into account its ability to keep you warm while riding in cold weather, but also value for money, comfort, ease of use and protection (if relevant)
Gerbing
XR Heated Motorcycle Gloves – £169.99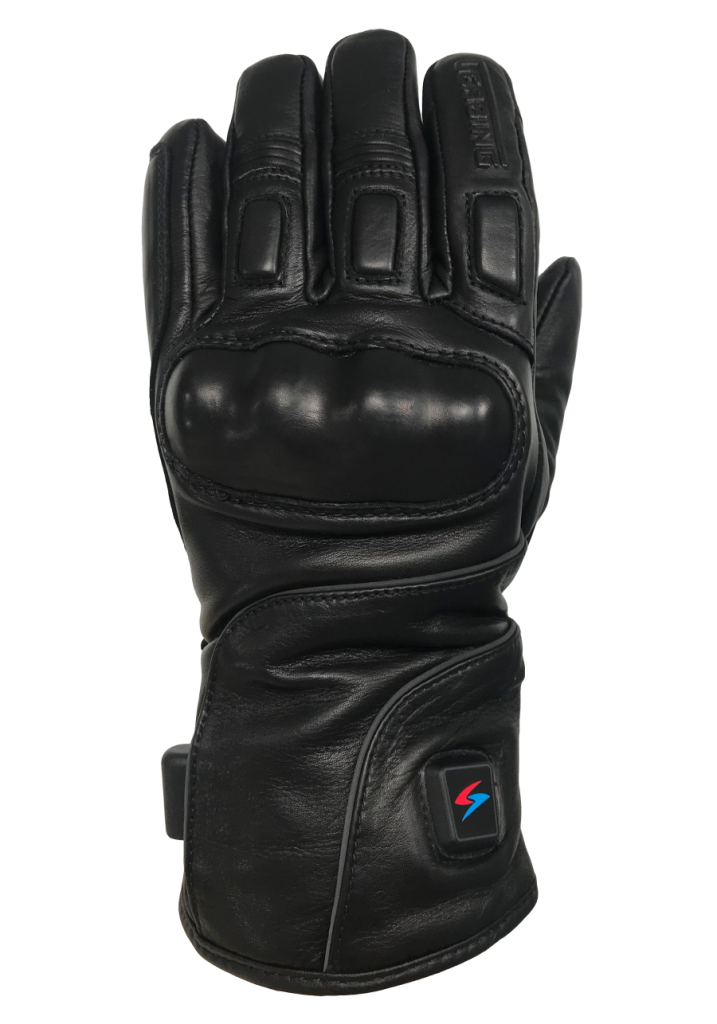 In a line: Comfortable, well-made heated leather gloves that you'll want to keep wearing into Spring.
ABR Rating: 8/10
As the heated gear market evolves established brands, such as Gerbing, have stayed ahead of the game by improving the versatility of their offerings. Designed to be worn alone or alongside one of Gerbing's heated jacket liners, the XR gloves are no exception to this rule.
The first time you pick up the glove, you'd be forgiven thinking it's a 'normal' bike glove, and the beauty is that you'll find yourself using it even as the temperatures rise. The leather outer keeps the glove supple and provides a tactile feel with your motorcycle's controls, while the Hypora membrane keeps the glove waterproof when the rain starts to fall.
A palm slider and armoured knuckles should protect your hands in the event of crash. The power connection is also subtle and hidden on the side of the cuff, and the control button is similarly understated. To the casual observer the XRs simply look like a nice pair of leather motorcycle gloves.
The XR avoids the issues other heated gloves have with bulky batteries as they're designed to be wired directly to your motorcycle's battery, or a Gerbing jacket liner. Ideal in theory, but in practice this can throw up some issues.
When worn underneath your jacket, as you would want to in the rain, the temperature control button is covered and inaccessible. It is also seriously fiddly to get yourself wired in, adding a few minutes to your ride preparation. Despite this, they're a great companion to other Gerbing gear, and best much of the competition.
RST Paragon Thermotech – £189.99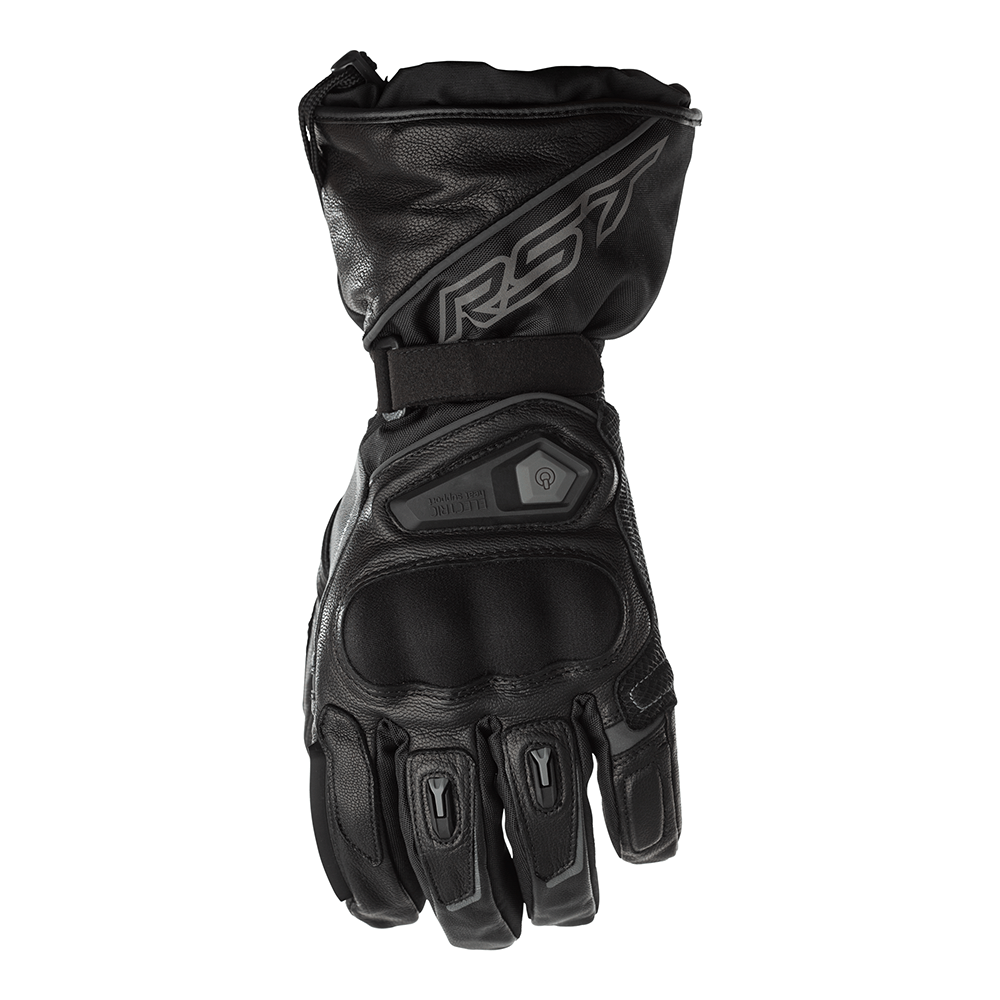 In a line: A comfortable winter glove let down by battery and comfort issues.
ABR Rating: 7/10
RST is a British company with a history in racing who have built a reputation for producing reasonably priced and versatile riding gear. However, the Paragon Thermotech gloves, priced at £189.99, certainly aren't cheap, coming in at the top end of RST's glove range. With a leather construction, touch-screen compatible fingers and a waterproof lining, they looked to be the ideal glove to keep my hands toasty as the temperatures dropped on my daily 30-mile commute.
The gloves slip on easily and provide a tactile connection with my bike's controls. The knuckle armour and reinforced sections on the fingers and palm give them a solid feel and should protect your hands in the event of spill. The glove has a thinsulate inner liner which feels soft to the touch and makes them fairly warm even without the heating element switch on. Unfortunately, I found this out the hard way, when the battery died during my commute. The quoted battery life is four hours, but during real world use on bitterly cold winter mornings the hottest setting drained the battery in less than two hours.
The battery pack is located in an over-sized wrist cuff which didn't fit under my jacket. This means that when it rains, water will run down your arm and into the glove. The warmth from the heating element concentrated on the back of my hands, mostly around the fingers, although I did find they lifted off my hand when I gripped the handlebars, lessening the heating effect.
When it's dry, and the heat is turned up to full power, The RST Paragon performs well, but with the price in mind there are a few too many flaws for my liking.
Tucano Urbano
Handwarm gloves – £169.99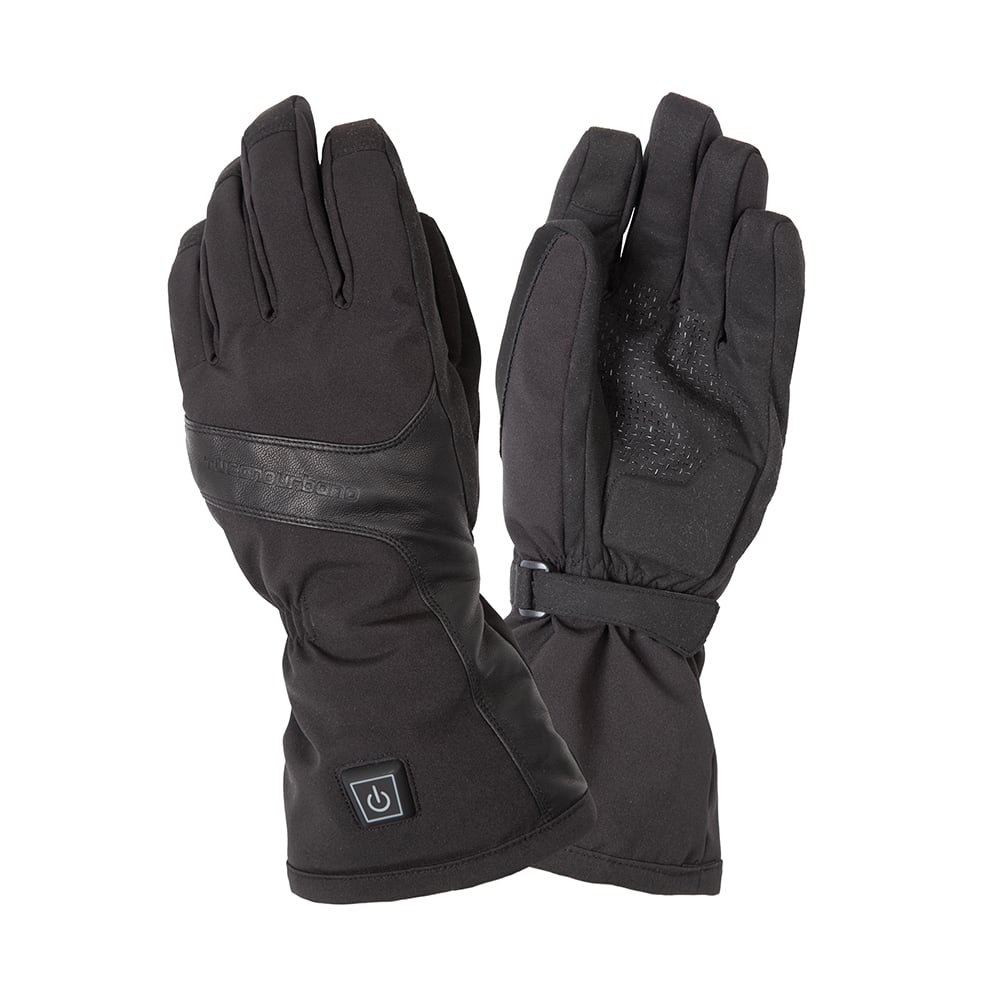 In a line: Provides warmth and comfort, but lacks protective features of a motorcycle glove.
ABR Rating: 6/10
Tucano Urbano is an Italian brand known for its stylish range of products targeted at scooter riders and commuters. The Handwarm glove is no departure from this trend. An understated, all-black polyester/polyurethane waterproof outer with a polyester inner makes for a subtle and comfortable glove, with a warmth provided by heating elements in the palm and fingers.
Stripped back simplicity lies at the heart of what makes this glove an attractive prospect. The waterproof outer keeps you dry, and the heating elements are lovely when gripping your handlebars. The on/off button is large, easy to use on the go and the glove itself is very comfortable on, in fact it hardly feels like a motorcycle glove at all.
But this also proves to be its undoing. The button is overly sensitive and not well-lit, I found myself regularly knocking it off without noticing. The glove also only provides one heating setting with no option to wire them into your bike, has a short battery life of around two hours and comes with a distinct lack of protection, except for reinforced padding at the knuckle and palm, and is, with this in mind, only really suitable for short commutes around town.
The Handwarm is a glove you could easily wear on a morning dog walk, before hopping on your bike and heading into the office. But with limited protection, there are better options at this price point.
Keis
G601 Premium Heated Touring Gloves – £199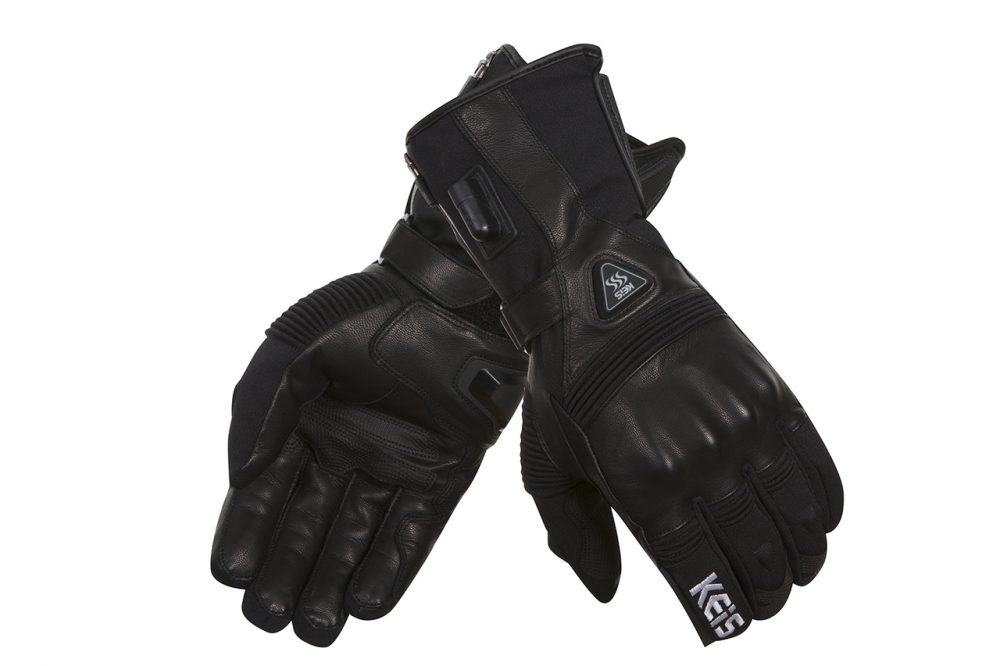 In a line: An excellent heated glove with options to cover short or long distances in comfort.
ABR Rating: 9/10
A well-known name in the heated gear market, Keis is a British brand which has built a reputation for providing an excellent range of heated motorcycle gear over the last few years. After a few colder mornings pushed some other gloves to their limits, it felt right to put the premium-priced G601 under the microscope. For testing I wore the gloves with the optional battery packs for ease of use, though ABR editor, Bryn, wears them wired in to the bike and swears by them.
Though the price may look a bit steep, when slipping on the gloves for the first time you'll realise that you really do get what you pay for. A leather construction with comfort panels ensure you don't lose any feeling from the bike's controls, and a palm slider and armoured knuckle provides the protection you'd expect from a 'proper' motorcycling glove.
The snug design keeps the heating elements, located on top of the palm and around the fingers, flush to your skin. The Thinsulate and Hipora membrane helps to keep the heat in and your hand dry, making these gloves warm to wear even when the battery runs out. The heat controller on the back of the hand is easy to operate, remains accessible when the gloves and under your jacket and gives you three effective heating settings, while the red/green/yellow lighting system is easy to read.
I'd highly recommend Keis' G601 as a winter glove, even if it didn't have the heating element, and they're my go to glove now. However, add the extra warmth from their heating ability and you have a superb glove to keep you riding through the winter months. I would opt for wiring them into my bike's battery instead of using the rather bulky and expensive battery packs fitted inside the glove.
Blazewear
Heated Motorcycle Jacket Liner – £169.99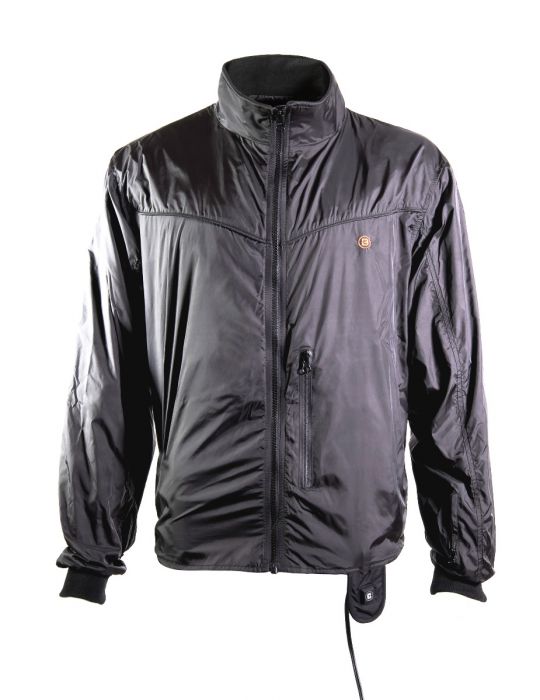 In a line: A reasonably priced jacket offering fantastic heated coverage.
ABR Rating: 8/10
Blazewear is a British company which specialises in providing heated clothing targeted at people taking part in a range of activities. It has entered the motorcycle market with its Moto Range, a collection of standalone or connectable heated mid-layers to keep your entire body warm. I was interested to see how they fared tackling a market dominated by seasoned manufacturers. The Heated Motorcycle Jacket Liner offers full upper body heated coverage, with two elements in the chest, back, sleeves and collar.
The jacket is soft to the touch and doesn't add much bulk underneath your usual riding jacket. When it's switched on, you have a choice of three heating options to keep you snug.
You will have to install the wiring harness to your motorcycle battery  before setting off, but once done, you're guaranteed all-day warmth. The controller is easy to use and allows you to switch between settings easily while riding.
The inclusion of a high collar and long sleeves, complete with their own heating elements, makes this an excellent heated under layer at a competitive price.
BMW
Motorrad HeatUp Bodywarmer Vest – £185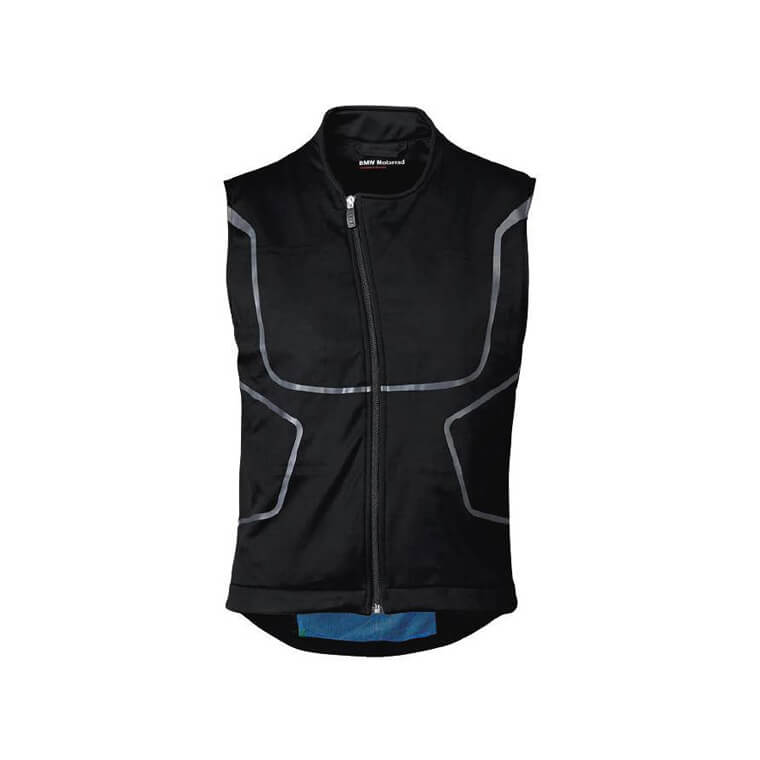 In a line: A premium heated vest that is easy to use and will keep you warm all day.
ABR Rating: 8/10
A household name in the adventure motorcycle market, the German manufacturer's newest gear range is targeted at those looking for a hassle-free way to keep warm during winter. The lightweight, zip-up vest connects to the auxiliary power socket on your BMW motorcycle for ease of use. Simply plug and play.
With the socket already fitted to F 650 GS, the power hook-up required no installation and the vest kept me warm throughout longer rides. The socket can also be connected to other battery wiring harnesses meaning you don't have to own a BMW to use it.
The controller, sold separately and somewhat steeply for £45, enables you to choose from one of three heat settings using the large coloured button with a red, green, yellow system for ease of use even in sunlight. Without this the vest still works, albeit only at the hottest setting.
BMW's HeatUp vest doesn't stray far from the high standards of the manufacturer's usual offerings. For a premium price you get something that works well, is reliable and has comfort in mind. The vest is lightweight when worn and hardly noticeable, that is until you plug it in and feel the heating elements at the chest, back and kidneys kick in. The price is very steep, which counts against an otherwise great bit of kit.
Gerbing
Heated Premium Jacket Liner – £199.99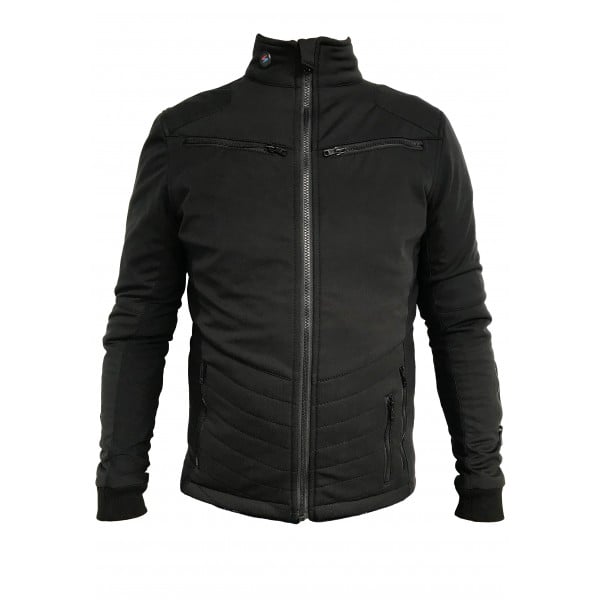 In a line: A fantastic two-in-one. You get a heated layer that can double up as your go to thermal liner with the power off.
ABR Rating: 9/10
A leading name in the world of heated motorcycle gear, Gerbing has long been the benchmark for competitors looking to keep riders warm during winter. The superb Gerbing Heated Premium Jacket Liner continues this tradition.
On first impression, you'd be forgiven for thinking this isn't just a liner but a bona fide jacket in it's own right. In comparison to other heated uppers we've looked at, this has a much more substantial feel and works well as your main thermal layer even without the heating elements pumping out warmth. With the heat turned on it's a dream, and keeps you warm from the top of your neck to the ends of your arms.
It also looks pretty good too, and I'd have no qualms about keeping it on while walking around town off the bike. The temperature controller, sold separately for £49.99, is easy to use in direct sunlight with the help of the well lit display and gives you a five temperature options to choose from.
The cabling for the controller is a little long though, with there being plenty of dangling wire. Without the controller the jacket will still work, but only at full power, which is uncomfortably hot in all but freezing temperatures or high speeds. The additional cost for the controller keeps the jacket from achieving that perfect ten score.
This jacket is assistant editor James' mid-layer and heated layer of choice; much like the Keis gloves it's our pick of the test.
Keis
J501 Premium Heated Jacket – £199.99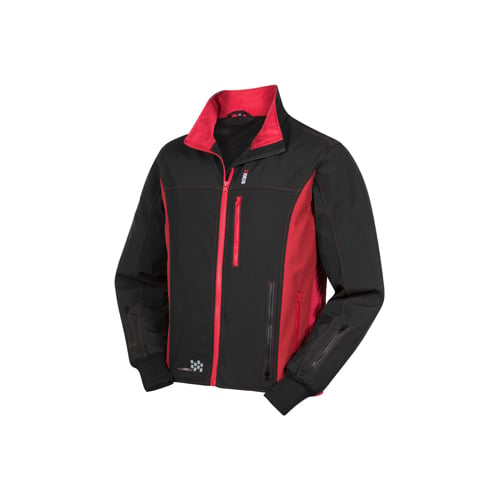 In a line: With the temperature controller thrown in it's great value for money, but is narrowly beaten by its close competitor.
ABR Rating: 8/10
A direct competitor to Gerbing for the overall top spot in the heated motorcycle gear market, in this group review the two brands go head-to-head in the heated jacket category. So how does Keis' J501 Premium Heated Jacket compare to Gerbing's Heated Premium Jacket Liner?
When wired in, the heat controller (which is included with the jacket at no extra cost, well done Keis) gives you the choice of three temperature settings. Unfortunately, the controller is pretty small, while the lights indicating which setting you're on are tiny and can be difficult to make out, even in the dark.
To make matters worse, while wearing motorcycle gloves it's tough to the feel the button that allows you to cycle through the temperature settings, meaning it can quickly turn into a guessing game from the saddle.
For a 'premium' piece of clothing, Keis' Heated Jacket also feels just a bit too much like another piece of motorcycle gear. Sure, it's slim and lightweight while on, giving you plenty of flexibility on the bike.  The wrist cuffs and high collar also do a great job of sealing in heat around your torso.
But it's not soft to the touch in the same way that the Gerbing is and doesn't feel quite so comfortable on. For an established brand, and bearing in mind the quality of the Keis gloves that were the clear winners in their own category, I have to say I was hoping for a fantastic jacket, rather than just a good one.