A year after passing his motorcycle test, find out how ABR sales guy Will is finding life as a full-time biker
I started this year without a motorcycle license and I'm ending it as a full-time biker. This wasn't entirely through my own choice as my car was written off in an accident. Thankfully no one was hurt and the loss of the car means I have fully embraced life on two wheels, which I'm exceptionally happy about.
Some of the reasons for my glee are already known by every biker across the land. I smile when I come downstairs on a cold winter morning and simply jump on my bike and ride off, much to the dismay of my housemates and neighbours who are normally halfway through de-icing a windscreen. I'm still smiling as I whizz past a traffic jam, particularly if it's first thing in the morning and the same traffic would have made me late in the car. Some of the reasons for my grin, however, are specifically due to the V-Strom 650 I am riding.
Despite not having the power of some of the bigger adventure bikes, I find flicking past just about any vehicle an effortless task. At 70mph in top gear, I am at around 4,000 rpm, leaving plenty of punch in reserve that I rarely use. Economically, the V-Strom has proved kind to my wallet, averaging 63mpg and getting nearly 300 miles out of the 20l fuel tank.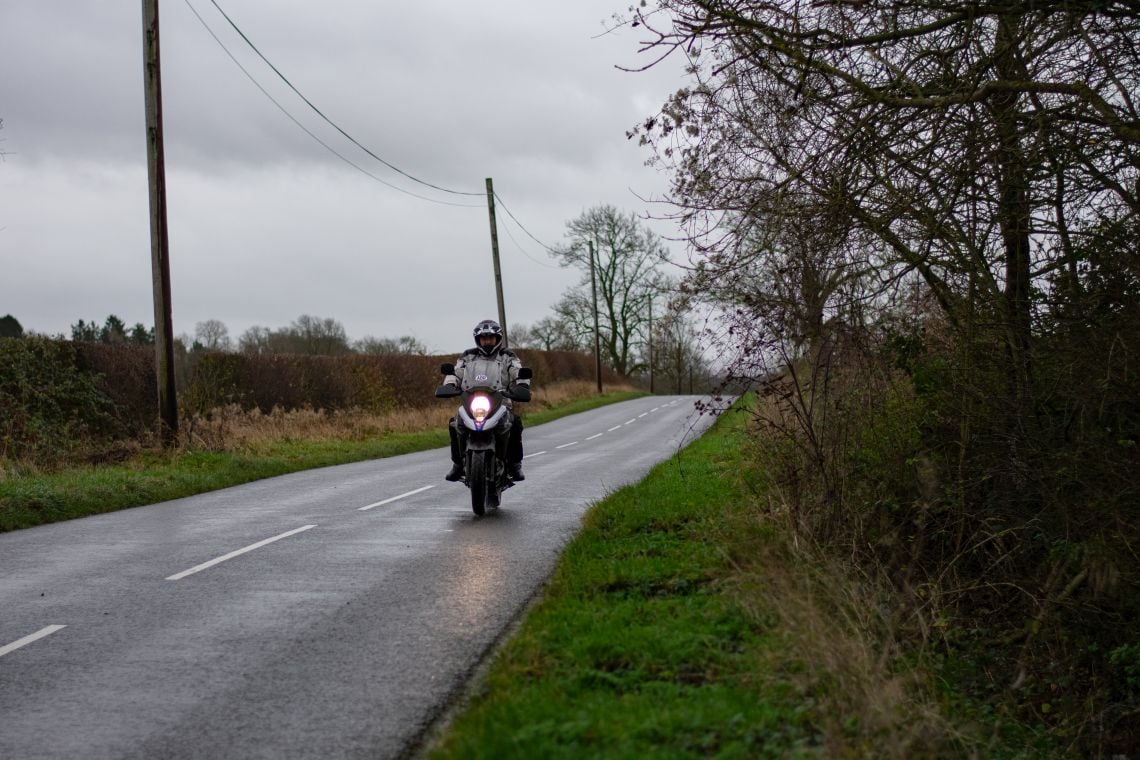 In the six months, I've been riding the bike, I haven't had a single issue. It's been exceptionally reliable and lived up to the workhorse reputation the V-Strom has become known for. Admittedly, I haven't done anything particularly hardcore, but for a first bike, it's tackled everything I have asked, including a daily commute, a couple of longer distance trips, plenty of full days in the saddle, and even some light off-roading.
The bike continues to prove comfortable over long distances, with Suzuki's 'Comfort Seat' being well named. However, as I gain more experience in the saddle, I've found myself becoming a bit more critical. The high footrests force more of a knee bend than I would like and, when I'm stood up, the handlebars feel very low. At 6ft 2 inches, it may be because I'm simply too tall for the bike.
I've also found myself looking enviously at other motorcycles, and in particular, the new V-Strom 1050 which I spotted at Motorcycle Live. It looked so rugged and cool that I have to admit I stood in front of it at the bike show mentally figuring out my finances to see if I could afford to buy one.
I think I'll stick to the 650 for now though, and I'm looking forward to piling on some more miles on it throughout the year. With this in mind, I'll be adding some heated grips, luggage and a more effective screen – the standard screen means I get a fair bit of windblast on my face.
With these accessories onboard, I'm planning to take my first bike trip abroad. I can't wait to see what my V-Strom can do in the mountain passes of the Alps!