LET IT RAIN
Given enough rain, wind, and time, all clothing will leak and the only sure way to stay dry is to move to the Khalahari or stay indoors. However, Alun Davies reckons you might want to try something a little less extreme – a one-piece waterproof rainsuit
Why you need one?
The problem with the vast majority of two-piece textile motorcycle suits is, in our opinion, a flawed design. Most textile suits on the market come with a detachable inner waterproof liner, but while the liner provides a barrier to keep out the wet stuff it doesn't prevent the bulky outer layer from wetting out and becoming totally saturated.
Add to that the fact that almost all detachable waterproof liners don't line up exactly with the extremities of the jacket and you'll find water leaking in at the neck, cuffs, and hem. The net result is that your textile suit will become heavy, uncomfortable, and eventually you'll start to feel cold as body heat is lost to the wet, bulky outer garment.
The answer is a relatively inexpensive one-piece (or two-piece) waterproof rainsuit. You could bite the bullet and go for a two-piece textile suit where the waterproof membrane is bonded to the outer layer, but then you'll be looking at paying out well over £1,000. A rainsuit can offer a more economical solution.
The problem with rainsuits
Over 30 years of motorcycle riding tells us that the gear we're least likely to use because it's a pain in the arse to use is a rainsuit. The thought of wrestling into and out of an ill-fitting and hard-to-get-on one-piece is enough to make getting cold, wet and miserable a desirable alternative. For that reason we've paid particular attention to how easy the suits are to put on and take off over the top of a two-piece textile suit and boots.
Hopefully, you won't need your rainsuit most of the time you're on tour, but this does mean it'll take up vital packing space on the bike. Some suits are bulky, others less so; we prefer the lighter, small pack-size approach.
Does 'waterproof' mean 'waterproof'?
For a garment to be classed as waterproof the fabric needs to have been tested to withstand a 3,000mm column of water for a minimum of 24 minutes (it's called the hydrostatic head measurement) and there are plenty of fabrics that can do that. So, getting the 'waterproof ' label on the swing-tag is the easy part, but in reality, keeping the elements out is next to impossible.
When pushed, all manufacturers will tell you that it is impossible to create a functional jacket which is truly waterproof in all conditions. Vents, zips, seams and pockets are all weak points, as are ankle and wrist cuffs and neck areas. That said, the better waterproofs will keep you dry in most conditions whereas some should come supplied with a set of Speedo baselayers.
Cuffs Both the ankle and wrist cuffs need to be effective at keeping out the elements. Anything less and you're going to get wet and suffer from the 'ballooning' effect on the road. Double cuffs – an elasticated inner and Velcro-fastened outer – are more effective at keeping out rain than single cuffs
Zips There's been a race to the bottom with zip quality since manufacturing has moved to the far east. There is nothing more infuriating than a cheap zip that constantly snags until is breaks. YKK has traditionally been the zip of choice, but I've even noticed a drop off in the quality of what were once the finest zippers on the market
Materials Do you need an expensive 'Gore-Tex' style fabric? The short answer is no. The job you want your all-in-one to do is keep out the rain. A bin bag with arms and legs and elastic bands around the cuffs would do just fine, until you want to move. If the fabric is waterproof and the seams are taped, it'll do the job
Price After splashing out on a pricey two-piece motorcycle textile suit that claims to be waterproof, it's a bitter pill to swallow that you now have to buy a waterproof to keep your waterproof dry. But there's no need to spend big bucks on a rainsuit, a simple product that does the basics well is all you need
Reflective and hi-vis areas Bearing in mind that you'll most likely be wearing your all-in-one in only the foulest of conditions, hi-vis and reflective features are a good idea
Waist adjuster Adds a bit of shape to what is otherwise a relatively shapeless garment and helps stop the ballooning effect when riding. We like
Fit adjusters All-in-one rainsuits tend to be on the big and baggy side and without fasteners to synch down excess material they're liable to flap around and balloon
Lap gaiter These extended flaps of waterproof material sit behind the front zip at waist level, protecting the vulnerable midriff section of the suit, which has a tendency to bunch up and open when in a seated position. We've noted on some brands that the seams of these flaps haven't been sealed with waterproof tape, which sort of defeats the object
Pockets We don't class pockets as essential, however it's always handy to have a place to stash essentials. That said, anything in outer pockets (unless they're fully waterproof ) is going to get drenched
Linings Linings protect the inside of the waterproof outer from abrasions, ditto the taped seams which are open to wear and damage when pulling the suit on and off, especially over boots. They also add warmth, comfort, and help absorb moisture. However, as the ABR test involves trying to put a one-piece on over a two-piece textile suit and boots, an inner lining can complicate matters when it comes to ease of use. Some suits come with mesh linings and others with half linings where the upper is lined but the legs aren't. Whatever the lining, it will add to weight and bulk, which will be important to some. Are they essential? No
Features we like…
Lightweight Textile suits are heavy enough so the lighter and thinner the fabric for an all-in-one the better. Thin waterproof fabrics are just as good at keeping out the elements as bulkier ones and are more comfy in use
Small Pack-Size Ideally, this is the one item of clothing we'd never want to wear or have to pack, but needs must. Therefore we prefer a suit that packs down small and takes up as little pannier space as possible
Quick drying Some fabrics dry quicker than others, a quick-drying suit is always a help when you need to pack the gear away
Comfort and fit The less restrictive the fit the better. We look for a suit that doesn't restrict movement and isn't excessively bulky
Ease of putting on/taking off Do the manufacturers appreciate that the average age of the motorcyclist is increasing at the same rate that his suppleness is declining? You wouldn't think so when you consider the grappling, bending and sheer awkwardness of putting on some of these suits. A 15-year-old Chinese gymnast would have problems getting into some suits let alone a 16st, 50-year-old in a bulky textile suit and motorcycle boots. You'll be less likely to wear the all-in-one if putting it on and taking it off is a brutal, frustrating experience; in which case, you'd be better off saving your money and not buying
DWR
DWR (Durable Water Repellent) is a coating applied at the manufacturing stage to help prevent the fabric becoming saturated and wetting out. The noticeable effect of a fabric treated with DWR is that drops of water bead up and roll off the garment rather than soak in and wet out the fabric. The DWR wears off over time; it can be reapplied but it'll never be as effective as the factory treatment
Are all-in-ones breathable?
Short answer – no. Almost all of the products tested are made of nylon and offer no breathability, so things can get very hot and sweaty during summer rainstorms. However, even with 'breathable' fabric a build-up of internal moisture is unavoidable as all-in-ones are designed to be as rainproof as possible and therefore closed off from the outside elements. If you factor in that 'venting' is the prime moisture-mover in breathablity then you'll come to the conclusion that staying dry on the inside is, in the main, unachievable
RICHA £39.99 Typhoon rain overall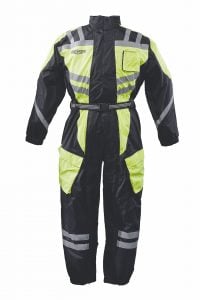 Can you get into the Typhoon fully kitted up while standing at the side of the road? Yes, but man, it takes some doing and you'd be far better off finding somewhere where you can take your boots off and sit down to perform the contortions. As with all fully lined kit, boots never slip through unhindered, and with the lower-leg gusset being a touch on the small side, the Typhoon is no slip-it-on, slide-it-off product.
That said, once you're fully enclosed in the Richa you'll find it very warm due to the substantial lining, nature of the fabric and lack of any ventilation other than the main zip. This is no bad thing for winter riding, but you'll likely overheat in summer, even on a rain-lashed day. If you feel the cold more than most and enjoy winter touring (when it's too cold to rain) then the Typhoon is the sort of gear which could extend your riding limit. As an example; if I were setting out to the Elephant Rally in Bavaria (held at the end of January/Early February each year) in sub-zero temperatures then I'd be seriously tempted to wear the Typhoon just as an extra thermal/wind protection layer.
As for keeping out the wet stuff, the Typhoon is a 100 percent waterproof Nylon outer with taped seams, which means, if the construction is robust, the weak spots are going to be at the zips, cuffs and neck areas. The neck is high cut and comes with a comfy fleece lining and adjustable Velcro closure. The cuffs are semi-elasticated and Velcro secured – which we like – as are the ankles, but the Velcro tab is a little too short to offer a secure lock down. The main zip (which extends down to mid-thigh level) has a double storm flap and Velcro fastening for protection, which is good, but there are un-taped seams underneath, which means if water gets through these protective layers, they're exposed.
Other features include a cinched waistband, which adds a bit of shape to the suit; reflective graphics help with visibility and there's a zipped Napoleon pocket at the chest, big enough for the suit to pack into. As it comes with a waist belt you can wear the Typhoon as a bum bag. Clever.
In a line: Heavy, bulky, but a good budget priced fully lined rain suit
ABR Rating 6/10
SPADA £49.95 407 Oversuit
The 407 Oversuit is similar in many respects to the Richa Typhoon, which is £10 less expensive. What you get with the 407 is a waterproof nylon outer and a full inner lining, which means it's bulky, heavy, and warm. As pointed out with the Richa, there are obvious disadvantages with a full lining, but if you like your winter riding and tend to feel the cold more than most then a fully lined suit could be just the job and extend your season in the saddle.
A full lining also acts as a protective layer over the waterproof tape which covers seams – always a high-wear area – and soaks up any internal moisture so you don't get that 'oily' feel of wet nylon.
The entry zip extends from the neck to almost knee height, but as with all suits with a liner and short ankle bellows you'd feel a lot more at ease pulling on the Spada in the comfort of your own home than under a rain-soaked motorway bridge. In other words, dressing up in the 407 is a cumbersome affair.
The neck is well secured via adjustable Velcro and comes with a comfy fleece liner and both ankle and wrist cuffs are semi-elasticated with Velcro fasteners for fine adjustment – just how we like them. The main zip is well protected with a storm flap and a huge inner waterproof skirt, which extends from waist to rib height. However, as with the Richa, some of the stitching on the inner is not taped so could be a weak spot on long extended days in wet weather. That said, as with all suits, it's more likely that rain will enter through the neck, arms or legs before breaching any inner non-taped seams.
Features include a zipped Napoleon chest pocket under the storm flap – handy for stashing close-to-hand essentials, and a belt which adds some shape and stops excess fabric flapping around.
All in all this is a good-value fully lined suit and one to add to the short list if you're after extra thermal qualities over lightweight and small pack-size.
In a line: Spada = good value quality products
ABR Rating 6/10
BONEDRY £49.99 OverSuit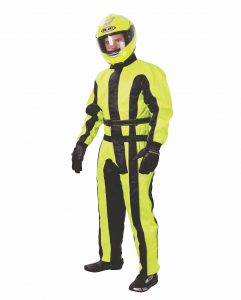 As a rule we don't normally comment on the size and fit of a garment – what fits us may not fit you etc – but we're compelled to make an exception in the case of the Bone Dry. The XXL suit on test was more like an L in most other brands and the leg length is short, way too short if you're over 6ft, which I'd imagine most XXL wearers would be. That said, it could be the ideal suit if you've ever been deemed (affectionately, of course) a short-arse.
Anyway, what we have here is a fully lined all-in-one waterproof that comes with acres of hi-vis material, which some will like and others wouldn't be seen dead in. Speaking personally I tend to prefer a hi-vis rainsuit as I'm only ever going to be wearing it in conditions which affect visibility for all road users.
The sizing of the suit (see above) made it difficult to take on and off and curiously even though the packaging contains the line 'collar-to-knee zip' the zip doesn't come down anywhere near knee height. Plus, the packaging also makes mention of Velcro-adjustable cuffs and ankles – but there is no Velcro adjustment on the cuffs, which are purely elasticated and a little too tight for our liking and comfort.
All the above said, if the suit fits you and you want the added thermal qualities of a fully lined garment and value extra visibility then at £49.99 it's still a low-cost option to consider.
The Bone Dry lacks some of the finer features of similarly priced products on the market – there is no pocket and the neck isn't lined with a comfy fabric – but it does come with an integral bum bag and there's an elasticated band around the waist, to add shape and pull in loose fabric. Clearly, there are better products on test, some of which are lower cost, but as a rainsuit the Bone Dry will do the job, albeit without any frills, and with a quality of construction that is just about acceptable.
In a line: Odd sizing and budget buy only
ABR Rating 5/10
EVOLUTION £59.99 Evolution TO2.95

Readers of a certain age will know what I mean when I say this Evolution all-in-one has the feel of an 'oilskin', though it's a heavy duty nylon fabric with a PVC coating. The tough outer feels as if it'll outlive the wearer and comes with a half mesh inner lining at the chest and back, with the arms being a solid lining.
Most manufacturers will quote that the reason for the mesh upper lining is that it's easier to slide on over motorcycle leathers, which isn't always the case if you wear armoured textile jackets, as ABRs will appreciate.
The legs are unlined, which means it's a lot easier to pull on when wearing boots than a fully lined garment, but the waterproof seam tapes are exposed to wear and care is needed when pulling the suit on.
That said, we found the Evolution easy to live with and relatively fuss free to pull on and off with the cut and fit offering good freedom of movement and all-day comfort. What's also admirable is that the company states the Evolution is non-breathable – a feature which applies to all other suits on test but isn't acknowledged by the manufacturers.
Features include a super-comfy fleece-lined collar (the most luxurious on test), fully taped waterproof seams, including those securing the waist gaiter, a heavy duty YKK-branded front zip (which we like and would appreciate on all one-piece waterproof suits), a double storm flap over the front zip for protection from the elements, an elasticated waistband to pull in excess fabric and add shape, extra-long ankle zips to aid dressing and undressing, and reflective flash-light panels and elasticated cuffs at the wrist and ankle – we'd have preferred a half elasticated and Velcro tab combo, though.
Overall we liked the Evolution for its simplicity and hard-wearing qualities but there's some stiff competition out there. If this suit had been £10 less expensive then we'd have scored it higher, but even so, if it fits it's one for the short list.
In a line: Tough, hard-wearing and does the job
ABR Rating 7/10
REV'IT £74.99 Rainsuit Pacific H2O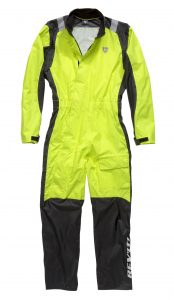 Over the time we've been testing gear for ABR it's become obvious that some brands offer 'me too' copycat clothing while others design from the ground up to solve issues riders face while in the saddle. In our experience, Rev'it stands in the second category providing gear which is both practical and solves specific problems, sometimes in a unique way.
Take the Pacific H20 as an example; first off, it's a no-fuss task to pull on and take off, something we value very highly in a one-piece rainsuit where temptation is to leave it in a pannier and get wet rather than face the mother of all battles pulling the thing on. Next up, it's lightweight and packs down into a stuff sack about the size of a small loaf of bread. In our view, these three features just about nail the essentials for a touring all-in-one rainsuit.
The Rev'it comes with acres of hi-vis fabric and is unlined. Not having a lining means it doesn't offer the same level of insulation as a fully lined suit and feels 'oily' when condensation builds up on the inside. Plus, the tapes covering the seams are exposed so you'll need to take extra care when slipping it on over boots. That said, on balance we prefer the lightweight, small pack-size and ease of putting on and taking off.
Other features include an elasticated waist to add shape and pull in excess fabric, an external pocket on the thigh which is water-resistant but not totally waterproof, arm chinchers which help with fine-tuning fit and stopping loose material flapping around, and a double storm flap over the main zip
On the down side the front zip has a tendency to catch in the waist bellows a little more than we like and the Velcro fastening on the cuffs could do with offering more adjustment to cater for small-to normal-sized wrists.
Overall the Pacific H20 is easy to live with and comfortable in use and there are not too many one-piece suits you can say that about.
In a line: Ticks most of our boxes
ABR Rating 7/10
HELD £76.99 Monsun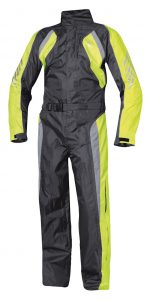 The Monsun is a single-skinned (not lined) nylon all-in-one rainsuit with plenty of hi-vis patches to help you get seen in rain-soaked spray and low visibility conditions. The Held is made of a thicker material than the similarly priced Rev'it Pacific H20 and has a far more robust feel to it, though it's heavier and doesn't pack down as neatly – more a large loaf than a small one.
What's interesting about the Monsun is that it includes a set of features not found on other rain suits. For instance, the first thing you'll notice is that it comes with a waterproof hood sewn into the collar; a neat feature for a cold, rainy day, but far too sweaty for a warm, wet one. Fortunately the hood folds down into the collar, so is therefore optional. Another neat touch is the double cuffs – elasticated inner and Velcro-adjustable outer – which is the best combination to prevent the elements getting in.
Other features include an elasticated waist with Velcro adjustment for fine-tuning fit and cinching excess fabric; a chest-high waterproof Napoleon pocket under the main zip, which is always handy for stashing essentials; a Velcro-secured double storm flap over the main zip, and waist bellows to keep out the wet stuff, reflective inserts, arm adjusters to gather in loose material and a long zip at the ankles, which helps with putting it on when wearing boots.
In use we found the Held nice and easy to live with – pulling on and taking off was no fuss, plus the cut of the suit provides total freedom of movement and therefore all-day comfort. What we also liked was the quality of construction and the attention to detail, for example the Monsun is one of the few suits where the inner stitching at the waist bellows is seam sealed with waterproof tape. This is not a feature most buyers would look for in a retail environment and as it adds to the cost of manufacture (and therefore makes the product more expensive and maybe uncompetitive against the competition) we reckon it reflects extremely well on Held.
In a line: One for the short list – we like it.
ABR Rating 8/10
WEISE £79.99 Rainmeister One-Piece Textile Suit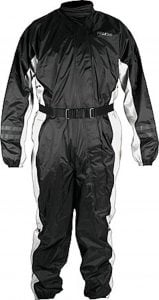 Weise clothing priced we've become accustomed to testing to compete at the value end of the scale, but the Rainmeister at £79.99 has a retail price just £8 under BMW and £40 more expensive than Richa. So, what's going on?
There are some nice touches with the Weise, for example the waist bellows may be a little shorter than we'd like but the seams are taped – not something to take for granted. There's a zipped Napoleon pocket positioned at chest height, a waist belt that cinches in loose material and then doubles up as a bum bag for self storage, a comfy fleece-lined collar, a double storm flap over a YKK front zip and the ankle cuffs are semi elasticated and secured with Velcro – just how we like it. We'd like the wrist cuffs more if they were similar, as it is they're just elasticated.
Generally speaking having some form of fastening to batten down loose, baggy areas of fabric (ie on the arms) on an all-in-one is preferable and Velcro, in our opinion, is the best and most user-friendly way to go about this. Curiously the Rainmeister features a series of popper studs at the upper and lower arms and at chest level. While we welcome the thought and feature the poppers are not as convenient to use as Velcro and where they puncture the nylon suit it has not been sealed with waterproof tape.
The Weise is easy enough to slip on and off without fuss and the cut and fit is comfy for all-day use and allows good freedom of movement. With a few minor changes to features – see above – we'd have scored this suit at least a couple of points higher.
In a line: Good effort, a tweak here and there would make it a serious contender
ABR Rating 6/10
BMW £87.00 ProRain 3 rain suit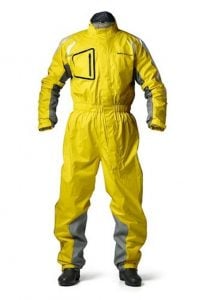 On first sight the bright yellow ProRain is definitely one for the Austin Vince groupie, but then it's a BMW… so maybe not. What you do get is a hi-vis, unlined, all-in-one cut from a user-friendly stretchy nylon, which ticks all our boxes for a touring waterproof.
The features of the ProRain are just about spot on; you get a comfy fleece-lined collar and a thoughtful zip-top chin guard. There's a zipped inner Napoleon-style mesh pocket, plus a chest-high waterproof zipped pocket on the outer and as it has a water-resistant zip it's about as rainproof as you're going to get for stashing close-to-hand essentials – plus there's a protective waist gaiter behind the front zip and double storm flaps.
There's an elasticated waist band which helps with shape and cinching excess material plus Velcro tabs on the arms to pin down any loose fabric. The cuffs are of the double-layer variety with an elasticated inner and Velcro-tabbed outer and very effective at keeping out the elements. The ankle zip is exceptionally long, which makes pulling on the suit over boots nice and easy, but the zip does have a tendency to snag, which is a pain.
Two other features we like are the reinforced lower leg sections, which are also heat resistant, plus there's a robust, non-slip patch of rubber on the backside which stops you sliding around on the saddle and helps with longevity in this high-wear area.
The ProRain is easy to live with; the design makes pulling it on and off stress- free and the cut of the fabric means complete freedom of movement and all-day comfort.
In a line: If you can afford it, buy it
ABR Rating 9/10
IXS €99.95 (approx £87) IXS Niagara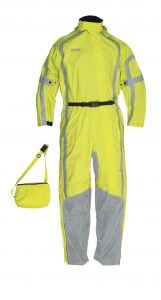 The IXS works out about the same price as the BMW (on current Euro rates) which means it has some stiff competition. Another feature it shares with the BMW is the acres of yellow hi-vis fabric interspersed with reflective panels. Not a suit for the 'stealth rider'.
What's interesting with this Swiss brand one-piece fully mesh-lined suit is that the company states that it's made out of water-resistant PU-coated 210T polyamide (nylon in other words). The key word here is 'resistant' as opposed to 'proof ', however, in use we found the Niagara to be as effective at keeping out the wet stuff as most of the other suits on test.
Generally speaking we're no great fans of mesh lining as it tends to snag in textile clothing and boots when pulling on and off. However, the design of mesh fabric used in the IXS is easier to live with than most and it does protect the vulnerable seam-sealing tapes. Dressing is relatively stress-free due in part to the extra-long front zip which opens up to almost knee level. As with all fully lined kit the Niagara comes with a larger pack-size and weight, though in use the cut and fit allows for good freedom of movement and all-day comfort.