Want to inject that rat-race commute with a healthy dose of adventure? Get yourself a Kawasaki Versys, says Hans-Klaus McCarthy
Following the demise of my Suzuki SV650 S, I needed a new bike that was capable of riding to and from London on a regular basis in comfort and relative ease, plus one that wouldn't cost a fortune to run. With a trip planned to Wales in the coming months, I also needed my new steed to be suitable for touring; a 'tall-rounder' looked to be the best option.
I first looked at the middle-weight class, checking out the F650 GS, DL650 V-Strom, Transalp and XT660 Z Tenere. Scanning through reviews in various bike magazines, the general consensus seemed to be that the Versys is a good all-round bike, frugal and cheap in terms of running costs. I learned that although similar to my SV650 S in terms of power, it punched above its weight – something that would be proved to me in a test ride.
When Emma (SWMBO) and I stepped into the dealership, the Kawasaki Versys seemed to fit the bill perfectly: a tall bike, large seat for rider and pillion, upright position and good-looking into the bargain. In fact, aesthetically speaking it breaks the conventional mould completely and ends up somewhere around the 'quirky' mark; something which seems to be all the rage with these the pillion perch and Emma was sold.
But we had a problem. Being a mere spring-chicken 20 years young, few dealers were keen to give me a test ride as I didn't meet their 'requirements'. Having asked around several dealerships in the Bristol area, I finally found one which didn't have palpitations at the DOB on my licence and granted me the all-important pre-purchase spin; I was even cheeky enough to ask if Emma could come aboard, too. Result!
Comfort
When sitting on the bike it has a good reach to the handle-bars and peg positioning isn't too cramped. Everything seems to fall naturally into place and ergonomically speaking it's comfortable. The riding position is typically upright, with knees not too bent and only a slight lean forward to the handle-bars. The screen is three-way adjustable, too, so airflow can be tailored to suit the rider's preference.
What's immediately evident with this bike is its height. Shorter riders will find this a tip-toe affair on a standard bike. Numerous options are available to lower the Versys, such as a new bracket to change the angle of the shock and lower seats. It still feels tall at 6ft 3, though, and while I can get both feet on the ground comfortably, the height can sometimes catch you out.
The seat is a gel-filled job, typically comfortable for anywhere up to 150 miles in any single stint. Perhaps a sheep-skin could extend mileage, but two hours in the saddle is always a good point to stop for a breather.
The screen is generally lacking in terms of wind protection after 60mph. While I accept there are a lot of factors such as rider height and type of helmet worn, there is wind pressure on your arms, head and chest. I had hoped an after-market Givi screen would solve this problem, but in fact it just made it 10 times worse by having the most god-awful buffeting right at visor level.
The only other modifications I've made to aid comfort are heated grips and hand-guards. I'd never ridden with these before fitting them to the Versys and I was an idiot for not having done so. Hands are toasty (the control unit is now broken, however) and reducing wind blast from hands and arms means touring comfort is increased.
Standing on the pegs while green-laning is an easy affair, even for a novice like me. The bike feels heavy weighing in at 215kg fully fuelled but manageable, with bar height sufficiently high enough not to give any awkward back pain.
From a pillion's point of view, Emma reports that, "The perch is a comfy place to be and has increased my confidence in riding on a bike. Wind blast is minimal, but after 140 miles or so it's time for a break."
Performance
The engine was the most surprising aspect of the bike. It was re-tuned for torque lower down the rev range and kicks in around 5000rpm. The power does have a startling but progressively delivered kick which suits my lazy riding style. Coming from an SV with fuelling issues, it felt like a lively little power-house and I didn't need to rev it like hell to get it going.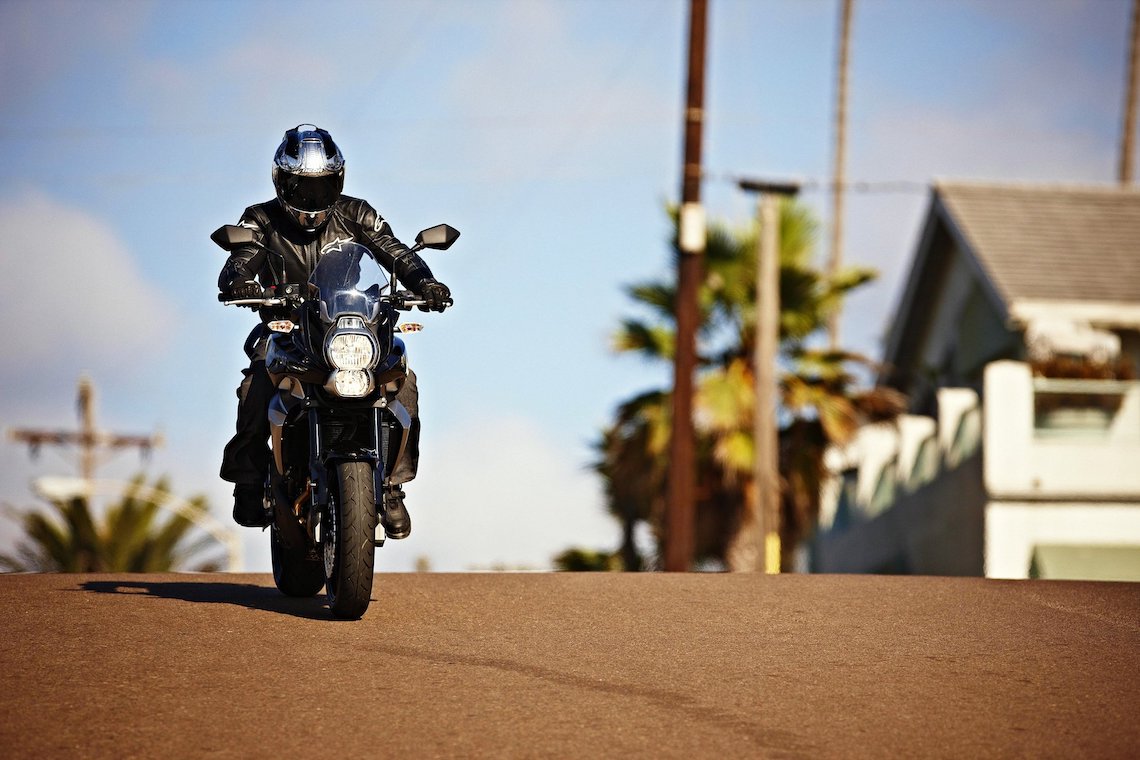 Due to the torquey nature of the engine it feels like there's always another gear to select when in sixth, as the engine begins to get vibey, however this is something you soon get used to.
Changing gear when cold sees the engine clunk from neutral to first and also manifests when being revved harder. Otherwise when being ridden normally the gears snick in and changing is generally smooth. Contributing factors however are chain tension and clutch adjustment – perhaps I haven't found that sweet setting yet.
The one thing I do not like about the bike is the sound. It has an odd firing order and with a standard can it sounds like a wet fart. Things don't improve much with an after-market can either despite being throatier. Also the fuelling isn't as crisp as it could be; the Versys stutters at low RPM on partial throttle opening.
When loaded with luggage and pillion the engine begins to struggle to find power (the rider alone is 20 stone!) but still cruises at motorway speeds easily, returning a minimum of 50mpg. Overtaking has to be planned carefully as is correct selection of gears.
I have since added a tooth to the front sprocket to increase fuel economy and lower revs at cruising RPM in order to reduce the vibey nature of the engine. While it has sacrificed some acceleration it reduces vibes exponentially at 80mph cruising speeds.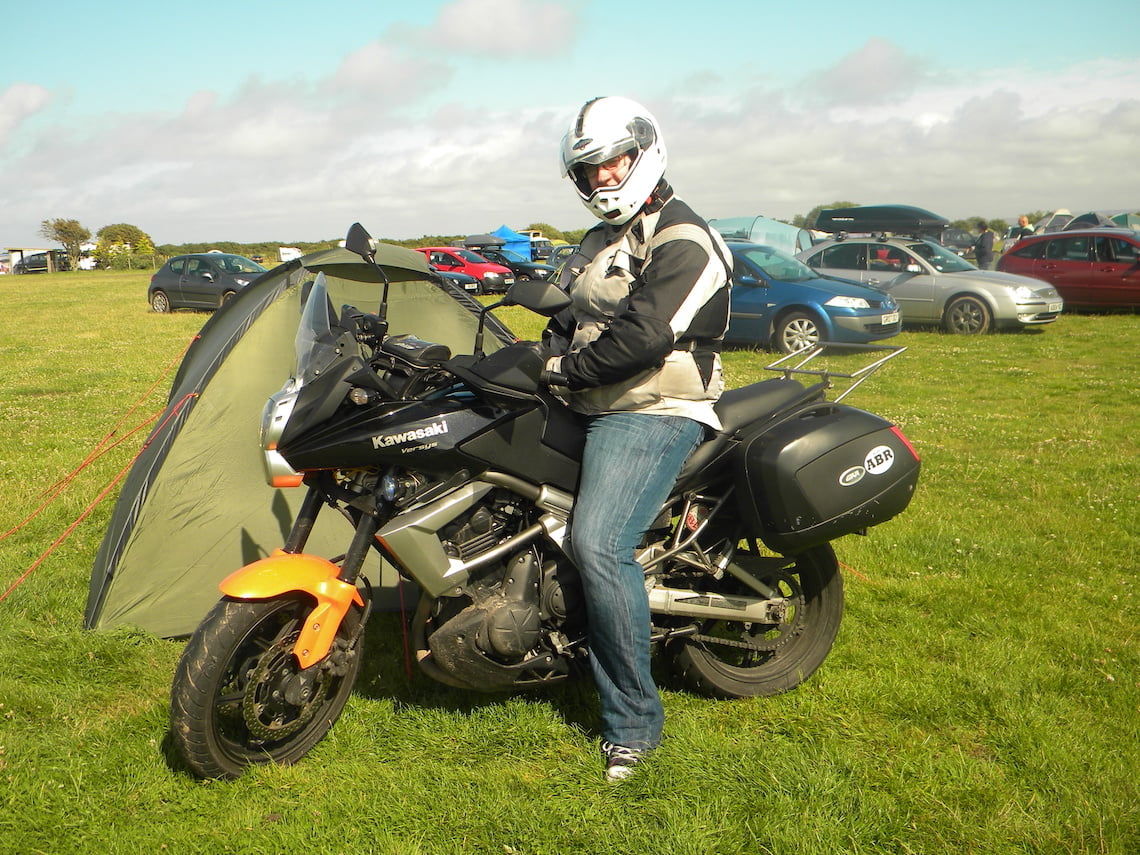 Handling
Thankfully the bike has a short wheel-base, which means it turns into corners quickly. I am a self-confessed corner junkie. Recent videos posted on the forum have shown my knee-down antics, and a bike like this can still surprise and show sports bike riders a thing or two!
The first tip any Versys owner will give regarding tyres is bin the stock ones. Various tyres have been recommended for the bike but I stick by Avon Storm tyres. They performed well on my SV650 and have transformed the handling of the Versys. Wet handling is superb. The bike tracks well through corners, while dry weather allows me to sometimes act the fool and ride it like a sports machine or super-moto.
The suspension is basic but compliant, giving a responsive yet plush ride. I have since stiffened up suspension to 'two-up' and increased tyre pressures, which has given increased confidence through corners as the rear end always 'bounced' around when cornering hard.
Riding over bumps or pot-holes would give harsh feedback to rider and pillion, which feels like crude damping.
Fully loaded the rear end feels very soft, despite stiffening preload to maximum and changing rebound settings. Extra care needs to be taken when cornering at speed and headlight adjustment is necessary to avoid dazzling other road users, which unfortunately can only be done manually.
Off-road
Sadly my off-road experience is very limited. The first sight of mud usually sees me turn homeward, tail between legs. Considering that 95 percent of my riding is on road, off-road capability wasn't a consideration for me when choosing the Versys. It does, however, given the under-slung exhaust, crude suspension and road orientated tyres, perform admirably in the mucky stuff.
I've taken it green-laning a few times on gravel, dirt, grass, rocky ruts and through a few streams. Consideration needs to be taken to ensure that momentum isn't lost and the correct path is found when negotiating obstacles, and the lack of grip on the road tyres is a set-back, but not a show-stopper; basically it's just okay.
Load luggage
At the time of purchase, luggage choice for the Versys was pretty poor and as this was my first bike the most convenient option was to go for the Givi racks and V35 panniers. Unfortunately my dealership fitted the pannier rack from the pre-2010 model, which compromises pillion leg room and ability to open the seat with the original key.
There are plenty of other options now however, with the likes of SW Motech and Stahlkoffer offering varying luggage types; my new favourite is the Givi Trekker luggage system.
Careful consideration needs to be taken when choosing Givi luggage as the Kawasaki's original rack is not compatible with the top box rack. Also bear in mind the Givi V35 is a one-pannier system, meaning no other types of pannier can be fitted. As such I've now fitted a home-made affair, which works well for a 44-litre roll-bag. Some sub-frame and pannier rack points had to be drilled through to accommodate this, but it works well.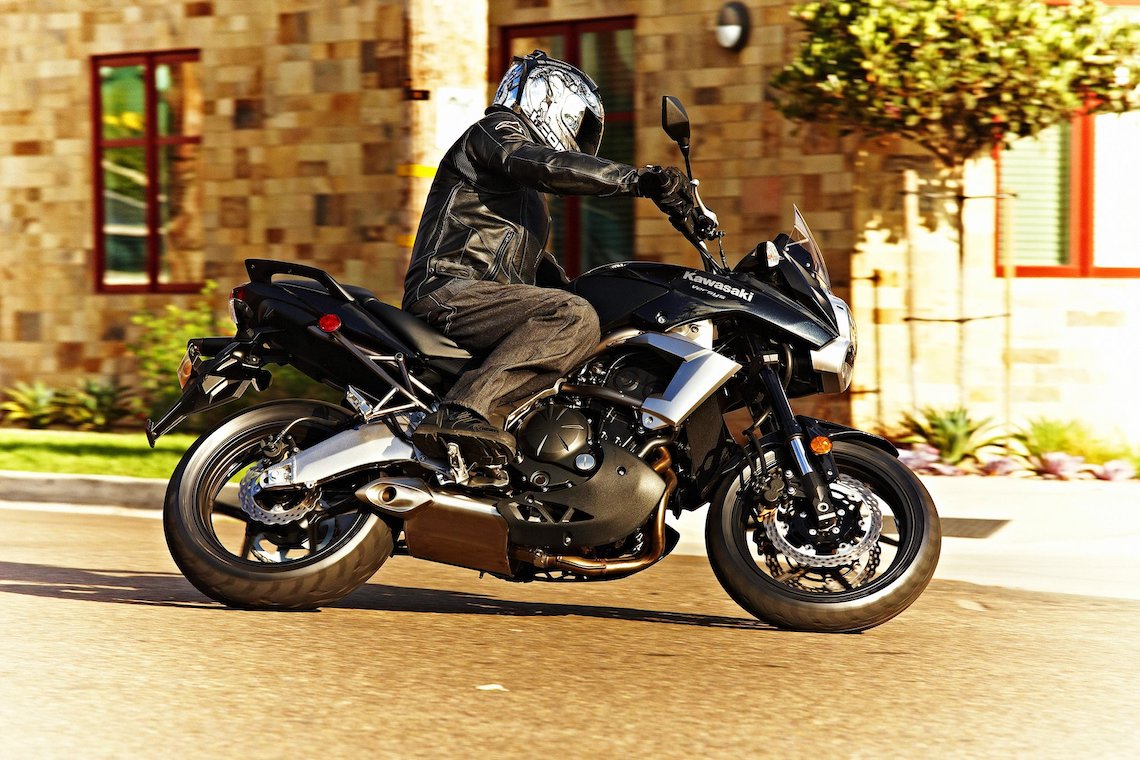 Verdict
Overall the Versys is a fantastic all-round machine. Ultimately reliable and economical to run, it's engaging to ride and the perky engine is never tiring. It handles well and is quirky enough to invite questioning from other riders. It serves well as an all-rounder, performing its day-to-day tasks without complaint.
Of course like any bike it has its short-comings. The suspension is crude and the fuelling isn't crisp; it's vibey and wind protection isn't the best, but these niggles are thoroughly outweighed by the engaging nature of the bike with its peppy, perky streak that's enough to make the dreary daily commute a little more exciting, and Sunday ride-outs more interesting.
It's one of those bikes that you can really bond with.
RATINGS:
As a long distance tourer: 4.5
Off-road capability: 3
Around town: 4
Accessory availability: 4
Reliability: 5
Handling: 5
Engine: 5
Economy: 5
Value for money: 5
Overall rating: 4.5/5
IN SHORT
Time owned: 15 Months
Mileage: 8,750
I like: The all-round usability of the bike and its ability to liven up the dreary commute
I Dislike: The god-awful wet fart sound from that exhaust
In a line: Surprising, quirky and lovable bike is ideal tall-rounder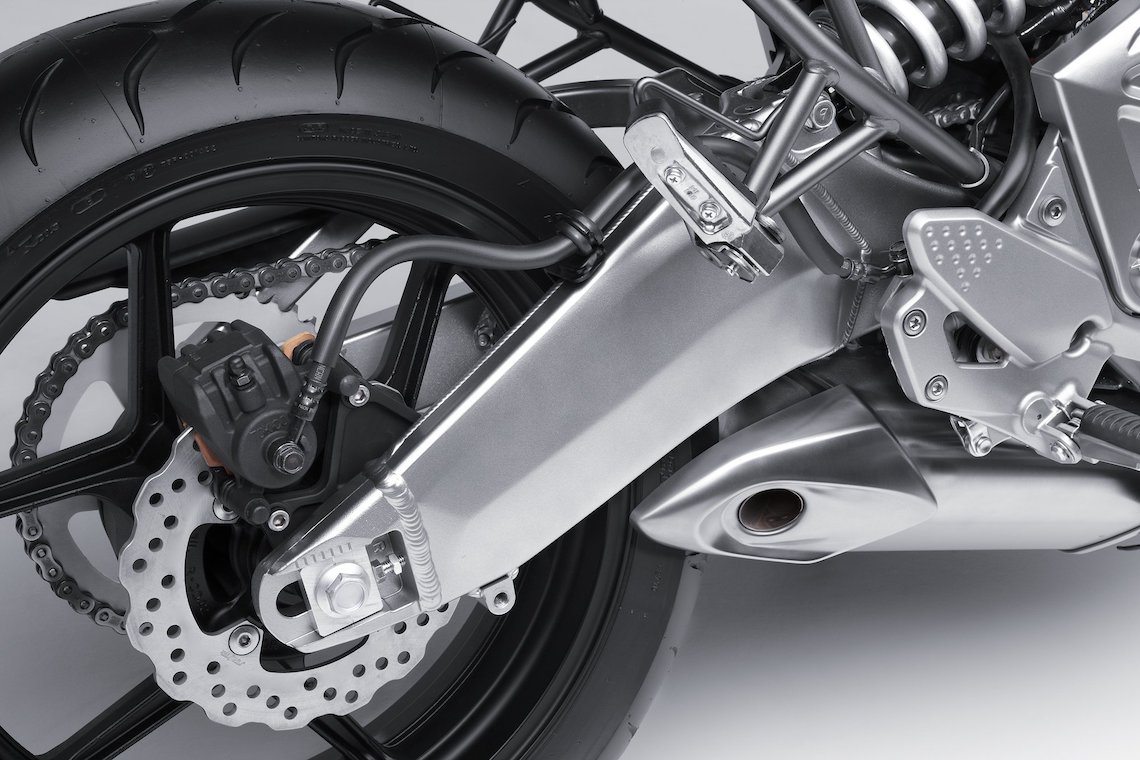 THE STATS
Manufacturer: Kawasaki
Model: Versys
List Price: £6,099 (2010 Kawasaki Bristol) – £6,499 (2011) and touring version £6,899
Top Speed: 125mph
Insurance group: 10
Engine size: 650
Engine type: Parallel twin
Compression ratio: 10.6:1
BHP: 64
Torque: 45N.m
Gears: 6
Fuel capacity: 19L
Seat height: 845mm
Dry Weight: 206kg
Front suspension: 41 mm inverted telescopic fork with stepless (right-side) adjustable rebound damping and adjustable preload
Rear suspension: Offset laydown single-shock with 13-way adjustable rebound damping and 7-way adjustable preload
Front tyre: 120/70 ZR17
Rear Tyre: 160/60 ZR17
Front brakes: 2-pot dual Tokico calipers
Rear brake: Single piston tokico caliper
Urgent Update!
Since writing this review, I've had an accident on the Versys. The sum total of the damage means it's now a write off; thankfully I'm okay. Aside from wounded pride, I escaped with two broken toes, post traumatic amnesia, bruised ribs and a sore neck. The Versys will be sorely missed, though. It served me well going to ABR rallies and on my hols to the Lake District and north Wales. I now have a courtesy bike on its way – an SV650 – no it's not a triallie, but it'll do for now!
Looking to the future, for my next bike, I'm considering the Kawasaki Versys 1000 with some interest. For now, I'm going to get myself a sports tourer to see me through the winter and look at buying a fresh bike next year.