From Siracusa, Sicily, in the south to the farthest reaches of Norway's Nordkapp, Stuart Cooper and friends are riding the length of Europe
Ultima Thule the Greeks called it, 'Farthest North'. A land of ice and monsters where, according to the Greek writer Pytheas, "There was no longer any proper land nor sea nor air, but a mixture of all three of the consistency of a jellyfish."
But where was this Ultima Thule if it did indeed exist? Even the experts disagree as to its location. Some say Iceland, others the British Orkney Islands, and more still say Norway…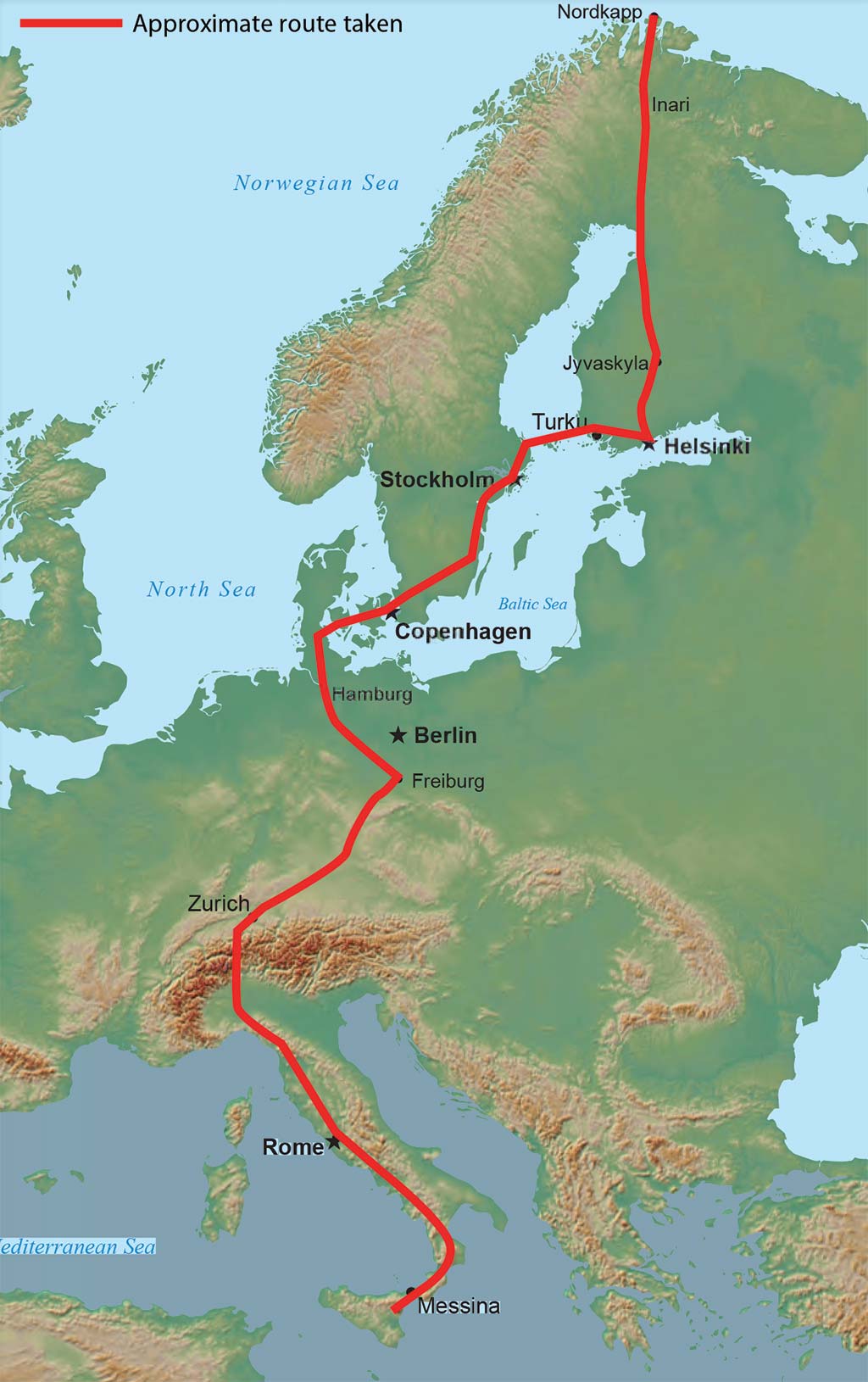 A ballsy plan
My friends Marzio and Ciccio had been talking about riding from Sicily to Nordkapp for as long as I'd known them. For Sicilians, it's an important trip, as it represents a journey from the southernmost point of Europe to the northernmost. I reasoned that the trip would give Marzio and Ciccio bragging rights, and I could claim Nordkapp as Ultima Thule.
We set out from Siracusa under a blazing sun, stopping brie. y at the beach to pick up some palle pelose (hairy balls). These are balls of seaweed that collect along this stretch of coast, and it's traditional for Sicilians making the trip to Nordkapp to take a handful and throw them into the sea upon reaching their destination.
On the morning of the third day the jagged outline of the Alps appeared on the horizon, a clear sign that we were close to Switzerland. We'd already decided to avoid the Swiss motorways and ride the San Gottard Pass over the Alps, which corkscrews up to a height to 2,106m. Dozens of bikers had had the same idea as us, and there were all types of bikes on the pass from supercharged sports bikes and trailies to Goldwings and Harleys.
We crossed the border into Germany and stopped the night in Freiburg, the capital of the Black Forest. We'd planned to spend some time exploring the forest, but it was grey and overcast – not sightseeing weather – so early the next morning we decided to push on north instead. We hit the autobahn, keen to put some distance between ourselves and the city and continued towards Hamburg, then the Danish border and into Scandinavia.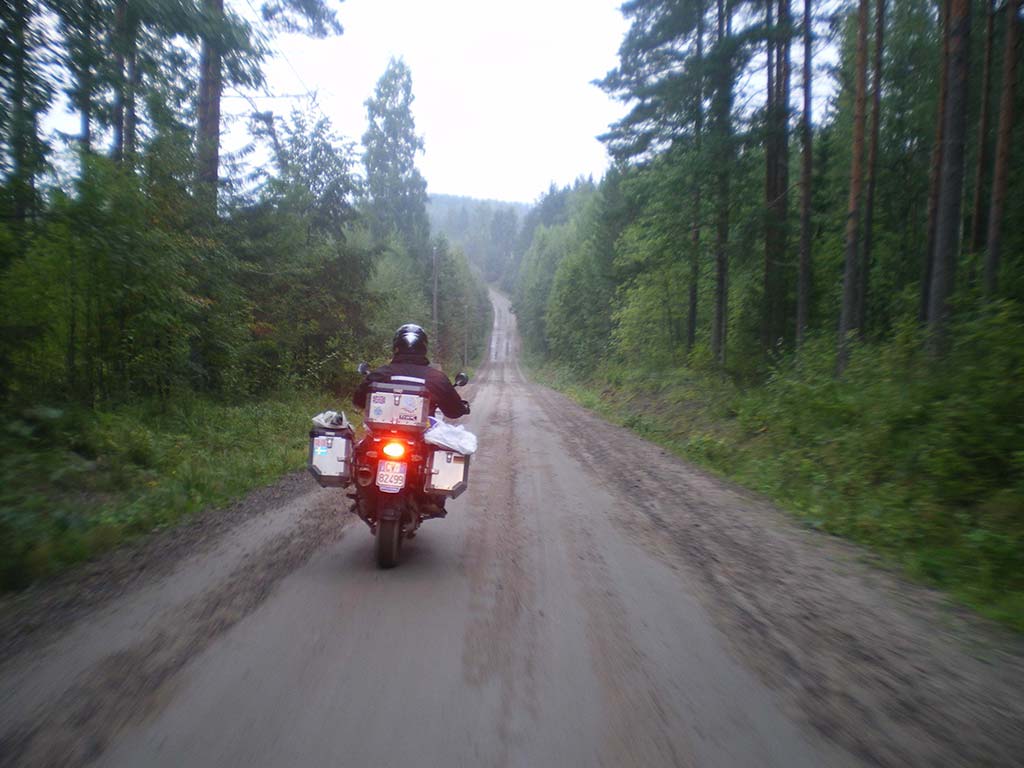 Biking heaven
We reached our Hamburg campsite in good time, and after stopping overnight, began heading north-east towards Denmark. The weather was a mix of 20-minute downpours followed by 20 minutes of blazing sunshine. It continued like that all morning, so we were alternately drenched then cooked.
As we rode, the landscape changed too – the forests making way for cultivated fields, small woods and hedges. We passed a huge field of windmills, and around midday, crossed the bridge over to the tiny island of Fehmarn. From here we got the ferry across the Fehmarnbelt to Denmark.
There are times in every biker's life when it all comes together to create motorcycling heaven. I experienced one of those moments as we hit the motorway in Denmark. With the sun out, shades on, visor up and my head air-cooled, the motorway opened up before me, a ribbon of . awless tarmac with overtakes as smooth as silk. The bike was perfect, too, the twin boxers thumping along below, purring like a lion. Three hours of perfect riding later we reached Copenhagen.
The next morning we picked up the Oresund Bridge which would take us into Sweden. The 'bridge' actually starts o. as a 2.5-mile underwater tunnel, which emerges on a small artificial island. A 5-mile cable bridge then takes you from the island over to the Swedish mainland.It's a stunning feat of engineering and a joy to ride across, offering fantastic views of both the Danish and Swedish coasts.
We had decided that once we hit Sweden we'd avoid the motorway and take the secondary route that follows the coast up to the island of Oland. It seemed like a good idea at the time, but the road is walled by pine trees, so we saw little of the drama. The occasional break in the pines did give a glimpse of some lovely scenery though. Red painted wooden farmhouses floated by in seas of golden stubble and tractors abound in fields.
Pretty ugly
The next morning I was woken by rain on my tent, which quickly became a deluge. It was cold at night now too; I'd woken at 4am and put on all the clothes I had in my panniers. Nothing changed from Oland to Stockholm – 200 miles of grey cloud, green pines, slashing rain and buffeting winds. The bike performed perfectly through all this. Gripping the road, it thumped along joyfully. It might as well have been a hot summer's day in Sicily for all the difference it made to the big BMW.
Stockholm is beautiful. Even the rain couldn't dampen my enthusiasm for wandering around the cobbled streets of Gamla Stan, the old town. We stayed to watch the changing of the guard at the Royal Palace, before heading back to the hotel to pack up the bikes and catch the 8pm ferry to Finland.
We disembarked the next morning in Turku, Finland, which is a ghost town at 8am on a Sunday. After a spot of breakfast we decided to push on to Helsinki for an afternoon of sightseeing. After the beauty of Stockholm, Helsinki was a bit of a disappointment. It was grey, dirty, and built entirely from concrete. It has a very Russian feel to it, which is unsurprising when you learn that it was modelled on St Petersburg, although St Petersburg is far more beautiful.
The next day saw us arrive in the Finnish Lake District. The majority of Finland's 40,000 lakes and waterways are located in this region. The road north skirts these lakes, which are huge and perfectly still, and we followed them all the way to Jyvaskyla. To pass the time, I watched the world go by, upside down, in perfect reflection for miles on end.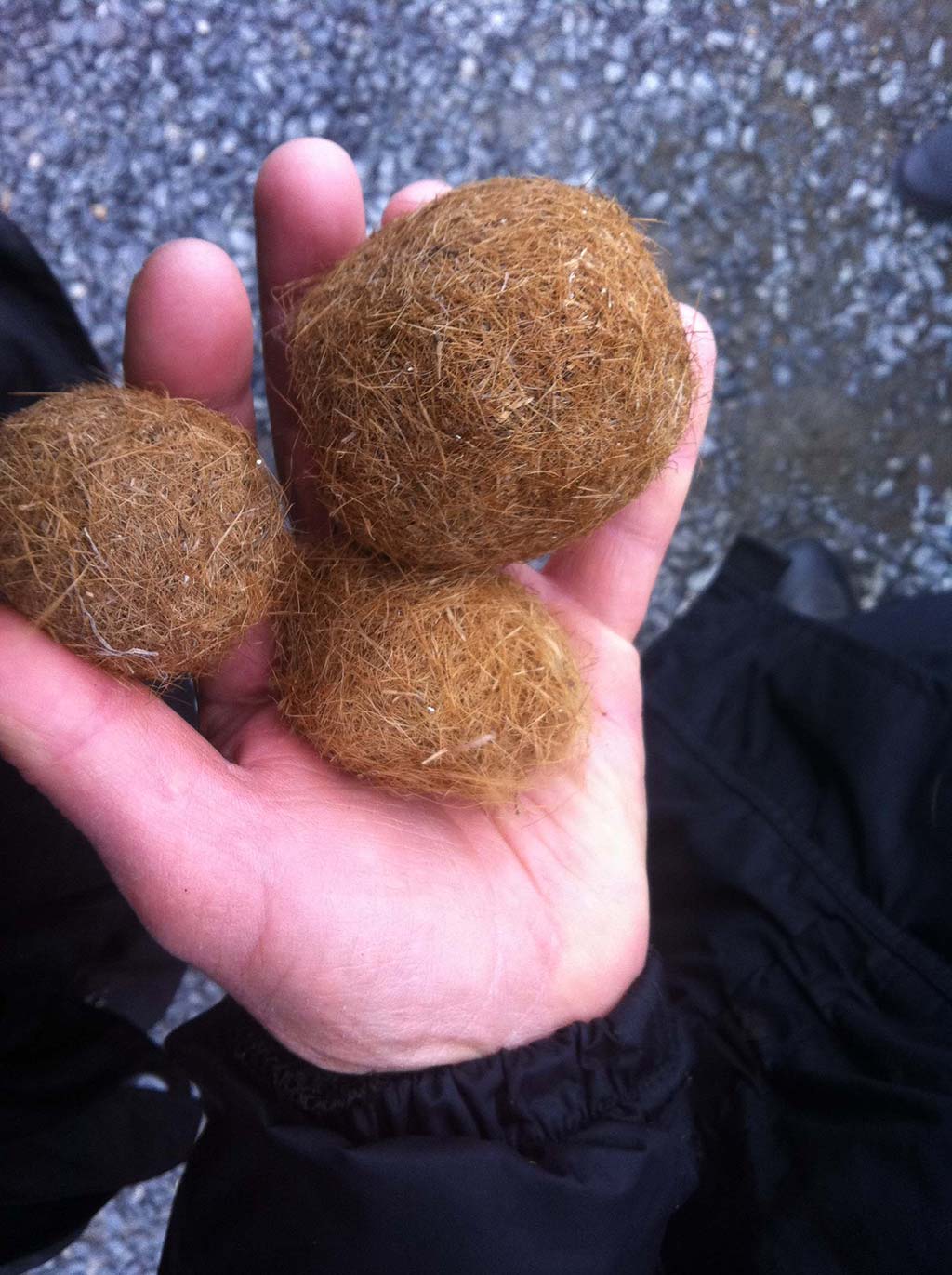 Santa country
The next day we headed into Lapland, a place I wasn't really sure existed outside of Father Christmas stories. It was a long day in the saddle too – 370 miles to reach the town of Rovaniemi – and it was a monotonous ride. After two days of trees, lakes, perfect tarmac, empty roads and snail's pace speed limits, I was very glad to reach our destination.
Rovaniemi is famous for two things. It marks the beginning of the Arctic Circle – the southernmost extremity of the midnight sun – and it's home to the Santa Claus Village. We stopped first at the line denoting the Arctic Circle, latitude 66° 23, 35. I felt a huge sense of achievement crossing that line; now we had reached the Arctic Circle we were on a real adventure. All delusions of adventuring grandeur were shattered, however, as we entered Santa's Village. To add insult to injury, Santa was at lunch when we arrived and wouldn't be back for an hour. I was disappointed, but perked up a bit when I saw Santa's 'elves', a group of young female Finns dressed up in not much at all.
The road between Ivalo and Inari, way up in the north of Finland, follows the contours of Lake Inarijarvi, and we hit it in the late afternoon. The tarmac was perfect, no traffic, and we quickly picked up speed, swooping and diving into curve after glorious curve. I flew into a bend, banked hard over, and rounded the corner to see a huge reindeer, which I missed by half-an-antler's length. After that I slowed the bike right down, although it took my heart rate a little longer to do the same!
Riding deeper into the Arctic Circle, we reached the border and crossed into Norway. Our first night was spent in Karasjok and the following morning we took the E6 north, up the coastline of the Porsanger fjord. The Barents Sea fills this fjord, and the water is a deep blue. Gone were the endless pine forests, replaced by low-growing shrubs and small, stunted trees.
Even though it was August – midsummer in Sicily – here the colours were autumnal. Another 240 miles and even the shrubs were gone, replaced by low hills and grasses which skirt the fjord, broken up only by the occasional fisherman's hut. Ultima Thule and jellyfish Nordkapp is situated on the island of Magerøya. To reach the island from the mainland you have to take a 4.5-mile undersea tunnel. Emerging from this tunnel we were greeted by a stunningly beautiful day – virtually cloudless – and with a temperature of 17°C; that's as good as it gets this far north. We continued to follow the road north, hugging the coastline. Fishing boats chugged out to sea as we passed settlements of brightly painted wooden houses.
With the weather on our side we decided to push on to Nordkapp, but as our altitude increased, so the temperature dropped and the clouds descended. Patches of snow appeared on the mountain and the road twisted and turned, following the contours of the cli. s. There were no safety barriers and the drops were sheer. We were deep into the cloud now, and could see nothing but the three meters or so in front us. Bends appeared out of nowhere as we decreased our speed, our altitude increasing.
We slowed to 20mph, mindful of the sheer drops, and pushed our way through the fog for at least another half an hour until a road sign loomed up out of the gloom: Nordkapp. A few hundred metres further on we came to the visitors' centre. We parked the bikes and continued on foot to see the famous globe of Nordkapp. Standing by the barrier, enveloped in fog and with the globe behind us, I thought back to Pytheas' description of the climate here. "There was no longer any proper land nor sea nor air, but a mixture of all three of the consistency of a jelly. sh." I looked around. I could see no land, nor sea, nor air, only a dense white fog that settled on my skin and was slowly soaking me. Cold, wet and clammy, it seemed to me the perfect consistency of a jellyfish.
Marzio opened the bag of palle pelose – carried all the way from Siracusa – and we hurled our hairy balls out to sea. As we leaned over the crash barrier, straining to see their trajectory, he pointed in the direction of the ocean. "You know, over there is another island," he told me. "Yes," I replied, knowingly. "A land of ice and monsters. The Greeks called it Ultima Thule."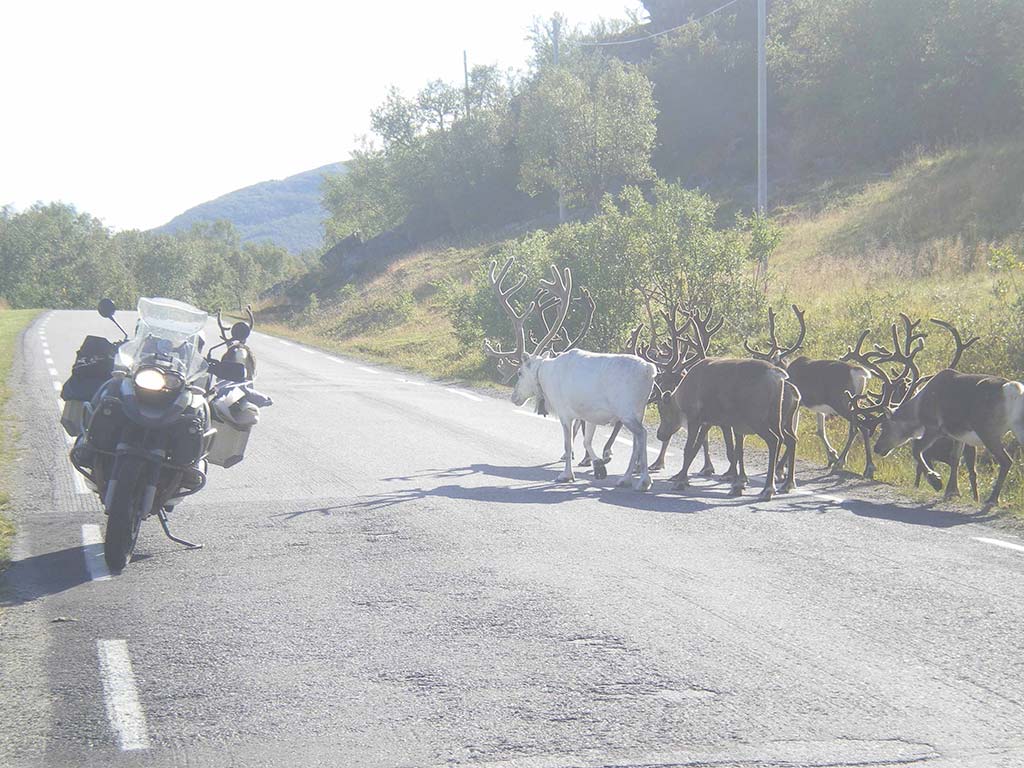 Five top tips for riding Scandinavia
Sweden, Denmark, and Norway all use the kroner, but the currencies are not interchangeable. Germany, Finland and Italy all use the euro, while Switzerland uses the Swiss franc. I found it best to pay with a credit/debit card where possible to avoid a wallet full of different currencies. Take a credit card that avoids international use charges
Roadside assistance is very expensive in Scandinavia, and mechanics few and far between. We were quoted €4,000 (£3,345) to transport a bike 300 miles to the nearest BMW mechanic. Make sure your insurance covers all breakdown eventualities or the bills will be astronomical. We paid €1,200 (£1,003) in Norway to have a clutch fixed
For travellers in a group, most of the Scandinavian campsites have two-bedroom chalets with a bathroom and kitchen. These work out to be much more economical that hotels, and more comfortable than camping. We paid about €30 (£25) a head to stay in these
Speeding fines are very, very high in Scandinavia, and the faster you're travelling over the speed limit, the costlier they are, so try to stick to the speed limits at all times. We were told that, in Norway at least, the speed cameras are forward facing so don't pick up motorbike licence plates. Not that that would ever be an excuse to speed, of course…
Ferry routes link all the Scandinavian countries and also cover all the Norwegian coast. If you have limited time, this can be very handy, as it will allow you to make progress on your journey while you sleep

The Bikes
Stuart's bike: BMW R 1200 GS Adventure (2006)
I chose this bike purely for the go-anywhere touring aspect. Its huge fuel tank, vast panniers, comfortable riding position and excellent wind protection mean that it fits the bill perfectly. The downside to all this is its weight. It's very heavy, making it difficult to manoeuvre in tight city traffic. Modiffications include a lower seat from Touratech, which helps me feel more in control of the bike at standstill, and a 'Infernalia' sticker on the windscreen – international advertising for my friends Fabio's death metal band
Marzio's bike: BMW R 1100 GS (1998 special edition) aka Terrore!
Marzio chose this bike for the go-anywhere touring abilities – and this Beemer has travelled! It now has over 62,137 miles on the clock. Both BMWs are equipped with Trax aluminium panniers and top boxes
Ciccio's bike: Honda VFR 800 (2000)
Lovingly polished to a blinding sheen, and never having travelled more than 25 miles from Siracusa. Modi. cations now include Givi side panniers and top box added for the journey, and a few scratches added during the trip

Who's riding?
Stuart Cooper, 34, British
My job as a Hydrographic Surveyor means that I work on a one-month-on/one-month-off basis, so I have plenty of time to indulge my passion for travelling. I've lived in Sicily for six years, and met Marzio three years ago when we founded the Vento del Sud Motorbike Chapter. My ambition is to master the Sicilian dialect
Marzio Giuliano, 41, Sicilian
Founder member of Vento Del Sud Motorbike Chapter. (Other members are Stuart Cooper, Imen Bousbiaa (Marzio's wife) and Sebastiano Giuliano (Marzio's 18-month-old son). Marzio rode his . rst motorbike at the age of seven and never looked back. When not out riding he's a successful entrepreneur who owns a restaurant, a pub, a kebab shop, and a bed and breakfast all in Siracusa. His ambition is to sell them all and retire!
Francesco Raniolo (Ciccio), 43, Sicilian
Owner of a building . rm and prospect of Vento Del Sud, upon completion of the Nordkapp trip Ciccio became a fully-. edged chapter member. Having previously worked in Germany for several years, his language skills contributed to our safe passage through Germany and Switzerland