Chris Cope reports back from the launch of BMW's all-new adventure sports bike, the F 900 XR.
I used to own a Triumph Tiger 1200 Explorer XRx, which I thought was pretty spiffy until I spent a few weeks touring Scotland on a Tiger 800 XRx. The smaller Tiger was demonstrably better at doing everything I wanted to do. It was lighter, nimbler, and more broadly usable. I felt like a fool for having spent so much money on the bigger bike and ultimately the shame led to my selling it. I've observed similar phenomena with other manufacturers. To my mind, the Ducati Multistrada 950 is more enjoyable than its larger capacity 1260 sibling. We tend to assume that the bigger, more powerful, more tech-laden (and more expensive) thing is better. But that's not always the case.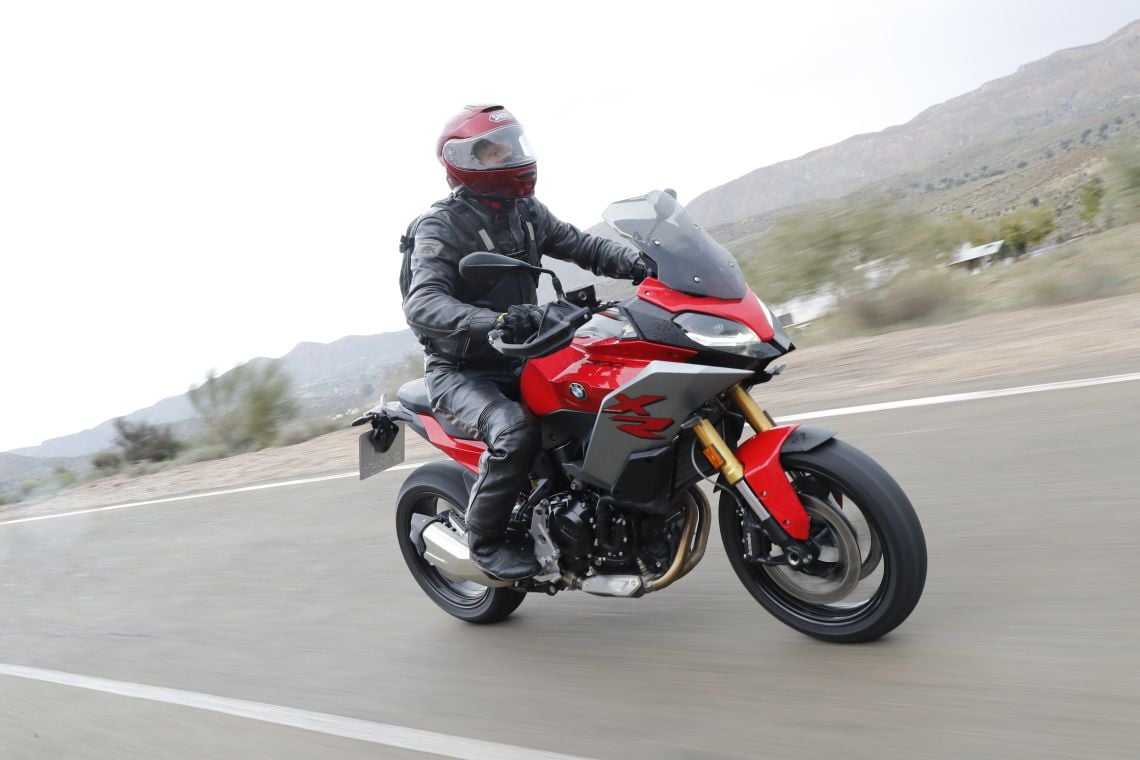 Enter the F 900 XR, BMW's all-new 'mid-size' sport-touring motorcycle built on the same platform as the F 900 R naked roadster – both bikes share the same engine, drivetrain and frame. It is positioned as the 'little brother' of the imperfectly cuckoo S 1000 XR but powered by a hooligan 895cc twin rather than the 1000's fire-breathing 999cc inline-four. Having ridden both XRs in Almeria, Spain recently, I can emotionally understand the appeal of the larger, more powerful machine, but if it were my money on the line, I'd not think twice about opting for the F 900 XR. It's lighter with a lower centre of gravity, it's more flickable and more fun to ride like an idiot and, in my opinion, the better choice, especially when you take into account that its starting price is more than £4,500 less. 
The new F 900 bikes are roughly an extension of the parallel-twin platform overhaul that began in 2018 with the F 850 GS. The GS has slightly less capacity than the F 900 XR but it too is configured with a 270-degree crank, which means V-twin character. Readers' opinions will vary of course, but I love a V-twin, and there's no arguing that the new engine is more thrilling than the F 800 platform it replaces. I mean, did you ever ride the F 800 GT? On paper, it wasn't an awful idea, but then you got out on the road with the thing and thought: "Oh, gee. What have I done wrong in my life to end up here?"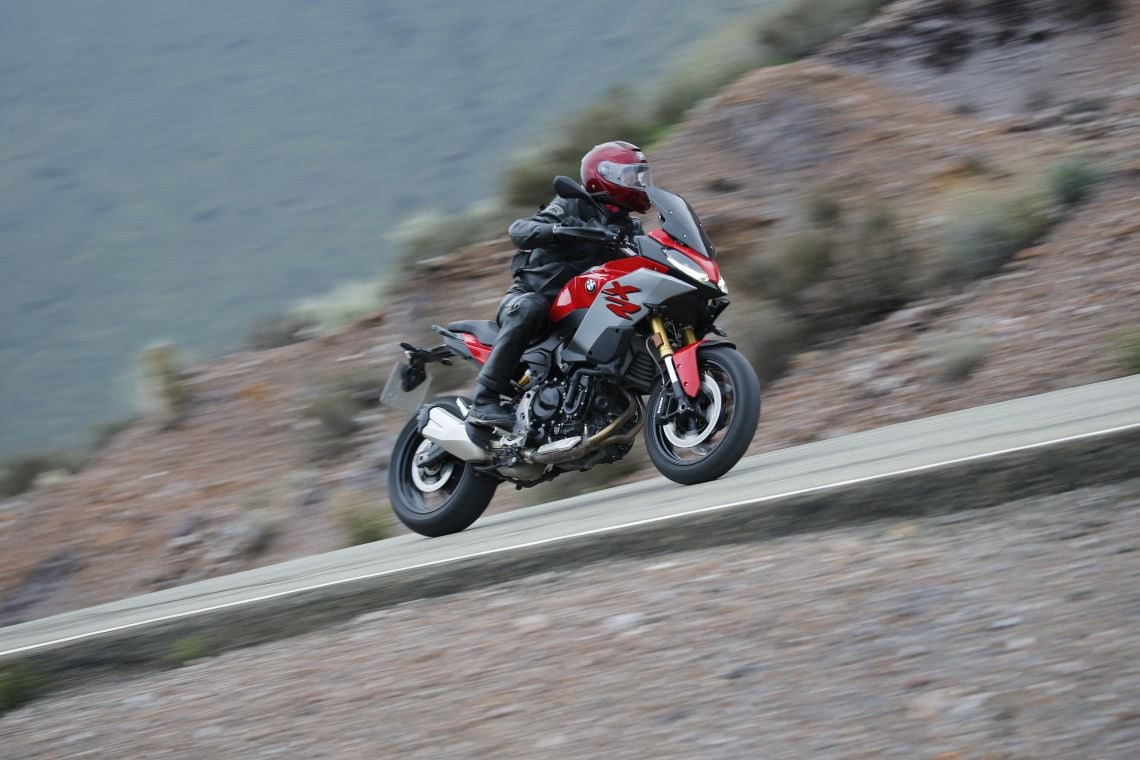 BMW claims 105 horsepower for the F 900 XR. My butt dyno suggests that's optimistic but there's still plenty of oomph to send the front wheel skyward once you've shut off traction control. That's assuming you keep it out of Rain mode. The F 900 XR comes with two riding modes as standard – Rain and Road – with the option to hand over more money for Dynamic and Dynamic Pro modes. Rain neuters throttle response to such an extreme that it feels like the bike should be wearing L plates, which I guess is the point of a rain mode and should improve traction in the wet. 
Road mode offers full, torquey power delivery, presented more smoothly than on the S 1000 XR (and, interestingly, the F 900 R). Dynamic and Dynamic Pro offer further snap, though I found it difficult to differentiate between the two. There's still a fair bit of tell-tale ride-by-wire snatchiness that seems to be the curse of every bike amid increasingly stringent environmental regulations, but it's not awful. Crack the throttle and the 900 accelerates with an enthusiasm that will have you remembering why you started riding bikes in the first place. It's not the psychotic light-speed propulsion of the S 1000 XR, but still a much-welcomed kick in the pants – more "Oh yes!" than "Oh yikes!"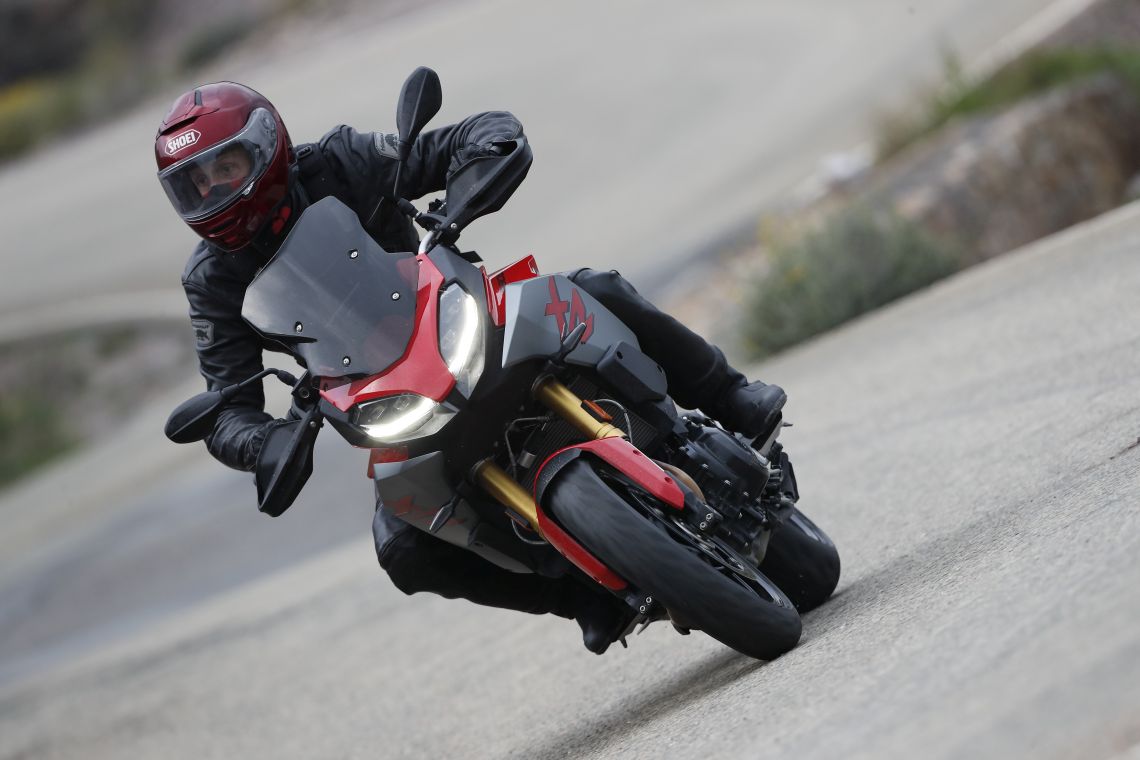 Odds are, you're not a good enough rider to really use all of the S 1000 XR's 165 bhp. You may tell people you are, but you're lying. I'm not that good. And even if you are a Moto GP-level rider, you won't be riding that way on public roads, not if you want to stay out of jail, at least. The F 900 XR's 105 bhp is more realistic (and still more than many actually need). It's a bike you can use, a bike you can rev hard, a bike you can love rather than fear. Another way of phrasing that is to say it's a motorcycle on which you can indulge the part of you that is still a child, still inclined to make vroom noises and pretend your bike is equipped with lasers. The bigger XR moves like a laser but you can't ever fully let loose. Some part of you has to always exert caution, else you'll end up as part of the scenery. 
The F 900 XR's trump card is the engine but there's a lot to like elsewhere. And, perhaps some to question as well. Aesthetically, the bike is similar to its sibling but in a slightly awkward way. In photos it looks like what you'd get if Kawasaki had been in charge of design. Fortunately, that doesn't come through as strongly in person. In the metal, the bike is sizable and well put together, with the quality of fit and finish you'd expect from BMW. Plasticky but not cheap. Though I'll admit I'm not entirely won over by the bike's looks.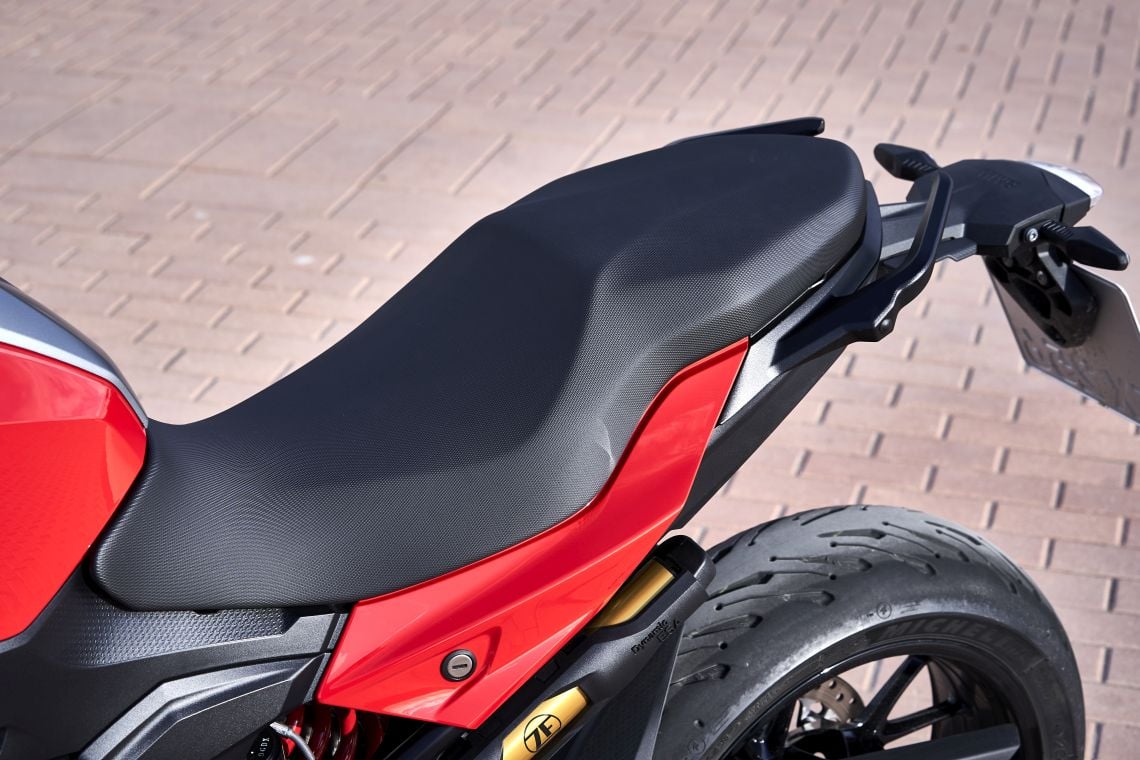 Throw a leg over and the first thing you'll notice is the firmness of the seat. As with the bigger XR, the seat more or less locks you in place and sparks questions in my mind about suitability as an all-day multi-day touring machine. More research is necessary and we'll get a chance to clock up more miles in the future. In the meantime, softer seats are available as an option, as are taller and shorter seats. Standard seat height is 825mm but it's possible to go as low as 775 mm, or as high as 870 mm, with options between. At 6'1 tall, I found the standard seat height tolerable, though I would probably opt for a taller saddle as an owner. 
Overall, ergonomics are sound with an upright adventure-style riding position and a relaxed knee bend. One minor whinge that may or may not annoy anyone else is that I found the handlebar to be quite narrow. Wearing winter gloves (it was southern Spain but I had brought Welsh weather) things just occasionally felt clumsy. But, hey, I like riding Harleys and their handlebars are as thick as lampposts. 
Slow-speed manoeuvres are stressfree thanks to a relatively low centre of gravity and easy steering. Open the throttle and you get a rattling that is not as aggressive or bassy as on the naked F 900 R. There's a good snarl but one that reminds you that you're on a bike engineered in a country that has laws against mowing the lawn on Sundays (lest you annoy neighbours). It's OK, and not anaemic by any means, and the bike makes up for it with the things that matter like acceleration, performance and handling. 
On a long haul, the screen may disappoint. A handy lever makes it one of the most easily adjustable screens on the market but I found it ineffective at either height. A slight lip on the screen means that a rider of my height can choose from turbulent air or more turbulent air. Odds are good, however, that the aftermarket will be providing superior alternatives soon. And speaking of long hauls, you'll probably want to avoid bringing a passenger on anything more than a cross-town jaunt. I suppose a father-daughter trip with your 12-year-old would go OK but adult-sized pillions will find accommodations wanting.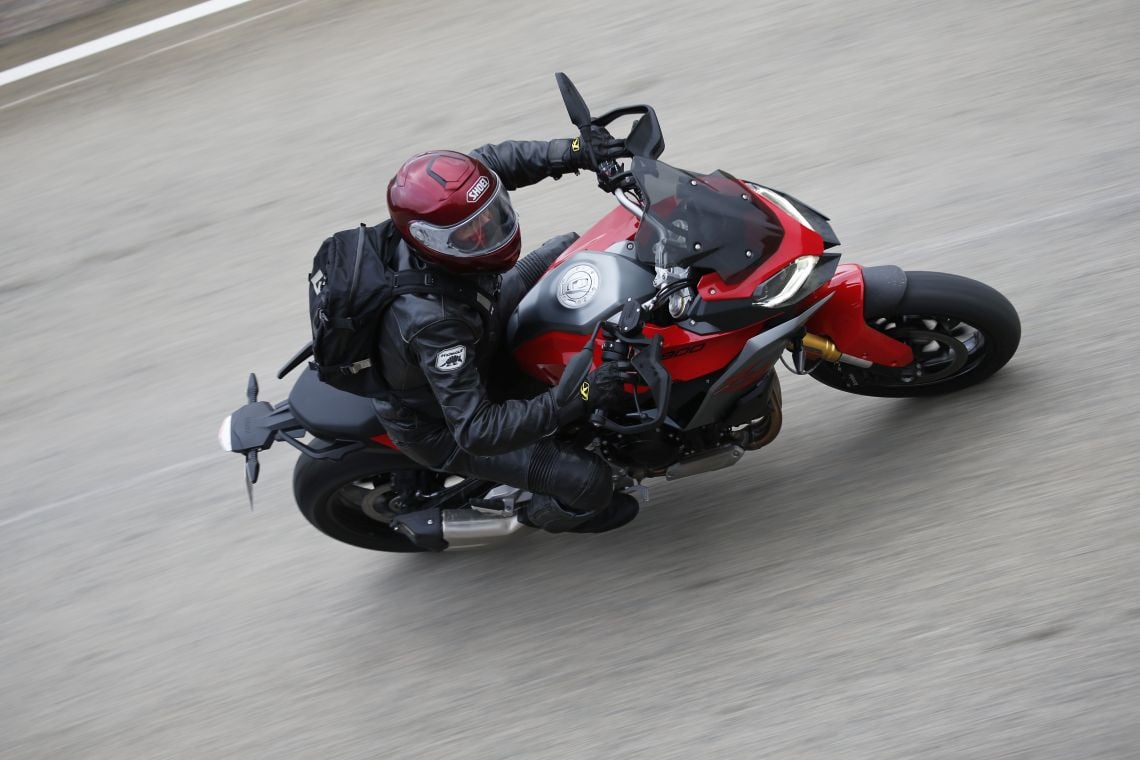 Optional cruise control and (not powerful enough) heated grips will further facilitate mile-munching rides, but it is on curving, twisty roads that the F 900 XR comes alive. Delightfully flickable yet steady thanks to a road-focused chassis and suspension, the bike is a joy on hilly, mountainous routes. Outside of bikes more directly designed for said purpose, such as a Triumph Street Triple, it is one of the easiest bikes to throw around that I've experienced in a while. Brakes are a little soft however, lacking the aggressive bite found on the larger XR. is is especially true of the rear, which is quite spongy. Don't get me wrong, the bike stops, just not as brilliantly as I expect from a sports tourer. 
That's what this is after all – a sport-touring motorcycle. Equipped with 17-inch wheels, the F 900 XR has an adventure aesthetic but is designed to be kept on the tarmac – curvy, nicely laid tarmac ideally. If you want to tackle anything more aggressive than a gravel driveway, turn your attention to the F 850 GS which was designed with off-road adventures in mind. 
A splendiferous electronics and rider aids package is further testament to the F 900 XR's stay-out-of-Kazakhstan nature. The more bells and whistles a bike has, the less distance you'll want to put between yourself and a dealership, and, like its big brother, this bike is loaded with features. Out of the box, you get the aforementioned Rain and Road riding modes, along with ABS and Automatic Stability Control (traction control). However, throw down more dough and BMW will be delighted to offer an alphabet soup of options, including DTC, DBC, MSR, ABS Pro and Dynamic ESA (that's fancy traction control, emergency braking, slipper clutch, corner braking and electronic suspension). 
A 6.5-inch TFT display helps make sense of it all, with the famous BMW wünderwheel helping navigate everything, although riders new to the BMW brand will need to spend time with the owner's manual to make sense of it all. As is the case with seemingly every new bike these days, an app allows you to connect your smartphone and remotely monitor things like tyre pressure, for example.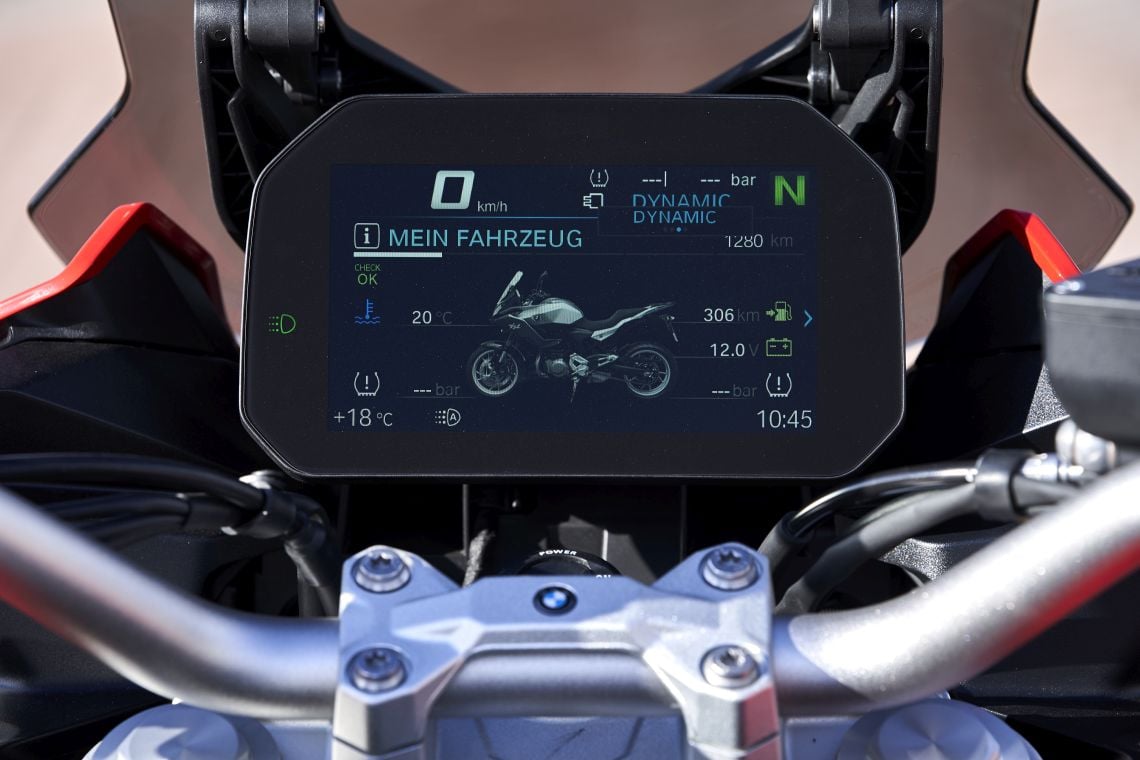 The more important connectivity is that between rider and bike, and it's in this area that the F 900 XR performs markedly better than its big brother. The S 1000 XR is a bike you hold on to, laughing maniacally perhaps, but never really finding symbiosis. The smaller XR, however, is one of those bikes where you start to forget about the physical separation between bike and rider. Over time, the machine becomes an extension of the self. Glances in shop windows may shatter that illusion slightly – you'll probably never look as cool on this bike as you feel – but most riders won't care. I can't imagine there are a great many people out there who think the XR has exceptionally good looks, but it looks like a bike that delivers a mix of fun and practicality, which of course, it does. 
In the United Kingdom, the F 900 XR has a starting price of £9,825, which is decent when put up against assumed rivals like the Triumph Tiger 900 GT and Kawasaki Versys 1000 (though, the latter delivers considerably more power). However, the base price is never really the price you pay. To get your hands on the all-bells and-whistles version I rode in Almería, you'll be digging into your wallet for £12,470. That's a hefty mark-up. Want some luggage to match your touring ambitions? You'll need to dig even deeper. Want a seat that doesn't feel like it's made of wood? That's even more. All that said, however, I don't feel the pricing is outrageous. 
Within the context of modern pricing, the F 900 XR stays financially competitive even when bespangled in technowhizzbangery. And it's still £1,800 less than the starting price of the larger XR. Outside of a few quirks that many will be able to adapt to, the F 900 XR is an excellent machine that offers usable power and the ability to do many different things with a single tool (as long as all those things are road-based). 
---
ABR Verdict
As a commuter 
It would be a shame to condemn the F 900 XR solely to everyday slogging duty, but there's no doubt it could tackle the job with aplomb. Upright and nimble, the bike is easy to navigate through traffic and offers plenty of punch to get ahead of it. The bike should be pretty fuel-efficient, as well (BMW claims 67.25 mpg). 
As a weekend tourer 
If you can tolerate, or buy your way free of, the rock-hard seat and subpar screen, there's no reason to doubt the F 900 XR's ability to make the best of any British road, from motorway drudgery to B-road wandering. Heavily rutted country lanes may leave you feeling a little out of sorts with the bike's firm suspension, however. 
As an off-roader 
To paraphrase Obi-Wan Kenobi, this is not the adventure bike you're looking for. 
As a continental road tourer 
Previous caveats about comfort taken into account, I'd be happy to spend a few weeks exploring the length and breadth of Europe on the F 900 XR, knowing it could handle any roadbased challenge I threw its way. Autobahns, Alpine curves and claustrophobic streets are all easily conquered. And although there's not a lot of room for a pillion, there's plenty of space on the passenger seat for a Kriega bag or two. 
As an RTW overlander 
I feel that if you choose an F 900 XR for a massive round-theworld trek you are probably doing so to prove a point – like those people who ride the Dalton Highway on a Vespa. Far be it from me to wee on anyone's dreams, but BMW offers a number of models better suited to the task, including the F 850 GS, which has more or less the same engine. 
As a pillion carrier 
Do you ever watch Strictly Come Dancing? Do you know who Janette Manrara is, the tiny one they throw into the air a lot? At 4'9 tall, she'd be happy on the back of the F 900 R, but I'm not sure about my 5'7 wife.