Chris Modell has a first time to remember as he loses his off-road virginity in Baja, Mexico.
Photos: Simon Cudby
Sitting at my desk in a cold damp corner of England, a message pops up on Facebook: "You coming to California at the end of November for a Baja trip or what?"
It was my old mate of 30-years, Simon Cudby. How could I possibly refuse? The kids have gone off to university and I deserve a bit of time off for good behaviour. The only fly in the ointment – I have zero experience of riding off-road.
Basic Training
Fast-forward eight months and I've got clearance for take-off from the wife. I'm on a sodding big plane heading for LAX. After a night of catching up over a couple of Cuba Libras, I wake at 3 am jet lagged as hell.
They say it never rains in Southern California, well let me tell you right now, that's bollocks; low clouds, overcast skies, 10C; this is not the picture I had in my head when I signed up. But nothing is going to stop me, it's time to head out for a couple of days of much needed basic training.
My ride is the Honda Africa Twin DCT, and I couldn't be happier. After everything I've read, what can go wrong? All you have to do is twist the throttle, point it in the right direction and hang on. How hard can it be?
Heading out from Trabuco Canyon with its washboard houses, we head past the 5 Freeway and on to the Ortega Highway. This winds its way through arid desert up into the hills to the foot of Saddleback Mountain. I am amazed at how good the Africa Twin feels around the bends, it's almost like it knows what I am thinking. At the top of the pass we head through the park gate and stop to set the bike up in off-road mode.

I find the correct off-road settings, S2, ABS off, traction in setting one, gravel mode on. I open the throttle, lean in and trust the bike is as good as I've read. The track is steep, narrow and windy with loose gravel rocks and sand. This could all go horribly wrong, but ignorance is bliss. At times I think I will lose it, but Simon keeps telling me: "Stand up, bend your legs, lean forward, elbows out, and let the bike do all the work".
I feel like the Africa Twin can do anything I ask it to. On the steeply graded sections, the traction control chokes the engine, but the big red bike just keeps going faster and faster and never ever stalls. Going up is unbelievable, although my knuckles are white at the top. Now, as they say, what goes up must come down, all I have to do is "lean forward and don't be a wanker". I keep asking Simon if this is technical yet, but I'm assured it very much isn't.
Ocotillo Wells Desert
We're going over the Saint Felipe Hills in Anza Borrego State Park; its tight windy roads and fierce drop-offs lead down to the main valley floor. It's all a bit hair raising to be honest, riding on knobblies over slick wet roads.
Entering Ocotillo Wells we stop at the ranger's station to pick up a trail map, so at least we have a shot of making it across without getting lost in this vast barren wilderness. Deep sand followed by more deep sand full of rocks; I am trucking along thinking that I'm doing pretty good, then a bunch of kids ride past on 80cc motocross bikes at speeds making me feel like a pedestrian.
Winding through to the cross-over trail we encounter a massive sand chute, and it's the only way for us to cross from the south to north. Halfway up the sand dune, an old truck is stopped trying to engage its 4WD lock to finally make it to the top.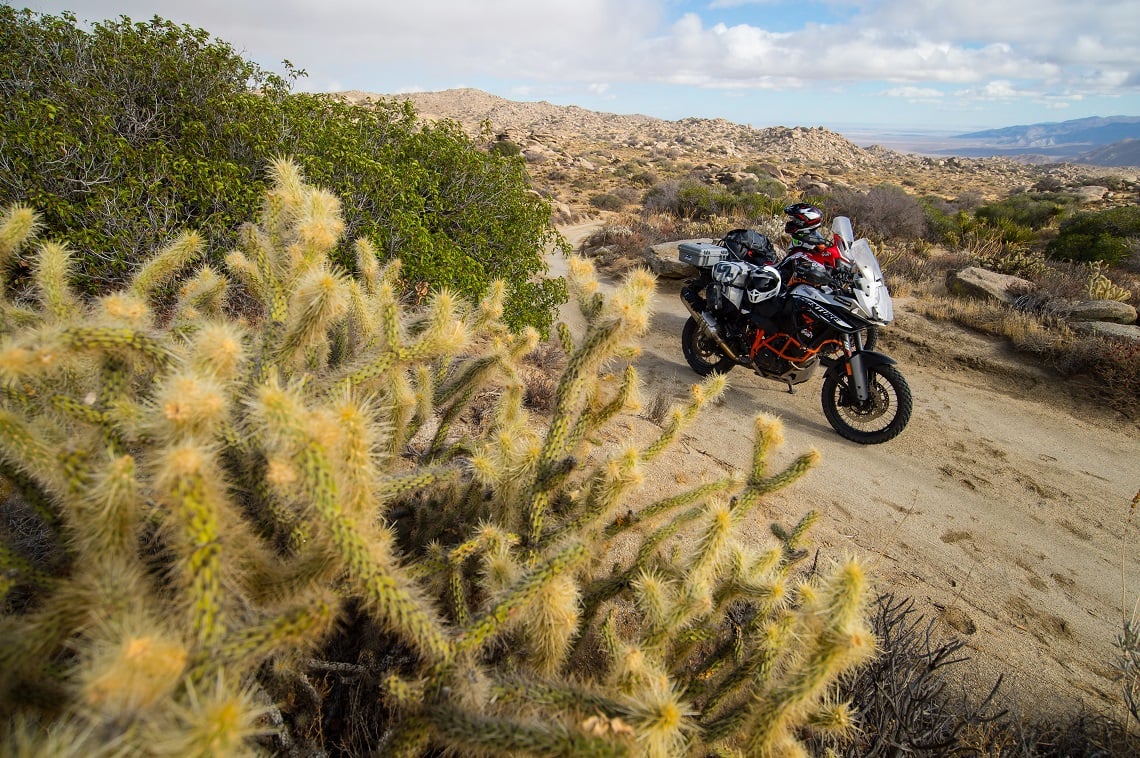 Simon doesn't seem to be keen on my chances of riding up the soft sand, but this man is not for turning, plus the alternative is riding back the way we have come.
"Let's do it", I yell, "I'm only here once".
"OK, if you want", replies Simon. "But after you. I'll watch, I like a laugh."
I take a run-up, going for broke and keep it pinned up the hill.
It feels good and I'm sure I am going to make it, although my back end is all over the place. I get precisely one metre from the top before burying the back wheel. Simon hops on his KTM to show me how it should be done and nails it. This is what life is all about; great moments.
At Indio we pull into our motel on the main strip, it's straight out of My Name is Earl. The man at the desk seems friendly enough. After unloading the bikes and a much-needed shower, we wander up the road and dine in style on burritos at the gas station one block up.
On to Big Bear
The day starts at 6 am and we are Starbucks-bound to fuel up before heading to Berdoo Canyon. All the confidence of yesterday soon dissipates when the tarmac starts to break up and we get to the hard-packed gravel and rocks. Now, this looks like it's gonna' hurt if I come off, so I go into self-preservation mode. Halfway along the trail we come to a steep rocky section, we do a bit of reconnaissance and move a few boulders around to try to get a shot at some traction.
This time I let Simon go first, he manages to find a hole halfway up and drops the KTM. We pick the bike up and run it to the top. Simon informs me this is definitely technical; funny that. As it turns out, being 6ft 3in on a low bike is a big advantage. I run the rocks using my feet to fend off the boulders and crack it.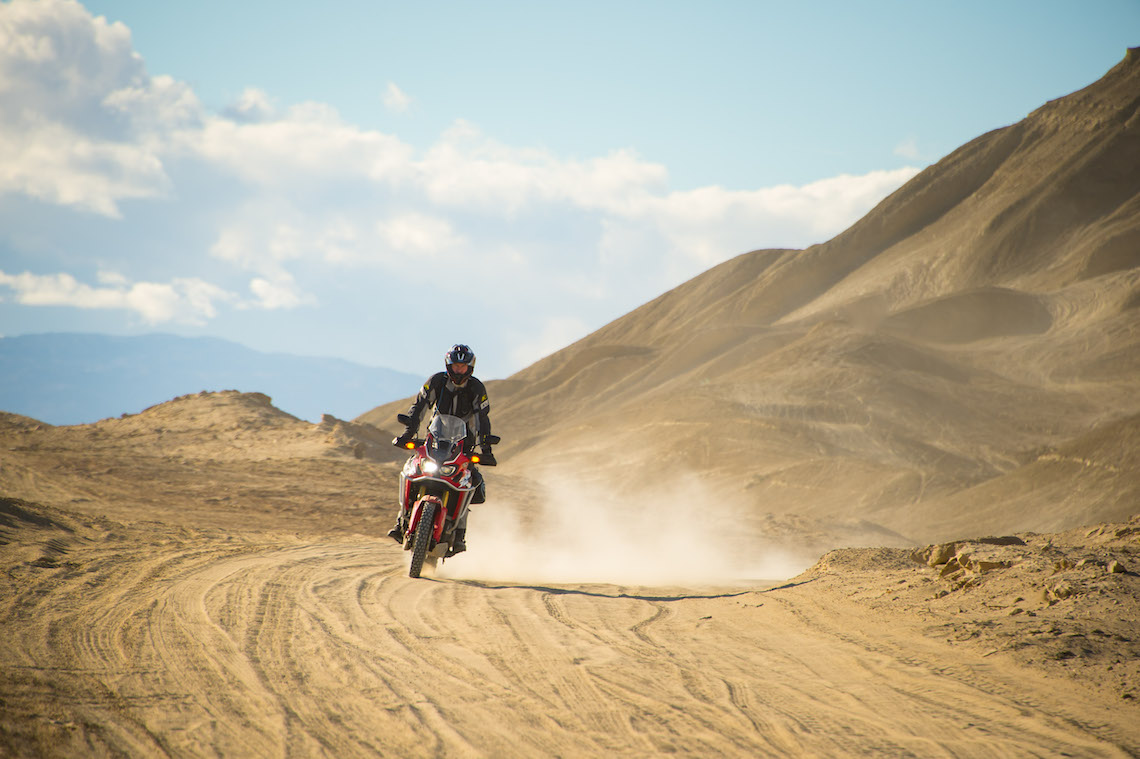 The trail opens up, the sun comes over the canyon and we head into Joshua Tree, pulling up for a well-deserved cup of tea. For a bloke from the UK this is all just incredible; giant boulders, giant skies and of course, Joshua trees, I guess the clue is in the name.
We head east, stopping briefly at Pioneertown before moving on up to Big Bear via the 2N02, which seems to be the gnarliest off-road trail ever. Winding higher and higher around the mountain, the ground is dusted with a smattering of snow; what a contrast. I love California. Apparently, you can ski in the mountains in the morning and swim in the ocean in the afternoon. All I know is I love it, and now I feel ready for Baja.
Baja
We wake early at 5 am with a slight food hangover from excess turkey after celebrating Thanksgiving. We head out into the dark, riding towards San Diego ready to meet a group of Simon's friends who are to be my riding companions. The first thing
to strike me is just how many of us there are. I count 10 bikes, and not everyone is there yet. Todd, TC, Scott, Dean, John. The introductions and names keep coming. How the hell is this going to work?
The plan, it transpires, is to all cross the border together then split into groups of four.
As we approach Tecate, our chosen crossing point, there is a noticeable difference in the traffic. Gone are the sedans, Mercedes and BMWs, instead there are pick-ups everywhere, and a massive truck spewing clouds of white diesel from its stacks heading up the hill ahead of us.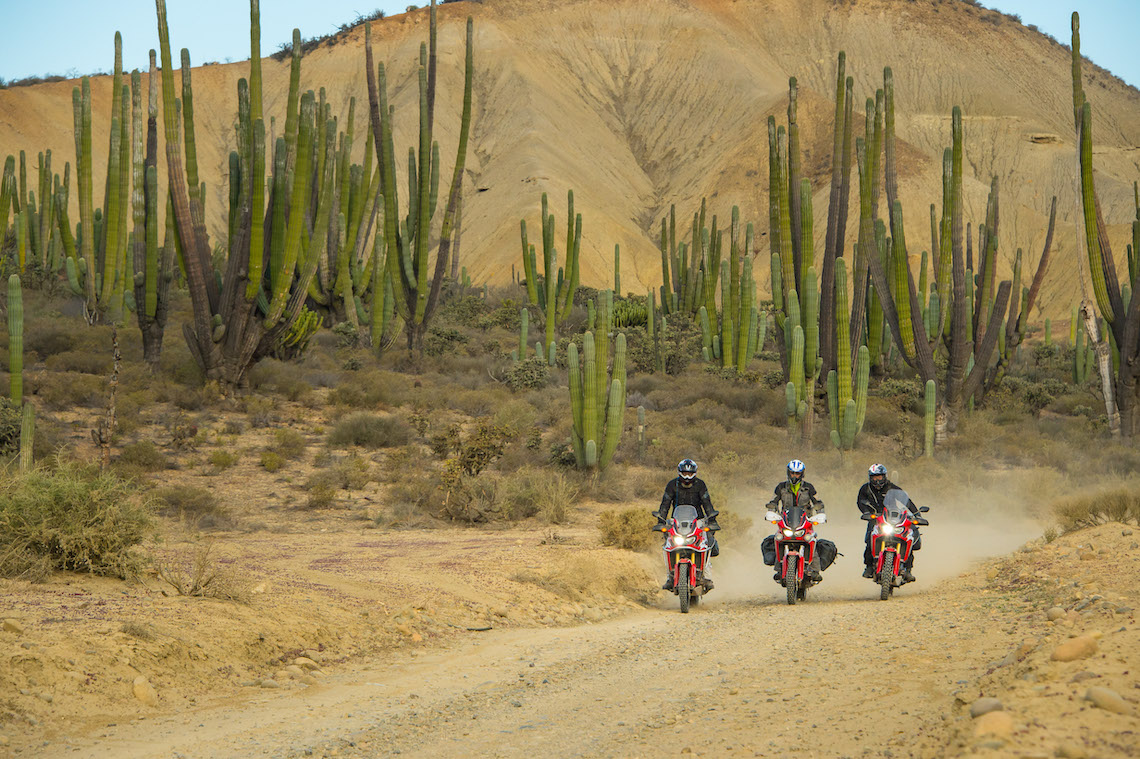 As we get closer, the smoke turns to a thick putrid fog, visibility drops to about a metre and the taste of burnt diesel hitting the back of my throat is overwhelming. Mercifully he pulls over to let the group pass.
Crossing the border is painless enough, only taking 30 minutes for the entire group. Mexico beckons and finally we are heading south into Baja proper, with its brightly painted buildings, and shops and street stands with hand painted signs advertising fish tacos and Tecate beer. I immediately know I am going to like this country.
Over a lunch of burritos, rice, and beans, Simon introduces me to the guys we are to ride with. Andrew Short, who races motocross for Honda, and Seiji Ishii, his friend and personal coach. The guys seem really nice, but I'll admit to being a little intimidated as they are both professional riders, so I immediately break the ice by getting Seiji's name wrong and call him "Sketchy." To everyone's amusement and with much hilarity he replies, "Try to get it right Gandalf," and I immediately know we are going to get along just fine.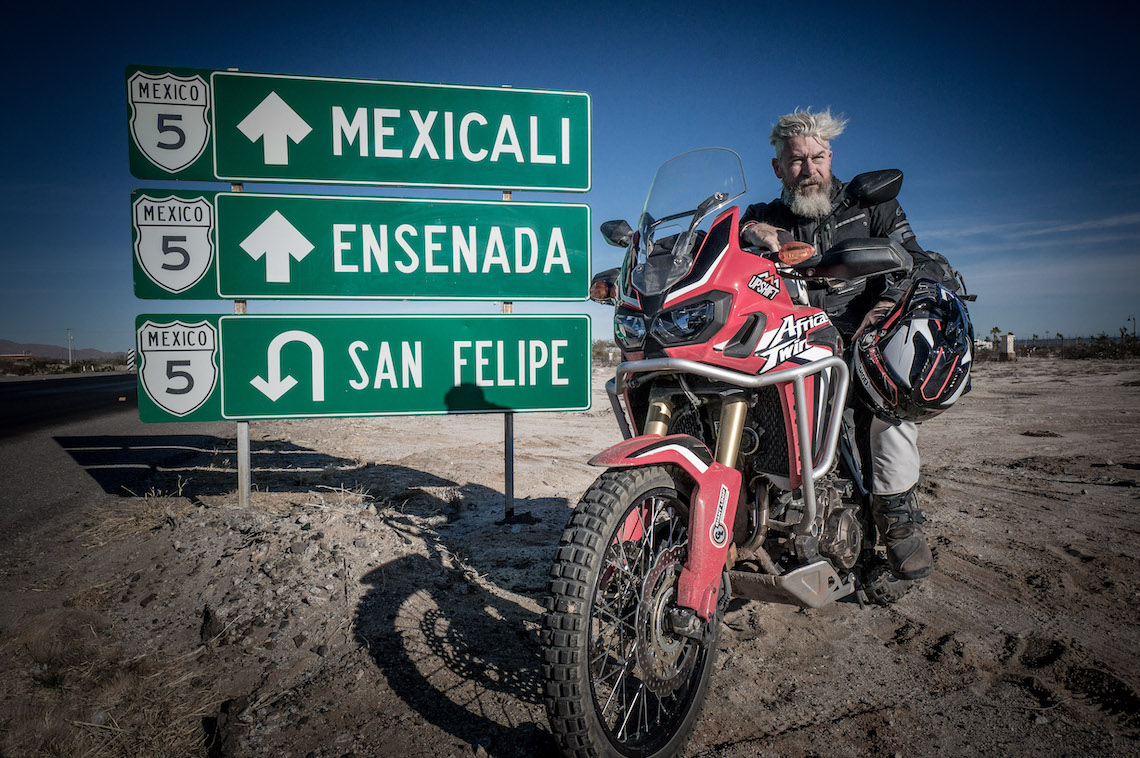 Our destination is Coyote Cal's – our bunkhouse for the night. Between it and us lay 32-miles of dirt roads running from the Mexican Riviera to the Pacific Coast. The riding is tough, as the week before the Baja 1000 used this path. It's really chewed up with ruts, boulders, tight corners, and steep rises.
We stop high on a ridge taking in the panorama. TC from the chase group rocks up on his KTM 990. As he stops there's a loud bang followed by smoke billowing from his bike. It's at this point I realise shit can happen out here that can ruin your day.
This could be a game-changer for him. A hurried inspection persuades TC to strip off the skid plate and he tosses out his smoking battery onto the trail. After a period of head-scratching and much discussion, someone pulls out an ace card – a charging pack to try to jump the bike. Miraculously it fires up and runs first time; not well, but it runs.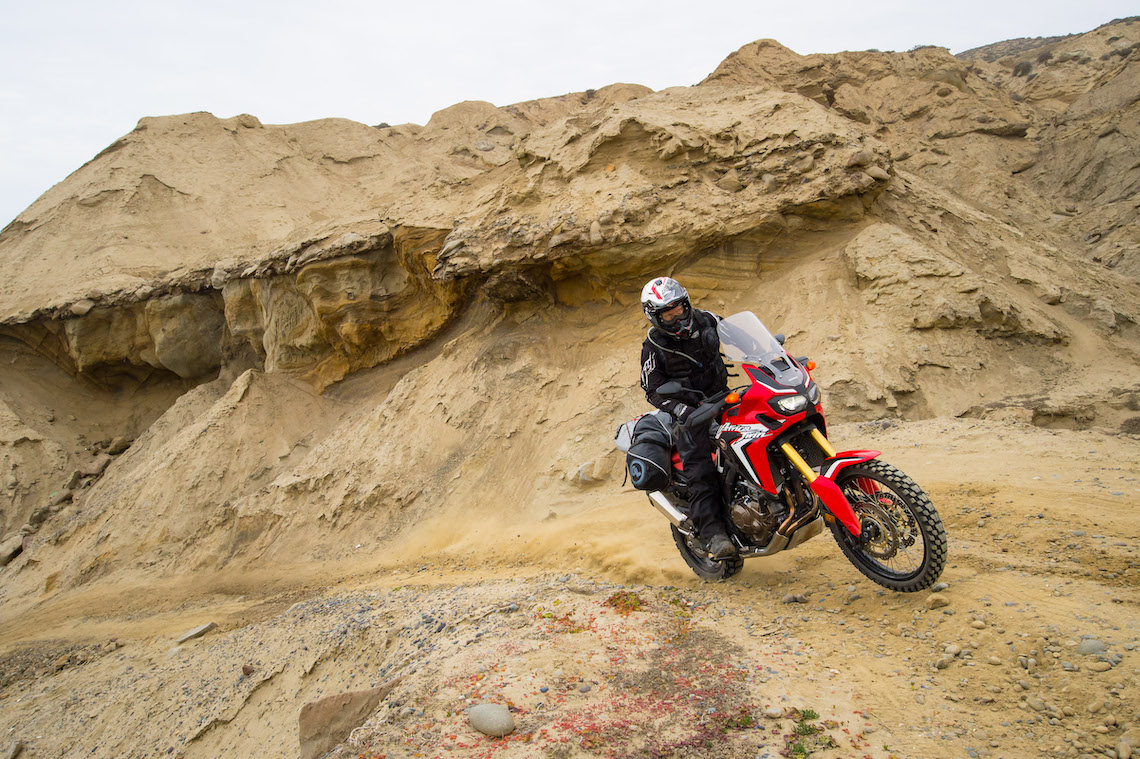 We limp on together to Coyote Cal's. TC manages to acquire a replacement battery from an old boat. Darrell, another KTM casualty with a burnt out clutch, is soon up and running again after employing an old leather shoelace inside the clutch to stop it from slipping. I just sit sipping a beer watching the sun go down over the Pacific.
The next morning we pound the pavement for 100 miles down to Mama Espinoza's where we lunch on fish burritos washed down with a Pacifico beer. There is a lot of talk of high winds and rain forecast, and extraordinarily most of the group wants to skip camping and spend the night in a hotel. Simon, Sketchy, Andrew and I listen in disbelief and decide to go it alone.
By the time we pull out it's gone 3 pm and with the sun due to set at 4.45 pm, we have 40 miles of dirt to ride. I pull on my clear goggles and we hit the trail. Sketchy and Simon are literally dust in the distance, I figure in my head if I average 30mph and don't stop, and definitely don't fall off, I'll be fine to hit the beach before the sun goes down.
The heavily rutted road winds through mountains down towards the coast. I again go into self-preservation mode. Andrew sticks close to me all the way and shows me how to read the trail by staying high in the turns and out of the crap in the ruts.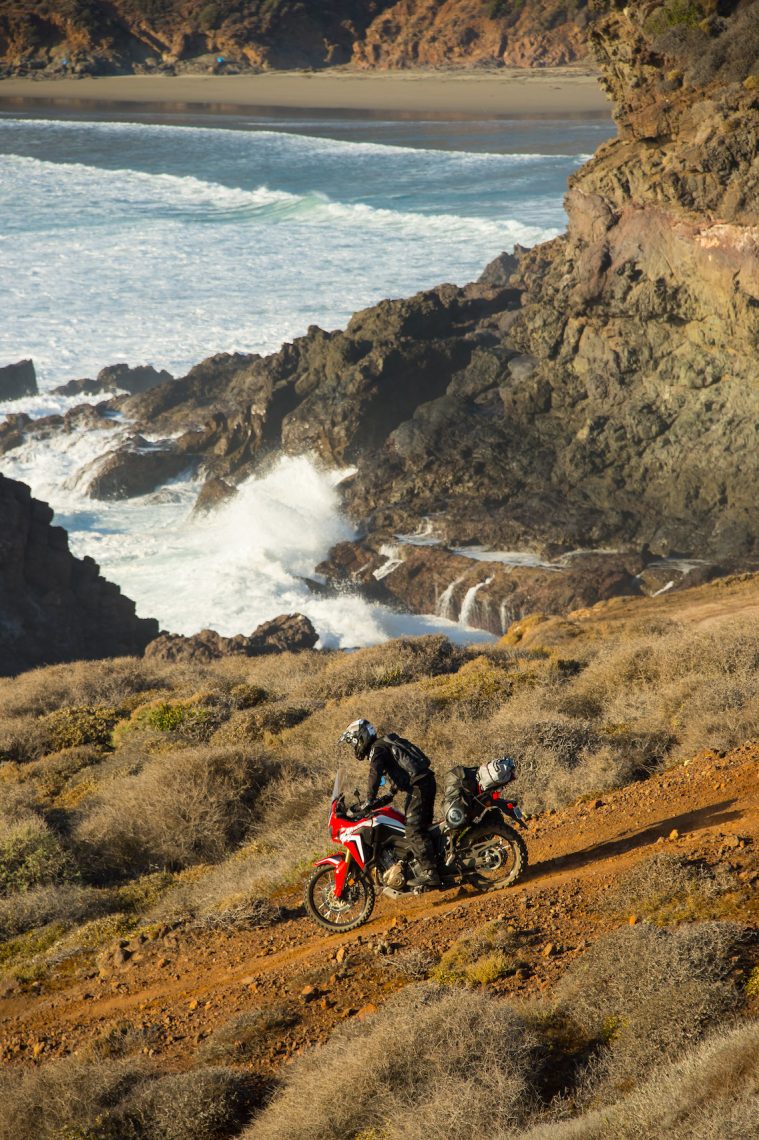 This is incredible, I may not be the fastest or the most stylish but I could not care less, I'm riding a Honda Africa Twin the way it was designed to be ridden. The road appears to go on forever as the sun is starting to dip over the mountains. This is definitely another one of those moments in life that will stay with me forever.
Well, they were right about the wind. By the time we approach the campsite we're experiencing a good 20 knots. Deserted for the winter with only six boarded-up rusty RVs scattered along the beach, we find shelter next to a trailer with a rusted out corrugated iron lean-to and pitch our tents out of the wind. With no food to cook, or wood to light a fire, we crack open a beer and settle down for the night.
The talk turns philosophical. Andrew has been a pro supercross rider for 20 years, spending every weekend at the track. With two young daughters to consider he has recently retired, which in turn has put Sketchy out of a job.
Simon, who has also been doing the pro motocross circuit for 15 years as the number one photographer, with hundreds of front covers to his name, is also changing direction. The mood is one of reflection and new beginnings.
After lots of stories, we hit the sack for a broken night of sleep. We wake with the dawn and watch the sunrise over the ocean and the pelicans feeding on anchovies. We pack our gear up, and hit the trail. As Andrew and Simon take the lead, I follow with Sketchy bringing up the rear.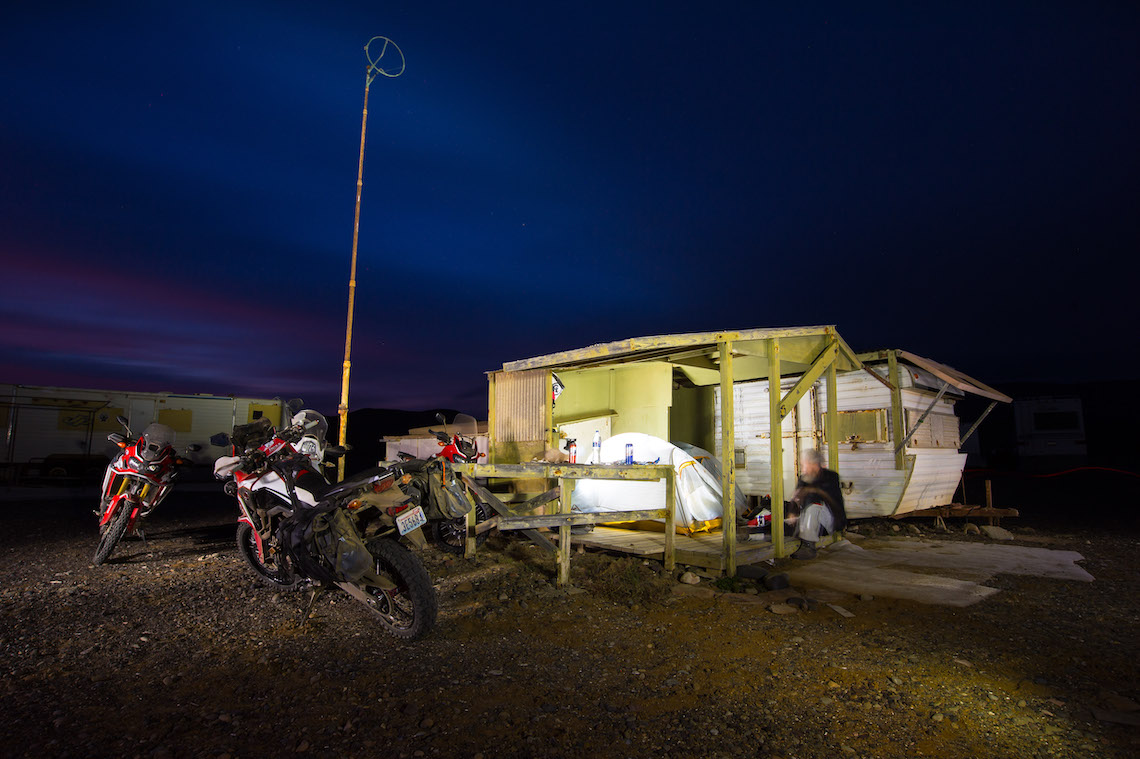 We quickly get separated and I ride my own ride, taking in everything around me. The sense of freedom with nothing in front of me but wide-open horizons was incredible.
At the end of the trail, I meet up with Simon and Andrew and wait. We are all starting to get a little concerned for Sketchy when we see a familiar dust trail and the lights of his bike as he pulls over the horizon.
"Dude, I hit a cow," is his explanation for his late arrival "You are f***ing joking," I exclaim.
"No, I hit a freaking cow," Sketchy goes on to explain. "I came over a peak, not going fast and went straight into a freaking cow. I lay on the ground worried about the cow then it got right up and seemed to be OK."
Sketchy is more concerned about the cow than himself. His bike has taken a beating and is a bit of a mess, but still rideable. Fortunately, it seems he's unhurt, apart from a cut on his right arm and dented pride. As he is a trained WMT (wilderness medical technician) and our only medic for the trip, we have to take his word for it.
Several thoughts flash through my head. Firstly, thank God he's alright and was wearing good gear. His Alpinestar Durban suit definitely did its job. Secondly, I feel bad. I hadn't been with him to help, but most poignantly and selfishly I realise that this could have been me and, although this is an incredible experience, it can also get very serious very quickly. If you get it wrong it's not going to be good. I, once again, am propelled into self-preservation mode.
We hit the road and ride over the mountains towards Gonzaga Bay on the Sea of Cortez. The tarmac runs out after 40 miles and we once again ride the dirt heading south past Coco's Corner. Coco is a Baja legend and travellers have been visiting him for years to buy a beer and pay their respects.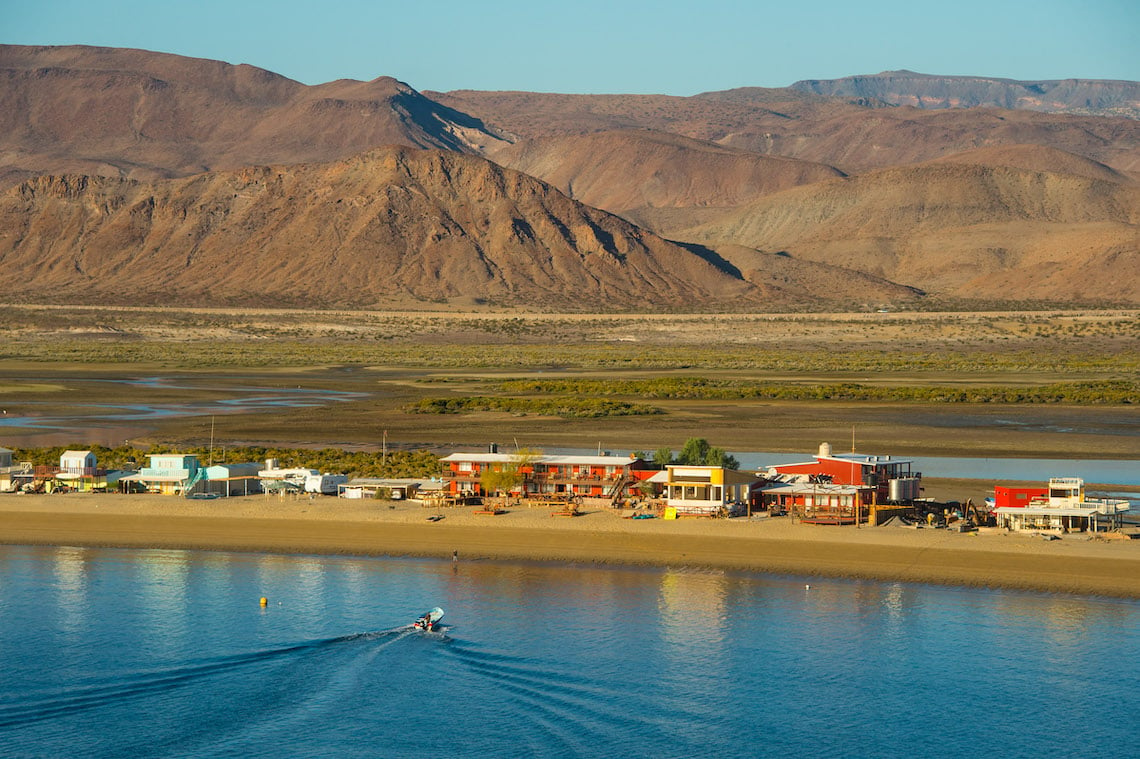 Coco wheels himself into the bar; a double amputee, 75-years-old, grey hair and bearded, with a sharp tongue and a very healthy sense of humour. Speaking double time in Spanish, punctuated only with broken English and some very graphic sign language, meeting Coco is not for the faint-hearted. I immediately like him and take great pleasure in signing his guest book.
After this pit stop, we carry on our way and arrive at Gonzaga Bay just before sundown. I'm hot and dusty so I don my Speedos and hit the water, much to the delight and amusement of all present. It's the perfect way to end a great day.
After an evening of drinking tequila and bonding with my fellow travellers, I wake the next morning, a little groggy, to a glorious sunrise over the Sea of Cortez. After this amazing adventure, it's time for a little relaxation, and we spend the day fishing, walking, swimming, reading and generally hanging out together drinking bloody marys and margaritas. This is the perfect day of R&R Mexico-style.
With just the 400-mile dash in the morning back to Los Angeles, I have time to reflect on the friends I have made and the journey. I have gone from off-road virgin to adventure bike rider (in my head anyway), I've graduated and now it's time to plan the next one.
---
The Bike
Honda CRF1000L Africa Twin DCT
Having a mate (Simon Cuddy) who is one of the top US Supercross photographers with contacts at KTM, Honda and Husqvarna really helped when trying to arrange a bike for our trip. His contact at Honda really came through for me and my bike of choice was the DCT Honda Africa Twin. The first thing you notice when you throw your leg over is just how light the bike feels for such a big machine. Secondly is the confidence it inspires when riding.
The DCT gearing performed well, particularly offroad and once I had found "Sport 2", I was riding in the sweet spot. The functionality of the electronics for the traction control, gravel mode and ABS are easy to find and operate, even for a technophobe.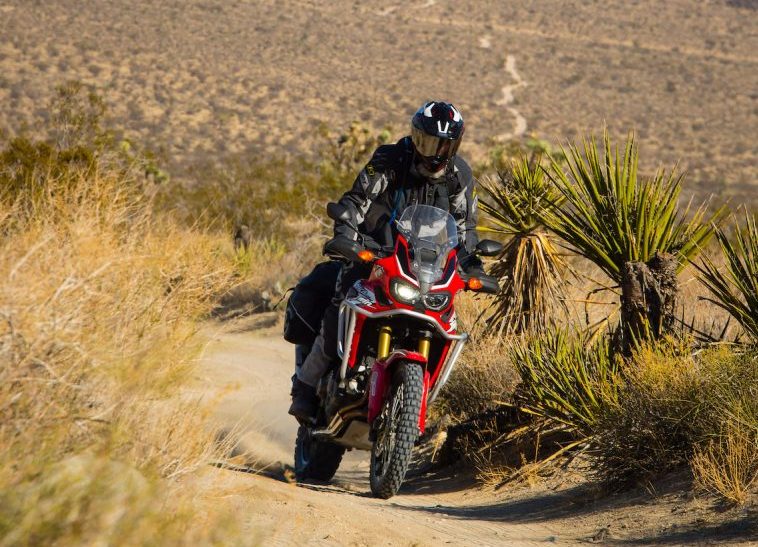 Having now put some serious miles on the bike, I was impressed with just how comfortable it was, bearing in mind I'm 6'3 with long legs. However, I did get neck ache when riding off-road and standing on the pegs for long periods. I put this down to the death grip I employed as a novice off-roader on the first few days of our ride.
My only gripe would be the position of the flappy paddles for manual gear selection, situated on the left-hand grip, and trust me, you need that manual setting when descending winding mountain roads, as the DCT has a tendency to change up too quickly as you accelerate out of turns.
Overall the bike was incredible for our trip in Mexico, and I found it difficult to give it back at the end! That was one hell of a test ride, thank you Honda.
---
Coco's Corner
Coco's Corner has legendary notoriety in Baja and is visited by travellers from around the globe. Essentially, its located in the middle of nowhere, connecting the unmade Highway 5 with the now well-maintained Mex 1, even appearing on official maps. The road is long and dusty, I'm not sure why, but the anticipation was exhilarating, though on arrival you still have to ask yourself 'what is Coco's Corner?'.
A ramshackle single-story building surrounded by poles holding strings of beer cans and lights with a single hand-painted sign offering Pacifico Beer and soda, an odd assortment of old trucks, and long-deceased dirt bikes hangs proudly on the outside wall and bizarrely, a collection of toilet bowls arranged in a semi-circle as a central feature in the yard area.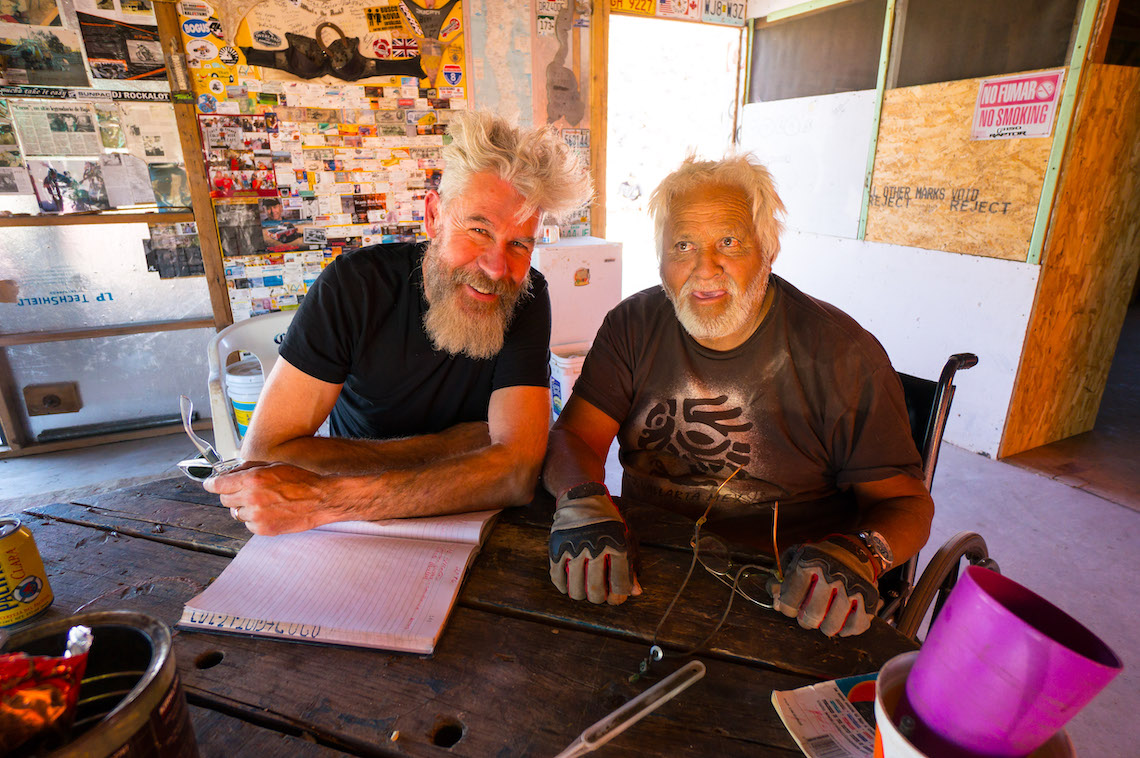 The inside of the main building walls are lined with old, faded photographs and 100s of stickers and curiously the ceiling is host to many pairs of ladies underwear signed by their previous owners. The centre of the room is dominated by a giant cable drum now used as a table.
Coco wheels himself in, a lively man of indeterminate age (I'm guessing 75), a double amputee with diabetes, although he cuts quite an impressive figure with his leather knee pads and fingerless gloved hands. As we talk he explains he has lived here for the past 26 years,
"Where you go?", "Where you from?", seems to be his favourite question as he pushes his big blue book forward for me to sign with a huge smile on his face he tells me he has nine more already full, I have to admit to being very proud to scribe my name and nationality in this great book.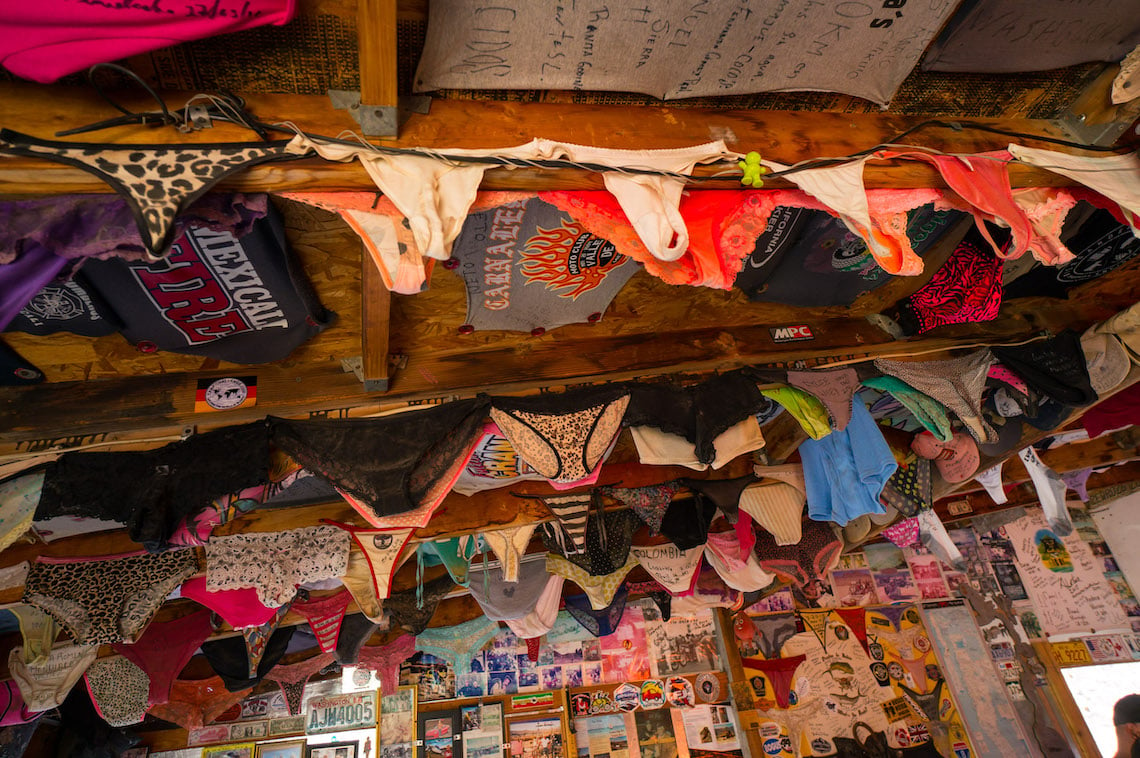 I feel privileged to have met Coco. You cannot help but like the man with his larger than life character. I did however wonder if I may be one of the last few to get to visit him, but then again countless other people over the years have probably had the same thought.
I still don't know if I can adequately answer the question "What is Coco's Corner?" But if you are ever fortunate enough to venture to the Baja peninsula, be sure to stop by and pay your respect. There will be cold Pacifica Beer and a warm Mexican welcome waiting for you.
---
Want to ride in Baja?
Get there.
I flew from London Heathrow direct to Los Angeles International. Return flights will set you back roughly £460 for one adult.
Check www.skyscanner.net for more information and prices.
Paperwork.
A US visa waiver program (three-month entry) is required when entering the United States of America, and upon arrival in Mexico you will require a Mexican Visa.
Additional motorcycle insurance is also required when crossing the border and I got mine through www.discoverbaja.com.
Ride it.
Back up and support for our trip was supplied by www.bajavoyager.com
(excellent local knowledge and very friendly professional who can be reached at [email protected]).
Baja Voyager can also provide experienced motorcycle guides and chase crews with motorcycle trailers for bike and luggage transportation. The company also has a paramedic on duty at all times.
Moto Quest offers bike rentals in Long Beach, California and you can ride these bikes to Mexico.
Visit www.motoquest.com for more information.