The Wild Atlantic Way sweeps along Ireland's dramatic coastline for 1,500 miles, passing through nine counties and three provinces as it goes, making it perfect for motorcycling touring. Beginning in Kinsale, County Cork, the road takes you on a circumnavigation to County Donegal's Inishowen peninsula.
What many bikers don't realise is that the Wild Atlantic Way is the world's longest defined coastal route and contains some of the greatest rides in Europe. Sounds awesome, but where do you start when it comes to choosing where on this trail to ride?
ABR, combined with motorcycling touring company, LemonRock Bike Tours' knowledge of the area, has selected five epic roads you need to ride along this spectacular route.
The Healy Pass, Cork to Kerry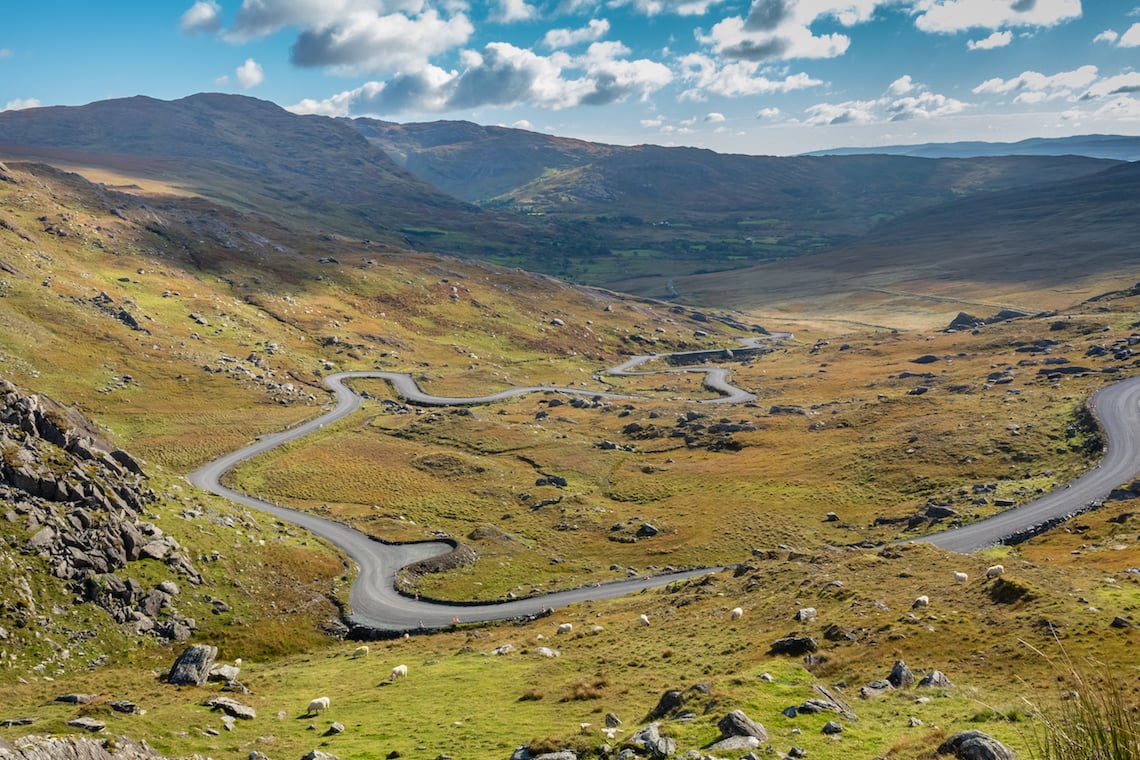 Traversing the R574 and slicing between Adrigole in County Cork and Lauragh in County Kerry, is the Healy Pass. This sinuous road snakes for six miles through an imposing, otherworldly rural landscape and reaches a height of 334 metres.
As you leave Cork behind, you'll course through a series of hairpin bends surrounded by the sublime sight of green mountains with craggy rock faces, etched over the years by wind. The wild and windswept countryside along this pass will have any outdoors lover's heart racing.
The Healy Pass should be a priority road when it comes to compiling your Wild Atlantic Way bucket list.
Conor Pass, Kerry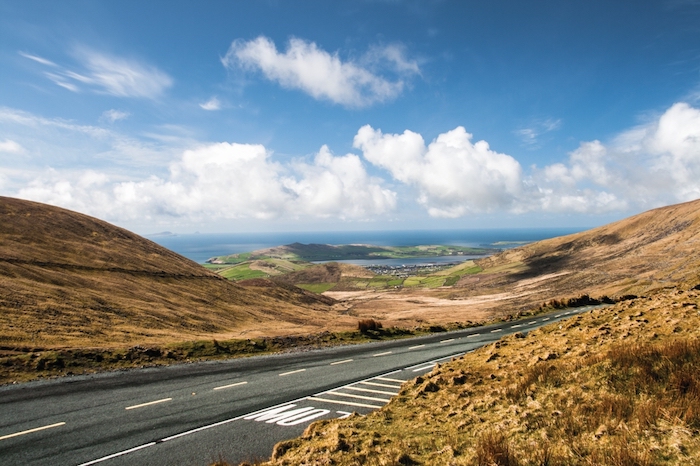 Photo by RoadTrooper.com
At an elevation of 456 metres above sea level, the Conor Pass is the highest mountain pass in Ireland. On this journey, your two wheels will teeter on precarious roads that overlook a magnificent jagged mountain scape.
Spend the night in Dingle before heading off on the pass, and grab a Guinness and have a mighty good craic (lively conversation and good times) in one of the many shops that double as pubs.
But mind you don't go too hard, as the road from Dingle provides gnarly twists and turns aplenty. There's also a viewing platform where, on a clear day, you can see as far as the Aran Islands in County Galway.
Burren Beauty Drive, Clare

Photo by RoadTrooper.com
In the region of County Clare, this 42-mile drive takes you from Kilfenora, through Lisdoonvarna, then up to the coast to Black Head, and eventually loops back down through Carran.
On one side of the bike, you can check out Burren's remarkable limestone moonscape which is famous internationally. While, on the other side, the Atlantic Ocean spans out as far as the eye can see. The Burren Beauty Drive passes through some of mother nature's finest works of art; it is well deserving of its name.
Galway to Westport, Galway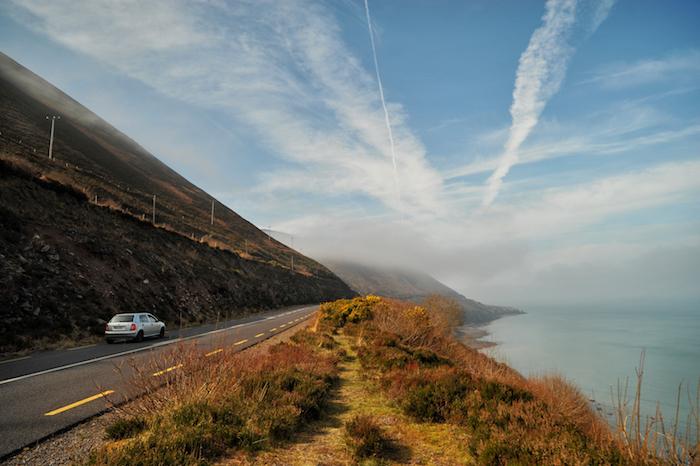 Photo: Gabriella Pugachevsky
This journey will have you crossing through the raw and rugged landscape of Connemara. Bikers will slide past bogs, black lakes, through deep valleys, and up into the mountains.
A must ride on this route is the aptly named Sky Road. Climbing up this nine-mile road offers a spine-tingling panorama of Clifden Bay, before hitting the musical pubs of Clifden.
Doolough Pass, Mayo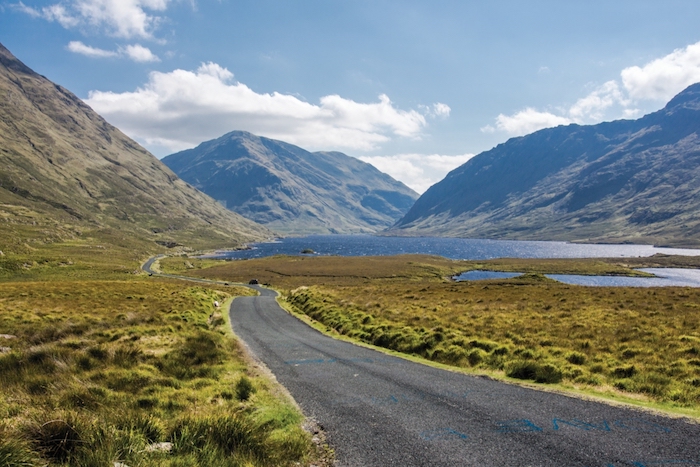 Photo by RoadTrooper.com
The Doolough Valley is nestled between the brooding Mweelrea Mountains and Sheefry Hills. It runs for over 20 miles from Leenane, Galway, to the charismatic town of Westport in County Mayo.
The highlight of the long stretch is a colour changing lake that shifts from black to chrome depending on the light. As well as breathtaking scenery, this area's history will also leave a deep impression.
The monument at the top of the Doolough Pass is a harrowing reminder of the famine tragedy in the area.
Glengesh Pass, Donegal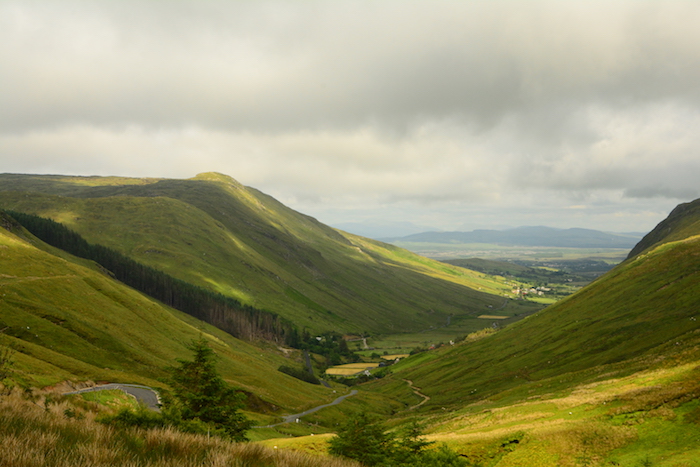 Swooping for 15 miles through a glaciated valley is Glengesh Pass, also known as the Donegal Pass, located in County Donegal. The narrow and windy road features a sample of tasty hairpin bends to get your heart pumping.
The road's rolling landscape, dotted with old cottages, rural farms and the occasional roaming herd of sheep, feels unaffected by the 21st century.
Quintessential Irish countryside, exciting bends and friendly locals that greet you with a sincere "céad míle fáilte" (a hundred thousand welcomes) make Glengesh Pass an unforgettable ride.
LemonRock is a motorcycle rental and tours company on the Wild Atlantic Way. They're the only rental company located on the trail. If it's adventure you're after on the Wild Atlantic Way, LemonRock can provide you with a strong knowledge of Ireland, the motorcycles and the riding experience of a lifetime. For more information, visit the Lemon Rock Bike Tours website.