Interested to know what life is like on the road, Naomi Dunbar spoke to Grace McDonald, a young woman who left her bustling city life in Sydney, Australia, set off for the world on her motorbike – and has never looked back…
So, what are you riding and does he/she have a name?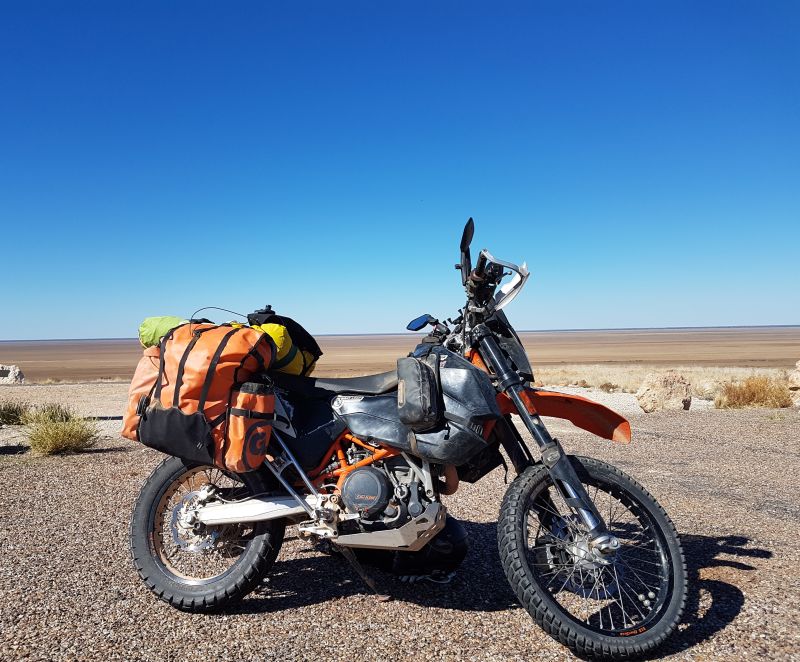 I'm riding a KTM 690 Enduro. Oh for sure – she's my 'Beastie'. She kicks like a mule and after 50,000km she's not so pretty anymore, but that's exactly how I like her.
When did you start riding a motorcycle and what got you into riding?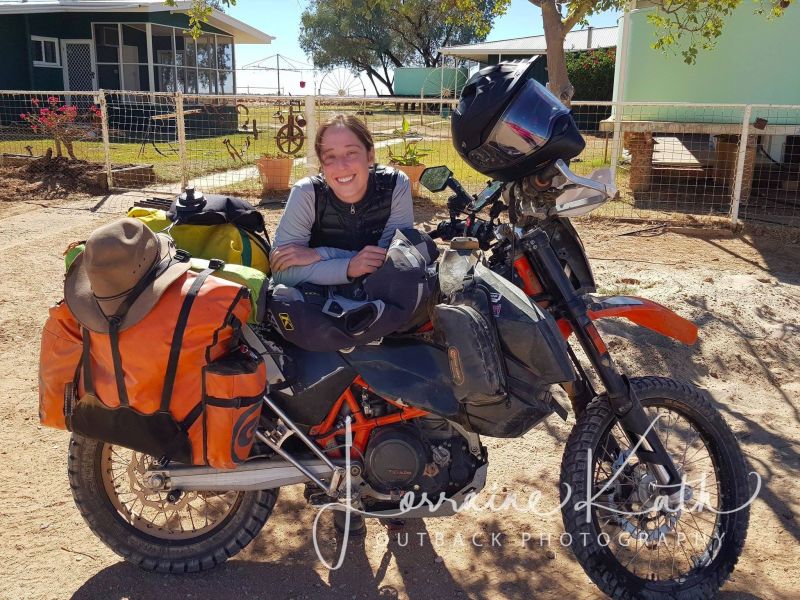 Photo: Lorraine Kath Outback Photography
When I was a kid growing up on a bush block in Australia, my family all used motorbikes to explore the mountains around us. Starting as a five-year-old on a PeeWee 50, through to the old XR100 that used to foul a spark plug every half hour, there was always plenty of dragging motorbikes under fences to get to the best fishing spots. But riding bikes can be a risky business. There were a few kids who used to ride with us, and I remember when one of them grew up, he got his road licence and got run over by a Mack truck. He recovered, but my mother said, 'that's it, no-one's ever getting their road licence.'
I accepted that until I was in my early twenties, living the city life in Sydney, working hard and having no fun at all. That's when I realised that you have to do something you love; sometimes that's dangerous and you accept the risk. So I got my road licence. Then there came a moment when I was riding in the Victorian Alps on my own, scraping pegs on my old SV650, destination nowhere – adrenaline, physics, poetry in motion – and I thought, this is pure happiness. I've never looked back.
Why did you decided to take on this incredible journey?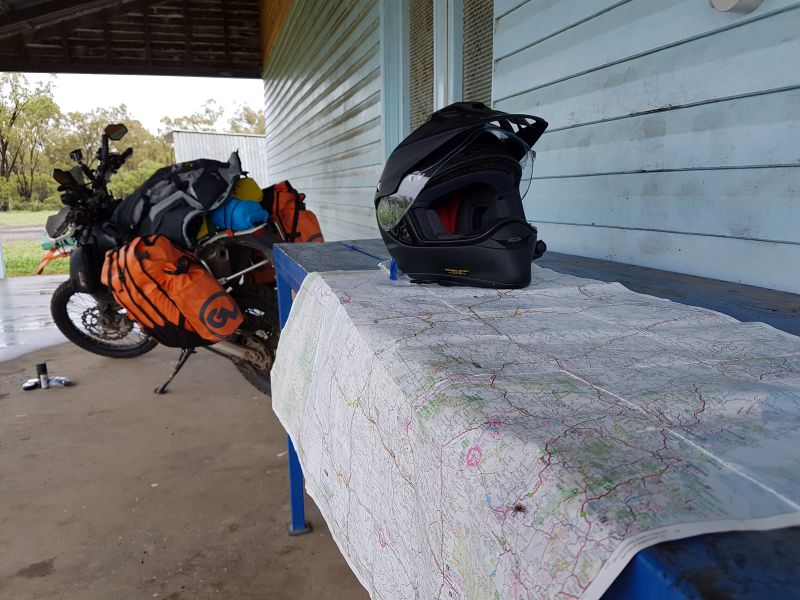 I was a commercial lawyer in Sydney and one day I thought to myself, this will kill me. I will die at my desk.
Every weekend, I would get on my motorbike and ride as fast and as far from the city as I dared go and every weekend, the worst part was having to turn around and go back. One day, I realised that it wasn't worth it anymore – I was paying too high a price for my comfort and security, for an income and hot water. What I really wanted to do was get on my motorbike and keep riding into the unknown. There is a whole world out there, and an unimaginable diversity of normal, daily life. I wanted to find a different version of life, and I wanted to ride my motorbike and not have to come back for a very, very long time.
Your journey started from Sydney, are you originally from the city?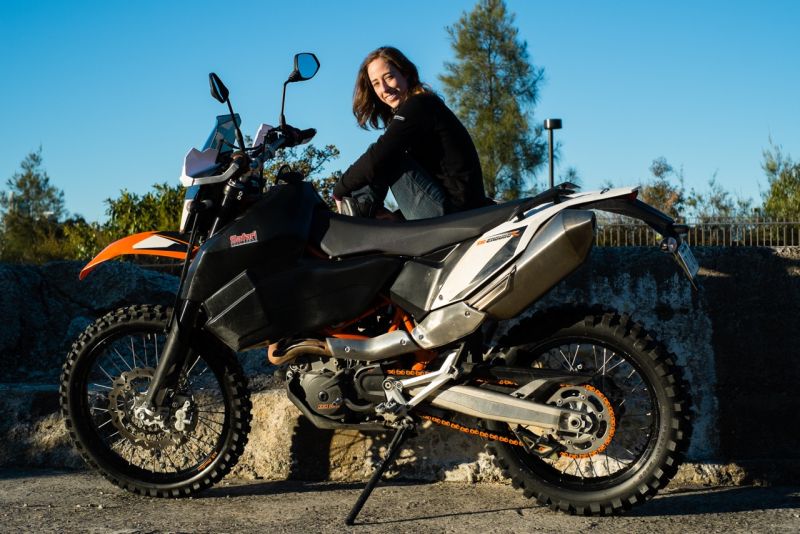 Photo: Keith Plunkett Photography
I actually grew up in the mountains to the south of Canberra; it was fairly isolated and I never went to school. I moved to Sydney at 17 to start my adult life, I got an education, a haircut and a real job – but I still feel the pull of the Australian bush. Nothing gives me a sense of peace like camping under stars in the outback, just me and my motorbike and sometimes, a nip of whiskey in my billy tea.
How long have you been on your journey so far?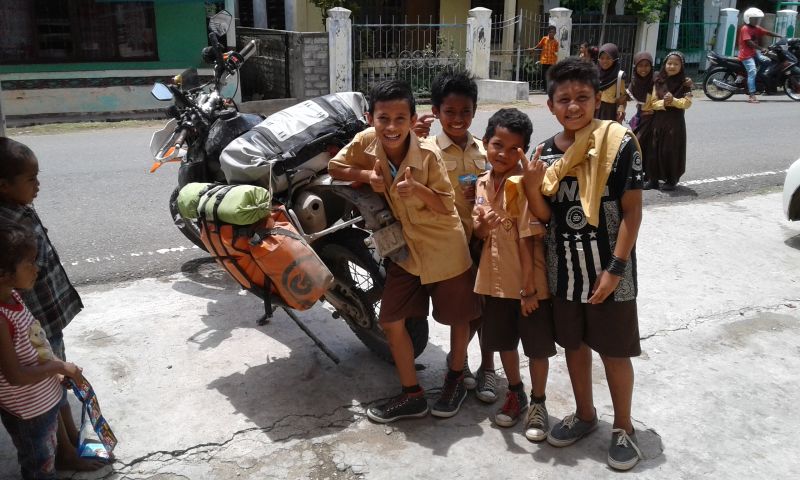 I left Sydney on 15 February 2017 – it was meant to be 14 February, because what better day for a hot date with your motorbike? But you'd be surprised how long it takes to fit your whole life into a set of panniers. So I left a day late… but late for what, anyway? I was an unemployed homeless person with a motorbike. So it's been a bit over a year now, I still feel like my life and my trip are only just beginning.
Before you set off, did you have a pretty detailed plan?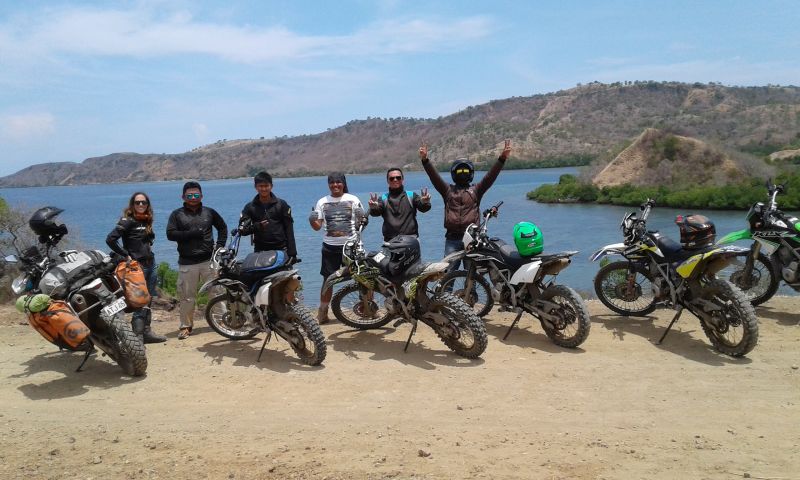 I set out with the vaguest of plans. I'm heading generally for Paris, because it's a long way from Sydney and I like the idea of riding down the Champs Elysees on a filthy KTM that I've ridden all the way from Australia. I knew that I'd head through Timor Leste simply because the cargo ferry to Dili is the easiest way to get a bike out of Australia. I particularly want to ride the mountains of northern India and Pakistan, and to see Iran. Apart from that, I just make it up as I go, which is pretty magic, because you never know what opportunities will turn up.
I also think that there's a certain arrogance in sitting over your internet browser in Australia or some other developed country, trying to make judgements about places you've never been. Google doesn't actually know everything about all the world. You really need to go there, look with your own eyes, talk to the local people. That road that the internet said was impassable? Well the locals say it's fine as long as it doesn't rain tonight. That place that's too dangerous to go? Well you might find that the biggest danger is actually death from eating too much good food as an honoured guest at a local baby naming ceremony.
How many countries have you ticked off so far?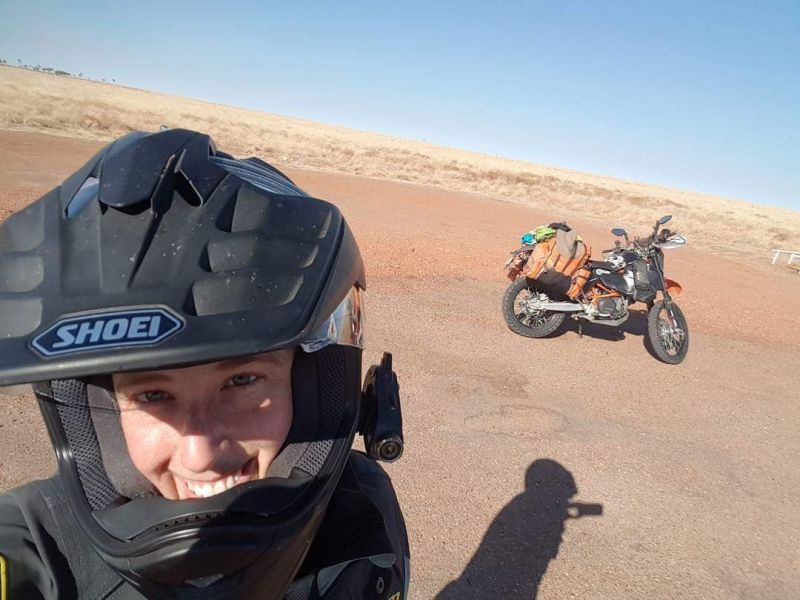 So far, Beastie and I have meandered across Australia, Timor Leste and Indonesia, with a quick visa run into Malaysia. I have time, living is cheap (if you like eggplant and rice) and there's so much to see.
Have you ran into any difficulties so far on your trip?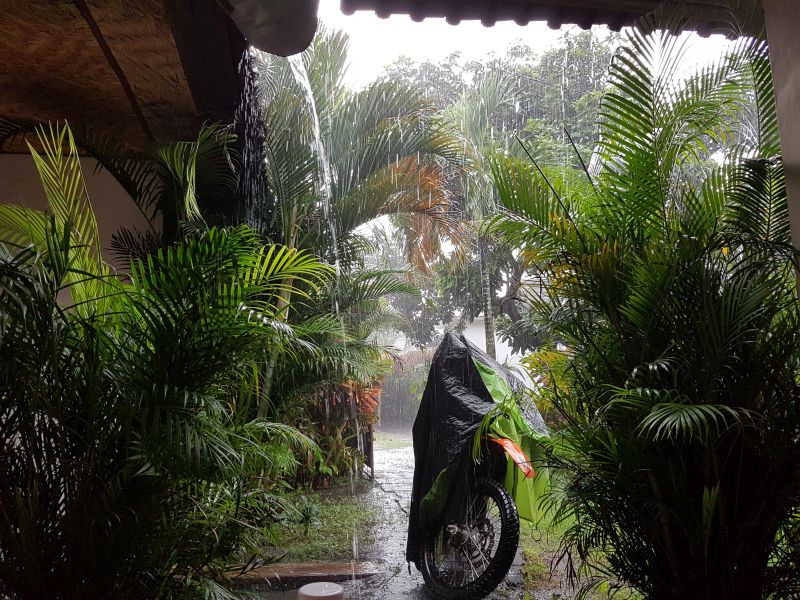 Plenty! The first was a fairly serious mechanical break down up in the Gulf of Carpentaria, before we'd even left Australia. It's a long way from most things (except for mangroves, crocodiles and barramundi) but it just meant that I spent a few more months in remote Australia while things got sorted. I worked – mustered some sheep, drove a bulldozer… it was pretty good fun really.
Then there was the time high up in the mountains of Timor Leste, when a slightly-deranged child ran into the jungle with my phone, leaving me in an unsignposted wilderness without any maps. I was pretty unhappy about that, especially considering the previous night's machete-armed stand-off with an unhappy local man and his pack of semi-stray dogs, but that all turned out fine too.
I've been lucky enough not to become badly ill or injured in the course of my misadventures, and apart from that, the biggest obstacles are always in your head.
Out of all the places you have ridden so far on your journey, what's your favourite and why?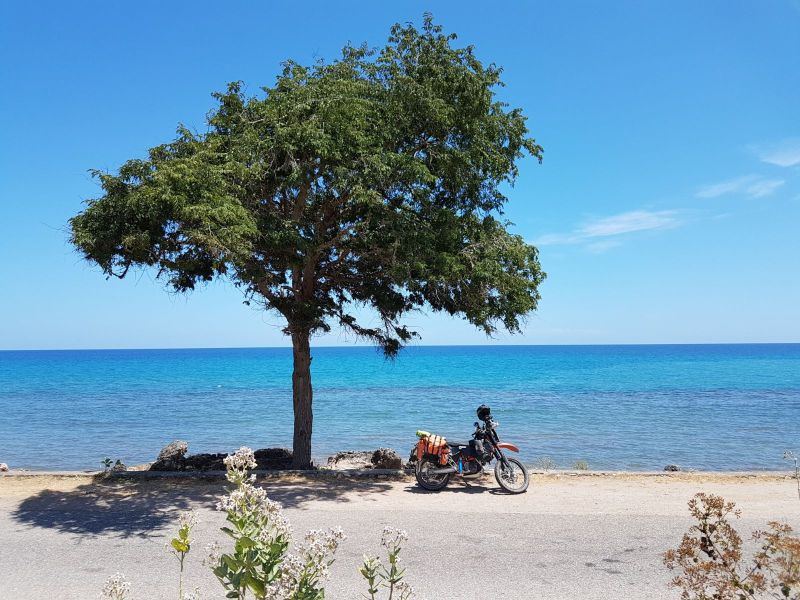 Timor Leste rocked my world. Most of the country is very poor and remote – not because it's large, but because the roads are mostly jagged potholes connected by a collection of loosely rolling rocks. As a lone white woman on a big motorbike, I was like an alien there and the people shared their lives with me in total generosity and mutual curiosity. I shared homes, meals and beds; I sat on the steps of convents and talked with the good Catholic schoolgirls about their rebellious hopes and dreams; I learned how to sit and let the world go by in a place where people are rich in time.
Which country are you most looking forward to visiting on your route?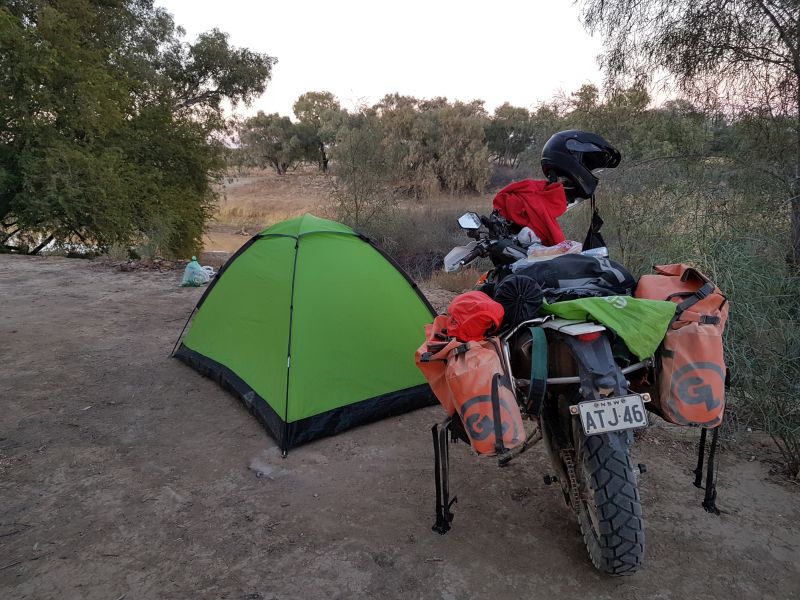 Iran. For me, it's still shrouded in mystery.
What's been the scariest moment on your trip so far?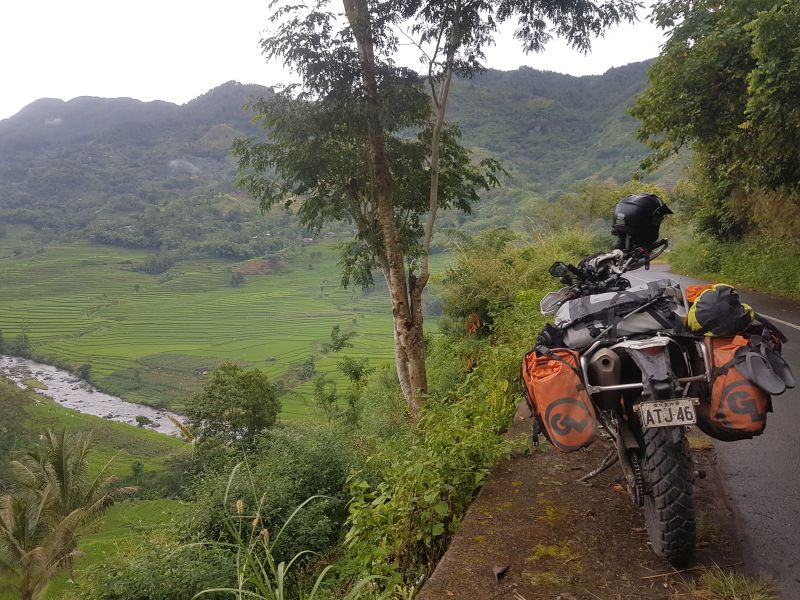 I had a fairly bad crash in Flores and was subsequently sort of run over by an off-duty policeman on a KLX with a loaded gun. That was bad enough, but the standard Indonesian first aid in these situations is to put you back on your motorbike and get you riding again. I was in shock and momentarily passed out while riding a couple of minutes later.
What's the plan after you reach Paris?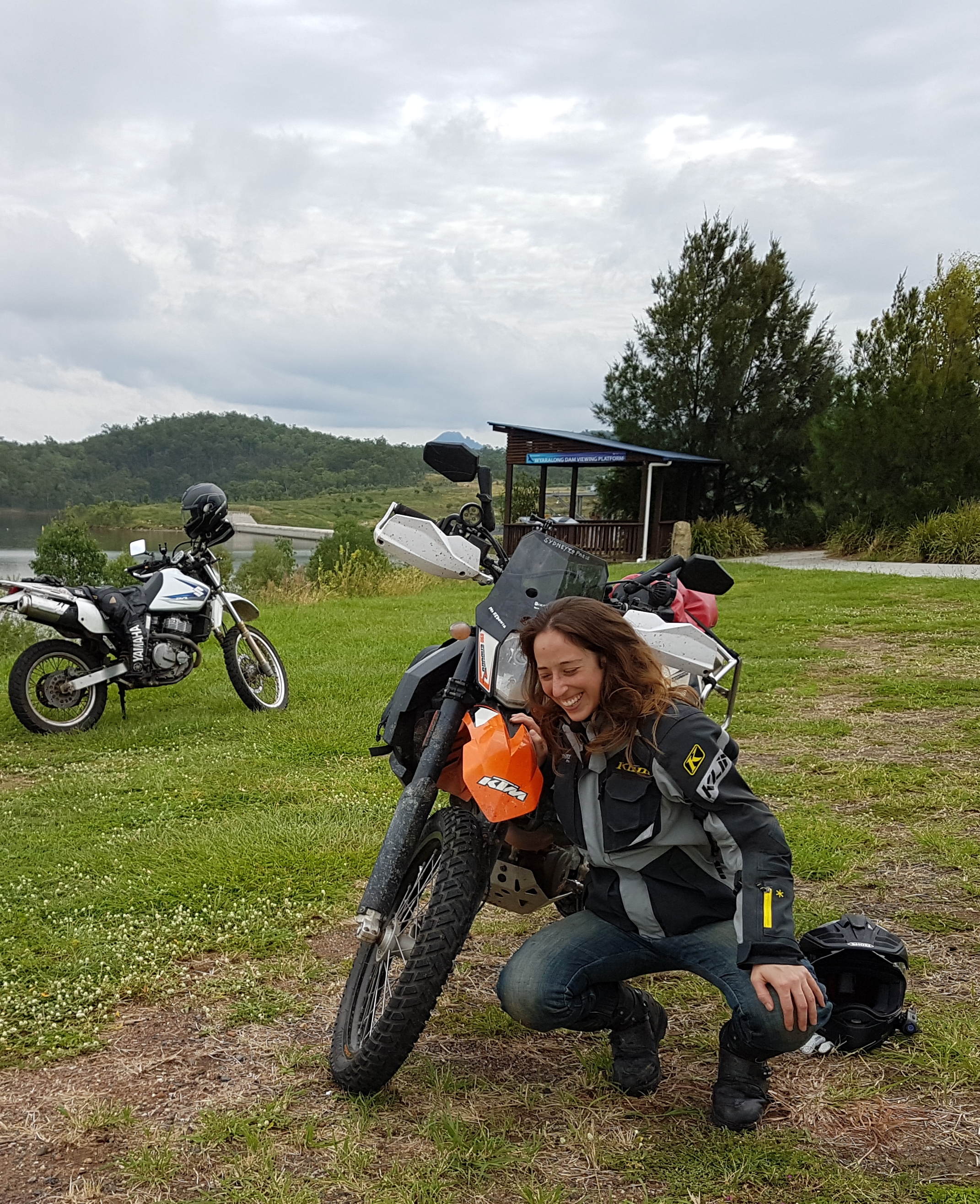 Photo: Shane Smith
In my dreams, I get to Paris with sufficient resources to keep putting fuel in the tank. In which case, the question would simply be: do I turn left for Africa or right for Russia?
Many women riders wouldn't have the confidence to set off on an incredible solo adventure like yours. If you could give them any advice, what would it be?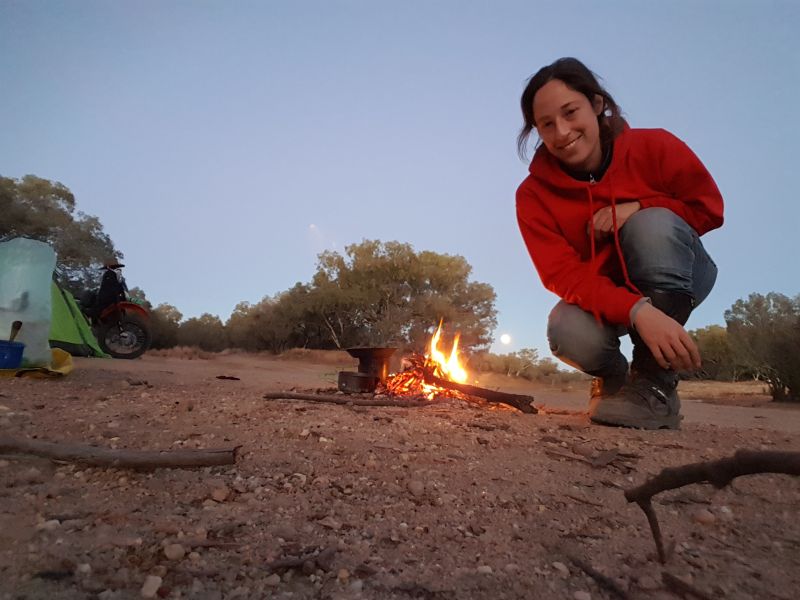 The world is not as fearsome as people tell you it is; and besides, staying home is no guarantee of safety. So do whatever you have to do to live your dreams and don't believe people when they tell you that you "can't". The materialisation of a grand ambitions is almost always just a series of small steps. People will say, 'oh you can't ship your motorbike to some obscure country and ride it around!' but in reality, you're perfectly capable of phoning up a shipping company and asking them when the boat leaves. You're perfectly capable of riding your motorbike to the docks. You're perfectly capable of waving your hands at the customs officer in the obscure country until he stamps your paperwork. He'll probably even give you a cup of tea.
When you have a dream and people say 'you can't do that', the appropriate response is: 'yes – look – this is me doing that thing right now'. You don't have to be a survivalist, you don't have to be Toby Price and you don't have to have a flash motorbike. The grand adventure is just a series of small acts, and a multitude of small moments. And in those moments when you feel the hairs standing up on the back of your neck – it will happen sometime – seek out local women. They will help you; the sisterhood is alive and well in the less developed world.
You can follow Grace on her incredible adventure around the world via her website, Instagram, Facebook or Twitter.