We love it when ABR readers send us their dirty pics. When it comes to seeing shots of your bikes caked it mud, dirt and sand, the muckier the better as far as we're concerned. It seems the good folks at Muc-Off share our passion for seeing motorcycles covered it dirt, so we decided to get together to reward the owners of the muckiest bikes in the land, by giving you the opportunity to win a Muc-Off Motorcycle Ultimate Valet Kit worth a whopping £89.99
Throughout January, February and March, send us your dirty bike pics and we'll choose the best of the bunch. Entering the competition is simple, just scroll down the page and you'll see how to do it.
The prize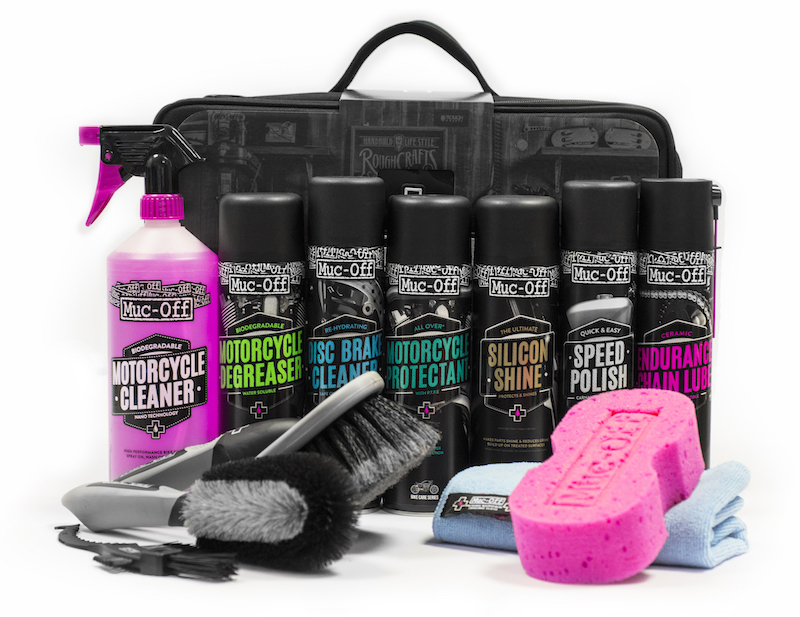 Muc-Off's Motorcycle Ultimate Valet Kit (£89.99) is a complete end-to-end cleaning kit for all your bike care needs. Stored in a sleek, premium quality valet bag, this is cleaning taken to the next level. The bundle includes a mix of key Muc-Off motorcycle products that will keep your ride looking fresh no matter what mother nature throws at it. The bag includes:
Biodegradable Motorcycle Cleaner  – For quick and easy cleaning.
Biodegradable Motorcycle Degreaser – Quickly and safely eliminates built-up oil, grease and grime on metal, plastic, rubber and seals.
Disc Brake Cleaner – Quickly and safely remove disc brake contaminants like brake dust and brake oil, using our advanced solvent formulation.
Motorcycle Protectant – For post-wash protection against rust & corrosion.
Silicon Shine – The ultimate silicon spray for the ultimate shine!
Speed Polish – Motorcycle polish and wax in one – couldn't be simpler!
Endurance Chain Lube – Ride for longer between lube applications, with more protection!
Claw Brush – High quality construction with three brush heads.
Soft Washing Brush – Our Soft Washing Brush sintered bristle compound is designed to clean your bike frame and components while caring for delicate finishes.
Wheel & Component Brush – Our Wheel & Component Brush is shaped and contoured specifically to clean rims and spokes.
Expanding Microcell Sponge – Our Premium quality Microcell sponge is contoured to an ergonomic shape for maximum comfort and surface area cleaning.
Premium Microfibre Cloth – With amazing 'split-fibre' technology for the perfect clean and polish!
Stored in a robust, premium quality valet bag containing a number of specialized compartments for easy storage and organisation.
Built-in grit tray prevents contamination of brushes and sponges.
How to enter?
So, if you're ready to send us your dirty pics and to be in with a shot of winnings some great prizes, all you have to do is upload your image into the form below, fill out your details (if we don't know who you are, how can we send you your prize?) and hit the enter button. Simple as that.
You can upload max. 1 photo/photos.
You have already uploaded 0 photo/photos.
Terms and conditions
The prize is non-refundable, non-transferable and there are no cash equivalents. The competition will close at 23:59 on Friday 30th March and entries after this date will not be counted. The winner of the competition will be contacted within two weeks of the competition closing.By entering into this competition you agree to receive emails from Adventure Bike Rider and Muc-Off. You also agree to grant permission to Adventure Bike Rider and Muc-Off to share your submitted image on social media (images will be attributed). If you would not like to receive any further emails and you don't want us to share your images, please send your pictures to competitions@adventurebikerider.com and include the phrase "no future emails" with your entry.