Following on from the success of its R-PHA helmet, HJC has launched what the company's billing as 'the world's smallest, lightest, quietest, sportiest flip-front helmet' – the R-PHA MAX!
This exciting new development from HJC has all the benefits you'd expect from an R-PHA helmet with the added bonus of improved shock absorption and reduced weight, thanks to its Premium Integrated Matrix (PIM) construction, exclusive to HJC. PIM technology incorporates three different materials into the manufacturing process – carbon fibre, aramid fibre and fiberglass – which combined produce a unique woven blend which is remarkably strong and light when compared to traditional helmet materials.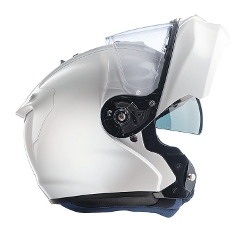 The R-PHA MAX also boasts some pretty impressive credentials when it comes to testing too. Not only is it wind-tunnel tested for reduced drag, maximum stability, reduced noise and improved ventilation, it's also been put through its paces by extreme endurance motorcyclist Nick Sanders, who's used the R-PHA MAX on several of his long-distance adventures.
The helmet also features a fully removable Ginko-fresh anti-bacterial wicking liner that's silk-like to the touch and comes complete with a centrally locking QR visor with dual tear off/ Pinlock pins and inserts, a spare tinted visor and anti-rain visor treatment.
The R-PHA MAX retails at £359.99. But one lucky ABR winner is going to win one for free in this week's ABR Online Competition. To win this amazing prize, simply answer the below question:
How many times has Nick Sanders Motorcycled around the world?
a) 3
b) 5
c) 7
As usual, send your answers by email to abeer@adventurepublishing.co.uk
The closing date for this competition is Thursday 14 February 2013 and the lucky winner will be announced on this website on Monday 18 February 2013, so good luck and watch this space!
Please note, ABR Online competitions are only open to members of the ABR Magazine website and UK residents only.  If you are not already a member and wish to sign up, simply click on the box entitled 'Register' at the top right hand of this page. The winner will be chosen randomly from all correct entries received and the Magazine's decision on all matters related to the competition is final.