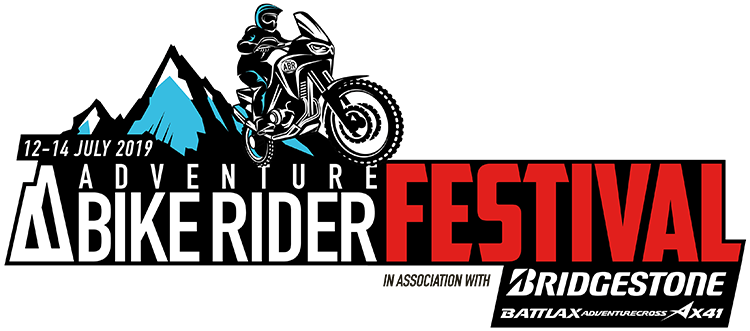 What's on at the Adventure Bike Rider Festival 2019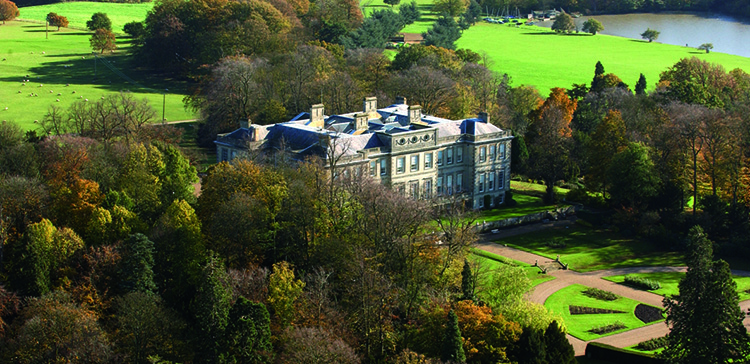 On the weekend of the 12-14 July, we're hosting the largest adventure motorcycle gathering in the UK, the Adventure Bike Rider Festival.
After the success of our 2018 event, we're going to be pulling out all of the stops to make this THE adventure motorcycling event of the year, with plenty of opportunities for you to get in the saddle of the latest adventure bikes on the market.
In fact, we are now proud to announce that the Adventure Bike Rider Festival will be the first place in the UK that you can test ride the new Yamaha Ténéré 700, even before the bike is available in dealerships.
We really are very excited about this festival, which is going to be a celebration of all things adventure motorcycling, and we can't wait to welcome so many of you to South Warwickshire for what's shaping up to be an incredible weekend of two-wheeled fun.
So, here's what you can expect to enjoy at the Adventure Bike Rider Festival 2019, set in the magnificent grounds of the Ragley Hall Estate.

Bridgestone Adventure Trail
The Adventure Bike Rider Festival has been organised for all bikers, whether you ride exclusively on the road, off road, or a mix of both. However, we're certain some of you are going to want to play in the dirt over the weekend, so we've created the four-mile Bridgestone Adventure Trail in the spectacular grounds of Ragley Hall.
It's been designed to be suitable and fun for riders of all abilities, whether you're venturing off-road for the first time, or you're a seasoned green-laner. For the less experienced, there will be marshals on hand to help out if you drop your bike or you need a bit of support getting around the course.
We're certain you're going to love taking part. How often in life do you get the chance to ride a motorbike around the grounds of a magnificent country estate?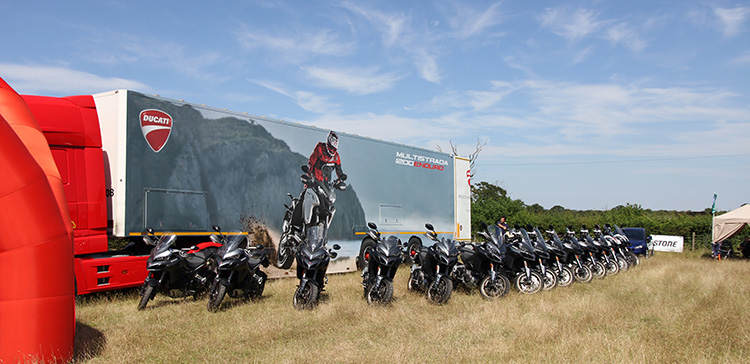 New bike test rides
Perhaps your most difficult decision of the Adventure Bike Rider Festival will be deciding which shiny new adventure bike to test ride next.
The world's major motorcycle manufacturers will be bringing their test fleets for you to try out throughout the weekend. These include Ducati, BMW, KTM, Triumph, Honda, Suzuki, Kawasaki, Royal Enfield, Yamaha and Benelli.
We're certain you're going to feel like a kid in a candy store. We know we will.
Road and green lane ride outs with the TRF
There will be plenty of fun to be had in the festival grounds throughout the weekend, but it wouldn't be a proper Adventure Bike Rider Festival without ride-outs.
The festival's location on the edge of the Cotswolds Area of Outstanding Natural Beauty means you're in for a real treat. Think rolling hills, woodlands, grasslands and thatched medieval villages. But best of all, the area is riddled with brilliant roads to ride and plenty of green lanes.
Join a group of like-minded bikers and head out into this picturesque corner of the UK for a road ride out, before returning to the festival action. Or, embark on one of the many green lane ride outs catering for novices and experienced riders. These will be led by the Trail Finders Fellowship (TRF) so you know you're in expert hands.
TomTom Rider Little London Enduro Course
While we live by the mantra that adventures can be had on or off road, festival-goers who want to try out their bikes on rougher terrain will have free access to the TomTom Rider Little London Enduro Park.
There will be no racing on the two courses, with the main focus being on letting you master your riding skills. So, even if it's your first time on an enduro course, it will be the perfect opportunity to enjoy riding off-road in a relaxed environment.
Bridgestone Bar
Is there anything better than sitting back and relaxing with a cold beer on a summer's evening after brilliant day of biking with new and old friends. The Bridgestone Bar will serve ice cold draught beer and cider in relaxed surroundings so you can swap stories from the road, talk bikes and have a thoroughly good time.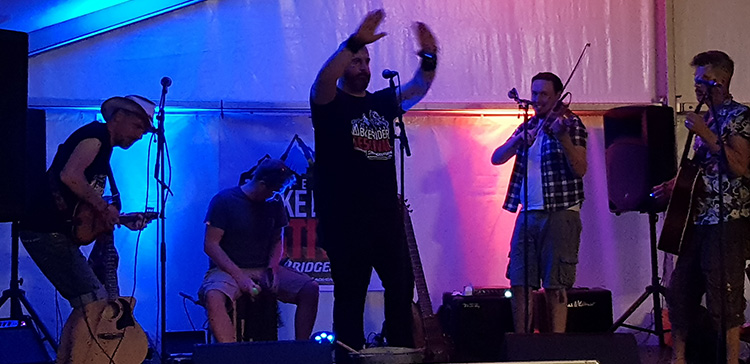 REV'IT! Stage and Marquee
What's a summer festival without live music? Each evening until 11pm we'll be hosting bands to entertain you while you eat, drink and share stories with fellow festival goers.
Whether you want to listen and relax as the sun goes down, or party the evening away, there'll be plenty of entertainment to make it an unforgettable weekend.
Quality food
All that fun in the sun is sure to build up an appetite which is why there will be numerous hot food stalls offering tasty meals and snacks all weekend.
We know food is an important part of any festival experience, so we'll be carefully selecting providers that cater to a wide variety of tastes and offer top draw nosh.
Just follow the tantalising smell of food on the summer breeze and you'll probably find a couple of members of the ABR team.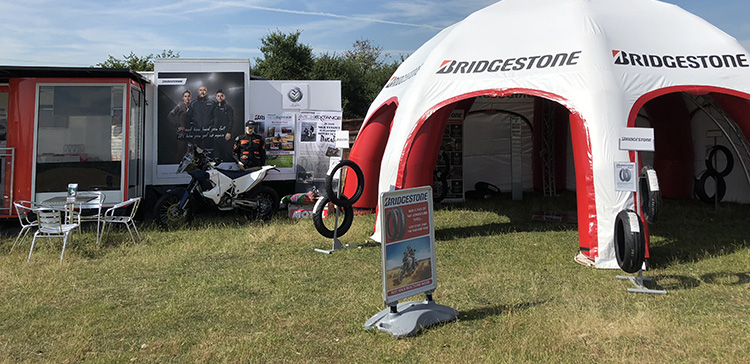 Trade stands
We want the Adventure Bike Rider Festival to be the best weekend of your year. We'll ensure it is by providing you with the chance to participate in a host of free biking activities, but we also know people like to pick up a bargain or two.
With this in mind, there will be a series of trade stands in the Adventure Village for you to browse through. These will include brands like Bridgestone, TomTom, REV'IT!, Bennetts, Rally Raid, and Brittany Ferries.
Guest speakers presented by Brittany Ferries
Many of us like to travel abroad on our bikes, whether that's a long weekend in northern France or trip around the world. The Adventure Bike Rider Festival will be the perfect opportunity to pick up hints, tips and ideas from fellow bike travellers.
But on top of this, we'll have guest speakers telling tales of their adventures and revealing the secrets to successful long-distance motorcycle travel. Many of them will be household names to adventure bike riders and we'll be announcing the line-up soon.
Bennetts Boathouse and Lake
Last year's Adventure Bike Rider Festival took place in blazing sunshine with many of us wishing we could have jumped in a lake to cool off. Well, this year you can do exactly that.
The magnificent grounds of the Ragley Hall Estate feature a sparkling lake where you'll be able to relax and enjoy the water. For those who want to venture onto the lake, there will be paddle boarding and canoeing taking place for free.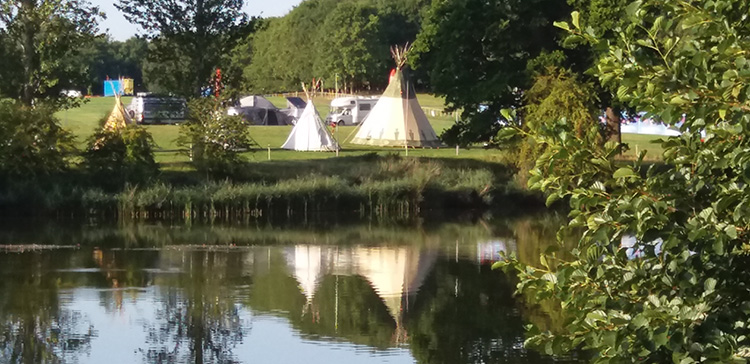 Bridgestone camping, glamping tipis and campervans
Whether you like to camp, glamp or spend your nights under the stars in a campervan, you're guaranteed beautiful surroundings in which to have a well-earned rest at the Adventure Bike Rider Festival.
If you don't fancy brining your own tent, or simply want to treat yourself and your better half, there's the option to book a glamping tipi to make the weekend that extra bit special. Just ensure you book ahead.
You can also bring a motorhome to set up camp in for the weekend, although there is an extra charge to do so.

Tours of Ragley Hall
We're very proud to holding the Adventure Bike Rider Festival in the grounds of Ragley Hall this year. It's a stunning estate and we'd recommend finding time over the packed weekend to take a tour of Ragley Hall and enjoy its Terrace Café and gardens.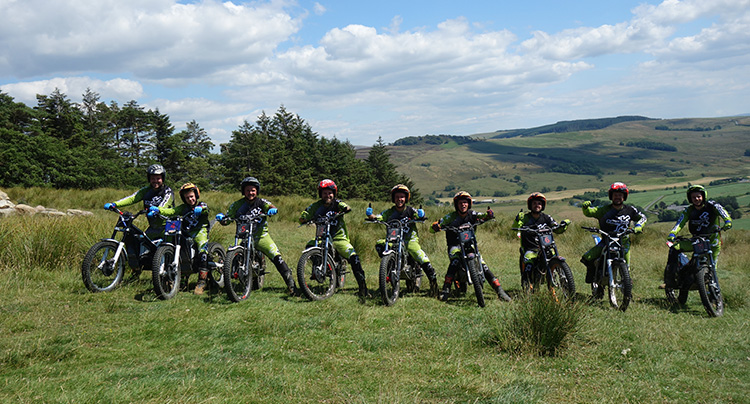 Inch Perfect trials riding taster sessions
If you've ever fancied having a go at motorcycle trials, the Adventure Bike Rider Festival will be the perfect place to do it. Inch Perfect Trials will be running taster sessions throughout the weekend to help you unleash your inner Dougie Lampkin.
Learning trials techniques, including balance and bike control, is a fantastic way to improve your riding skills on and off road.
Bridgestone Mick Extance off-road skills taster sessions
Who better to learn how to control a bike off-road from than seven-time Dakar Rally racer Mick Extance. He will be offering off-road skills taster sessions throughout the Adventure Bike Rider Festival.
Whether you prefer your adventures on asphalt or green lanes, learning off-road skills from someone as experienced as Mick can't help but improve your riding skill and confidence.