There was pure childlike excitement in the ABR office this morning (well, mainly from me), as the snowy weather finally reached us here in Stratford-Upon-Avon. However, waking up to a winter wonderland is all fun and games until you have to get onto your bike and go be an adult at work. Not so fun.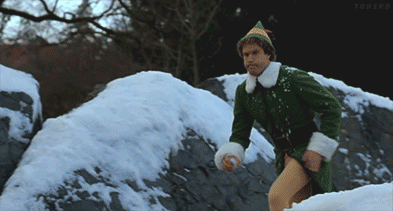 This morning's snow is starting to melt, but don't get too comfortable because it's planning to hit us twice as hard on Sunday. So, here's what we can expect from the weather this weekend…
Today's weather forecast
Arctic winds will blow more snow showers across many northern and western areas today with further accumulations likely – snow and ice warnings are still in force. Stay #weatheraware pic.twitter.com/9K488vaYuP

— Met Office (@metoffice) December 8, 2017
Today is going to be a mixture of sunny spells and blustery snow showers in the north and in some western parts of the country, there could also be hail for some. For everyone else, it's going to remain dry and sunny, however, it will be feeling bitterly cold for all. As we move into this evening, the snowy showers will continue in areas around northern Scotland, Northern Ireland, and Wales. The rest of the UK will be dry and clear, so expect frost on Saturday morning.
Saturday's weather forecast
Here is your detailed weekend forecast – and it's going to be a cold one with frost, ice and snow for some of us! 😮❄️ pic.twitter.com/YjJKQHFuaR

— Met Office (@metoffice) December 7, 2017
On Saturday morning, we're likely to see light snow to continue in northern Scotland, Northern Ireland and some areas of central England, particularly in the west. For the rest of the country it should be sunny and bright, with the exception of some cloud in the south and in most of Wales, so this is going to be the best point in the weekend for you to go out on your bike. As we move into the afternoon, the snow will start to die off, and it will be dry and bright in the east and cloudy in the west.
Saturday evening will be mainly overcast, there may be some snow flurries in northern Scotland and around the Manchester area.
Sunday's weather forecast
Travelling this weekend? Some very disruptive #snow expected Sunday, up to 20cm likely in places. Wales, Midlands & north England most at risk, but still uncertainty in the north-south extent of the heaviest snow.Stay tuned. Jo pic.twitter.com/32VmzCp3Zg

— BBC Weather (@bbcweather) December 8, 2017
Now, Sunday is where the snow really gets the big guns out and unfortunately it's no looking good for us riders. Heavy snow is expected in the morning for central England, with light flurries in Northern Ireland and northern Scotland, and heavy rain for southern England. As we move into the afternoon, the snow is likely to spread out, reaching parts of the north and possibly the south. The snow will start to lighten throughout the afternoon, but it will continue for most of the day.
Light snow will continue into Sunday night and will start to die down as we reach the early hours of Monday morning. The rest of the UK will be overcast.
As usual, if you'd like to hear what the professional weather people have to say on the matter, below is the MET Office's weekend weather report. Enjoy.