The Armchair Adventure Festival returns this Sunday with the free live streaming of Claudio von Planta and Billy Ward's film about their motorcycle journey through Iraq, called A Kurdish Movie.
There will also be a live Q&A with Long Way Up cameraman Claudio and popular adventure biker Billy, as well as a chance to win two free tickets to the Adventure Bike Rider festival 2021. While the event is free, the Sidecar Guys will be raising money for the Movember Foundation on the evening via an online tip jar.
All you need to do is pop the kettle on, get your snacks at the ready, and settle down on the sofa on Sunday 27 September at 7:30pm for an evening of adventure biking inspiration, sign up for your free front row seat here.
A Kurdish Movie
While riding across Iraqi Kurdistan, Claudio and Billy travelled through a war zone but their journey wasn't only about dodging bullets on the front line. The pair also experienced the warmth and generosity of local people living in the midst of conflict, as well as learning about the rich history of the area.
Their journey even took them to the Mosul frontline, where Kurdish fighters were battling ISIS, before finishing their trip in the capital of Kurdistan, Erbil, with an impromptu motorcycle parade. It's adventure biking at its most extreme and we can't wait to watch it.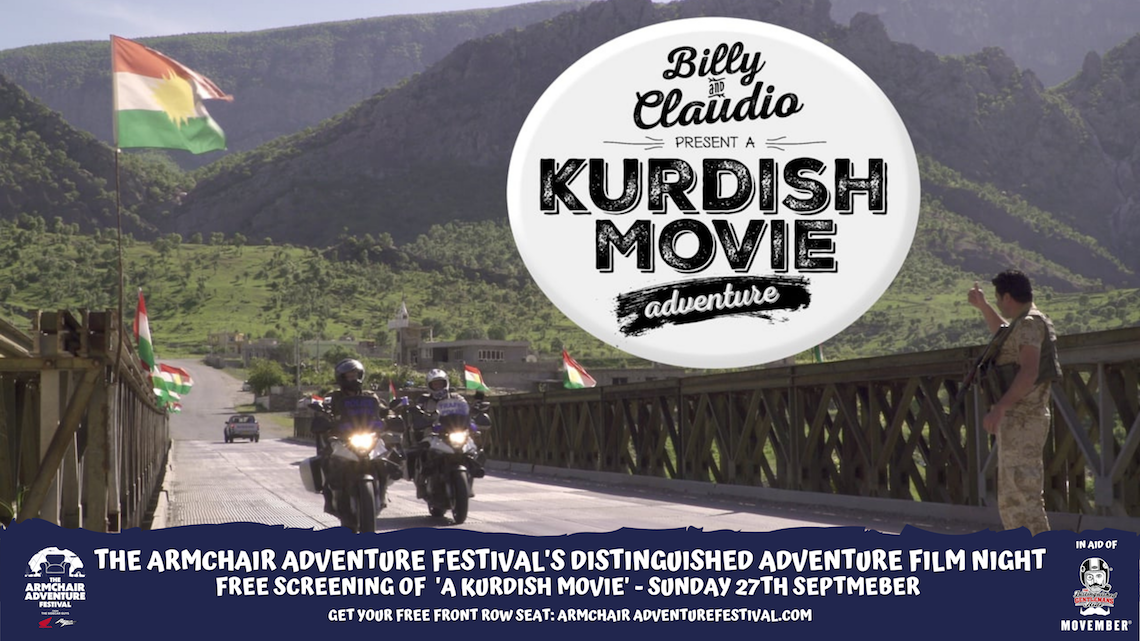 Win tickets
The film will premiere on the same weekend the Distinguished Gentleman's Ride, a fundraising ride uniting classic and vintage style motorcycle riders across the world, was scheduled to take place (the ride itself was cancelled due to Covid-19).
So, to add a little style and panache to the Armchair Adventure Festival, those watching the live stream have been asked to put on their most distinguished garb, with the best-dressed viewer winning two free tickets to the 2021 Adventure Bike Rider Festival. All you need to do is send a photo of yourself dressed up while enjoying the live stream, via twitter to @thesidecarguys or Facebook messenger to The Sidecar Guys.
Head over to the Facebook event HERE for more information, or sign up for the live stream HERE. Good luck, and enjoy the film.