In a previous life, I was fit as a fiddle. Drop me at the foot of a mountain and I'd climb it. Put me on a bike (one of those silly ones with pedals instead of an engine) and I'd head off for days on cycling trips. These days, drop me off outside Domino's and I'll eat a large pizza in one sitting.
I still have that desire to do something epic though. To set myself a target to aim for. I've always wanted to do the famous Three Peaks Challenge (climbing the highest peaks in England, Scotland and Wales in 24 hours), but I'll be honest, I'm a little lazy these days and I'd prefer something that involves motorcycles!
Three peaks, or three pubs?
Then it hit me. I was scoffing a burger at the Tan Hill Inn when a flash of inspiration coursed through my mind.
I was eating a burger at the highest pub in England rather than a stale cheese sarny on its highest mountain. 'I wonder what the highest pubs in England, Scotland and Wales are…' I mused to myself. 'I bet there'd be an awesome bike route between them as well.' I made a note of my thought, filed it away, and got back to the task at hand – eating my delicious burger.
A few weeks passed until I thought about it again. This time, I was near a computer and could do a bit of Googling. I knew Tan Hill Inn was the highest in both England and Britain, but I had no idea about Scotland and Wales's highest establishments.
I reckoned, in my infinite knowledge, that Scotland's might be in the Cairngorms, and Wales's would be either in the Brecon Beacons or Snowdonia. I was wrong on both accounts.
Scotland's highest pub, the Wanlockhead Inn, can be found in Wanlockhead, a former mining village in the Southern Uplands' Lowther Hills (which also happens to be the highest village in Scotland). Wales's, the Sportsman's Arms, is high up on the Denbigh Moors, about 15 miles east of Betws-y-Coed.
I plotted these out on a map and there were two obvious routes between them. One would be the fast option, making use of motorways to cover big distances in the least time. The other, and the more attractive one to me, would take in a number of areas and roads that I knew would provide enjoyment but slower going.
I'll go into the route shortly, but whichever you decide to choose, the main purpose of this ride remains the same…
The tyres
We teamed up with Maxxis to bring you the Three Pubs Challenge and to celebrate the launch of the company's Supermaxx ST sport touring tyre. We had our Kawasaki Versys 1000 SE fitted with the new rubber to see how it performed on the near-1,000 mile journey, and we were very impressed.
It coped with every road we threw at it from smooth motorways to pot-holed country lanes, and even in the torrential downpours that we rode through it remained sure-footed and planted in corners and at high speeds.
At just £161.98 for a pair, they're an absolute bargain, so head on over here to find out more and to discover where you can get your set from.

The Challenge
The premise of the Maxxis Three Pubs Challenge is simple: visit the three highest pubs in Britain in one day, preferably having breakfast at one, lunch at the next, and dinner at the end (of course, I should also stress that we're not for one second suggesting you drink alcohol and ride a motorcycle. This is about the riding and the food).
But, if all things went to plan, there would be no such thing as bonfire night and we'd all be speaking German. As we discovered, road closures, torrential downpours, and weary minds needing coffee meant that this would genuinely be a challenge.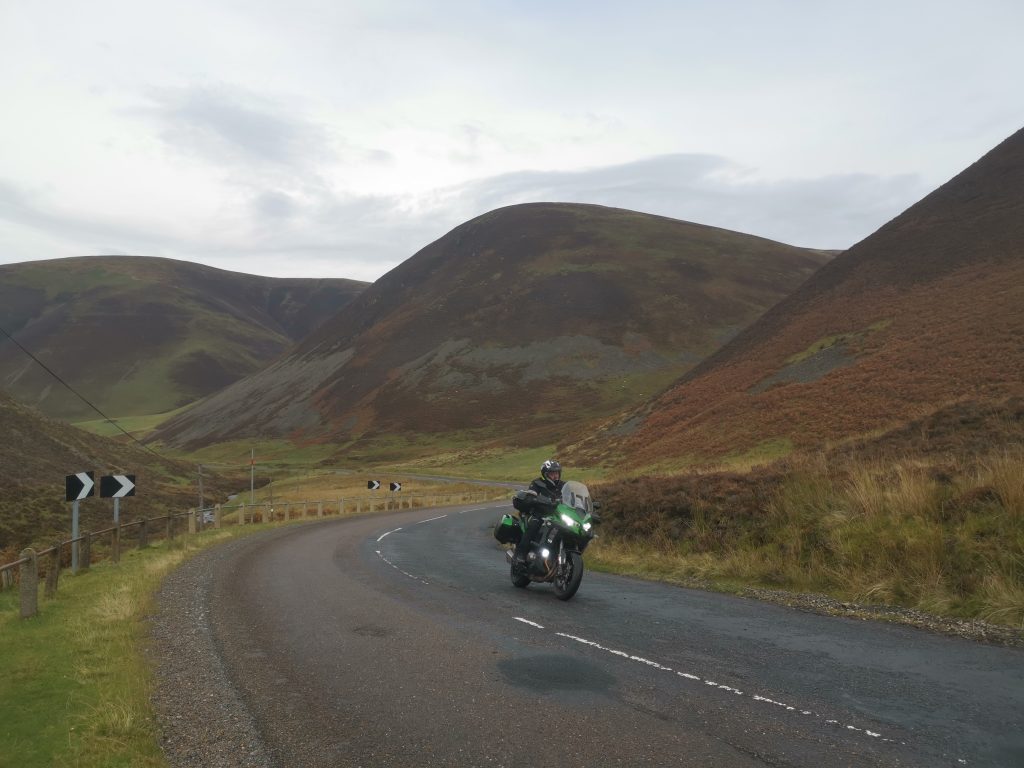 The Route
As I mentioned, in my mind, there are two routes that present themselves for the Three Pubs Challenge. The fast one and the scenic one.
The fast one is, as you might have guessed, pretty much motorway in its entirety and, to be honest, it will take a lot of the fun out of the ride and challenge. The scenic one on the other hand, is an absolute delight. It'll be a long day, but a bloody good one.
The fast route
Starting at the Wanlockhead Inn in Scotland, you'll ride about seven miles before you hit the A74(M), Scotland's extension of the M6. From there, it's a 74-mile blast south, exiting the M6 at junction 40.
There's then a quick nip up the A66 before you ride the beautiful Long Causeway to the Tan Hill Inn, England and Britain's highest pub. Enjoy some food and a glass of pop and head back from whence you came, the wonderful tarmac on the M6 is your target.
Head south on the motorway once more, navigating through the traffic that will inevitably build up between Manchester and Liverpool, before turning off at junction 20A and heading down the M56 and M53 into North Wales.
This then turns into the A55 (the A road that runs along the top of Wales) and you'll soon nip off to ride onto the Denbigh Moors, where the Sportsman's Arms will be waiting.
In total, that'll be 279 miles, mostly on the motorway and really not much fun at all. So, unless you're really short on time, I suggest you ignore that route and read with interest the next part of this feature.
The scenic route
This route is a real gem and it's what makes the Three Pubs Challenge such an exciting thing to do on a motorcycle. Spread across 344 miles, you'll ride the lonely and harrowing valleys of the Southern Uplands before an inevitable but short stint on the A74(M).
It won't be long before you turn off and head into the North Pennines Area of Outstanding Natural Beauty. Here, you'll find excellent road after excellent road and, if you're making good time, you can take a diversion to ride England's highest paved road, Langdon Fell, which tops out at the heady height of 627m.
From here, the route heads south, crossing the boundary of the North Pennines and into the beautiful Yorkshire Dales. You'll head up Long Causeway, a wonderful strip of tarmac through lonely and remote mountain scenery, to Tan Hill Inn and a well-earned lunch.

England and Britain's highest pub
It's probably best to call ahead to the Tan Hill Inn as, when we visited, the website said they stopped serving food at 3pm, though on our arrival at 2:30pm we were told there would be no burger for us on that day. To their credit, despite shutting the kitchen early, they did rustle us up some chips.
From Tan Hill, the riding is sublime as you traverse the length of the Yorkshire Dales National Park. The scenery here is special and I would recommend you return here to ride our Yorkshire Dales Discovery Route at some point. Through valleys and over mountains we travel, ticking off famous and exciting roads like Buttertubs Pass and dropping into Hawes.
The B6255 from Hawes to the iconic Ribblehead Viaduct is a biker's delight. It wriggles and writhes through the mountainous scenery, the lovely sweeping bends absorbing you into a rhythmic state where the only things in the world that matter are your bike and the tarmac in front of you, until you round a corner and the impressive silhouette of the Ribblehead Viaduct looms in the distance.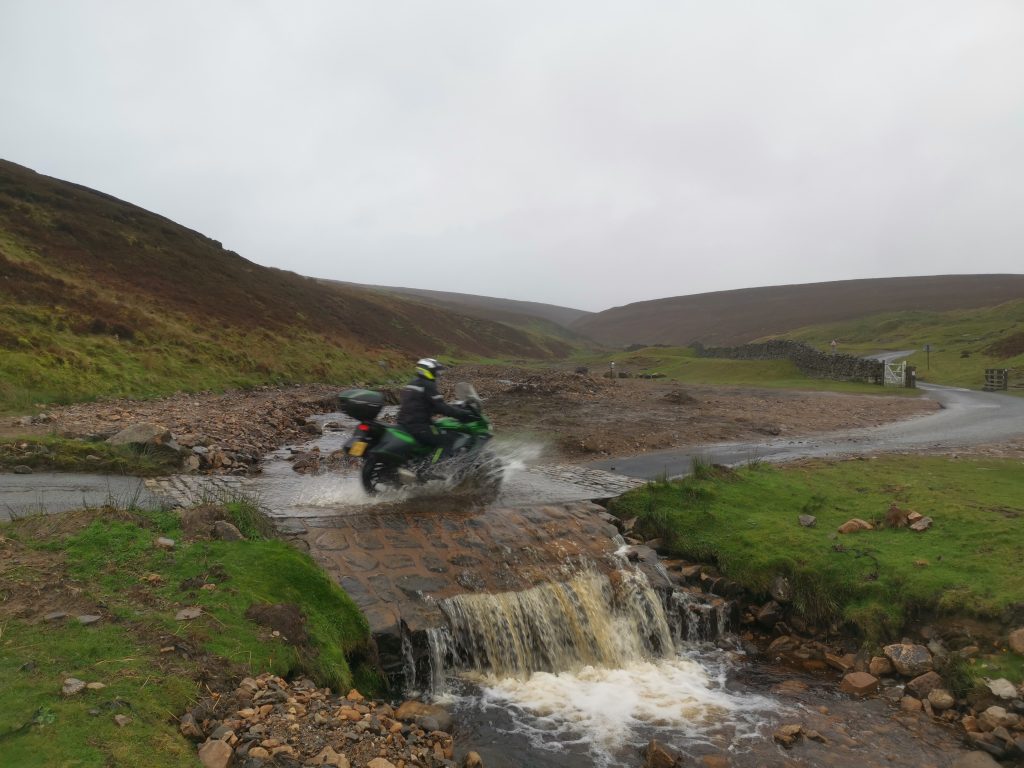 There's a long layby by the viaduct in which you can get a picture of your bike and the bridge, but we soon turn off the B6255 towards Settle and the Forest of Bowland Area of Outstanding Natural Beauty. Despite the name, there are few trees here, instead, it's a rough and rugged landscape that's a delight to ride through.
Take your time to enjoy it because, unless you head south into the Peak District (adding a hundred or so miles to the journey), it's inevitable that you'll have to join the M6 for a half hour blast to the M56 and M53 into Wales.
The Sportsman's Arms is just a short ride off the A55, and the A543 after Denbigh has the makings of an excellent road – it's just a shame it's got average speed cameras along its length.
Soon, you'll pass Llyn Bran, a small and picturesque lake, and the third and final pub, the highest in Wales and the end of your route, will be sitting pretty on the right-hand side of the road.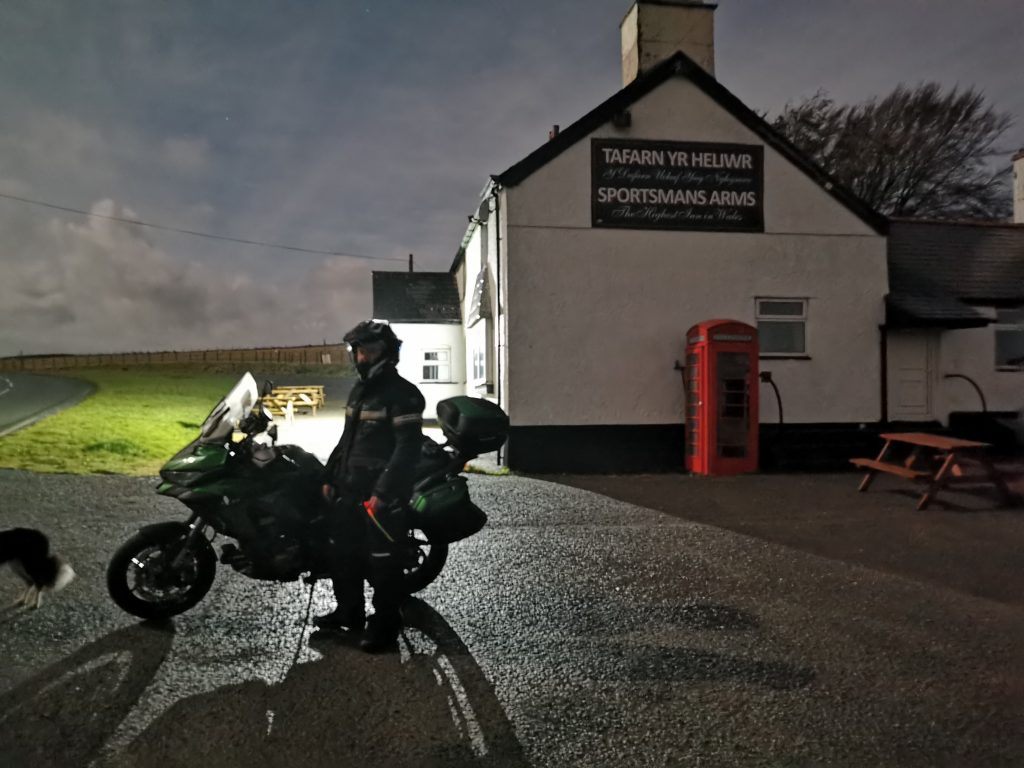 Our Ride
The Three Pubs Challenge was a memorable day of riding, there's no doubt about that. From the wonderful scenery of the Southern Uplands, to the fantastic roads of the North Pennines and Yorkshire Dales, the riding is incredible, and not even a day of heavy rain could ruin that.
The idea was breakfast, lunch and dinner to be ate at the pubs, but neither the Wanlockhead Inn or Sportsman's Arms open early enough, so we bought a bacon butty at the services and ate it outside the closed doors of Scotland's highest pub.
Tan Hill Inn is an excellent place for lunch, but the serving times on the website can be misleading, so make sure you phone ahead to be sure. If you do manage to arrive on time, the food is excellent, and I would highly recommend the Tan Hill Burger, it'll easily keep you going 'til dinner time!
Unbeknownst to us as we were riding up the A543, stomachs rumbling after our missed breakfast and lunch, the Sportsman's Arms is only open on Fridays and Saturdays, so we arrived hungry, cold, and wet.
If you're a purist and want to do the challenge as it was intended, you're limited to doing it on two days of the week. If you're not fussed, there are good food options in Denbigh, which is just a few miles away from the Sportsman's Arms (we settled on a greasy kebab on the side of the road).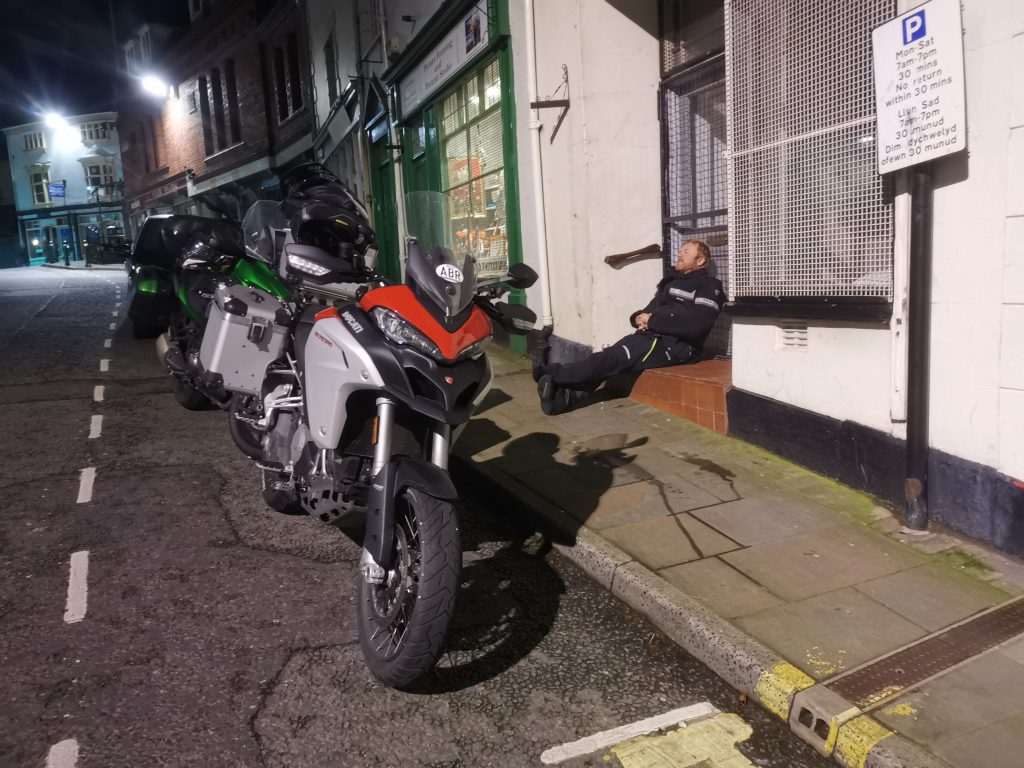 How long will it take?
From start to finish, the Three Pubs Challenge took us around 16 hours. In that time, we were stopping regularly for photos and filming, so it shouldn't take you that long. We finished on the Denbigh Moors at about 1am, having left Wanlockhead at 9am, tired and weary, but enthused by an excellent day on the bikes.
While the emphasis of this ride is on the three highest pubs in the Great Britain, it's the 300-odd miles of excellent roads and views between them that you'll remember.
Give the Three Pubs Challenge a go, you'll have a blast. If you do head out to complete it, make sure you drop me an email to let me know how you got on! Reach me at [email protected].
Download the Three Pubs Challenge .gpx file and ride it for yourself here.