An ABR has toured around Transylvania dressed as Dracula while riding a motorcycle with a coffin shaped sidecar.
Nick Cunningham, a father of two from London, decided to fulfil his passion for classic bikes and horror films by dressing as Dracula and touring around Transylvania, he was joined by his friend Nick Jackson who accompanied him in a coffin shaped sidecar dressed as Frankenstein's Monster.
 The three day tour, which was dreamt up as Nick's perfect coping mechanism for what he felt was a midlife crisis, took the duo past some of the landmarks made famous by Bram Stoker's classic novel, including Dracula's legendary Bran Castle in Brasov, as well as the Transfagarasan Highway which was described by Top Gear as the best road in the world.
"My life had become a routine of childcare, work and more childcare," told Nick. "I hit the crisis moment where I just needed to break out of a routine and do something completely off the wall!
"It has been brilliant to escape the humdrum of London and to motorcycle into the mystical world of Transylvania. My wife thinks I'm nuts but was only too happy to let me go and live out my dream.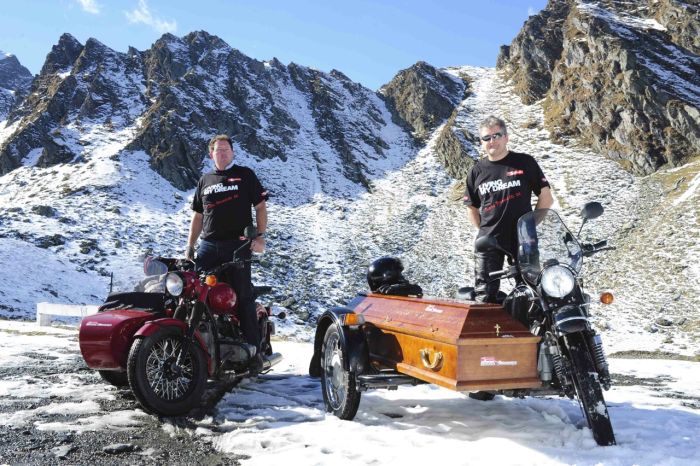 "Learning how to ride with a coffin-shaped sidecar which has been a little bit challenging and it's no surprise that we have received some pretty odd looks from the locals. For a memorable experience it doesn't get much better than this."
Nick was given the opportunity to fulfil his ABR dream when he was invited to submit his wish to Bennetts Biking Dreams while renewing his insurance. The campaign is run by Bennetts and invites anyone to submit a biking related dream online at Bennetts Biking Dreams. One dream is picked to be fulfilled by Bennetts each month and over 15,000 dreams have been submitted since the campaign launched.