Honda has finally lifted the curtain on the new CRF1000L Africa Twin with full specs and high-res photos now in the public domain.
Available in Honda showrooms across Europe from late 2015, the new Africa Twin will be touting a 1000cc compact parallel twin engine with 70kW power, 98Nm torque and a claimed 93.8bhp.
There will be three options available; standard, the option of Honda's Dual Clutch Transmission (DCT) and also an ABS version.
Four colour schemes wll be on offer including the classic Tricolour (white, red and blue), the CRF Rally (red and white) and a silver or black option.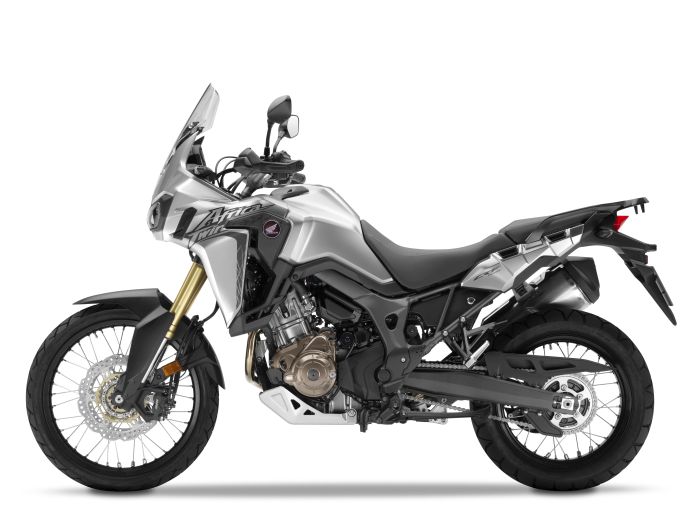 By packaging the engine in a compact and lightweight frame, Honda believe the bike will offer outstanding off-road performance, touring comfort and agile enough handling to deal with everyday use.
An 18.8-litre fuel capacity is claimed to offer a range of up to just shy of 250 miles putting it up there with many other adventure bikes while the seat height adjusts 20mm to either 870mm or 850mm.
Prices on the mainland are set to start at €12,100 and while the UK prices are yet to be confirmed, that would suggest a retail price of roughly £8,600 for standard models on this side of the drink.
One of the major talking points of the new Africa Twin is the option to include DCT and while it gets stick in some corners, we think it's a good feature to consider.
It offers the standard manual mode that allows the rider to operate gear shifts through triggers on the left handlebar and two automatic modes. D mode is claimed to offer the best balance of fuel efficiency and comfort cruising. S mode is said to give extra levels of sport performance, with three different shift patterns to choose from: S1, S2 and S3.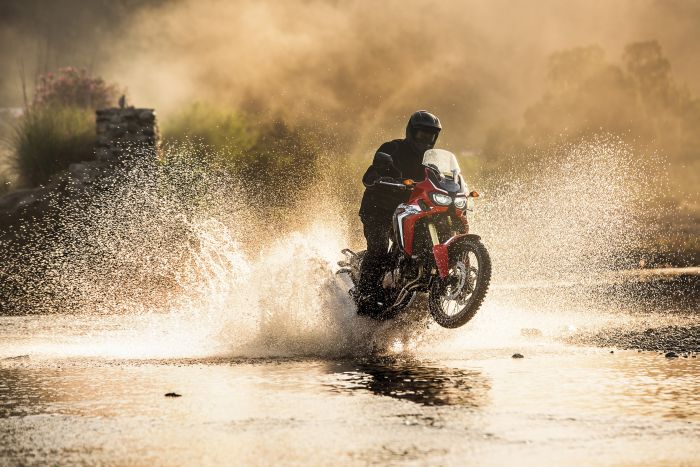 Honda has also made sure the DCT is intuitive when off-road and the connection between the throttle and the rear wheel becomes more direct whenever the G switch has been engaged. This is said to result in better traction and control with less clutch slip when changing gears.
Another impressive-sounding feature of the DCT is its incline detection. During ascents, upshifts are delayed in order to allow a higher rpm to be held while on descents, downshifts happen earlier to enable better engine braking
From the start of the project right through to present day, Honda has been using the XRV750 Africa Twin as their benchmark. While the new machine shares no common part with the old model, Honda have worked hard to ensure it inherits the full essence and spirit of what made the previous edition so good.
In an effort to provide a motorbike that is capable of going anywhere, development has drawn from Honda's off-road experience with the CRF250R/450R. The Africa Twin uses the same four-valve Unicam head design for compact dimensions while a lightweight cast camshaft operates the valve train.
The compactness of the engine is said to contribute to the bike's excellent ground clearance, another feature developed to make it adventure ready. Off-road performance, touring comfort and agile commuting capabilities were three of the main attributes targeted with the development of the chassis in an attempt to make the Africa Twin suitable for any situation.
A steel semi-double cradle frame is said to provide the perfect balance of high-speed stability –even when fully loaded – and genuine off-road capabilities. Wheels are spoked for improved strength and mass centralisation enables a lower centre of gravity contributing to a greater adaptility to multiple types of terrain.
HSTC and ABS is not available on the base version but they are equipped as standard on ABS and DCT versions. Those of you across the pond in America can expect to see the Honda Africa Twin in early 2016. Scroll down for the complete specs.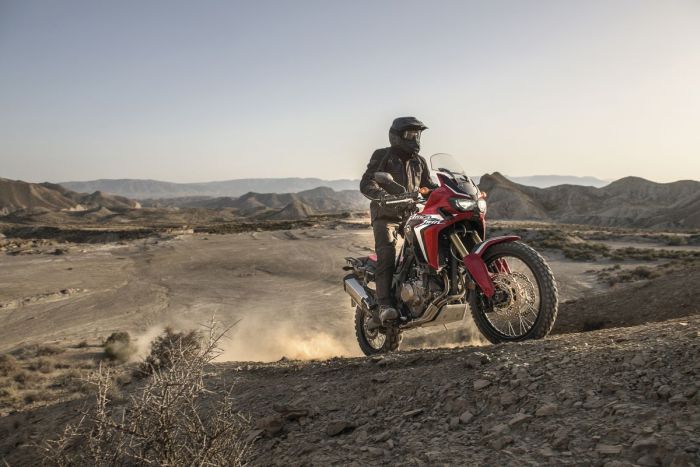 Main technical specifications
Engine type: Liquid-cooled 4-stroke 8-valve Parallel Twin with 270° crank and Unicam
Engine displacement: 998cc
Bore x stroke: 92.0 x 75.1 mm
Clutch: Wet, multi-plate with coil springs, aluminum cam assist and slipper clutch
Final drive: O-ring sealed chain
Gearbox/transmission type: Constant mesh 6-speed manual / 6-speed DCT with on- and off-road riding modes
Honda Selectable Torque Control System (HSTC): HSTC 3-levels + switch-off (DCT/ABS model only, not on STD model)
Frame type: Steel semi-double cradle type with high-tensile strength steel rear sub-frame
Turning radius: 2.5m
Dry weight: 208kg (STD), 212 kg (ABS), 222kg (DCT)
Wet weight: 228kg (STD), 232 kg (ABS), 242kg (DCT)
Fuel capacity: Approx 18.8-litres
Length x width x height: 2,335 x 875 x 1,475mm (STD), 2,335 x 930 x 1,475mm (ABS/DCT)
Wheelbase: 1,575mm
Seat height (STD position / low position): 870/850mm
Ground clearance: 24.9cm
ABS system type: ABS 2-channel with rear ABS off switch (DCT/ABS model only, not on STD model)
Front brakes: 310mm dual wave floating hydraulic disc with aluminium hub and radial fit 4-piston calipers and sintered metal pads
Rear brake: 256mm wave hydraulic disc with 2-piston caliper and sintered metal pads. Also Lever-Lock Type Parking Brake System on DCT/ABS model
Front wheel: Wire spoke with aluminium rim
Rear wheel: Wire spoke with aluminium rim
Front rim size: 21M/C x MT2.15
Rear rim size: 18M/C x MT4.00
Front tire: 90/90-R21 tube type
Rear tire: 150/70-R18 tube type