Riding a big adventure off road for the first time can be a daunting experience, but if you persevere, it's also some of the most fun you can have on two wheels. So, to help you do just that, we've created the UK Adventure Routes, a series of rides designed to help you explore our home nation on the best roads a region has to offer, with a selection of big-bike friendly trails thrown in for fun.
These routes have been carefully crafted with those of you in mind who have little or no trail riding experience, to give you the opportunity to sample the thrill of greenlaning, while having a great day out on your bike. But we've also ensured the routes pack enough punch to keep more experienced adventure bikers occupied too.
So, let me introduce the City to Sea UK Adventure Route, a one-day ride that takes you for more than 100 glorious miles from the historic city of Cambridge, through Suffolk and Norfolk, before finishing at the seaside resort of Hunstanton on the picturesque North Sea coast.
Along the way you'll discover a pub that helped change our understanding of life itself, watch thoroughbreds training at the home of UK horse racing, and immerse yourself in 50,000 acres of pristine pine forest on a combination of roads and glorious trails.
The perfect bike for the job
In order to ride this route, Ducati kindly loaned ABR the new-for-2021 Multistrada V4 S, a supremely capable motorcycle that excels both on and off road. It's the perfect example of the type of big adventure bike the UK Adventure Routes have been designed to be enjoyed on.
Now, before you tackle the route yourself, keep in mind that a spell of wet weather can turn the easiest of green lanes into a muddy mess, so take a look at the forecast and plan accordingly. The Multistrada V4 S I rode was equipped with Pirelli Scorpion Rally tyres, as 50/50 knobbly which did a great job of tackling muddy sections that hadn't dried out from the previous night's rainfall.
However, in the dry, a more road biased adventure tyre will cope just fine. The Multistrada I rode was also equipped with accessories including crash bars, sturdy handguards, and a metal bash plate. While these aren't essential for the lighter trails you'll encounter on this route, they do provide peace of mind when riding a premium motorcycle, along with the four year warranty!
From city to sea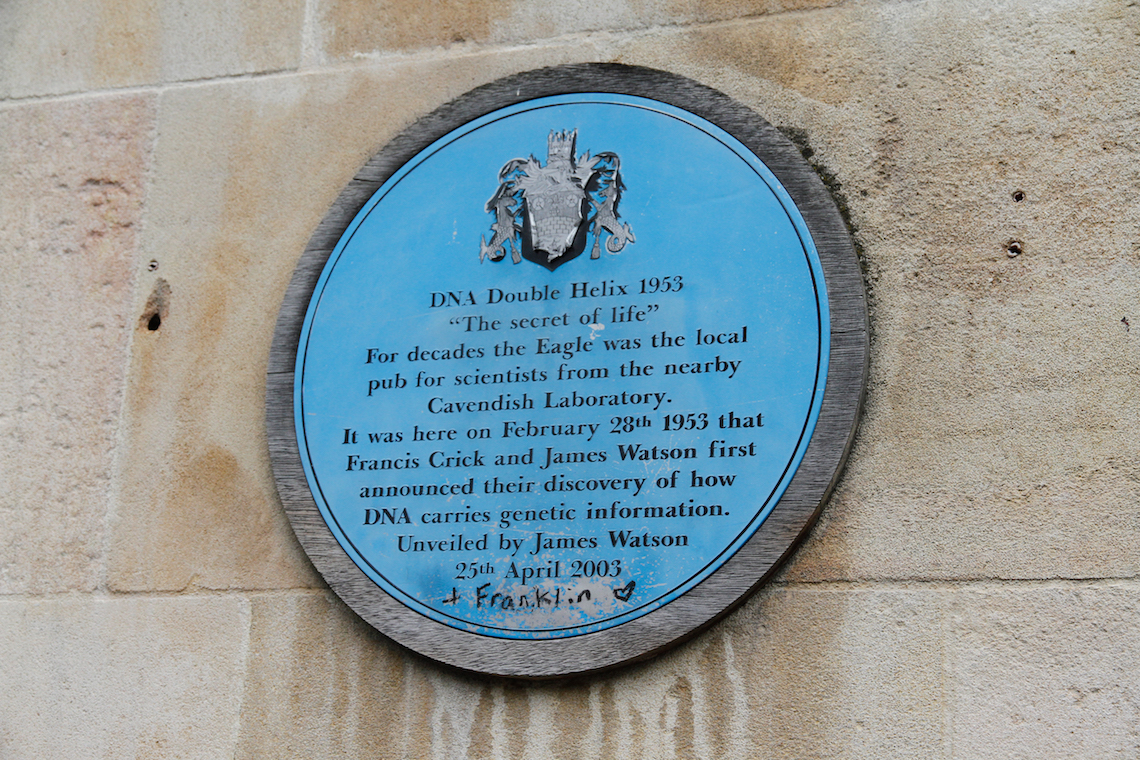 We begin by navigating the historic streets of one of the world's most famous university towns, Cambridge. It's the perfect place to park up, grab a coffee, and take a stroll around the historic city centre while you wait for your mates to join you on the ride.
The impressive architecture seems unchanged for centuries, and it's easy to imagine University alumni like Charles Darwin, Stephen Hawking, Ian Mckellen, and John Cleese walking the streets between lectures.
Be sure to stop at the Eagle pub in Bene't Street where, in 1953, Francis Crick walked inside and jubilantly announced that he and fellow scientist James Watson had found the 'secret to life'. In fact, they'd discovered the structure of DNA which changed our understanding of biological life forever. A blue plaque outside reveals the fact drinkers at the Eagle were among the first in the world to hear about the ground-breaking discovery.
Leaving the city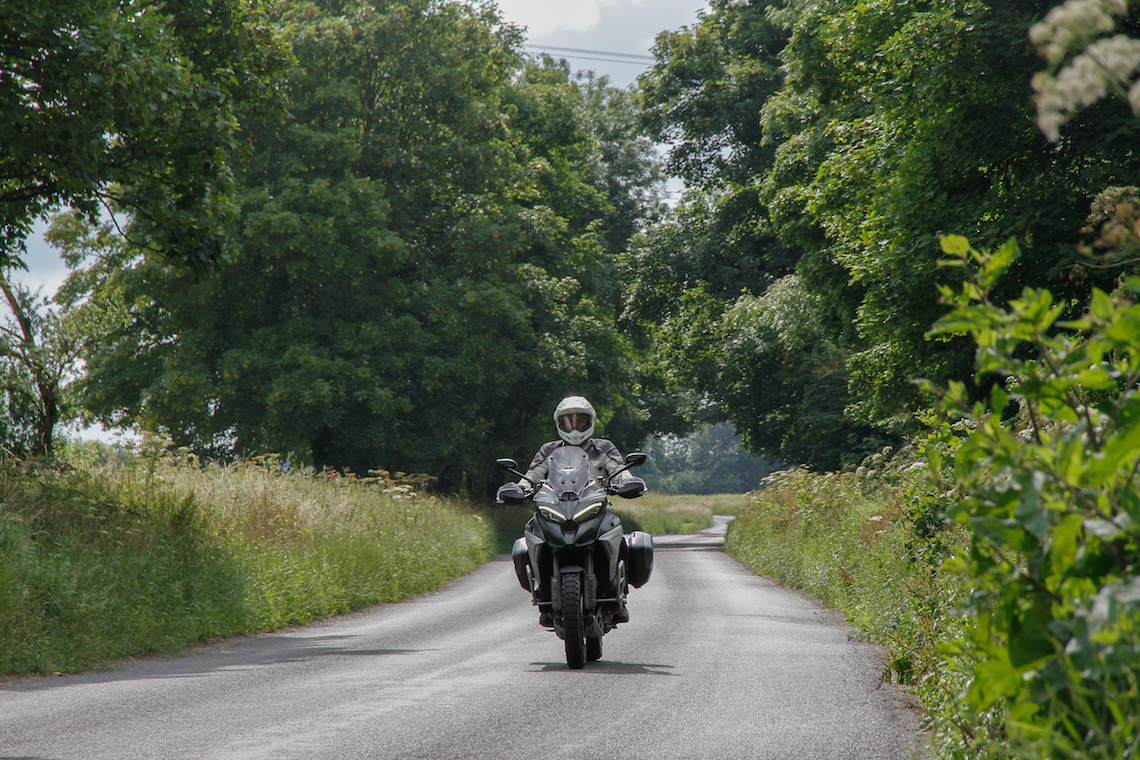 From the centre of Cambridge, we travel south east to the distinctively named Worts' Causeway, and continue along a number of glorious B-roads through rolling countryside and picturesque villages.
I switched the Multistrada into Sport mode and joyfully leant into a series of sweeping bends and tighter turns, which all provided the perfect warm up for the day ahead.
The Gallops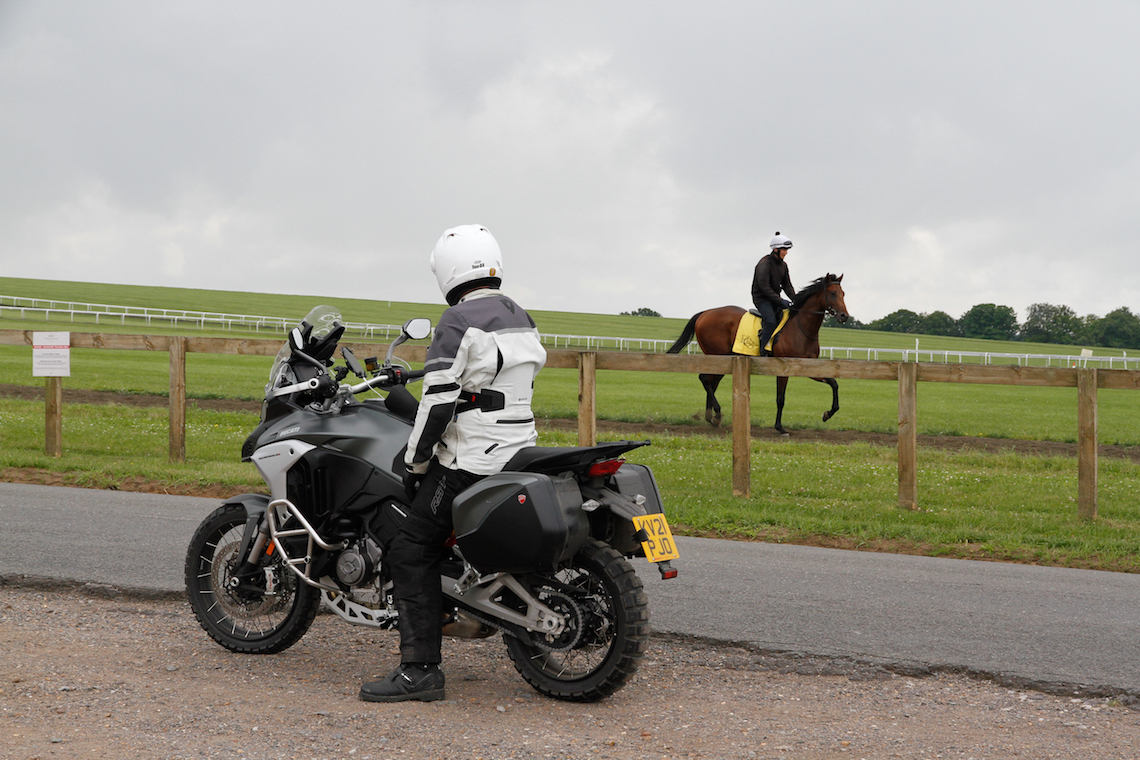 Soon enough we slow the pace as we reach the Suffolk town of Newmarket, the bustling hub of horse racing in the UK, and home to two of the sports' most prestigious races, the 1,000 and 2,000 Guineas.
We motor up the busy High Street, before turning off onto Moulton Road which takes us through the centre of the Newmarket Training Grounds, known as The Gallops. From here, you can watch the magnificent sight of thoroughbred racehorses and their jockeys in action.
According to the locals, early mornings are the best time to see the horses in full flight, but I arrived at 11am and still managed to see some. Be aware that horses can be spooked by loud motorcycle engines, so switch off and wait for them to pass if needed.
The Icknield Way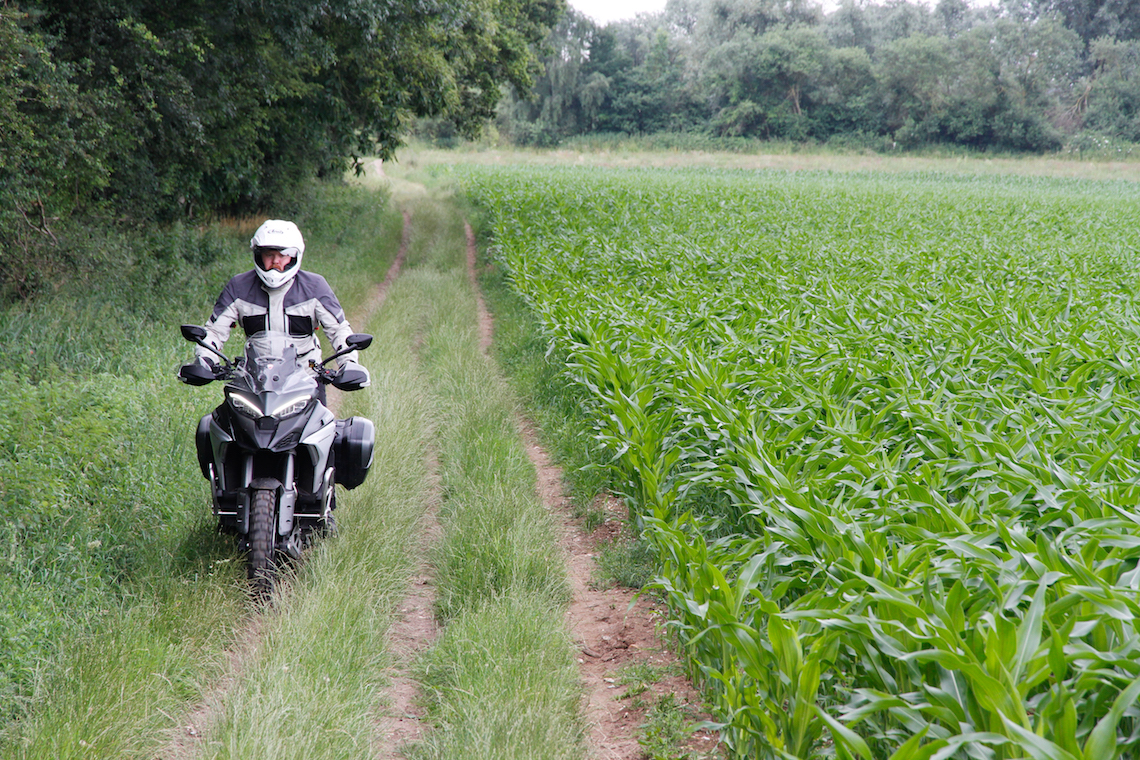 From The Gallops, we ride along yet more flowing B-roads until we reach our first byway of the day, just beyond the village of Kentford. The green lane forms part of the Icknield Way Trail which stretches for 170 miles and crosses six counties, with sporadic sections open to motorcyclists.
Handily for us, a two-mile byway open to all traffic is ahead. It's a gentle trail that runs along the edge of farmland, through a wooded section, and alongside a pig farm (don't worry, the pigs are fenced in). The wooded section was a little slippery due to the previous night's rainfall, but take it slowly and it's easy enough to navigate. In the dry, it'll be a breeze.
With some dirt on our tyres from the first green lane of the day, we ride along a few miles of country roads to our second, which is another section of the Icknield Way. This arrow straight section of trail starts at the junction of Icklingham Road and Weststow Road, and takes you through The King's Forest for about three miles.
I'd like to say it was a hoot to ride, but sadly a temporary TRO prohibited us from doing so. However, I've included it on this route as the TRO is due to be lifted in mid-August 2021.
Thetford Forest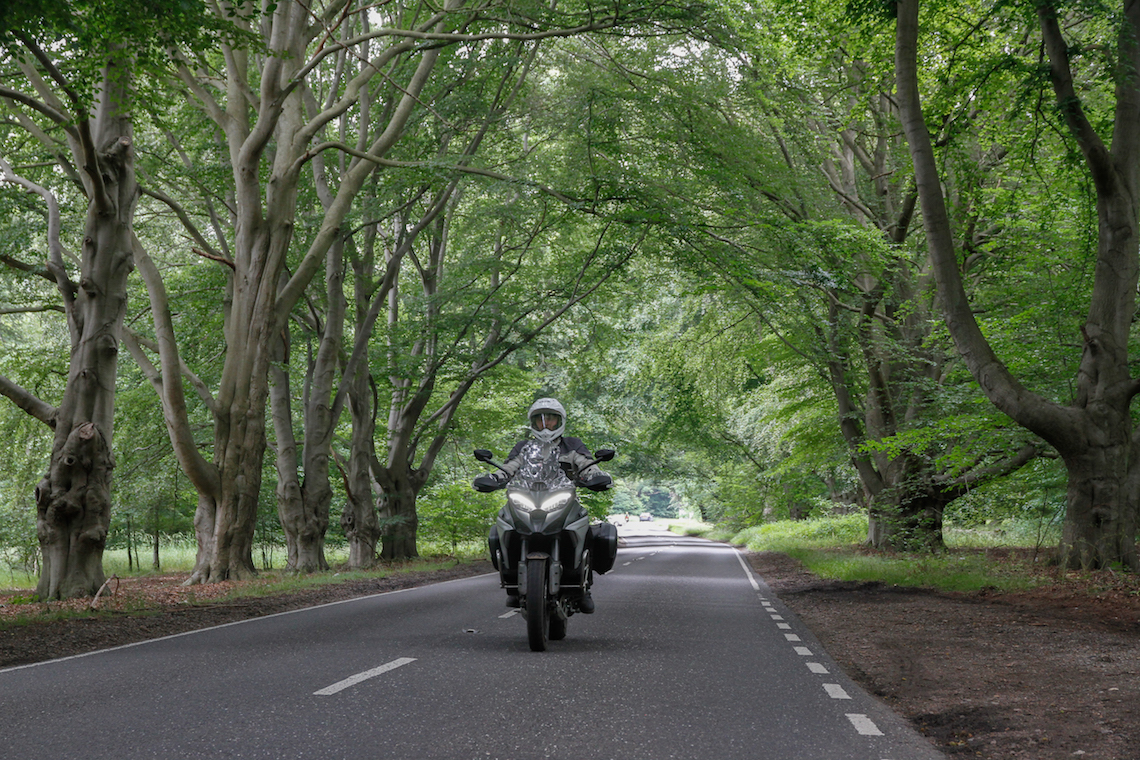 We didn't feel disheartened about the TRO for long as we picked up the B1106, also known as Bury Bottom, and rode through Thetford Forest while flanked by a tunnel of trees, their twisting branches framing the road perfectly.
Thetford is the UK's largest manmade lowland forest. It was first planted by hand in the '20s to try and meet the nation's dwindling supply of timber following the First World War, and today it covers 50,000 acres of woodland and heathland.
The road through it is a treat to ride, but even better is a byway that runs east to west which we pick up just north of the town of Brandon. Known as Harling Drove, this three-mile unsurfaced road is a joy to ride through the forest. It's a mixture hard packed dirt and mud with some shallow sand, and a series of whoops that were brilliant fun to negotiate.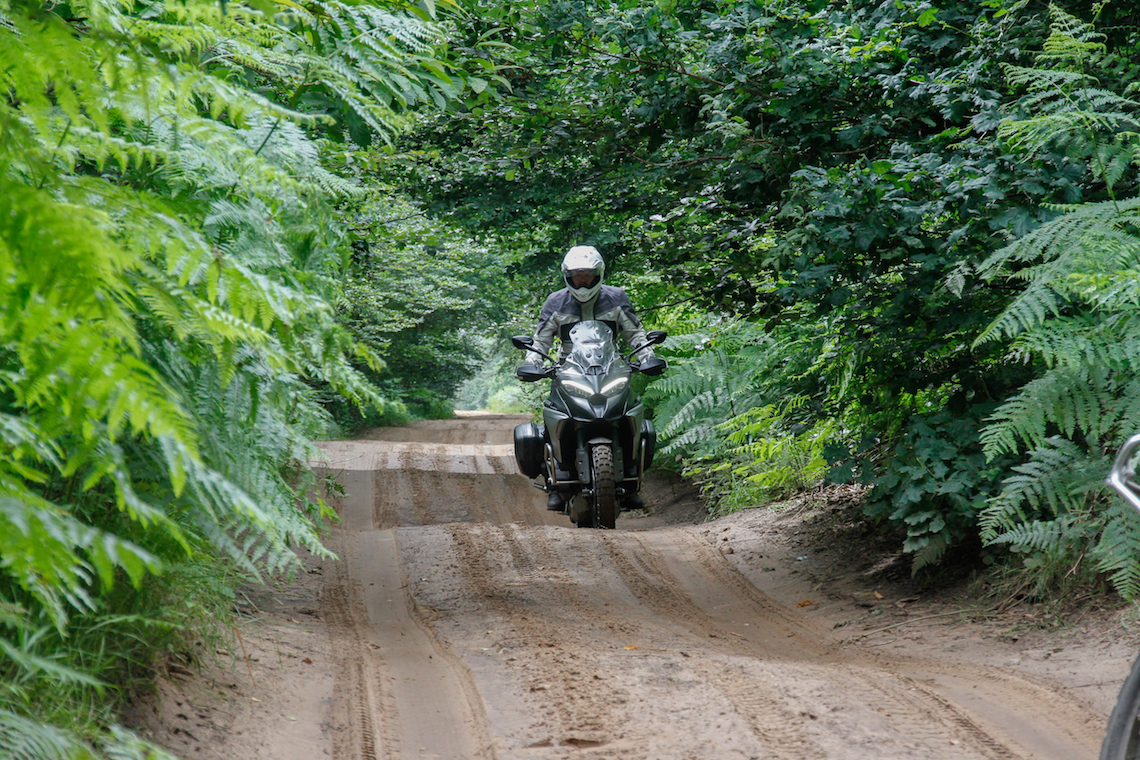 On a wet day, I imagine it would be trickier to ride, but in dry weather it was a blast. Just keep an eye out for cyclists and walkers.
I could have happily spent the rest of the day exploring Thetford Forest, but with plenty of riding ahead, it's time to leave it behind and ride towards the coast. North of the forest, we pass through the village of Mundford and follow a series of narrow country lanes for about 20 miles.
For me, these roads represent motorcycling through Norfolk at its best as we slice through the flat landscape on quiet B-roads with rural views all around. It certainly feels remote, and I'd urge you to take these country lanes rather than the nearby and far less enjoyable A1065 which runs parallel to our route.
Peddars Way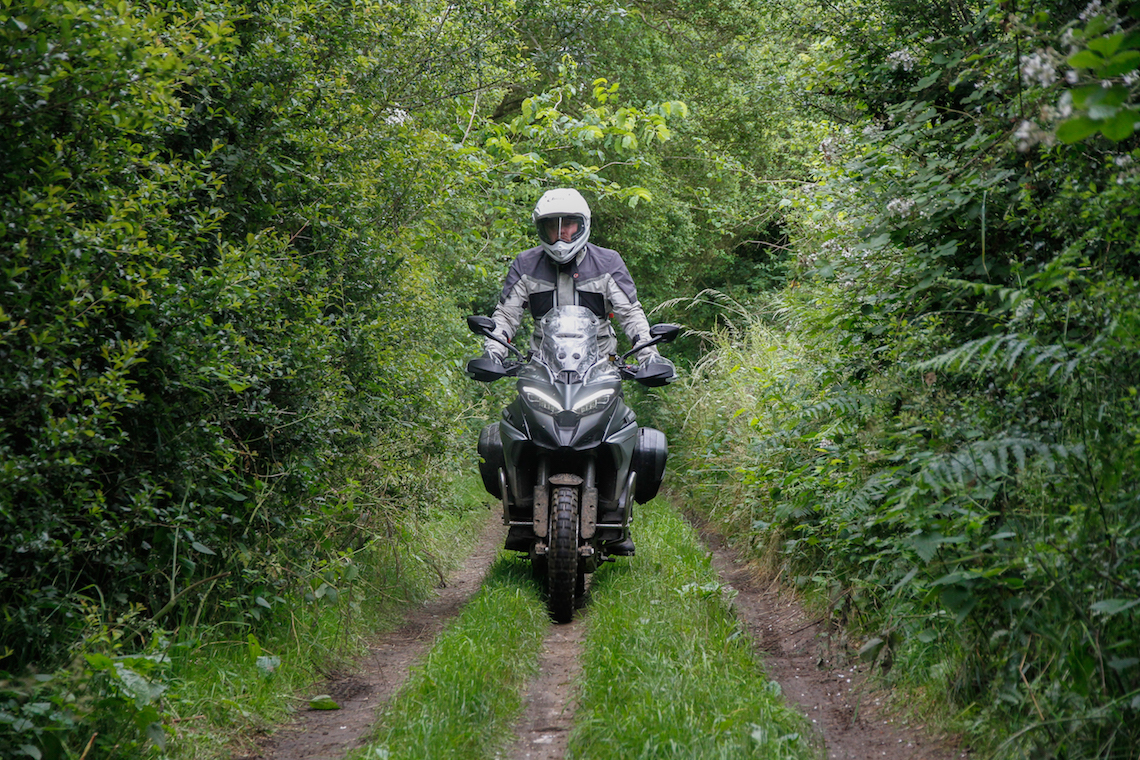 Just before we reach the village of Great Massingham, we turn off to ride our final green lane of the day along the Peddars Way. This ancient Roman road stretches for 49 miles through Suffolk and Norfolk, and features a number of sections we can legally ride. 
We join it for an arrow-straight eight miles of verdant Norfolk countryside. It provides a wonderful sense of remoteness as we leave the tarmac behind, and riding it really does feel like being on a proper adventure.
However, be warned that this the most challenging trail of the day due to a number of rutted sections that require plenty of concentration to thread your way along them. Having switched to Enduro mode, the Multistrada V4 S handled it with ease, but if you're on a big adventure bike and you're new to greenlaning, take it easy. If it has been raining, and you're on road-biased tyres, you may want to bypass this section on nearby roads.
To the sea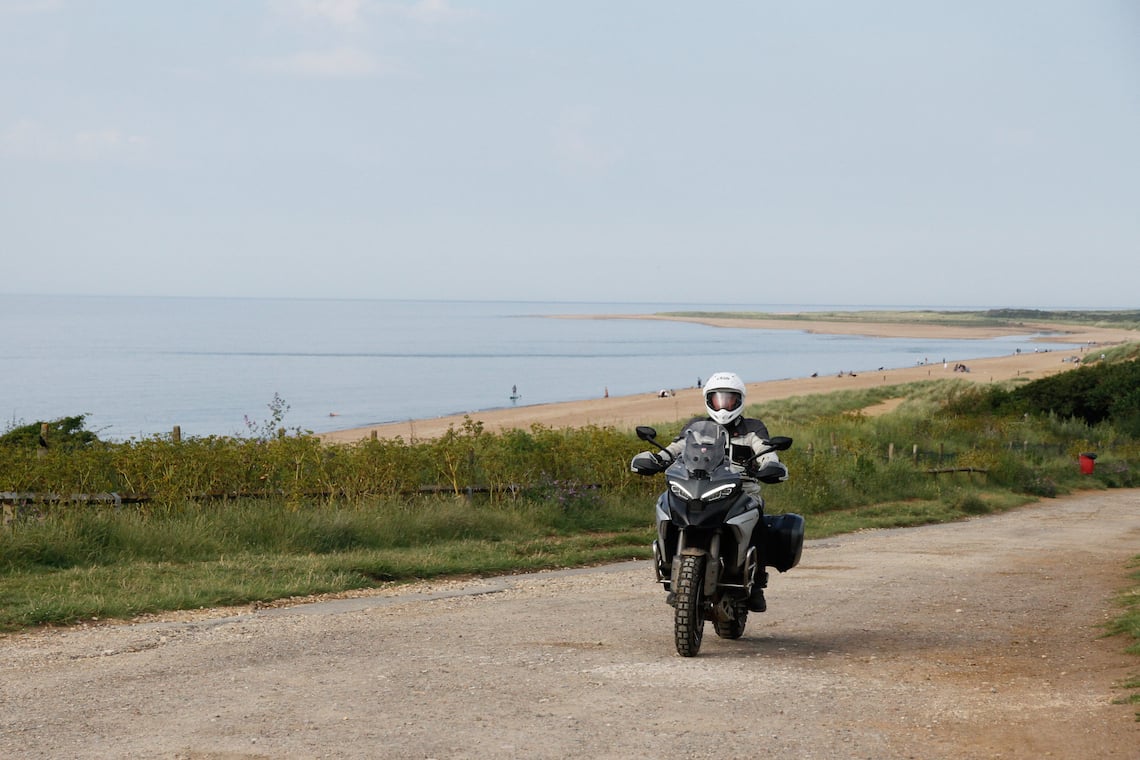 Just north of the Hamlet of Fring, we emerge from the Peddars Way and rejoin the tarmac, making our way along a final stretch of meandering B-road to the seaside resort of Hunstanton. It's a beautiful spot and the seafront has been a popular meeting place for bikers for years.
We cruise along Cliff Parade with the sea sparkling in the evening sun to our left until we reach town's lighthouse. Ride to the bottom of the car park, jump off the bike, and marvel at the view of the miles of sandy beach, flanked by sand dunes one side, and the North Sea to the other.
Well done! You've made it to the end of the City to Sea UK Adventure Route, and it's time to head back along Cliff Parade for a well-earned fish and chip supper, and a chat with some fellow bikers doing the same.
The UK Adventure Route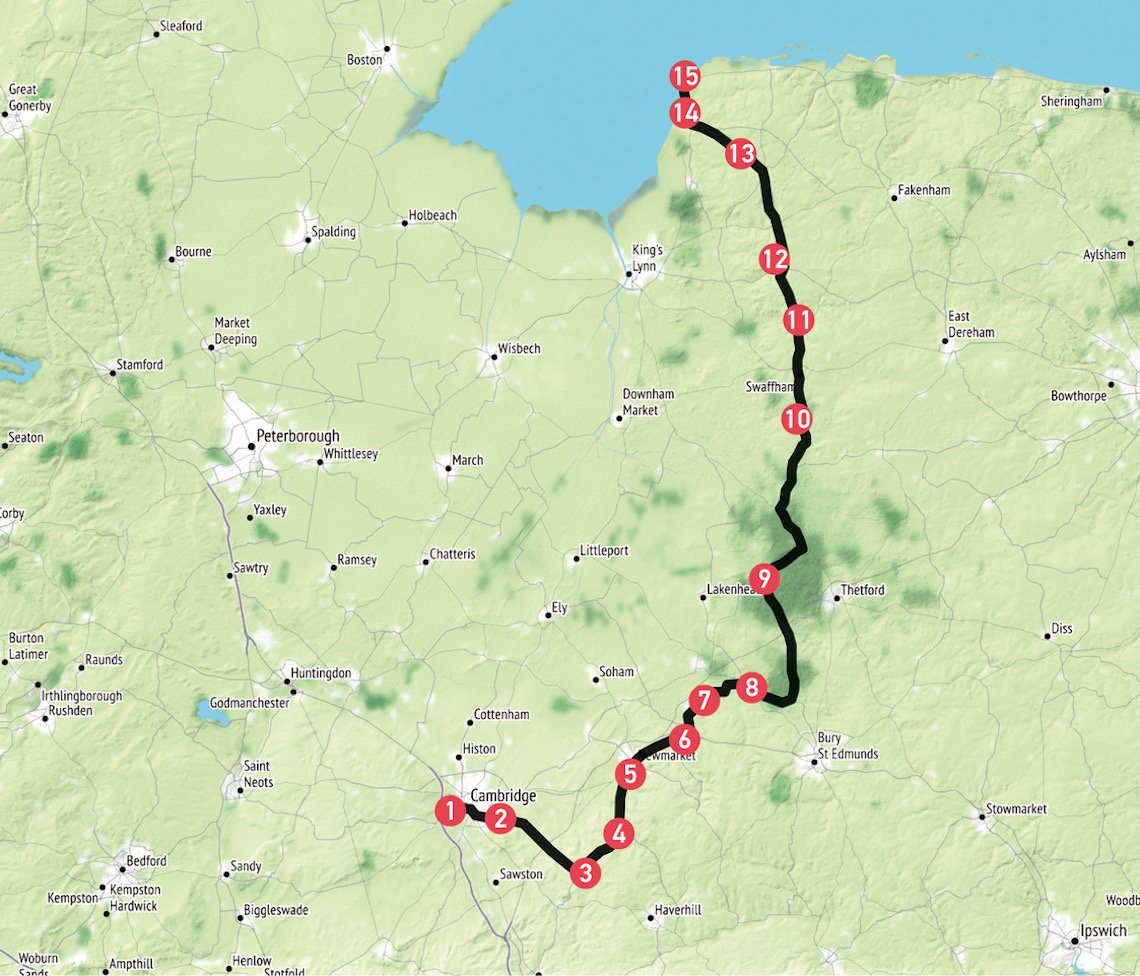 Plug these waypoints into your SatNav device to follow as near as dammit the City to Sea route. It's also available to download as a .gpx file. Simply head HERE and your download will be waiting for you. If you plan to ride the green lane sections, make sure you refer to an OS map, as the waypoints and GPX file won't take you on the trails.
Bene't Street, Cambridge

Worts' Causeway, Cambridge

Balsham

Brinkley

Moulton Road, Newmarket

Kentford

Herringswell

Lackford Green

Brandon

Cockley Clay

Castle Acre

Great Massingham

Fring

Cliff Parade, Hunstanton

The Old Lighthouse, Hunstanton
Discover over 200 UK motorcycling routes with access to the ABR Online Library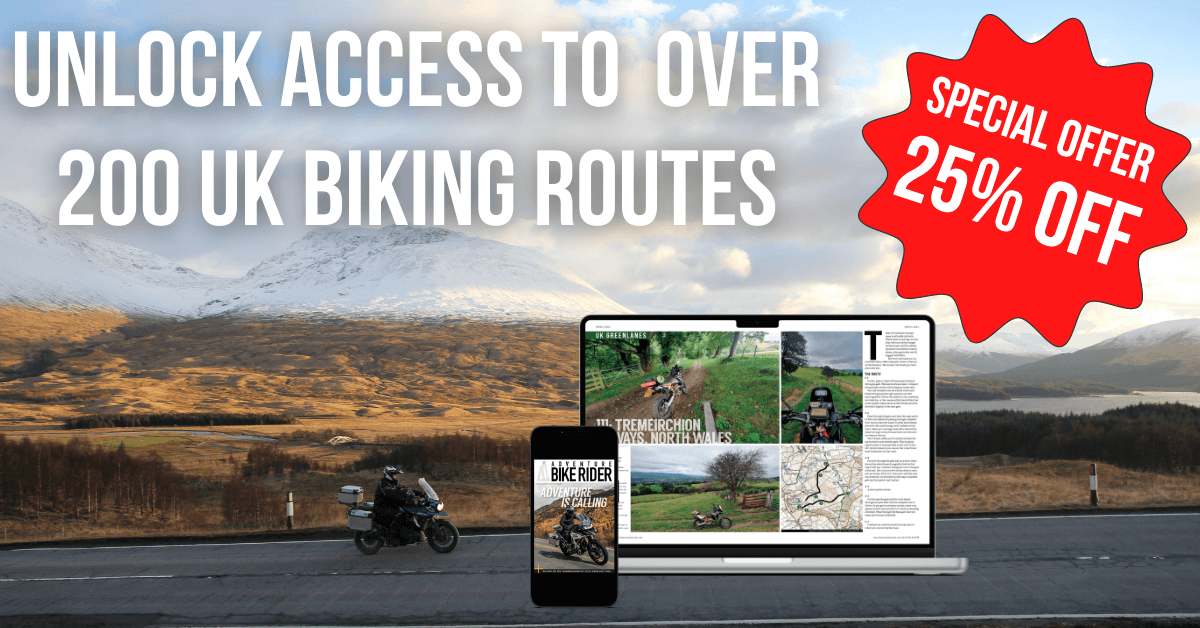 With an ABR Digital Library membership, you'll have access to an online library of over 200 UK route suggestions, complete with maps to follow and gpx. files to download for your SatNav. It's the key that will unlock a whole new world of weekend adventures!
Find out more about the ABR Digital Library and how you can save 25% on membership here.
The bike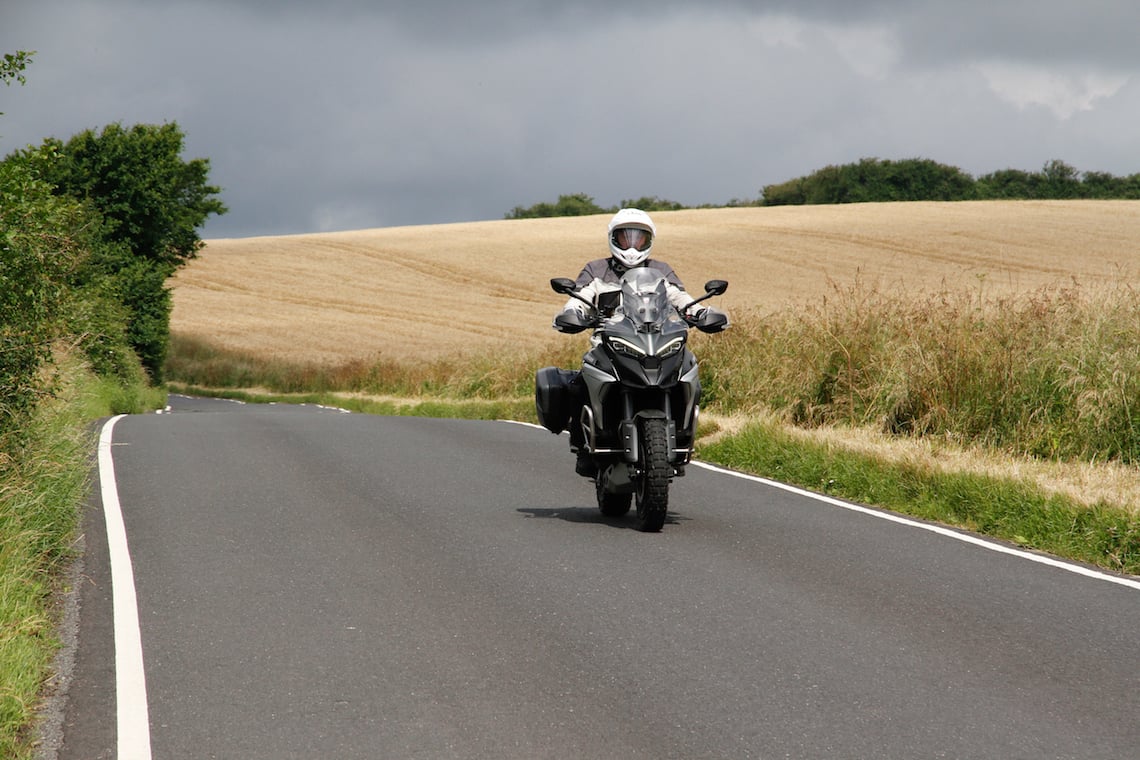 The Ducati Multistrada V4 S is exactly the kind of big adventure bike ABR's UK Adventure Routes are designed for. Its size and weight (217kg dry) may seem intimidating, but take it on some lighter trails, like those outlined in this route, and you'll be amazed at how confidence-inspiring it is.
It was a joy to ride all day whether I was carving through country lanes or blasting along fast-flowing A-roads. I even put the adaptive cruise control to good use, which uses radar technology to speed you up on slow you down to match the speed of the vehicle in front.
But it was on the trails that the V4 S most impressed. How Ducati managed to make a motorcycle of this size and weight so easy, forgiving, and damn right fun to ride in the rough stuff, is quite frankly an impressive feat of engineering.
Too tall? Too short? Just right…
We made a quick stop at the Vindis Ducati dealership on the way into Cambridge to say hello and generally talk bikes. We soon got around to chatting about some of the issues people face riding a big adventure bike off road, including how not being able to flat foot the ground can sap your confidence.
The dealership team mentioned that a solution, for Multistrada riders at least, is coming in August in the form of a low suspension kit that reduces the bike's lowest seat height setting by 20mm to 820mm. And, if you opt for the low accessory seat as well, that takes the seat down to 790mm. One of the most common complaints we hear at ABR is the fact not enough adventure bikes are designed to cater for shorter riders, so it's good to hear Ducati is addressing the issue.
I also had a mooch around the accessories available for the Multistrada including panniers, top cases, and tank bags, as well as looking at plenty of Ducati clothing. I could have spent hours there but there was riding to be done…