If the Touratech Aventuro Carbon looks familiar, then you've probably already come across the Nexx X.D1 review we posted recently. The Aventuro (RRP from £369) is based on that, and so this review will seemingly read the same.
But this isn't just a like-for-like copy, the Touratech version comes with a few differences. This lid has a carbon shell and it foregoes the inclusion of an internal sun visor to offer a helmet that weighs in at just 1.52kg (as opposed to the 1.69kg of the Nexx) in a size L.
The Aventuro is one of the lightest adventure-styled helmets on the market (the lightest being the Klim Krios), though if you prefer your lid to have an internal sun visor, then you'd be better off opting for the X.D1 as, in reality, the extra 100g isn't really going to make a difference.
Other changes include a clip on the rear to hold your goggles in place and a few cool-looking colour schemes that are exclusive to the Touratech Aventuro.
As far as the differences between the Aventuro and the X.D1 go, that's about it. You'll get the same excellent field of vision, the visor comes with a Pinlock insert and the ventilation on offer is good, but not great.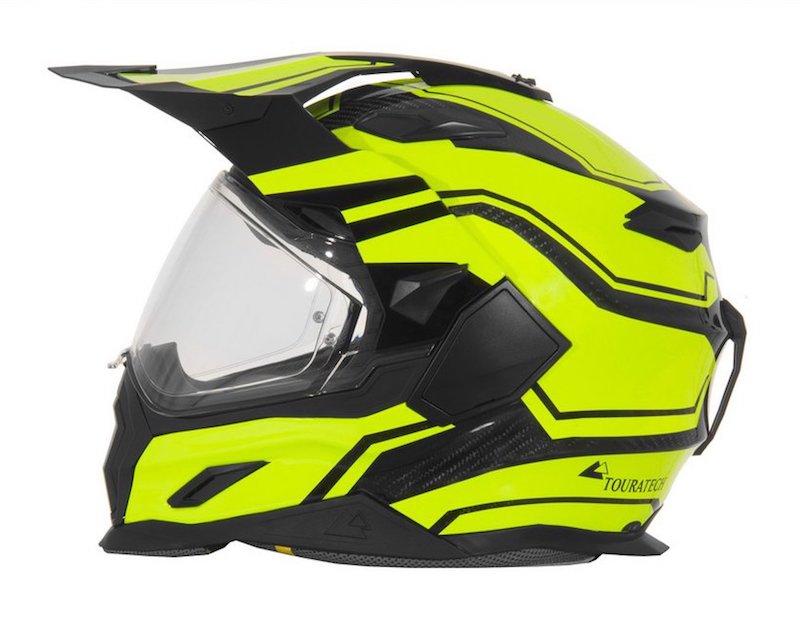 The Aventuro comes with some nifty accessories in the box, including various mounting points for action cams, and you also get a replacement peak tip, which extends to adapt the length of the peak to the conditions you're in.
As with the X.D1, the peak is OK at most speeds, though causes turbulence when cruising on the motorway.
So, why would you buy this over the Nexx X.D1? Setting aside the prestige that comes with wearing a Touratech branded helmet, the Aventuro is better suited for those who take their off-road riding more seriously. The weight saving, while not monumental, will appeal and the goggle clip is a useful addition.