Earlier this year, Henry Crew returned to the UK, the youngest man to circumnavigate the globe solo and unassisted by motorcycle. After 381 days on the road, Henry's faithful Ducati Scrambler Desert Sled had carried him through 35 countries and across 50+ thousand miles.
On the August 20th, just a few months after his return, that very bike was stolen from his parent's home in Hampshire. As of the end of November, it still hasn't been recovered.
Stemming the tide
Henry's story is devastatingly unremarkable. Despite a police crackdown, during the first 10 months of 2018 over 14 bikes a day were stolen in London alone. And with only 25% of stolen bikes being recovered intact during the same time period, you start to realise the scale of the problem for bikers.
So, what do we do to protect our pride and joy? We can add deterrents; covers that keep the identity of our motorbikes hidden from passing observers, or disc locks and heavy chains to tether bikes to fixed objects and make them difficult to move. Overnight, garages provide security and shelter from view, while alarms can attract unwanted attention and alert those close to their bikes.
These are just deterrents though; they stop opportunistic theft, those that would simply snap your steering lock and push your bike down the road. Yet, when met with a handheld angle grinder or a determined group armed with a van, many measures simply fall short. Alarms can also drain your battery, or just be irritatingly unreliable… (I'll use this article to apologise to the residents of West Norwood after my brief flirtation with an overly sensitive, extremely loud system a few years ago.)
A weapon in the fight on theft: Tracking
As companies started to realise that protection was far from unsurpassable, they began providing solutions for the time period after a theft. Trackers became the go-to technology, particularly for the high-end bikes that often found themselves targeted by the most organised of gangs.
They're easy to hide, tricky to find and even harder to remove. A perfect combination that ensures thieves don't tackle them during the initial theft, allowing your bike's location to continue to be shared with you after it's been taken, often leading you right back to where it's stored, ready for shipment or scrapping for parts. But tracker technology has proved expensive and often requires professional installation.
That was until now. Enter the Monimoto. A waterproof motorbike tracker smaller than your iPhone, that can be fitted by yourself in a few minutes. With batteries and a SIM card included out the box simply sync the device with the Monimoto App on your phone, conceal the wireless device on your bike and you're away. The device starts at £149, with a very reasonable £2.60 charge per month for the sim card, though you get your first two months for free.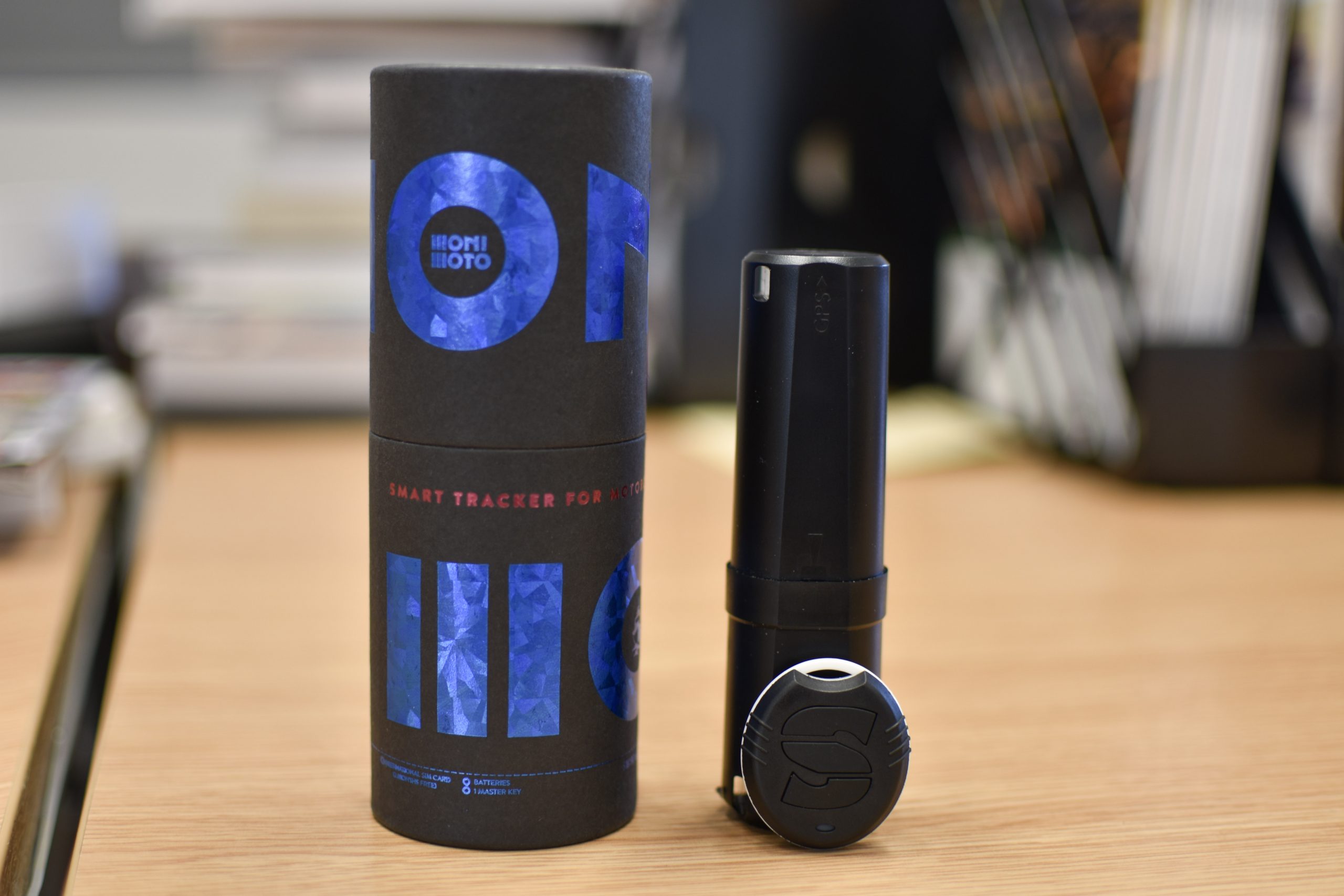 The tracker is remarkably small and easy to conceal.
Complete ease of use
It automatically arms itself when you leave your motorcycle, and then disarms as soon as you return with the device's paired key in your pocket. This allows you to use your bike as if it wasn't there and ensures you don't trigger an alert every time you shift the bike in your garage or move it for cleaning.
If the tracker detects your bike is being moved when you're not around, it will call within a minute to notify you of the theft, all the time tracking your motorcycle's location and sending coordinates to an app on your phone. These continue to update every five minutes, or even every minute if frequent tracking is selected.
We're not just talking about movements once the bike is down the road either, the tracker's sensitivity can be fine-tuned via the app to even detect the bike moving off the side stand. This gives you time to catch a theft in the act, often scaring the thieves away or allowing you to call the police.
Unlike other trackers, the Monimoto doesn't need to be professionally fitted, meaning you can do it at home in a few minutes using two cable ties (included) and loops on the unit itself. And, because the device is battery operated, it will remain active during a theft and over a significant length of time, without draining your bike's charge.
Having fitted the Monimoto to my own bike, I can vouch that you may need to get a little creative to ensure the unit is hidden as well as it can be. But once you find that perfect spot, and get over the childish, smug feeling of really nailing that game of hide and seek, it's comforting knowing your bike is protected. Until someone in the office decides to play a game of 'let's lift Ollie's bike off the stand' anyway…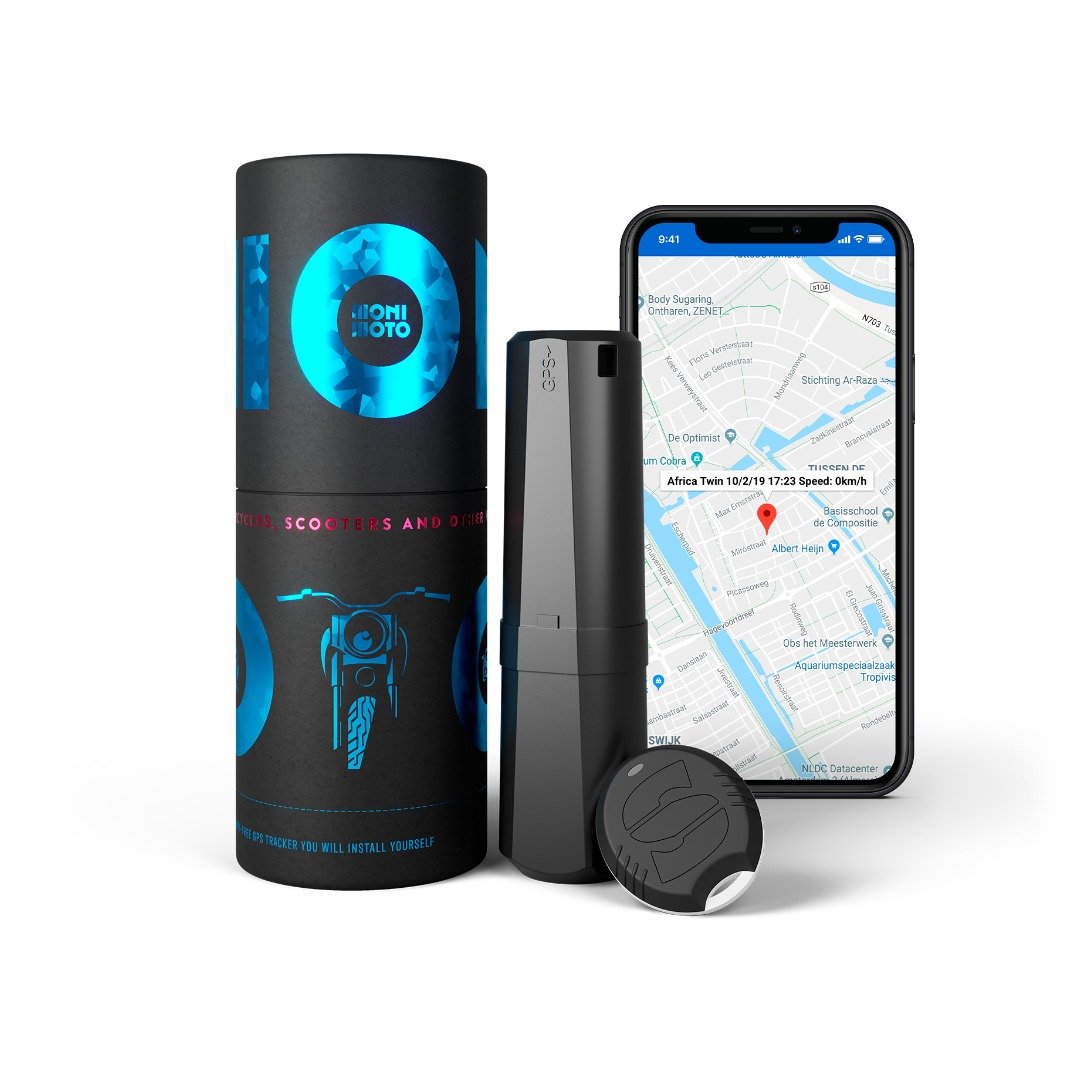 A solution to sleepless nights on the road
We've all been there. It's 2am and you're pulling back the curtain of your hotel for the umpteenth time, stealing a quick glance of your bike as it sits agonisingly exposed in an insecure car park outside. You'll repeat this routine at least 10-20 more times until the sun comes up.
Touring can be a nightmare for security, least of all because carrying a heavy chain around is actually incredibly impractical and hotels often have liberal definitions of 'secure parking'. Doubly frustrating is that you're often sleeping so close to the bike anyway that you could be at its side in a matter of seconds if needed.
This makes the Monimoto an ideal companion for us tourers. Coming in two models, the MM2 tracker's internal SIM comes with full European and North American coverage (MM1 offers full European coverage only), ensuring you'll still receive a call regardless of how far from home you've found yourself, and allowing you to sleep easier with your phone next to you.
Another way to keep your bike safe
Ultimately, nothing will ever guarantee the safety of your bike. But combined with a chain, a disc lock or even a cover, the Monimoto will help you do as much as possible to keep hold of it. Many case studies found that while thieves struggled with the aforementioned deterrents, they inadvertently set off the Monimoto and were forced to flee empty handed when caught in the act.
To find out more about the tracker visit the Monimoto website. If you're interested in picking up a Monimoto they are available from the Monimoto website or from Infinity Motorcycles, Ghost Bikes and Sportbikeshop.