Guarantee yourself a very merry Christmas with this selection of incredible adventure biking gifts.
See anything you like?
Forward this page to your loved ones as a subtle hint and unwrap the present you want on Christmas Day.
Subscribe to your
favourite magazine

The last five issues of Adventure Bike Rider sold out completely. So, to guarantee your regular hit of adventure biking inspiration, knowledge, and entertainment, ask Santa for an annual magazine subscription and we'll deliver each new issue to your doorstep as soon as it's released.
Or better yet, put an Adventure Bike Rider Digital Library subscription on your Christmas list and you'll be able to download the latest issue instantly on your phone, tablet, or computer. The ABR Digital Library also gives you instant access to every magazine we've published over the past 10 years, which seems like a damn good way to spend Christmas day if you ask me.
Inside every issue of ABR you'll find inspirational travel features, the latest adventure, touring and trail bike reviews, masterclasses, green lane guides, in-depth gear reviews and a whole lot more.
So, if you're planning a bike trip in 2022, or you simply enjoy reading about motorcycle travel and adventure with a brew, ask for a subscription to Adventure Bike Rider this Christmas.
Motion Pro Trail Tool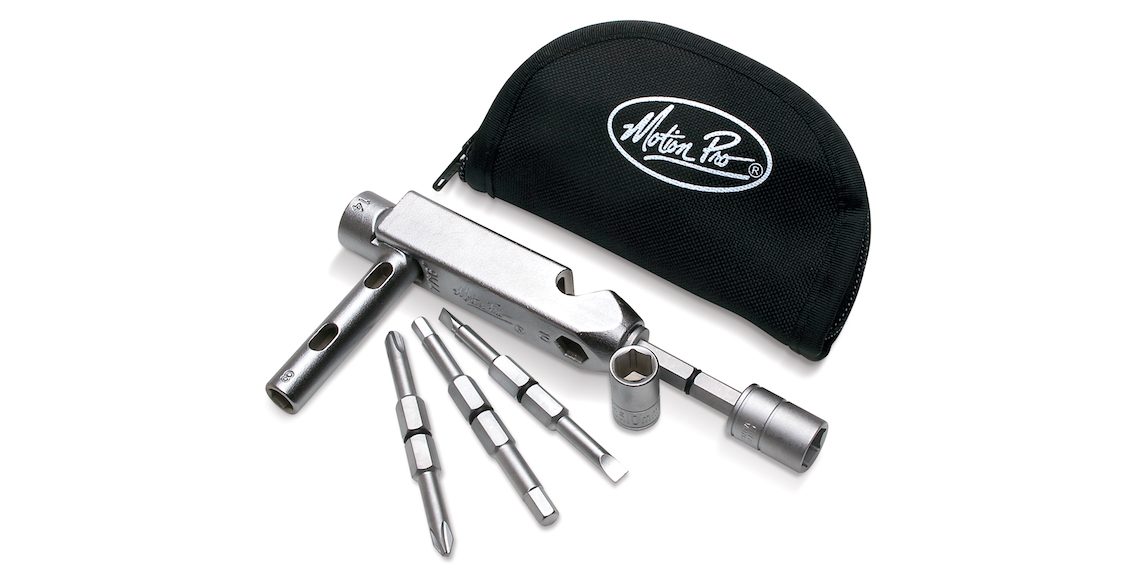 £54.95 from Adventure Bike Shop
For some bikers, spending hours in the garage tinkering with their motorcycle is one of life's pleasures. While for others, the closest they'll come to getting their hands dirty is smudging the ink on the annual service invoice at their local bike dealership.
However, no matter how much time you spend working on your pride and joy, it's always prudent to have some tools to hand when you're on tour, whether you need to tighten a loose luggage rack or replace a blown headlight bulb.
And, knowing that most bikers don't have room for large tool kits, Motion Pro has come up with one of the smallest motorcycle multi-tools ever made. It's an ingenious piece of kit that packs down into a tiny carry pouch that can fit under your seat, in a pocket, in a tank bag, or in the smallest crevice in your panniers.
But despite its size, the Trail Tool punches well above its weight when it comes to usability. It features a selection of spanners, sockets, Phillips and flathead screwdrivers, and Allen keys in the most common sizes needed to make road or trailside repairs or adjustments to your motorcycle. Motion Pro even thought to include a bottle opener so you can enjoy a cold beer while working on your bike. Ingenious.
Get your tickets to the 2022 Adventure Bike Rider Festival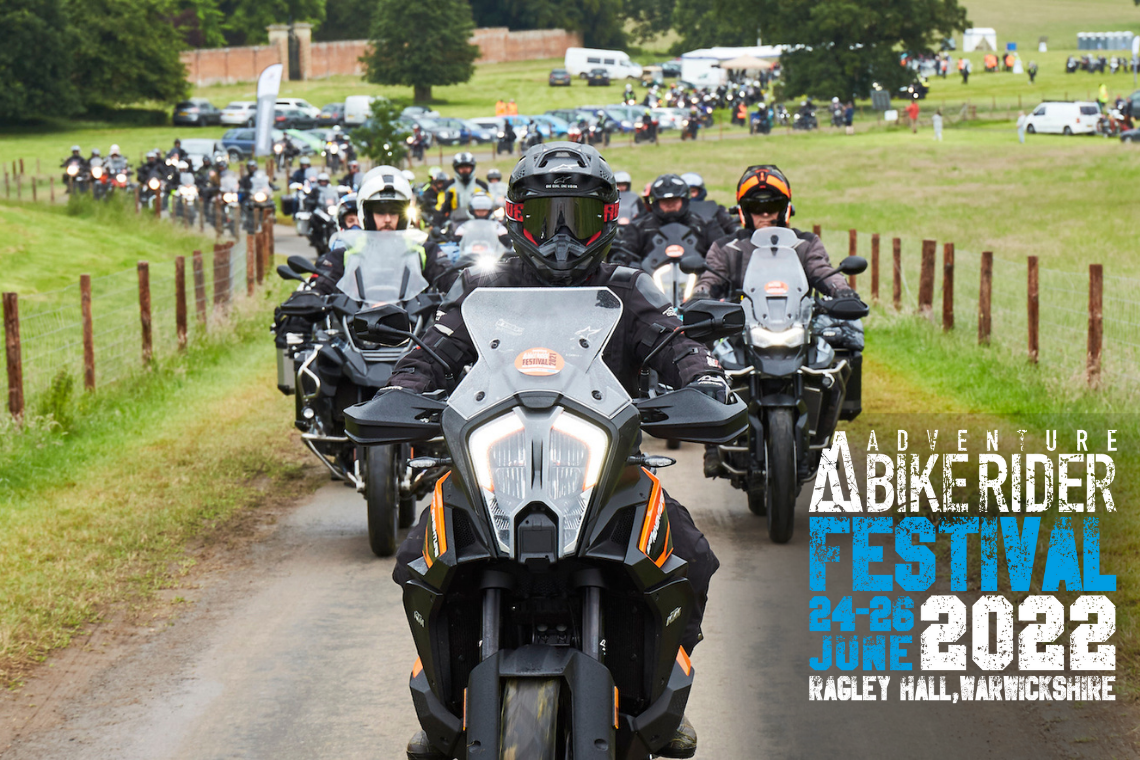 Put simply, the ABR Festival 2022 will be the greatest celebration of adventure biking ever held in the UK.
Hosted in the magnificent grounds of the Ragley Hall Estate in Warwickshire, it's a weekend of complete freedom where nothing else matters than the bike between your legs and the friends at your side. ABR festivals are characterised by a friendly, welcoming atmosphere and a shared love of travel and motorcycles.
And the grade-A venue is matched by the first-class facilities (including posh toilets and showers), as well as
premium festival attractions. You'll be able to ride the big-bike-friendly AX41 Adventure Trail, hear from inspiring guest speakers, test ride bikes from the world's leading motorcycle manufacturers, enjoy superb entertainment (including live music), shop for the latest gear, and prepare for your next adventure with advice from the world-leading experts.
You'll also be able to buy a beer for just £3 a pint (now, we can't say fairer than that). So, tell your loved ones you want tickets to the ABR Festival 2022 to ensure you have a very merry Christmas.
Denali D3

Driving Lights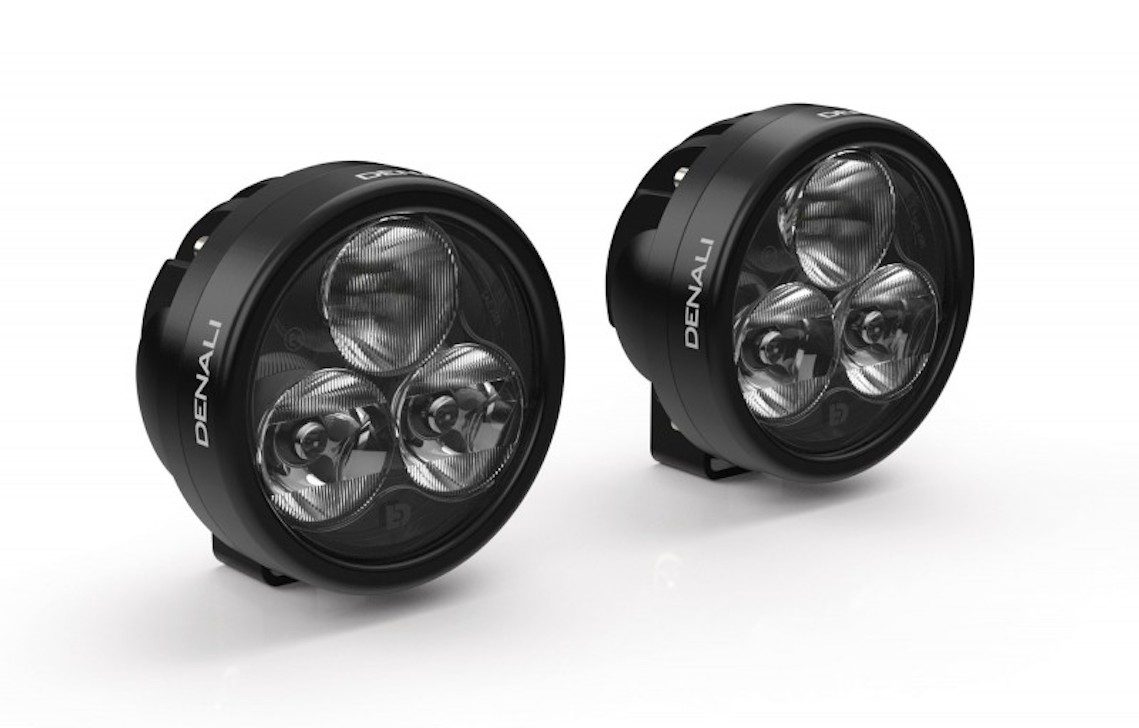 If you want to complete the rugged adventure bike look on your motorcycle, then a set of spotlights is the perfect addition. But as well as looking cool, they're also an extremely useful piece of kit.
Yes, for those of you planning to cross the Mongolian Steppe, or even take a ride through Thetford Forest of a dark evening, a top-quality set of spotlights like the Denali D3 are a must.
But, for those of us who spend the majority of our time on the tarmac, they will improve your vision of the road ahead at night and make you more visible to other road users. And, when it comes to spotlights, those made by Denali are among the best.
Take the D3 LED Driving Lights as an example. They feature Denali's TriOptic beam system that includes spot, combo, and hybrid beams suited for various riding conditions. The spot alone has been engineered for a maximum beam distance of a whopping 575m.
So, if you're looking to light up your ride this festive season, make sure you add a set of Denali D3 Driving Lights to your Christmas list.
2022 Adventure Bike Rider Calendar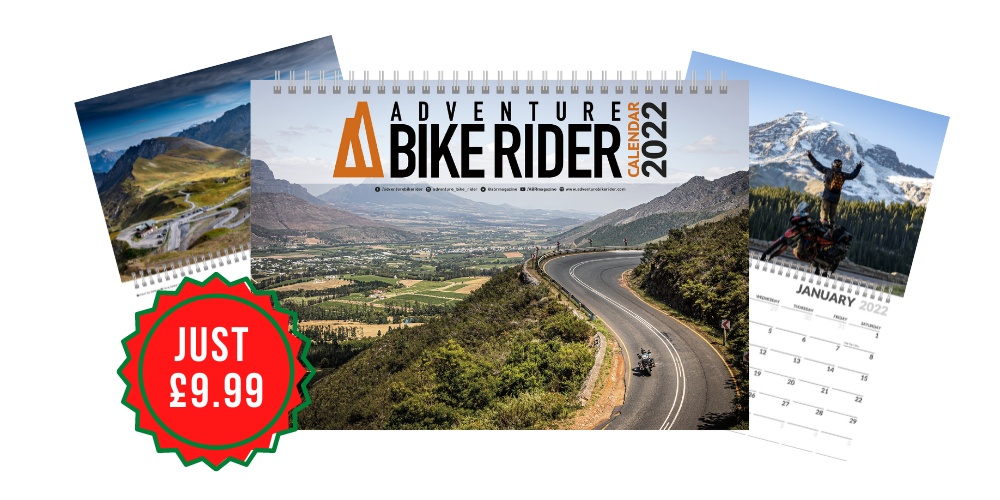 If you're looking to fill each new day with plenty of adventure biking inspiration then look no further. The 2022 Adventure Bike Rider Calendar is packed with 12 months of stunning motorcycle travel photography that is guaranteed to unleash your inner wanderlust.
The limited print run calendar sells out every year. So to guarantee your copy, put it on your Christmas list and start the new year as you mean to go on.
Inside you'll find the most spectacular and inspiring submissions made to the prestigious Adventure Bike Rider Photo of the Year competition. The standard of entries was higher than ever this year, and we handpicked the very best to display in the 2022 ABR Calendar, which is printed on high-quality silk paper to do those stunning photos justice.
So, whether you're in need of some two-wheeled escapism at your office desk, or you want to tick off the days until your next motorcycle trip on your garage wall, make sure you unwrap the 2022 Adventure Bike Rider Calendar on Christmas morning.
Ducati goodies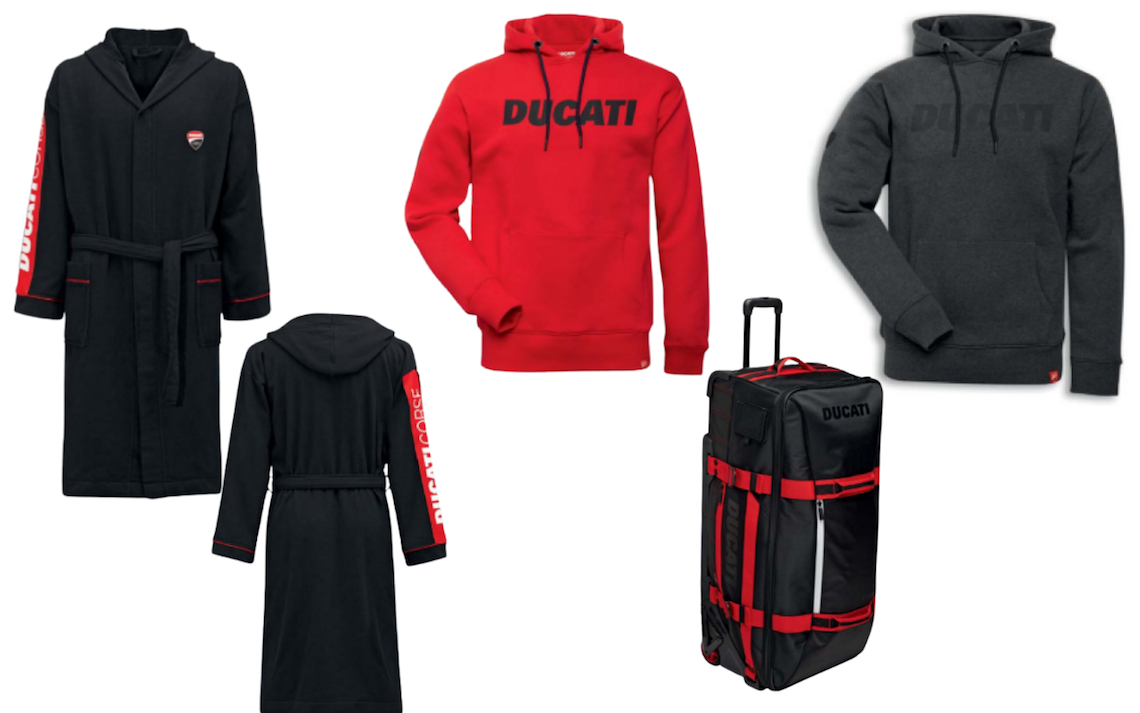 Logo Hooded Sweatshirt £69.99, Corse Race Bath Robe £79, Redline T3 Racing Trolley £299
If you own a Ducati, chances are you're a discerning character who likes the finer things in life. After all, the Italian manufacturer produces some of the finest motorcycles ever made, and in the new Multistrada V4, one of the best adventure bikes we've ridden.
So, what better way to show the world you ride a Ducati when you're not in the saddle than by sporting genuine accessories from the brand. This selection of a hoodie, bathrobe, and luggage bag is the perfect combo to take on an organised motorcycle tour abroad, particularly the type involving flights and luxurious hotels.
Simply pack your motorcycle gear into the 145l Redline T3 Racing Trolley (along with your shorts, T-shirts, and sun cream) and drop it off at airport check-in. Relax on the flight in your cosy Ducati Logo Hooded Sweatshirt, and then laze by the pool at the end of each day's ride in your Corse Race Bath Robe.
Now, that sounds like a great way to use a Christmas present to me.
Adventure Bike Rider

T-shirts and caps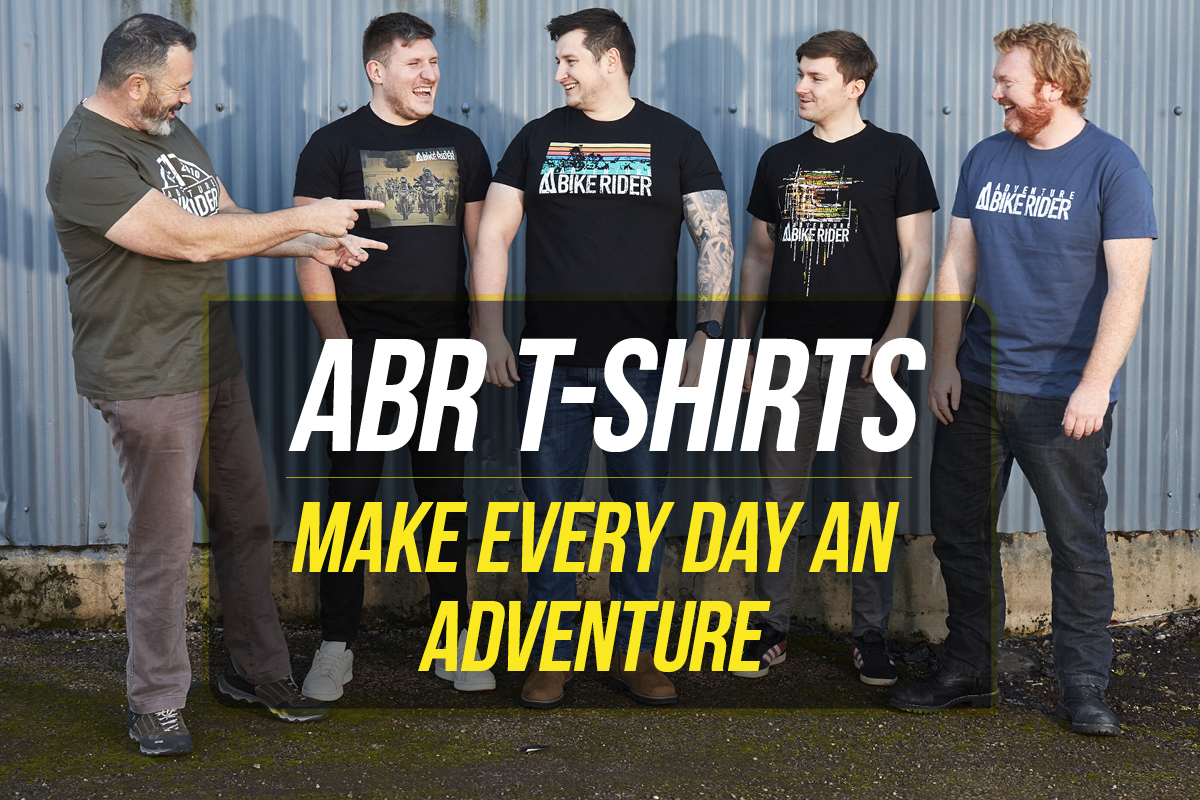 Being a motorcyclist isn't something you do, it's something you are. By swinging your leg over the saddle, you're telling people you're different, that you love freedom, the open road, and that you have a thirst for adventure.
But how do you show the world you're an adventure biker when you're not on two wheels? With an Adventure Bike Rider T-shirt and cap, of course.
We designed them for people like you: adventurous spirits who want to wear their love of exploring our planet on two wheels with pride. They're a companion and a constant reminder that the pursuit of freedom is only a turn of an ignition key away.
Whether you want to display your love of riding mountain passes with the Mountain Trails T-shirt, or you like the stylish look of the ABR Cross design, you'll be able to celebrate the joy of adventure biking every day.
So, ask for an ABR T-shirt and cap this Christmas, and wear your love of adventure biking with pride wherever you are. You can choose from a selection of sizes from small to XXXL. 
Arai Tour X4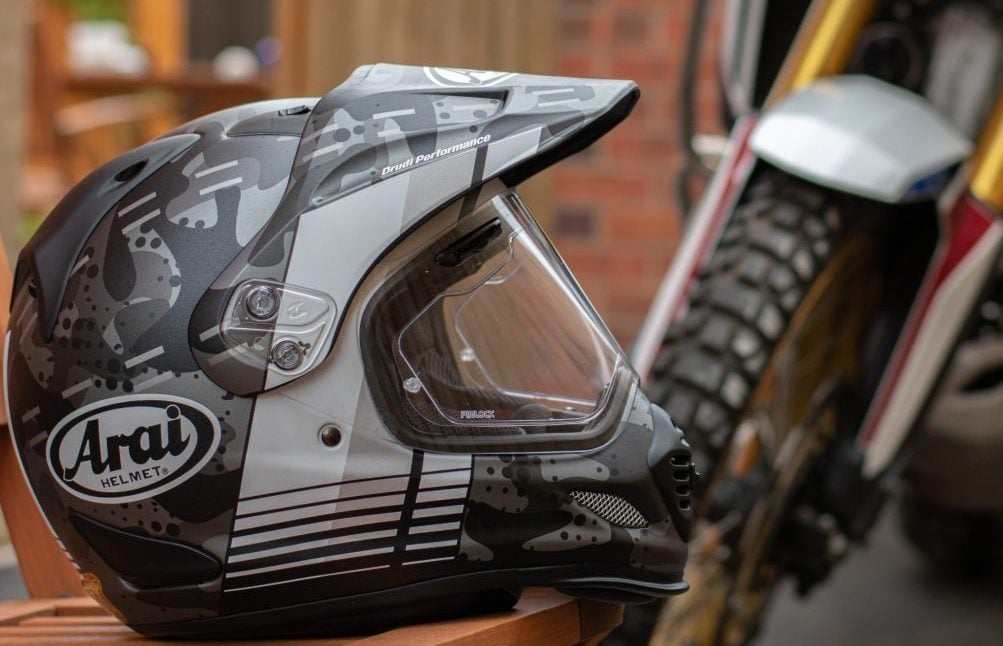 The Tour X4 has become something of an icon in the adventure biking world thanks to its classic good looks and Arai's deserved reputation for making some of the best helmets around. It's been worn across the globe by Ewan and Charley, and it's often the first choice of helmet among the ABR team when we head out on a ride.
So, what makes it so good? Well, Arai's meticulous attention to detail has led to the creation of a helmet that is supremely comfortable to wear, boasts excellent build quality, and doesn't compromise on safety. Whether you're touring on the road, ripping up the trails, or simply enjoying a leisurely Sunday ride, the Tour X4 is a winner.

For us adventure bikers, the aerodynamic peak, excellent ventilation, and wide field of vision make it a joy to wear, whether you're on or off road. It's a helmet that feels perfectly balanced while you're riding, so much so it's easy to forget you're wearing it.
If you're sticking to the tarmac, you can remove the peak, or if you're heading off road, you can pop off the visor and you'll have room for a set of goggles. If you've avoided Santa's naughty list this year, I can't think of many ways to reward your good behaviour than unwrapping a Tour X4 on Christmas morning.
Monimoto Motorcycle T

racker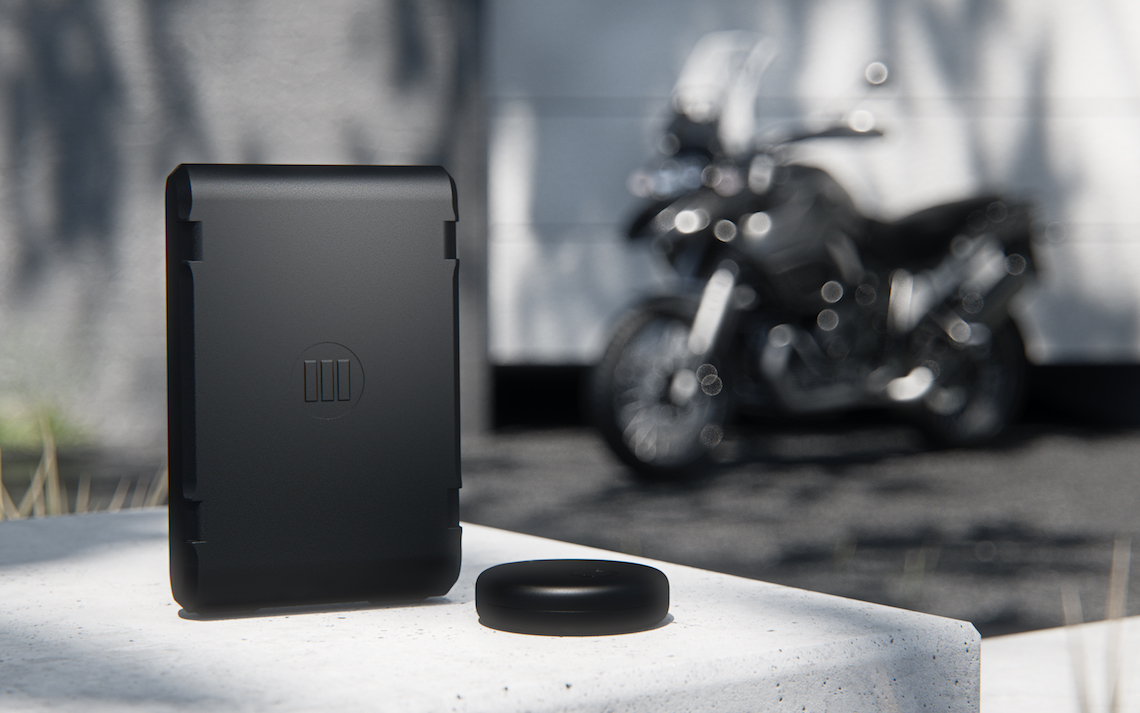 Having your pride and joy stolen is every biker's worst nightmare. And, while we can use locks and chains to try and stop a motorcycle from being pinched, the reality is, a determined thief will find a way through even the most stringent physical security measures.
Step forward the Monimoto smart tracker. It will notify you if your bike is being tampered with, and it will also track your motorcycle's location if it is stolen, greatly enhancing your chances of getting it back.
Monimoto doesn't need to be professionally installed, so you'll be able to fit it at home in just a few minutes. After you've concealed the wireless tracker on your bike, it automatically arms itself when you walk away, and then deactivates on your return as long as you're carrying the paired fob with you.
If the tracker senses your bike is being moved without you close by, it will call you to let you know, while all the time tracking your motorcycle's location with GPS and CellLocate technology, which you can follow on your phone.
And, because Monimoto is battery powered, you don't need to worry about drawing charge from your motorcycle's battery. It's also waterproof and works in locations across the world.
Learn to ride off road at
the Honda Adventure Centre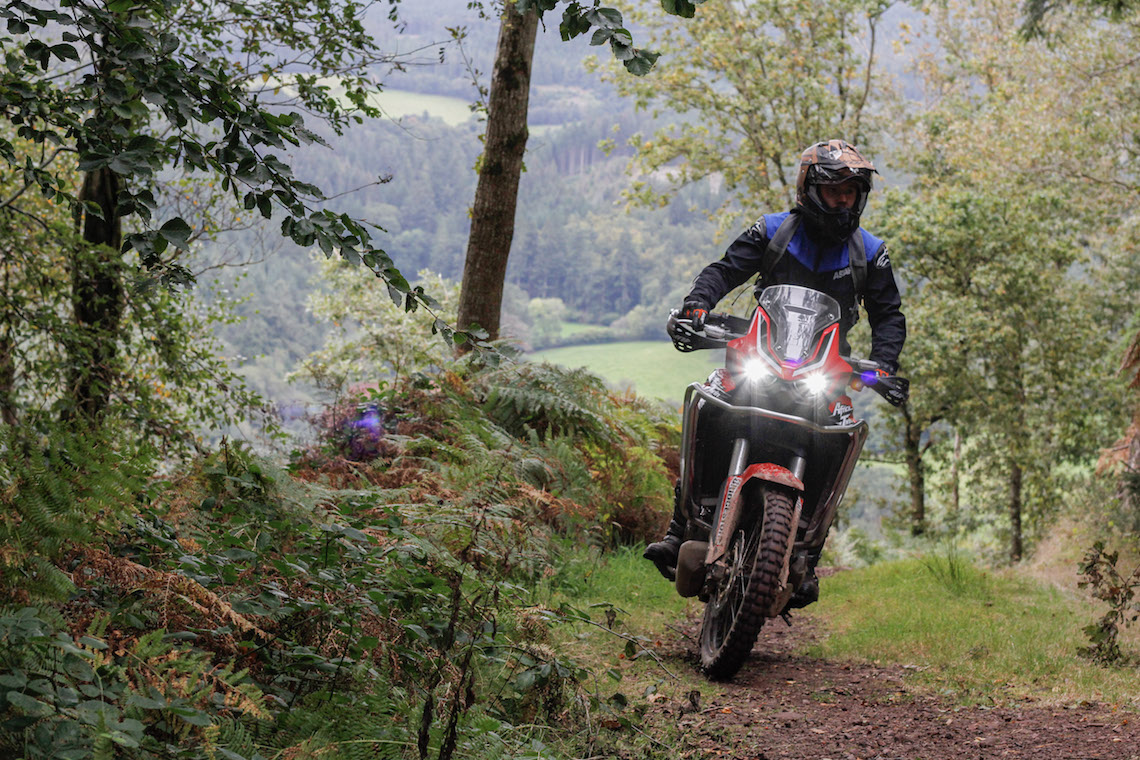 One-day Exmoor Tour £299, two-day tour £499
Do you want to learn how to ride a big adventure bike off road? Or perhaps you're an experienced trail rider and you want to improve your skills. This is where the Honda Adventure Centre comes in.
It's team of qualified and friendly instructors are experts in teaching people how to ride adventure and trail bikes off road. I took part in one of their courses myself this year and I was amazed at how much my riding progressed over two days of tuition.
It was also incredible to see how people, who had never ridden off road before, were stood on the pegs carving up hillsides and cruising along trails by the end of the course.
And where better to learn the art of trail riding than at Honda Adventure Centre's base in the magnificent Exmoor National Park on the latest model Honda Africa Twin. Or, if you want to ride something smaller, you can opt for one of Honda's trail bikes, including the CRF300L.
So, if you're new year's resolution is to learn to ride off road, or improve your trail riding game, a spot at the Honda Adventure Centre is the perfect Christmas present to ask for.
Keis G701S 'Shorty' Heated

Gloves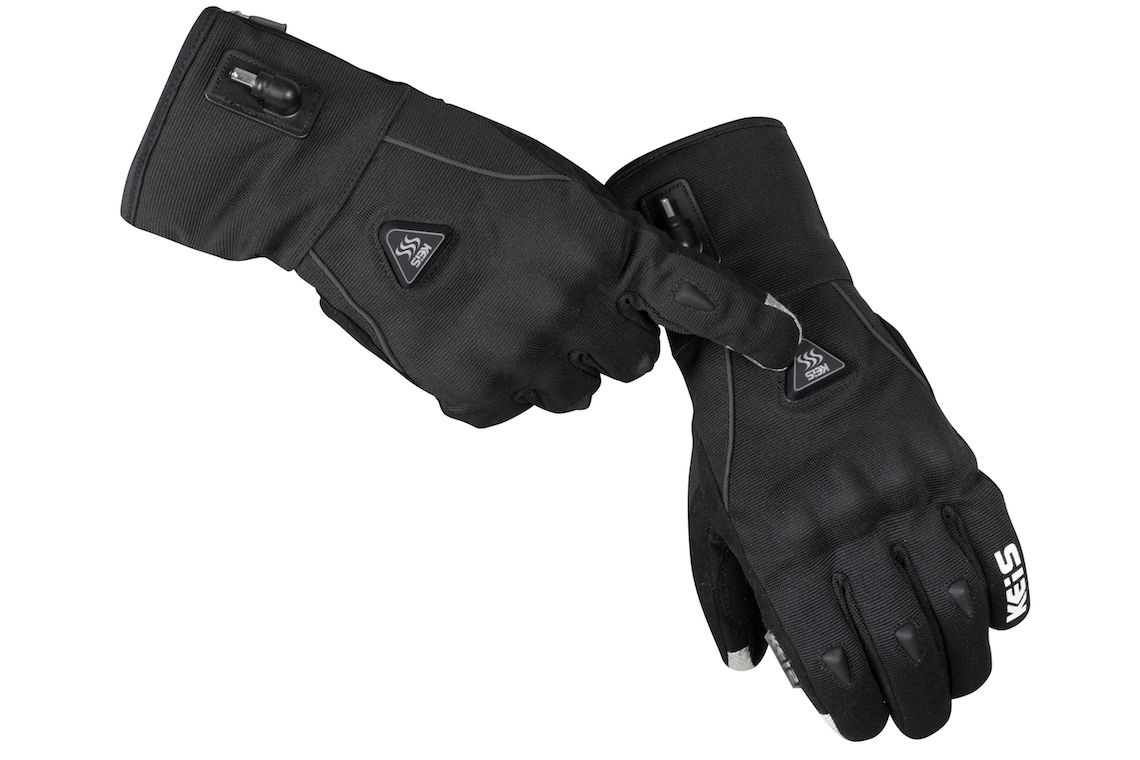 When it comes to winter riding in the UK, heated gear is an essential part of my riding set up, and heated gloves are key to that. Suffering from cold, numb hands is not only a miserable experience, but it will also reduce your reaction times and the control you have over your motorcycle.
However, slip on a pair of Keis G701S 'Shorty' gloves and your hands need never suffer again. Unlike many gauntlet-style heated motorcycle gloves, the Shorty has been designed to fit underneath tight-fitting motorcycle jacket cuffs. It can either be powered directly from your bike's battery or plugged into a Keis heated jacket or vest power lead.
The waterproof gloves provide plenty of tactile feel on your bike's controls, and they are made from Ballistic Spandex and nylon for safety and comfort.
Ducati TK-01RR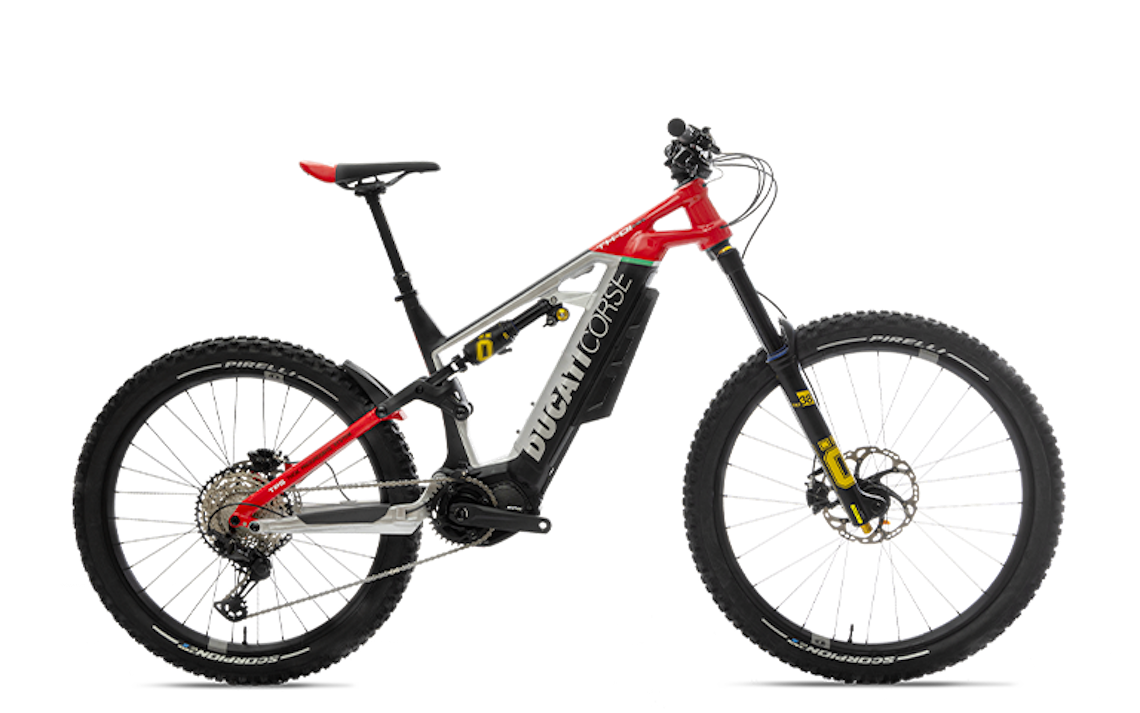 If you plan to indulge in plenty of mince pies and mulled wine this Christmas, then finding a present under the tree to help tackle an expanding waistline can only be a good thing. Step forward the TK-01RR e-mountain bike from Ducati, your greatest ally in working off those extra yuletide calories.
This sensational piece of kit is no ordinary bicycle though. Armed with a Shimano 250W EP8 electric motor that makes 85Nm of torque, it'll power you up steep climbs with ease, before its hi-spec Ohlin's suspension and grippy Pirelli tyres have you carving your way down any hillside.
Or if, like me, you don't plan on tackling any mountains on your Boxing Day constitutional, Ducati's electric mountain bike is the perfect tool for exploring local bridleways through the countryside that are off limits to your motorcycle.
The bike's aluminium frame, Renthal bars, and rugged 29" wheels have all been designed to eat up the trails while that electric motor helps power you forward when you run out of puff. If your new year's resolution is to get fitter, healthier, and spend more time outdoors, there's no better tool for the job than Ducati's premium e-mountain bike.
Jackery Solar Generator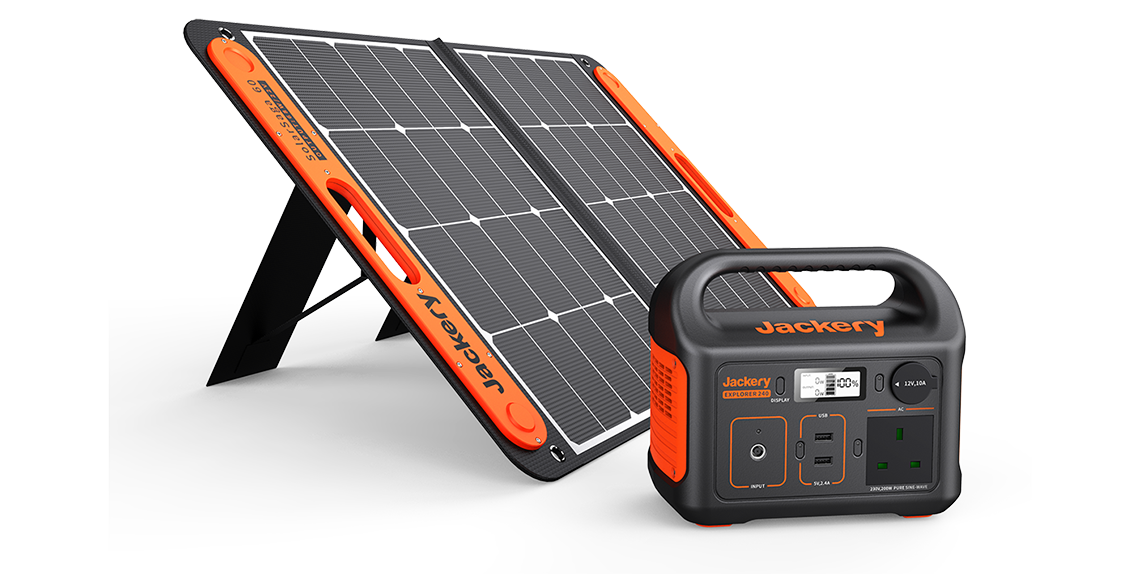 Picture the scene. You're off-grid next summer. Just you, your bike, and the wilderness, away from life's hassles and worries. It's perfect, right? But there's a problem. And that problem is a lack of power. We don't mean on your bike; we mean your ability to charge up life's essentials.
While wild camping can be a life-affirming experience, there are plenty of us who also like to be able to charge a phone, laptop, action cameras, or a drone while we're on the road. But, as we all know, battery life in devices like these can be frustratingly short.
Step forward Jackery's Solar Generator. Consisting of a portable power station and easy-to-use solar panels, it comes in a range of sizes and capacities. So, whether you've got your life packed into a set of panniers, or you've set up camp next to your van with a trail bike inside, there's no need to run out of electricity.
And, because you're getting your juice from solar power, you can charge and use your devices in remote places safe in the knowledge that you're being as good to the environment as the environment is being to you.
Desert Fox Motorcycle

Mini Compressor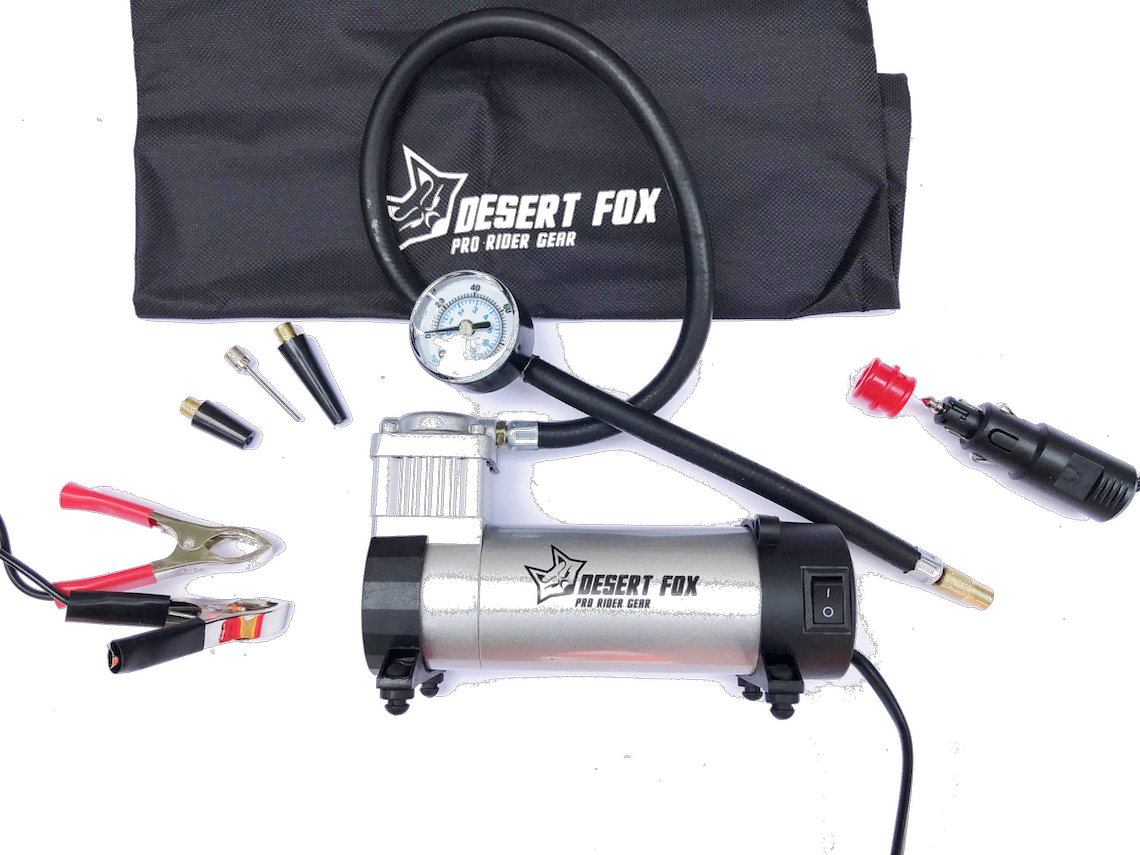 Whether you're touring the Alps or exploring the Trans Euro Trail for a few days, space is usually at a premium when we travel by motorcycle. However, one piece of gear I always carry on tour is a pump in case I get a puncture, even if it does take up a lot of space in my panniers.
Thankfully, Desert Fox has put an end to my packing woes with its Mini Compressor, which is so compact, it measures about the same size of a can of Red Bull. But, despite its diminutive appearance, the 12V DC air compressor still packs enough punch to inflate the rear tyre of a BMW R 1200 GS to 2 bar of pressure (29 PSI) in just 90 seconds, and it has a maximum capacity of 8 bar (116 PSI). Handily, it also has a built-in pressure gauge.
The Desert Fox Motorcycle Mini Compressor is made from die-cast aluminium with stainless steel valves. For power, it can be connected to your bike's battery using crocodile clips, or plugged into a cigarette, Hella, or DIN socket. Overall, this compact and easy-to-use pump would make a valuable addition to any biker's touring set up.
Scott Ergonomic Pro DP Rain Jacket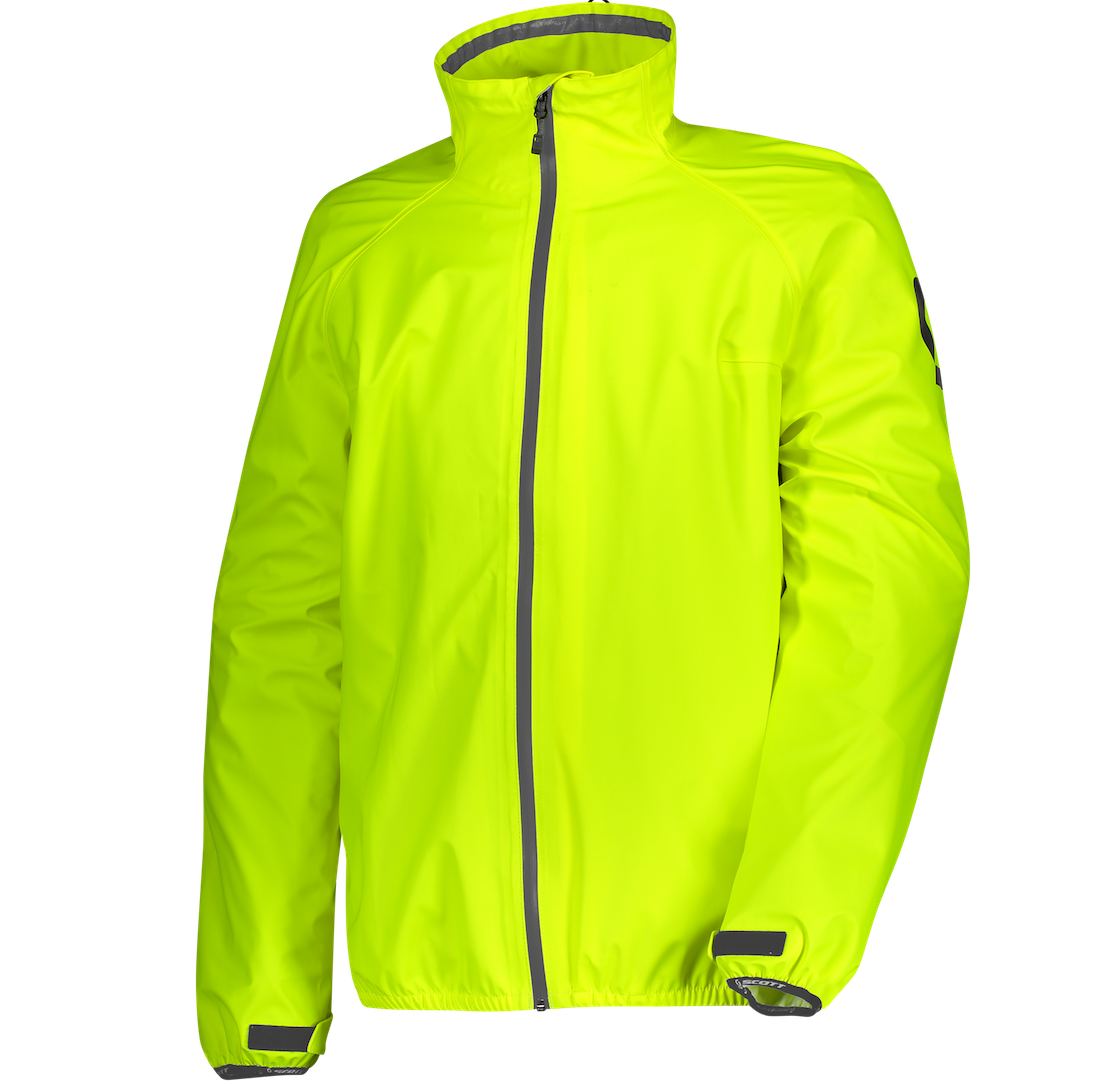 Despite the fact motorcycle gear has come a long way in recent years, the simplest and most reliable way to stay dry in the saddle is still to throw on a waterproof jacket. Yes, your expensive laminated textile suit will put up a valiant fight against torrential downpours, but at some point, it will reach its limit and the rain will find a way through.
This is why I always have a waterproof jacket tucked into a pannier when I'm on tour or commuting to work. Lately, this has been the Scott Ergonomic Pro DP Rain Jacket, and it's proved a great choice.
Not only has the water and windproof Dryosphere membrane kept me dry and warm, its stretchy material also provides a snug fit, ensuring no material annoyingly flaps in the wind. The elasticated cuffs and adjustable collar also prevent wind and rain getting inside.
The jacket comes in yellow or black and features a handy carry bag that packs down nice and small. If you're looking for a useful stocking filler, this is a great choice.
Forcefield GTech A

rmoured Clothing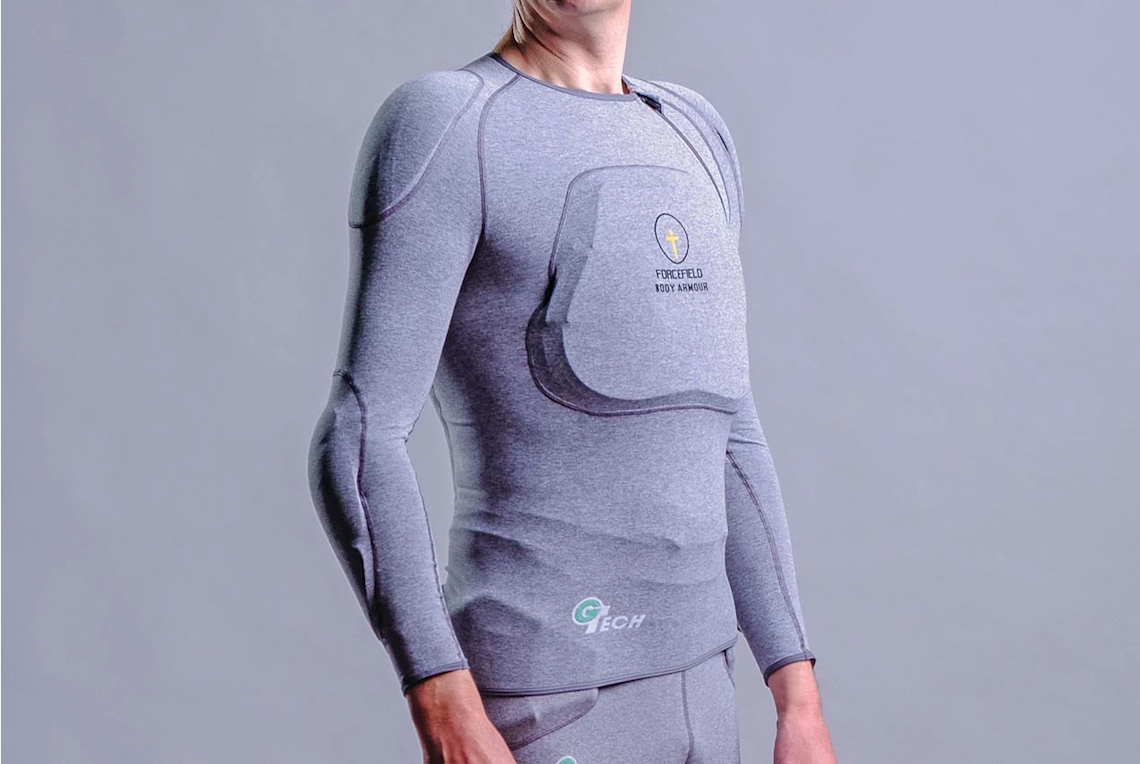 Pant from £154.99, shirt from £169.99, jacket from £144.99, limb tube from £52.99
Despite the best efforts of motorcycle manufacturers, the textile riding jackets and trousers many of us wear on our bikes can prove bulky and hot to wear in warmer climates. This is particularly true when you add in a full set of protective armour over the impact zones on your body.
A cooler and more flexible alternative is an armoured base layer, just like Forcefield's GTech armoured clothing. The range includes a jacket, shirt, pants, and knee tubes that feature either CE-level 1 or level 2 armour, depending on your preference.
The lightweight and breathable compression fit material is not only comfortable and flexible to wear, which is great for weaving around those nadgery green lanes, but it also keeps the armour securely in the correct impact zones on your body, making it more effective than traditional riding gear.
That armour is designed to contour comfortably around your body and can withstand multiple impacts. The GTech is anti-bacterial, wicking, and machine washable. Simply throw on a lightweight jacket and trousers over the top and enjoy the ride.
SENA 50S Mesh 2.0 Intercom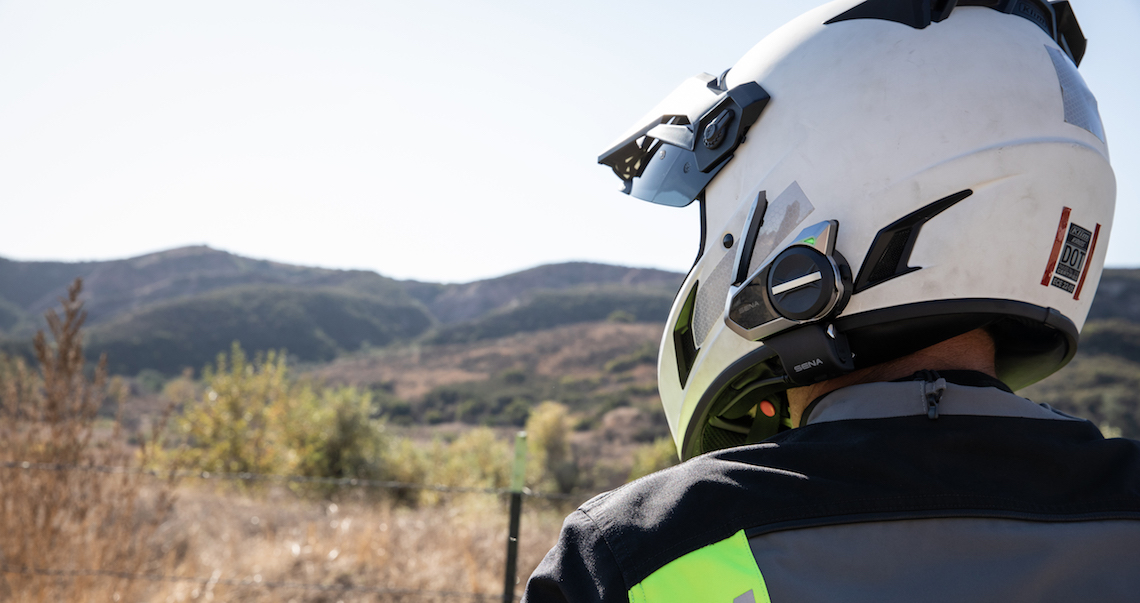 When it comes to intercoms, SENA has a reputation for making some of the best devices around that are packed with the latest technology to enhance your ride. In the 50S, it has pushed the envelope even further by creating one of the most advanced intercoms in the world.
Go back a few years, and Bluetooth was the buzz word when it came to bike comms but it had its limitations. Now the most advanced headsets, like the 50S, use Mesh (although it still supports Bluetooth). Mesh allows you to communicate over larger distances with a greater number of people, while providing a more stable connection.
SENA has also improved audio quality in its new intercom due to the fact it can now transfer more data than ever before, along with the development of new speakers that feature an increase in volume, bass, and clarity. 
But possibly my favourite feature is voice command which can connect to Google Assistant and Apple's Siri via your smartphone. This means you don't have to lift a finger from your bike's bars if you want to play a song, make a phone call, or find the nearest petrol station.
If I found a SENA 50S under my tree this Christmas, I'd be a very happy biker indeed.
Barkbusters Universal Hardware Mounting Kit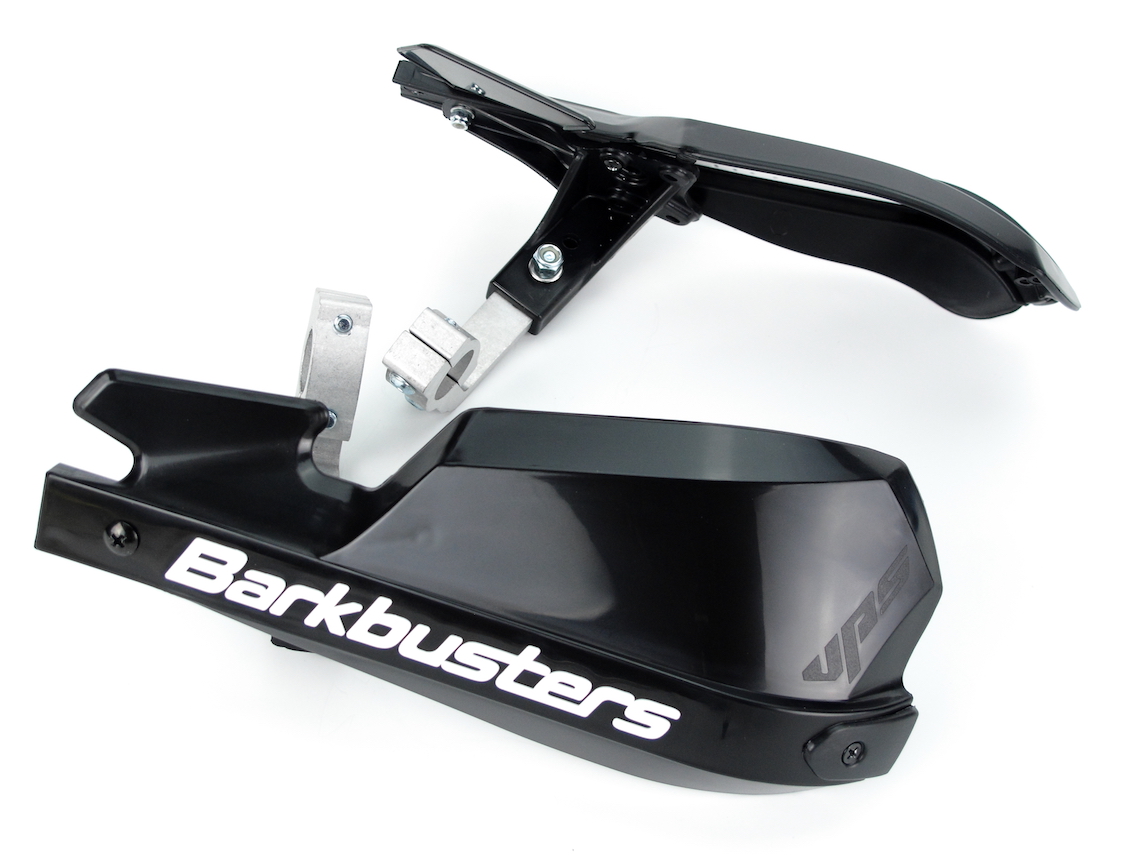 One of the most vulnerable and essential parts of your motorcycle are its front brake and clutch levers. And, whether you lose control of your bike on a rocky trail in the Alps, or drop it in a car park while trying to turn around, those levers are often the first components to break in a fall.
So, how do you protect them? With a set of Barkbusters of course. The Australian company has become synonymous with top quality handguards, and a set of Barkbusters is a highly recommended piece of kit for anyone thinking of venturing off road on their adventure bike.
The Universal Hardware Mounting Kit comprises a sturdy aluminium frame that protects your levers and hands. It is available in six styles, so you'll find one to fit almost every type of road and off-road motorcycle.
You can also choose from a selection of plastic handguards that attach to that aluminium frame, including those designed for adventure, street, and enduro bikes, in the colours of your choice.
So, whether you're planning to take your bike on the trails, or a Sunday ride through the Cotswolds on Boxing Day, a set of Barkbusters is a shrewd investment to protect your pride and joy.
SHAD TERRA Aluminium motorcycle luggage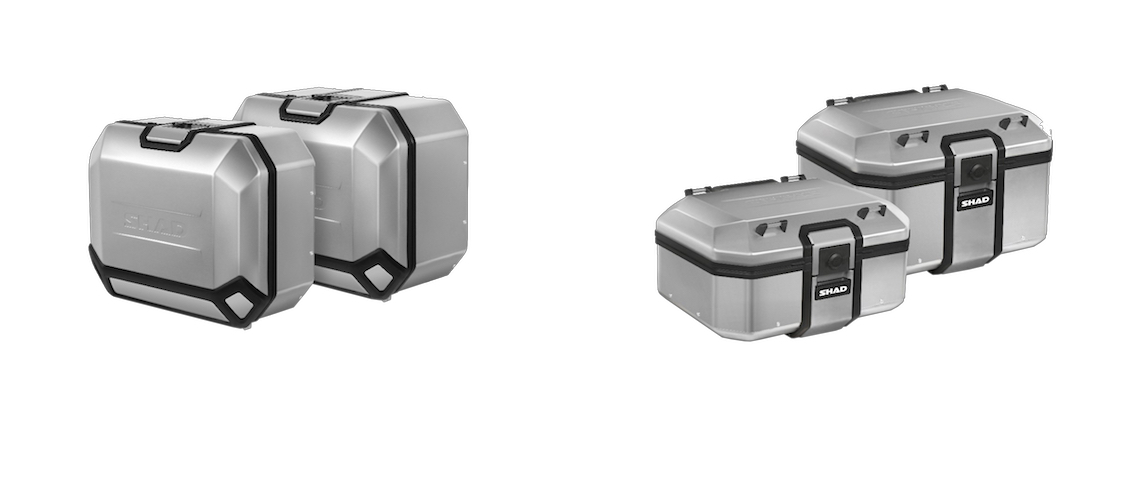 Hard or soft luggage? If you ask a room full of adventure bikers which is best, I guarantee a heated debate would follow. For what it's worth, I'm a hard luggage kind of guy and Spanish company SHAD make some of the best around.
This includes its new range of waterproof TERRA aluminium cases which are designed, engineered, and made in Barcelona. In terms of looks, SHAD has managed to elevate your standard aluminium boxes by adding some subtle style and panache with plenty of curved edges and a two-tone black and silver colour scheme.
You can choose from a 37l or 48l top box, and 47l or 36l panniers so there's plenty of room to store your kit as well as your pillion rider. And, with the cases opening sideways, SHAD has thoughtfully added a parcel tray and mesh restraint system to hold your belongings neatly in place.
Other features include the fact just one key will open a full set of Terra luggage, as well as an integrated carry handle, and external tie down hooks so you can strap a tent or extra bag down with ease.
T.ur G-Four Gloves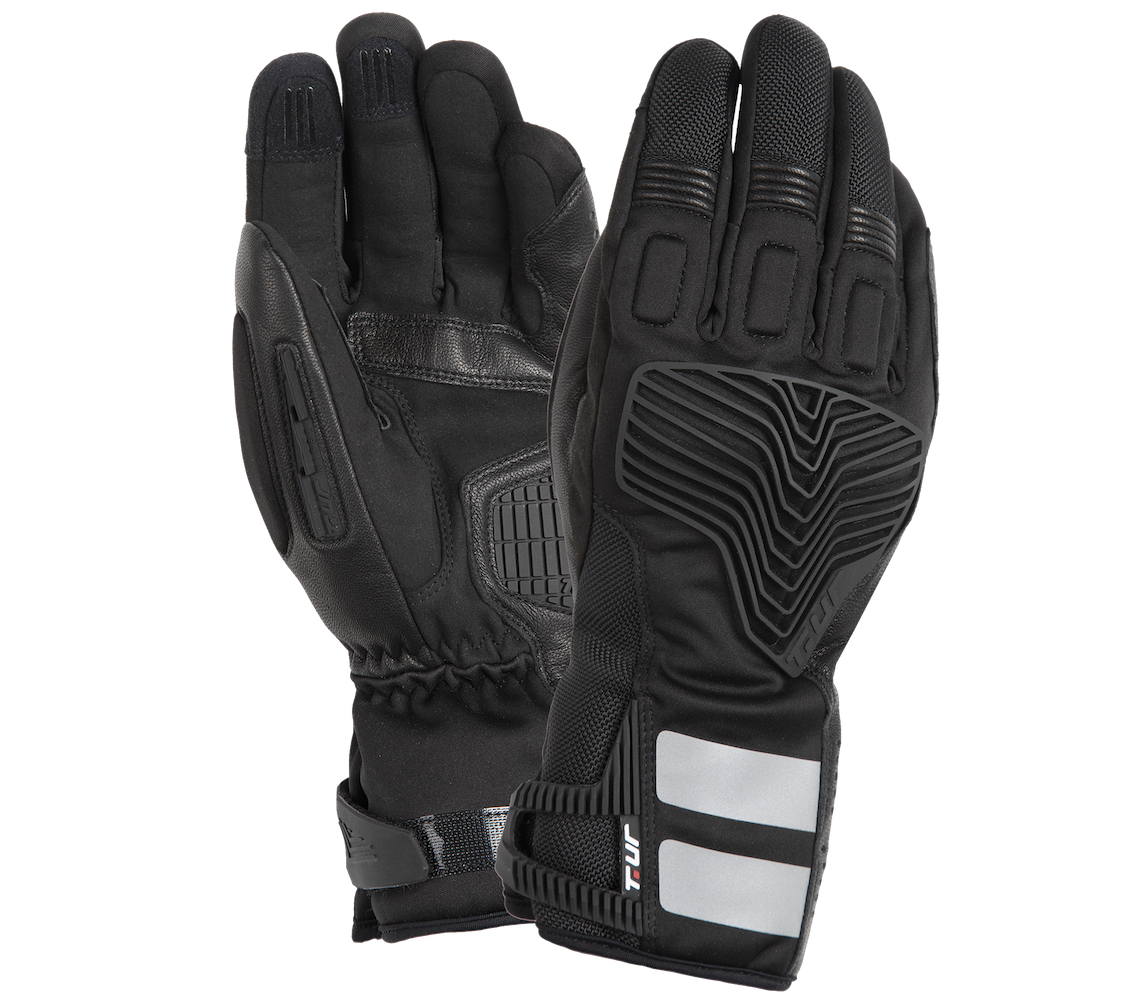 For those of us who ride through the winter, a warm and protective pair of gloves is an essential piece of kit. Experiencing cold, numb, and wet hands isn't only uncomfortable, it also reduces the control you have over your bike and slows down your reaction times.
Italian brand T.ur will help avoid this with its new G-Four winter gloves, made from synthetic suede and goatskin leather. The affordably priced and stylish piece of kit packs plenty of features to keep your hands warm, dry, protected, and comfortable.
This includes a nifty piece of insulation technology called a Thermore Thermal Booster which reacts to the ambient temperature and gets warmer as it gets colder outside. There is also a fluffy fleece lining, along with a microfibre lining on the palms and fingers to improve sensitivity at the controls. And a waterproof and breathable layer will ensure your hands stay dry.
Protection comes in the form of armour on the back of the gloves, as well as on the palms, and knuckles. Handily, there is also a curved visor wipe to help you clear rain, crud, and bugs from your visor. The T.ur G-Four winter glove is available in sizes ranging from small through to 3XL.
Solar and Overland Power Bank Bundle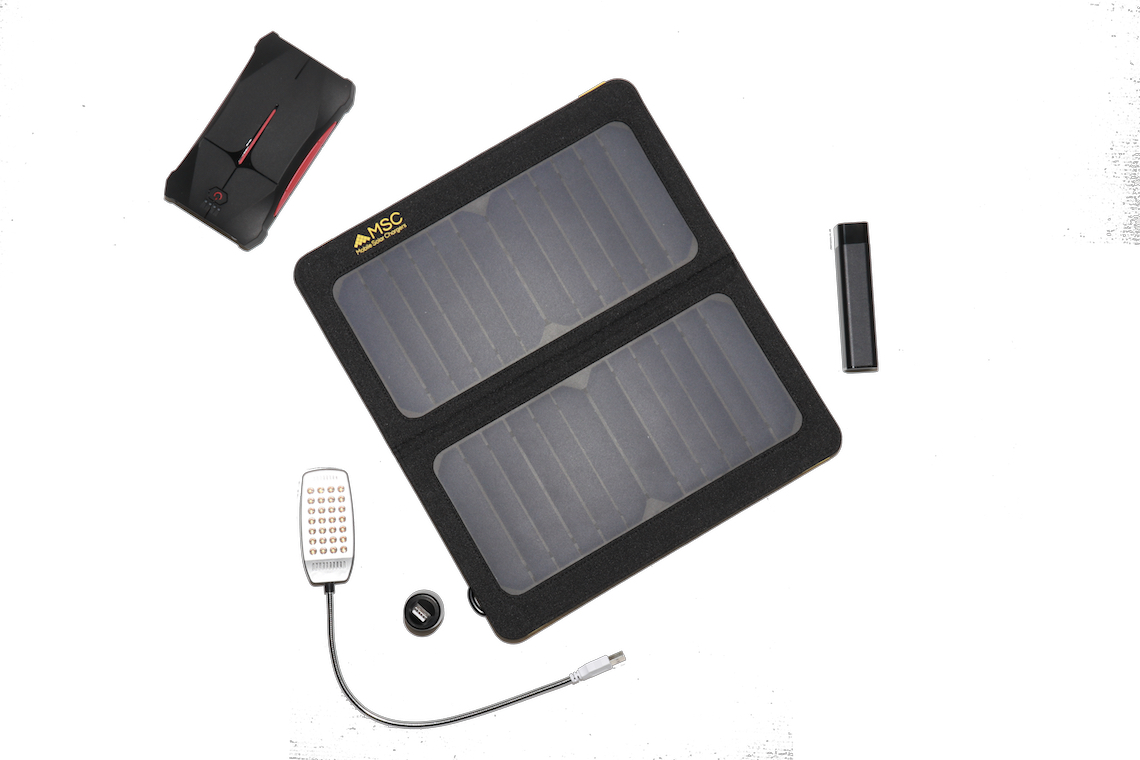 Rewind a decade or so, and the only electronic devices I travelled with were a mobile phone for emergencies, and a compact camera to take photos of my travels. How things have changed.
These days I find myself taking away a SatNav, a smart phone, an intercom, action cameras, and any other power-hungry device I've decided I can't live without for a couple of weeks. While I'm not sure I'd call this progress, it does mean I need to do a lot of charging, which can prove tricky when I camp and don't have access to a power socket.
This is where the Solar and Overland Power Bank Bundle proves so handy. It includes a solar panel charger, a power bank, and a USB LED torch. Simply clip the solar charger to your bike in the morning (fixing it to a top box or bag will do the trick) using the carabiners included, and let the sun charge up the water-resistant power bank. This can then be used to charge your electronic devices.
The power bank can also be used to jump start your motorcycle's battery, as well as doubling as a torch. The Solar and Overland Power Bank Bundle all packs down into a touring-friendly sized kit that easily slips into a pannier or top box. 
RST X-Raid Backpack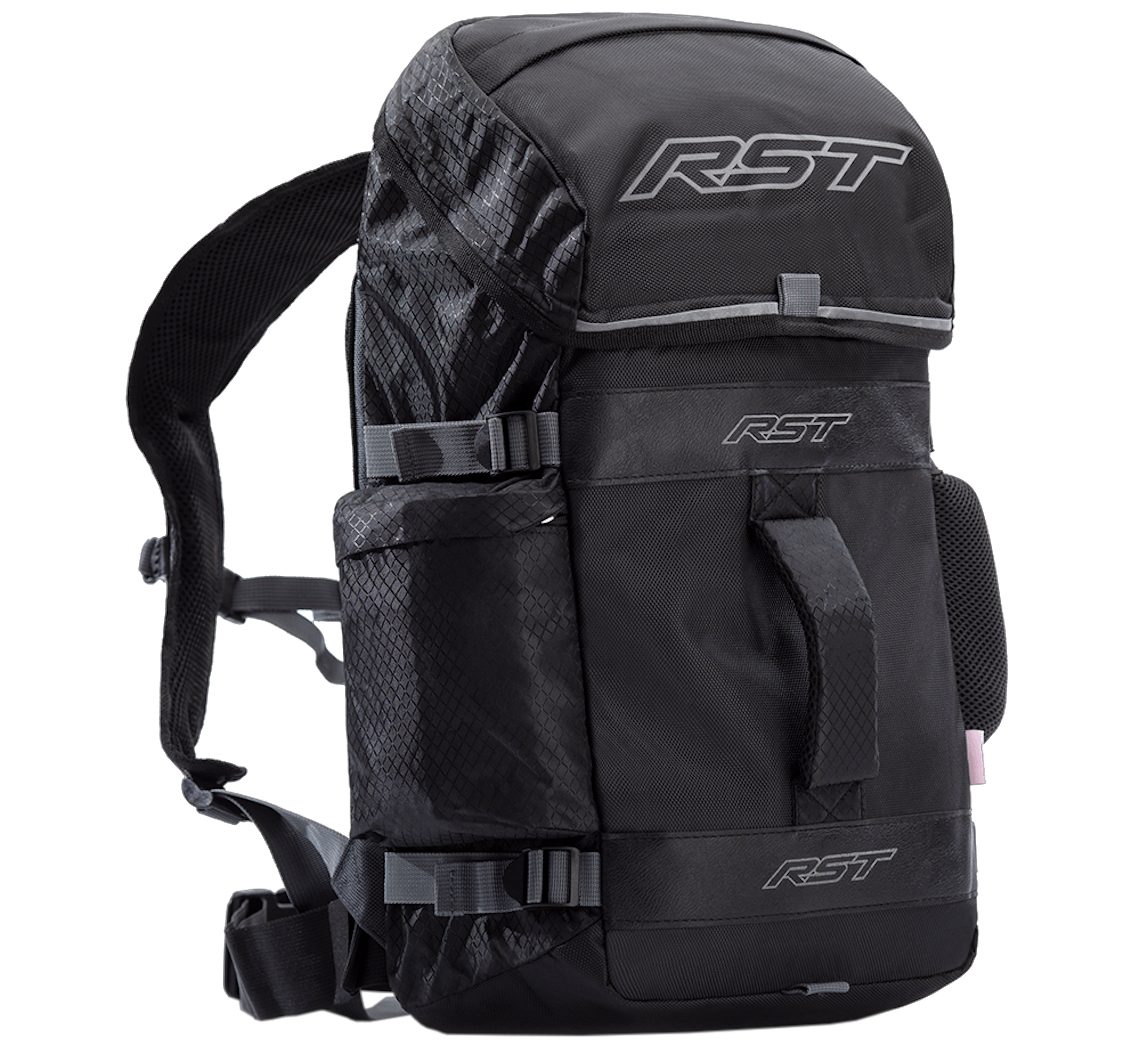 When I'm commuting to work or heading off on a day ride, I'll usually leave my motorcycle luggage sat in the garage and strap on a backpack instead. Sure, for longer distance journeys, I'll attached my aluminium panniers to my bike, but for shorter jaunts, the convenience of a backpack is hard to beat.
And when I do head off on tour, I usually take a backpack with me so I can carry some essentials with me off the bike when I'm exploring on foot. In the Raid Backpack, RST has come up with cracking design tailormade for both these scenarios.
The 22.5l capacity provides plenty of storage without the bag feeling unwieldy, and there are chest and waist restraint straps to ensure a secure fit.
The Raid Backpack also boasts a selection of inner and outer pockets to keep your belongings in order and within easy reach. And it is made from a durable jacquard fabric that will stand up to the rigours of life on the road.
So, whether you're looking for a stylish, well-designed backpack for short trips, or you're in need of some extra packing space on tour, the Raid Backpack would make a great choice.
Cardo Packtalk Bold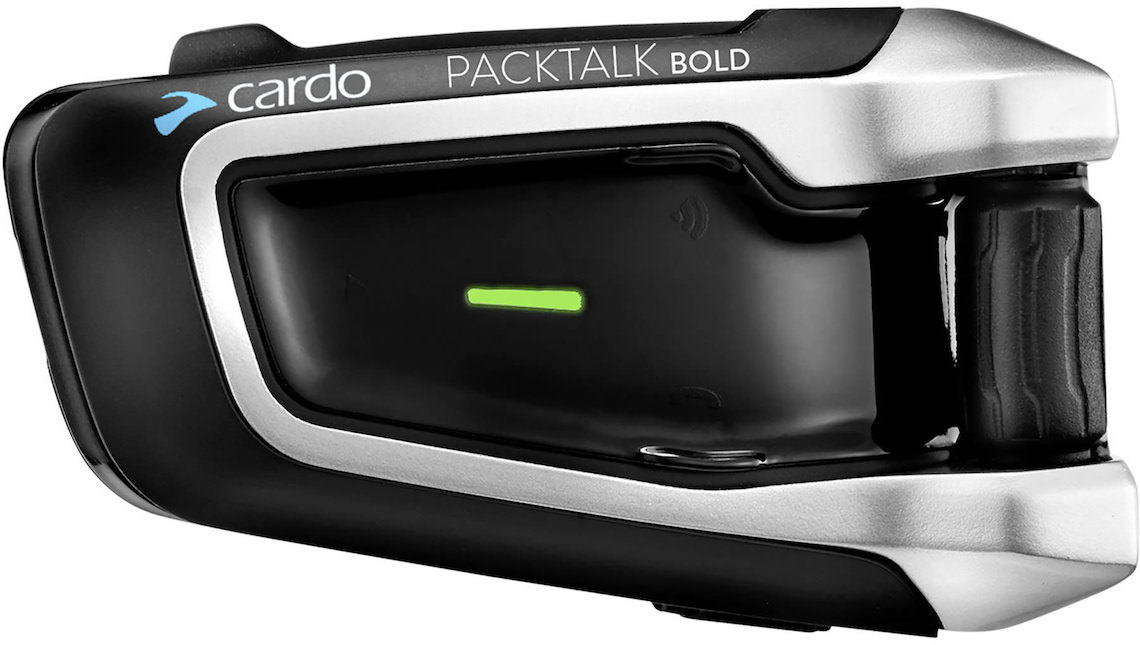 Cardo is one of the market leaders when it comes to motorcycle intercoms, and in the Packtalk Bold, it produces one of the best around.
In fact, I've been using a Packtalk Bold for a couple of years now and it has proved to be a fantastic and reliable piece of kit. Whether I've been wiling away long motorway journeys listening to music through the excellent JBL headphones, or talking to my wife (who also has a Cardo) about where to stop for lunch on two-up journeys, it has become an essential piece of riding gear.
Once my Cardo is connected to my phone, I use the voice command feature to make calls, get directions, or listen to the built-in FM radio. And with a whopping 13 hours of talk time and one-week standby time, it's rarely out of juice.
The Packtalk Bold uses both Bluetooth and Mesh technology which means you can reliably connect to up to 15 riders over long distances.
The volume will automatically adjust based on the ambient outside noise, and perhaps best of all, the Packtalk bold is waterproof. Trust me when I say I've used it in some foul weather and it hasn't missed a beat.
ProGrip Sunglasses

£35.99 or £59.95 for two pairs
With Christmas just around the corner, it may seem an odd time to be thinking about buying sunglasses. But bear with me because a pair of sunnies, like those made by ProGrip, is an incredibly useful addition to any biker's winter riding kit.
The reason for this is the fact the sun sits so low in the sky here in the UK at this time of year. So, on those clear, crisp winter days when you suit up and head off on a Sunday ride, you may well find yourself travelling directly into bright sunshine, or picking up plenty of glare from the road.
An internal sun visor might do the job, but experience has taught me these vary in quality, and my Arai adventure helmet doesn't have one at all, so I always carry a pair of sunglasses in my pocket to protect my eyes and improve my vision of the road ahead. That and the fact they look pretty cool.
With this in mind, ProGrip sunglasses are made especially for bikers from a lightweight yet durable plastic frame and a multi-layered mirror lenses, featuring an anti-UV filter. They come in a range of colours and will make a stylish and very useful stocking filler.
Atlas Throttle Lock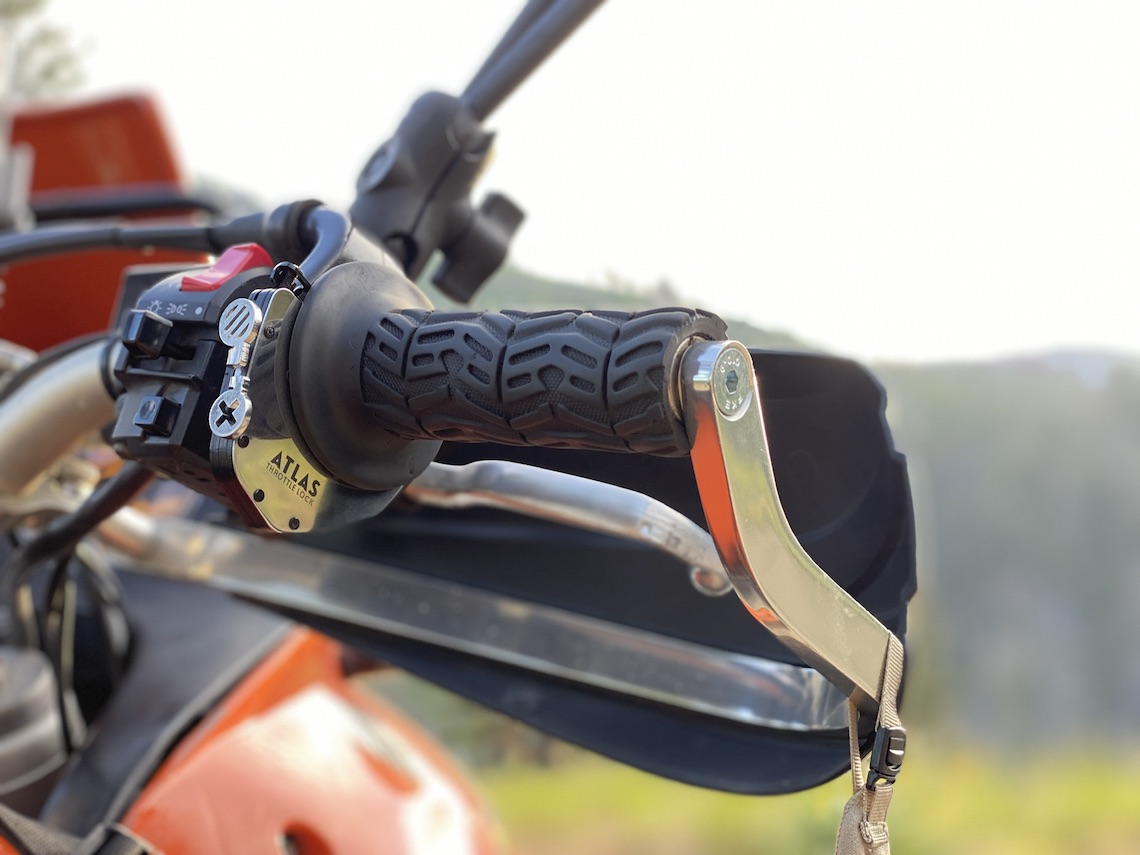 Cruise control is one of those accessories I wished came as standard on all adventure bikes, but sadly it doesn't. I find the longer distances I ride, the more I come to appreciate being able to relax my right wrist, and I'm always disappointed when I tour on a bike without the function.
If your motorcycle doesn't have cruise control, chances are you'll be able to add it as an optional extra but this can prove costly. This is where the Atlas Throttle Lock comes in. The innovative piece of kit is basically a mechanical cruise control that holds your throttle in a steady position and your bike at a constant speed.
If you want to disengage it, simply hit an easy-to-reach button with your thumb. Alternatively, if you want to change your 'cruise control' speed, you can do that too. Just roll your throttle forward or back to speed up or slow down, and a friction pad inside the Atlas Throttle Lock stays in the position you want it to be in. Clever stuff.
And, if you're lucky enough to have more than one bike in your garage, the device can quickly and easily be switched between motorcycles in about five minutes. 
Hepco & Becker Xtravel motorcycle luggage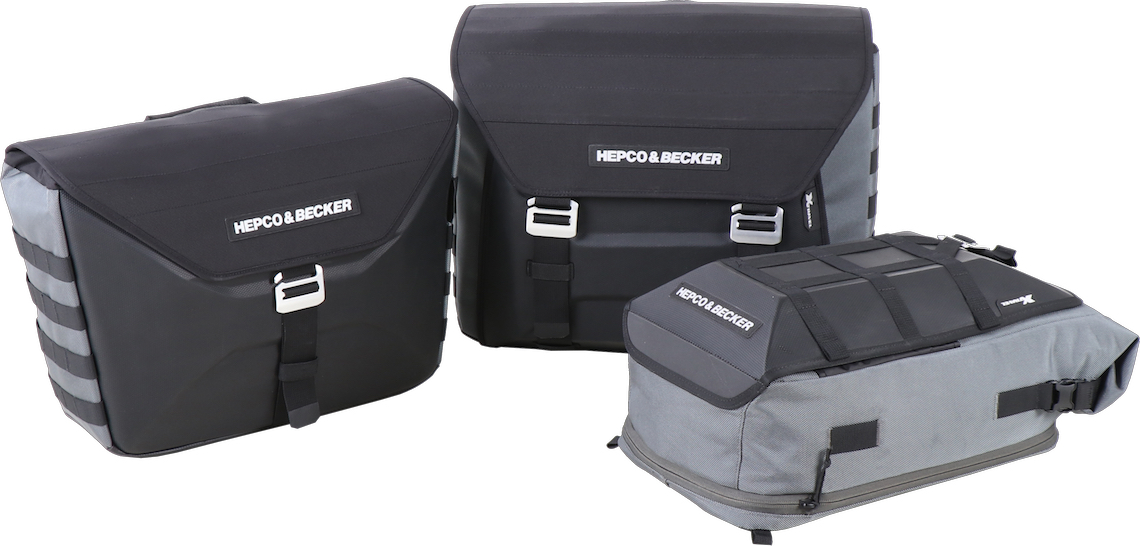 German company Hepco and Becker began life in 1975 as a one-man business and has grown to offer a wide variety of quality hard and soft motorcycle luggage for a range of bikes.
It's new Xtravel range has been designed for all aspects of adventure riding, whether you're kicking up dust on Spanish trails, carving along Alpine passes, or enjoying a weekend ride in the Cotswolds. 
The range of waterproof soft side cases and rear bag is both stylish and robust, making it suitable for adventures on and off the tarmac. The luggage system and associated holding plates features a universal fit, which is suitable for most bikes. 
The Xtravel C-Bow side bags, for example, provide 25l of storage, feature an easy-to-use closure system, and come with a convenient carry handle. So it's easy to take the luggage off your bike and up to a hotel room while on tour.
Ultimate Pressure Washer Motorcycle Bundle
We call our motorbikes our 'pride and joy' for a reason. If we look after them, they'll look after us. That includes keeping them, clean, shiny, and in good working order. This is especially important during winter when salt encrusted road crud picked up on even a short Sunday ride will eat away at your bike if it isn't washed off.
So, to help keep your motorcycle looking showroom new, put the Ultimate Pressure Washer Motorcycle Bundle from Muc-Off on your Christmas list. The pressure washer has been built especially for motorcycles, and features three different lances to protect bearings and surfaces, and prevent damage.
Pair the pressure washer with the snow foam lance, and Muc-Off bike cleaner, and you've got a faff-free, safe, and fun way to clean you bike. Inside the bundle you'll also find Muc-Off's Nano Tech Cleaner and Concentrate, Muc-Off Motorcycle Protectant, MO-94 Multi-Use Spray, two expanding sponges, two microfibre polishing cloths, and a Muc-Off trucker cap.
The pressure washer also comes with a dry bag carry case for easy storage and transport. We've had one at the ABR offices for a year now and it has proved a quick and easy way to keep our bikes looking good after road tests and weekend trail riding expeditions.
Bell MX-9 adventure helmet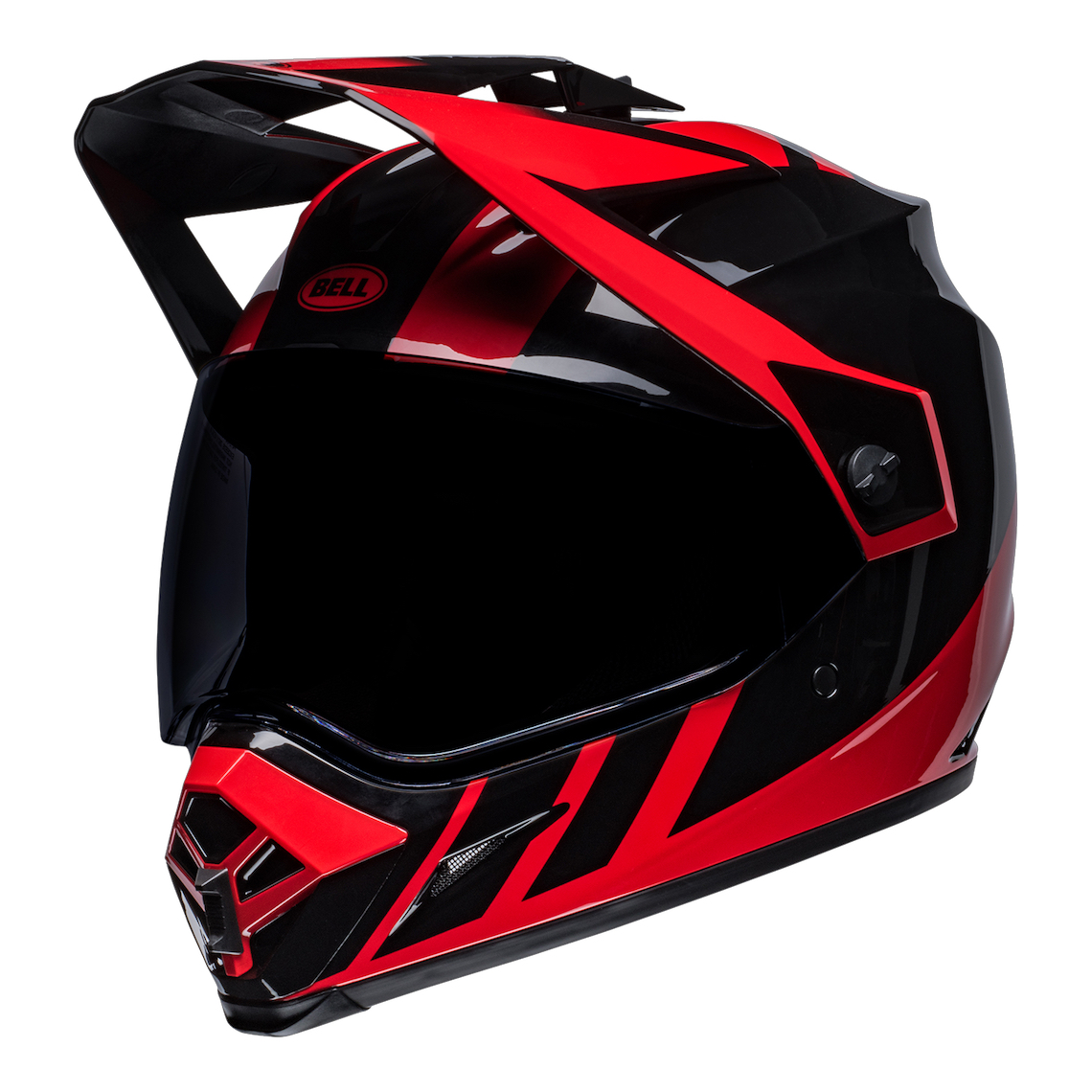 Bell has become one of the most recognisable helmet brands in the world since it emerged from the California hot rod and racing scenes back in the '50s. And, to this day, it continues to combine style, comfort, and safety in a product line that spans multiple genres of motorcycling, whether you ride motocross or you're into the retro café race scene.
For us adventure bikers, it has produced the MX-9 helmet which, with its sharp styling and raft of features, makes it a good addition to any summer tour. One of the most impressive features is the inclusion of a MIPS system, which stands for Multi-directional Impact Protection System.
This safety feature takes the form of a low friction membrane that sits between the inner liner and foam and is designed to reduce rotational forces on the wearer's head. Clever stuff.
Elsewhere, the MX-9 has a raft of features to enhance your adventure riding experience,  including a peak that is adjustable to two positions, a wide field of vision, plenty of ventilation, and a plush inner liner which is washable and anti-bacterial to help reduce pongs after you work up a sweat on the road.
The Bell MX-9 can be bought in small, medium, large, and extra-large sizes, and it comes with a five-year warranty.