When it comes to motorcycle luggage, there are few more convenient options than a tank bag.
Whether you're looking for an easy-to-reach spot to keep your documents to hand, or you want to your camera close by to snap shots from the saddle, having a tank bag in front of you certainly beats rummaging around a packed pannier or roll bag.
But not all tank bags are created equal, and some can be a faff to get on or off your bike. And then, of course, there's the fear of scratching your paintwork.
That's why I was intrigued to see that German luggage and accessories manufacturer SW-Motech has tried to solve this issue with its new tank bag locking system, the PRO tank ring. By harnessing the power of magnets, it says it has created a system that will save you time and effort when it comes to attaching and detaching your tank bag, while keeping your bag clear of the surface of your tank.
No-faff magnetic fitting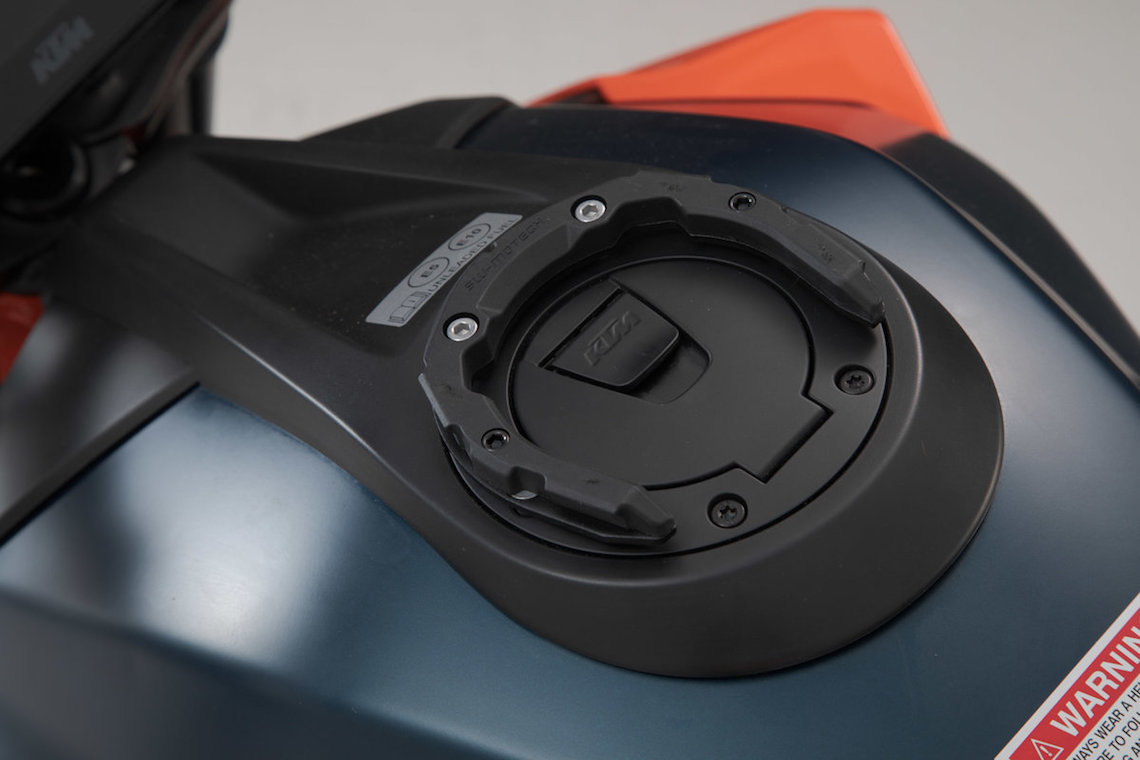 Mounting directly to the stock fuel filler cap on top of your tank, the magnetic PRO tank ring works alongside a metal ring located on the bottom of SW Motech's range of tank bags. SW-Motech saysall you'll need to do is lower the tank bag onto the ring and the magnets will kick in, fixing the two together securely, and saving you from the fiddly process of fixing it yourself.
On the tank bag, the metal ring is fitted to pre-assembled guide rails, meaning the angle and position of the bag can be changed to suit individual motorcycles. This should also make installing the system a piece of cake, as all you'll need to do is bolt the PRO tank ring to your fuel filler cap and you're away.
This all looks like it will make fitting a tank bag a smoother operation than ever before, and it's easy to see how the guiding power of magnets should help reduce faffing when clipping on a tank bag. The system should also keep the tank bags from shifting or moving around during a ride, while the single fixing point should also help to keep the bag itself from resting on your fuel tank, saving you from a collection of unsightly scratches.
SW-Motech PRO Tank Bags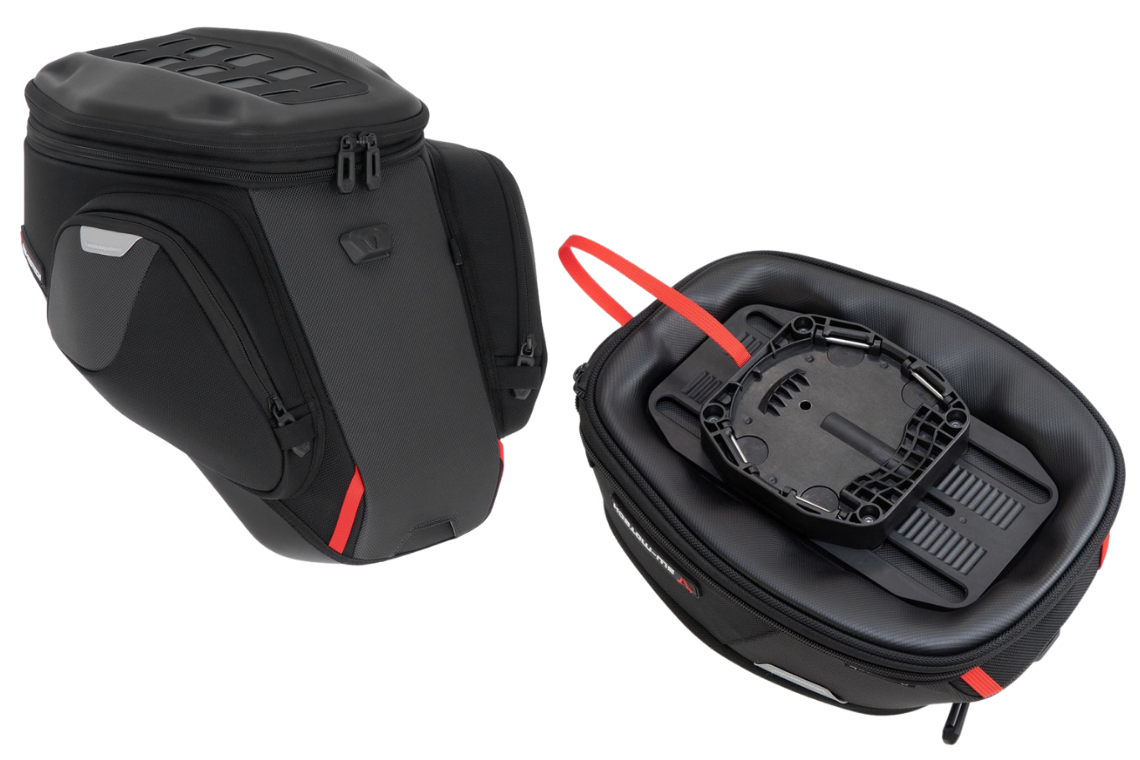 The SW-Motech PRO tank ring is fitted to SW Motech's latest range of tank bags, the PRO series.
One that's already caught my eye from the range is the PRO GS tank bag, pictured above. It's been made with the steep fuel tanks of the likes of the BMW R 1250 GS and Honda Africa Twin in mind.
And, with expandable pockets that take the volume up to 20l, a large main storage area, and two outer stash pockets, it looks like the ideal tank bag to take away on tour, when I like to keep my camera within easy reach.
On the other end of the spectrum is the PRO Micro tank bag, pictured above. With an expandable volume of up to 5l this looks like a good lightweight option for stashing my documents, ferry tickets, and my credit card when taking French toll roads for those quick weekends away when I like to pack light.
You can view SW-Motech's full PRO range on its website today and check out the motorcycle-specific range of PRO tank rings here.