James Oxley travels to Spain for the launch of the new Suzuki V-Strom 1050XT.
A good friend of mine was recently in the market for a new adventure bike. He wanted a motorcycle to perform as a reliable daily commuter, a machine he could take touring in comfort, and a bike that would handle occasional light off-roading when the need arose. Being a diligent chap, he spent many months researching and test riding all the motorcycles that took his fancy.
Part of that process involved numerous pub chats with yours truly about the pros and cons of the latest machine to catch his eye, during which I was able to provide some insight into the latest adventure bikes I'd been riding.
I raved about the Ducati Multistrada 1260 Enduro, I waxed lyrical about the KTM 790 Adventure, and I came over all dewy-eyed when I reminisced about the Triumph Tiger 800 XCx that I'd sadly had to return to the good folks at Hinckley.
To paraphrase Sherlock Holmes, these chats were usually a three-pint problem as my friend studiously asked probing questions about the bikes I'd be reviewing in ABR magazine. However, there was one motorcycle that never failed to make his eyes glaze over with disinterest whenever I mentioned it. That bike was the Suzuki V-Strom 1000.
This was a shame because, in many ways, it was the perfect motorcycle for him. Firstly, it was within his price range (his budget was limited, so any new purchase needed to be affordable to buy and run). Secondly, the V-Strom ticked all the boxes for the type of riding he does, which is predominantly longer distances on the road with a very occasional smattering of lighter trails. And thirdly, it has the proven reliability and relative simplicity he craved after the sophisticated electronics on his previous motorcycle proved so temperamental, he had no choice but to return it to the manufacturer for a refund.
Despite this, no matter how much logic and common sense I voiced, I couldn't ignite even a flicker of interest in Suzuki's big adventure bike. This wasn't because it isn't a capable motorcycle, quite the opposite.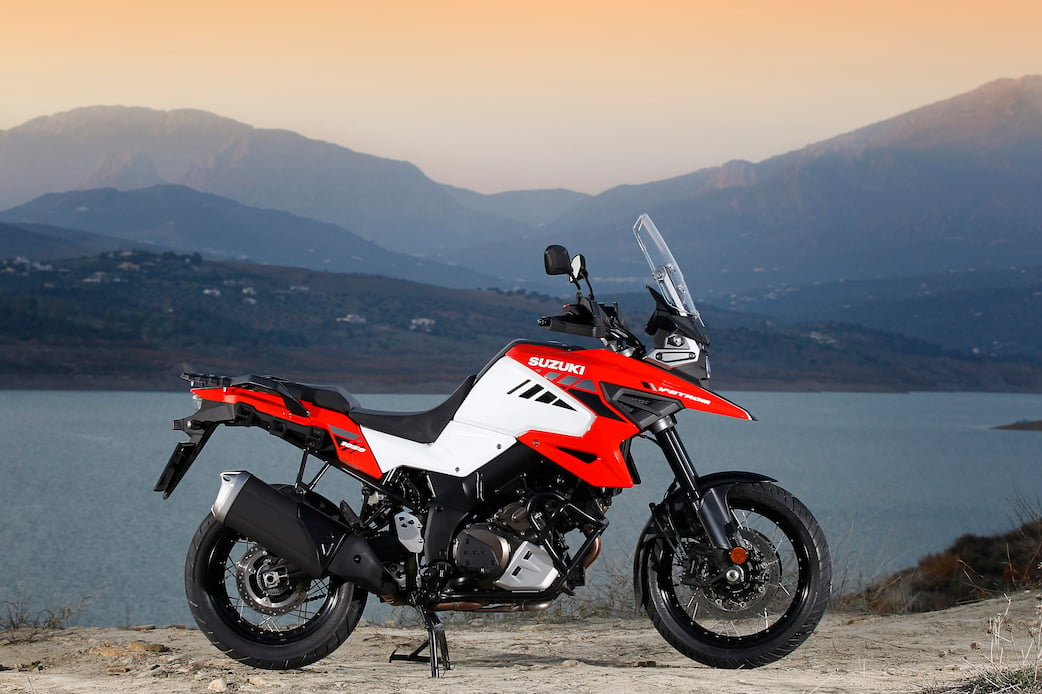 The V-Strom 1000 has proved a reliable, practical, comfortable, and fun adventure bike for many years, amassing a large and loyal following. But even the most ardent V-Strom fan must admit that it's not quite in the same league as the big adventure bikes offered by the likes of BMW, Ducati or KTM when it comes to prestige and desirability.
It was this lack of allure that was putting my mate off taking the V-Strom 1000 for a test ride. He wanted his new bike to possess a sprinkle of glamour that would draw admiring glances and make him feel special in the saddle. His final purchase needed to appeal to his heart as much as his head, and the V-Strom wasn't plucking as much as a single heart string.
Suzuki hasn't particularly helped the V-Strom's cause in this area. While other manufacturers release updated versions of their motorcycles every couple of years or so, tempting us with improved performance, looks, and technology, the V-Strom 1000 hasn't seen a major update since it was relaunched back in 2014.
True, it was tweaked in 2017, but that amounted more to a haircut and shave rather than a major transformation. And tellingly, it retained an old-fashioned LCD and analogue dash which, although perfectly functional, immediately gave the impression you were sitting on an ageing machine.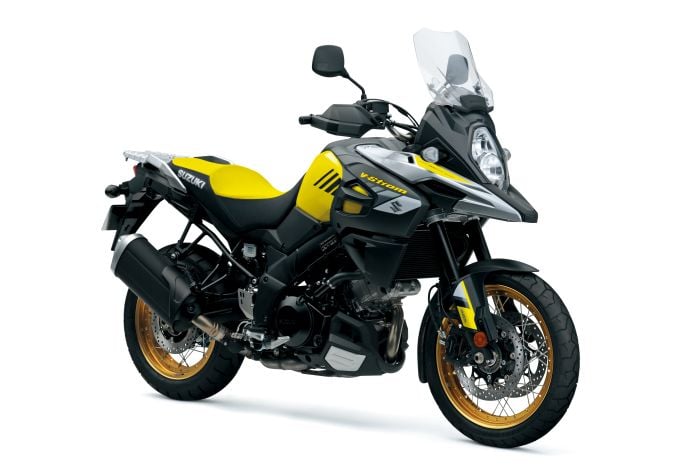 In fact, the previous V-Strom was very much a bike that prioritised function over form… practicality over pizazz, if you like (you can read our review of that bike here). Its bulbous headlight may have looked a bit dopey but it floodlit dark country lanes. Those big, rectangular mirrors could have been pinched off a 1990 Ford Fiesta but they provided excellent rear vision. And the screen may have looked as aerodynamic as a double-decker bus, but it did a solid job of protecting you from the elements.
The more pragmatic among you may not care about this, with practical considerations outweighing all others. However, for many of us (my mate included), I strongly suspect our hearts rule our heads when purchasing a motorcycle. Desirability and prestige play a big role in the decision-making process, whether we're aware of it or not.
I thought about my friend's search for a new bike as I flew to Spain earlier this year for the launch of the new Suzuki V-Strom 1050, a direct replacement for the previous V-Strom 1000. The new model is the Japanese manufacturer's attempt to bring its big adventure bike thoroughly up to date in order to compete for sales in an increasingly crowded and competitive field.
On paper at least, the introduction of sophisticated rider aids and improved looks point to a job well done, but has Suzuki done enough to make the bike appeal to people like my friend, and similar buyers, in a way the old model failed to? Has Suzuki managed to inject some desirability and glamour into the 1050, while retaining what is fundamentally a damn good adventure bike?
The first impressions were good. As I walked out of my hotel on the morning of the launch, I was met by the alluring sight of a row of new Suzuki V-Strom 1050XT adventure bikes glinting in the morning sun. It was an impressive line-up and one that was attracting plenty of admiring looks from the assembled journalists as well as other hotel guests. It was an early indication that Suzuki may have overcome the V-Strom's hitherto bland image.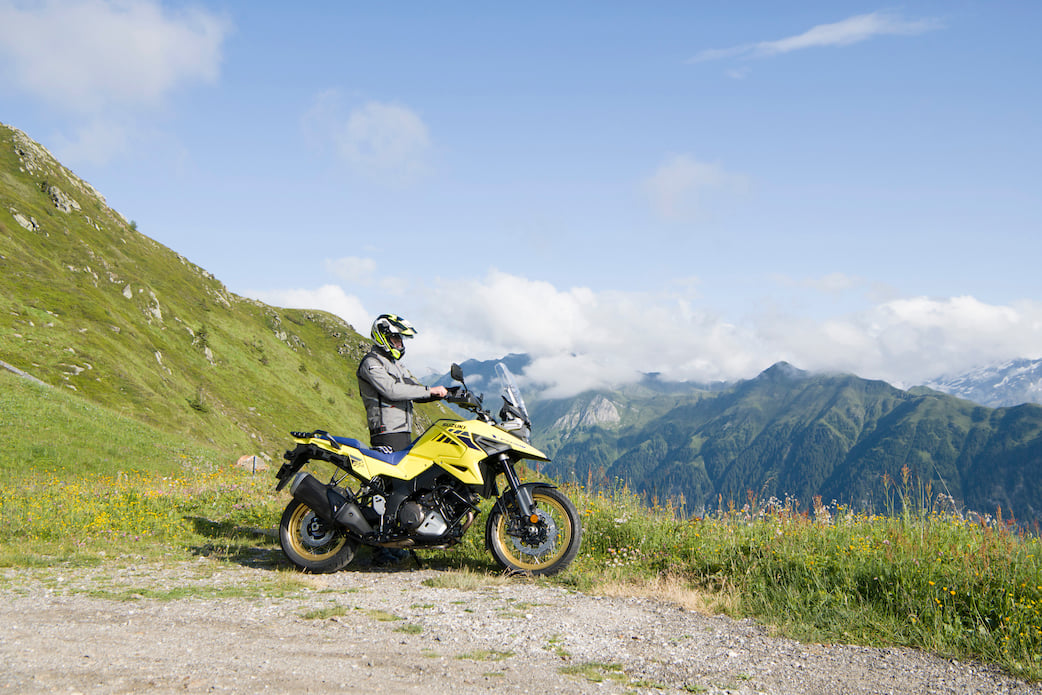 Styling
The previous evening, a group of Suzuki designers went to great lengths to explain how they had drawn inspiration from Suzuki's DR-Big and DR-Z desert racers of the past when styling the new V-Strom.
It was clear Suzuki believes heritage is a big selling point for adventure bike buyers, and who can blame them, with reinventions of classic models like the Honda Africa Twin and the Yamaha Ténéré selling so well in recent times.
The result of all this nostalgia is a handsome-looking V-Strom with more than a hint of retro styling. Gone is the bulbous, oval headlight which has been replaced with a vertically stacked, LED, hexagonal unit. The fairing and fuel tank have been redesigned with sharper lines, along with the mirrors and screen.
Overall, the V-Strom feels like it has grown out of the awkward, gawky phase of the previous model and has blossomed into a fine-looking motorcycle. Unfortunately, the chunky, rather clumsy-looking exhaust is a hangover from the old bike, which is shame.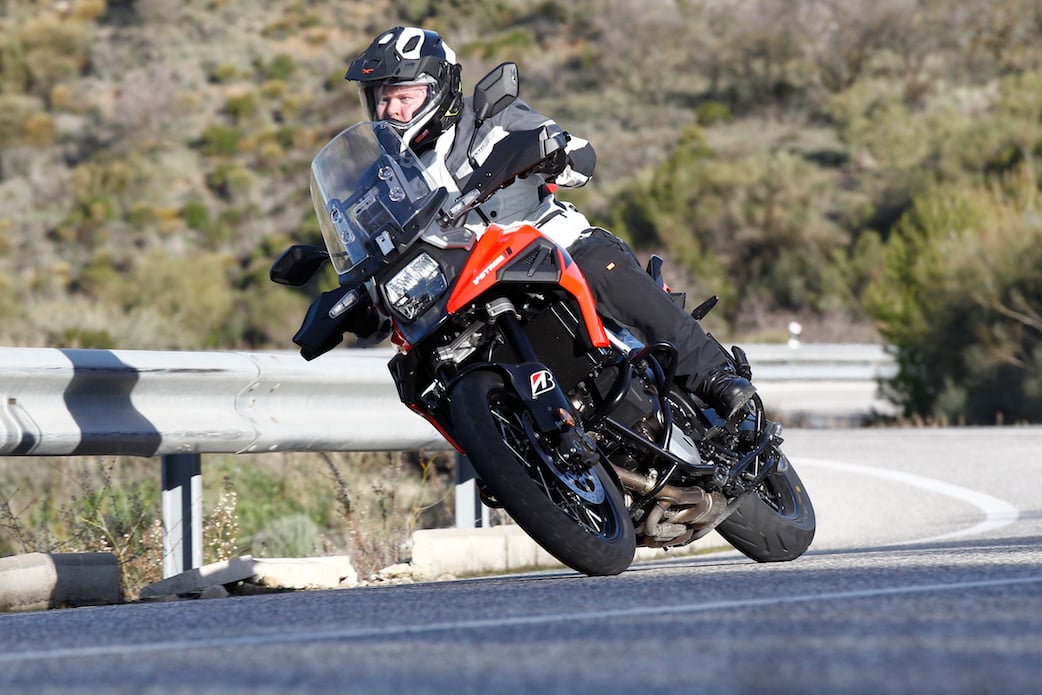 A choice of models
The latest incarnation of the V-Strom comes in two models. You can choose between the modestly equipped standard 1050, costing £9,999, or the all-singing, all-dancing 1050XT priced at £11,299. Suzuki only made the higher-spec XT version available to ride at the launch, so I'll be focusing on this.
Both versions are fundamentally the same motorcycle, sharing the same aluminium chassis, engine, 20l fuel tank, and suspension. The XT benefits from more advanced electronics, spoked wheels, a host of accessories such as handguards, a centre stand, and engine bars, along with a few styling tweaks, including new slimline mirrors and LED indicators.
It's a shame the standard 1050 wasn't available to ride, because at £9,999, it represents excellent value for money. In fact, both new versions of the V-Strom are competitively priced compared to similar-sized rivals like the standard Honda Africa Twin (£13,049) and the base model Ducati Multistrada 950 (£11,895).
The standard 1050 will also offer people considering smaller machines, like the Yamaha Ténéré 700 (£9,145) and the V-Strom 650 (£7,599) an affordable, more powerful option. However, the new Triumph Tiger 900 (from £9,500) will be giving the 1050 a run for its money, I'm sure.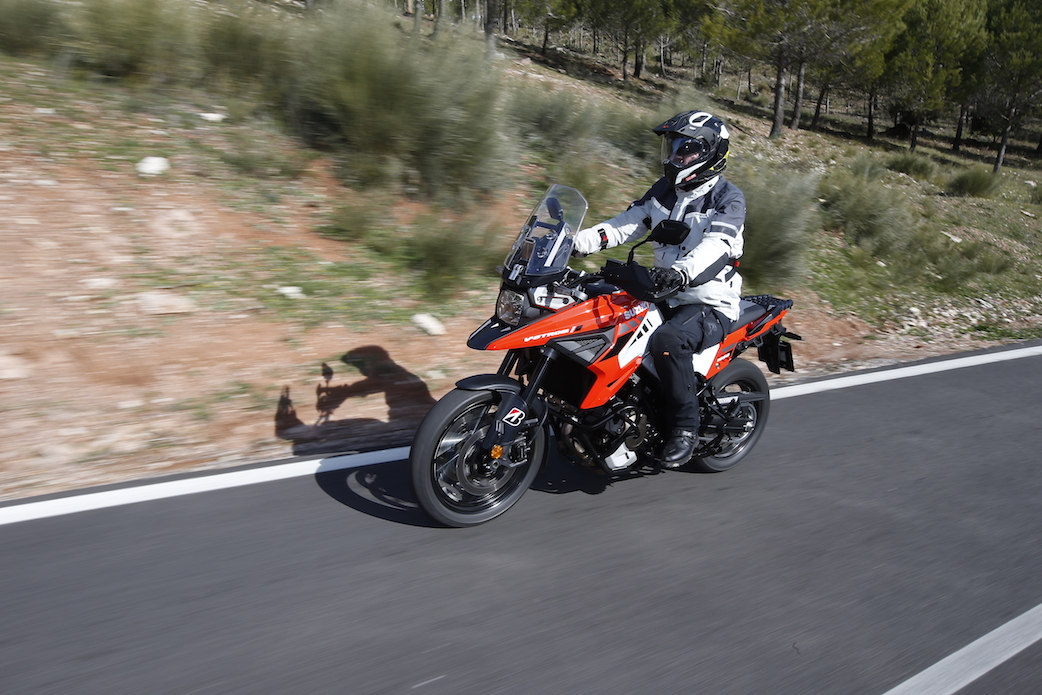 First impressions
New bike launches tend to fall into a familiar routine. After pulling away from the hotel in the morning, there's a period spent on relatively straight roads to give the journalists a chance to familiarise themselves with the bike and its controls. It's during this time I make a mental note of a motorcycle's ergonomics, scroll through various menus, and fiddle with the screen and mirrors.
In terms of the seating position, the V-Strom 1050XT provides that classic upright adventure bike pose. At 6" tall, the hands, backside, feet triangle was pretty much perfect for me. Personally, I dislike leaning too far forward on a motorcycle, so I was relieved to find the V-Strom's handlebar positioned high enough for a commanding upright stance. In fact, I experienced no aches and pains during the entire day of riding, even my notoriously fussy backside issued no complaints about the V-Strom's well-padded seat.
As I accelerated to 70mph and beyond on a busy dual carriageway, I was impressed at how the bike's screen took the brunt of the wind blast. It's tall, wide, and may look like it's been bolted on as an afterthought, but it does a solid job.
It is also adjustable without tools thanks to a nifty latch mechanism which, for an unfathomable reason, Suzuki's designers positioned on the front of the motorcycle above the headlight. It means you have to get off the bike to adjust it, which isn't ideal.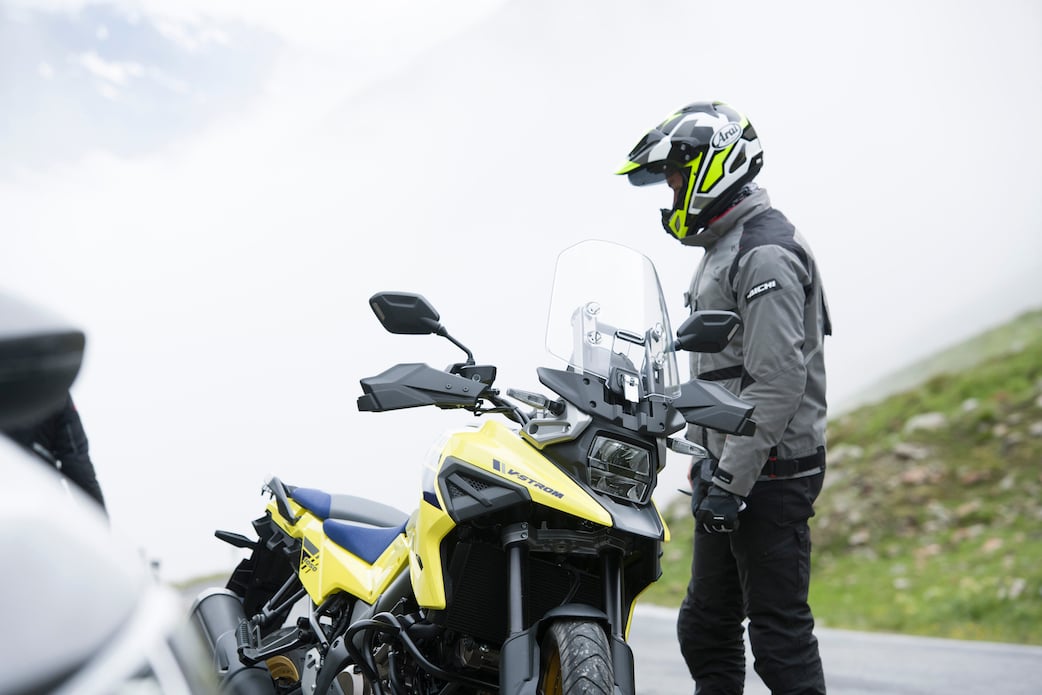 Putting this niggle to the back of my mind, I adjusted the V-Strom's large mirrors which provided plenty of vibration-free vision. I was also impressed at how easy the dash was to scroll through as I switched between rider modes and tested the cruise control.
However, I was disappointed to see that the V-Strom employs an LCD screen rather than a TFT display. Credit should go to Suzuki for creating a good-looking LCD display that provides plenty of information clearly and concisely, but no matter how hard they tried, an LCD screen can't help but look like old technology.
By the time I'd fiddled and adjusted everything I could on the bike, we neared the first photo location of the day. These stops are an excellent opportunity to test the slow-speed manoeuvrability of a bike as 20 or so motorcycles jostle for space untidily on a narrow mountain road waiting to ride past the cameras, before turning around and doing it all again.
I was immediately impressed at how lightweight the 247kg (wet) V-Strom felt moving around at slow speeds. It wasn't top heavy and I didn't once get that sinking feeling in my gut that I was about to topple over after misplacing my footing on uneven ground.
This was thanks to a relatively low 850mm-870mm seat height and the fact the V-Strom felt narrow between my legs, giving the impression I was on a smaller machine. I could plant both feet on the ground and even the vertically-challenged members of the motorcycling press didn't seem to having issues manoeuvring the V-Strom around on the mountainside either.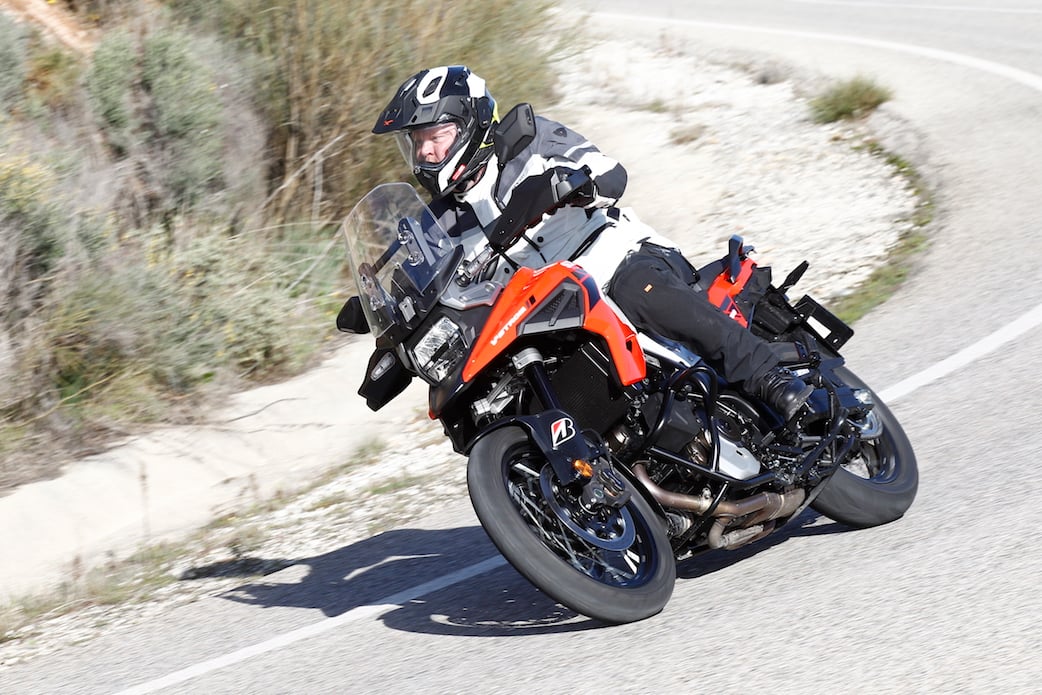 Engine
You'd be forgiven for thinking the new '1050' moniker would mean an increase in cubic capacity from the previous V-Strom 1000, but it doesn't. The engine remains a tweaked version of the 1,037cc powerplant that has propelled the larger V-Strom adventure bikes for some years now.
Suzuki's engineers did find a small increase in peak power from 99bhp to 106bhp while also ensuring the new model meets Euro 5 emission standards.
With photo duties fulfilled for now, we rode on and I began to appreciate how smooth the V-Strom 1050XT's liquid-cooled, 90-degree, V-twin engine is. It is a world away from the shake, rattle, and roll of the Ducati Multistrada 1260 Enduro I've been riding back home.
On the road, the engine proved lively with plenty of power delivered smoothly throughout the rev range to take me to the limits of safety and beyond. Give it the beans and the bike will accelerate from a standstill like a horse bolting for freedom. It'll also cruise along at motorway speeds with plenty of ponies in reserve for high-speed overtakes. The bike will also blast you over mountain passes with surges of speed that will make you grateful for the ample stopping ability of the Tokico, twin-disc, front brakes.
Compared to other bikes I've ridden lately, the 1050XT's power delivery felt livelier than the Triumph Tiger 800 I spent much of last year on, although it didn't posses the same heart-stopping thump of acceleration to be enjoyed on the Multistrada 1260 Enduro.
If the power delivery on the 1050XT isn't to your taste, you can select one of the V-Strom's three rider modes, named A, B, and C, thanks to the introduction of a ride-by-wire system replacing the previous model's mechanical throttle. Each mode noticeably changes the way the engine delivers power.
A is the sportiest and features the most sensitive throttle response, which borders on snatchy. B would be the equivalent of a touring mode with a smoother throttle, but still packs a punch. It was perfect for the mixed riding we were doing on highways and twisting mountain roads. C offers the smoothest throttle response and would be the equivalent of a rain mode, dulling the power delivery for increased safety. All the modes could be toggled between easily and engaged while the bike was on the move.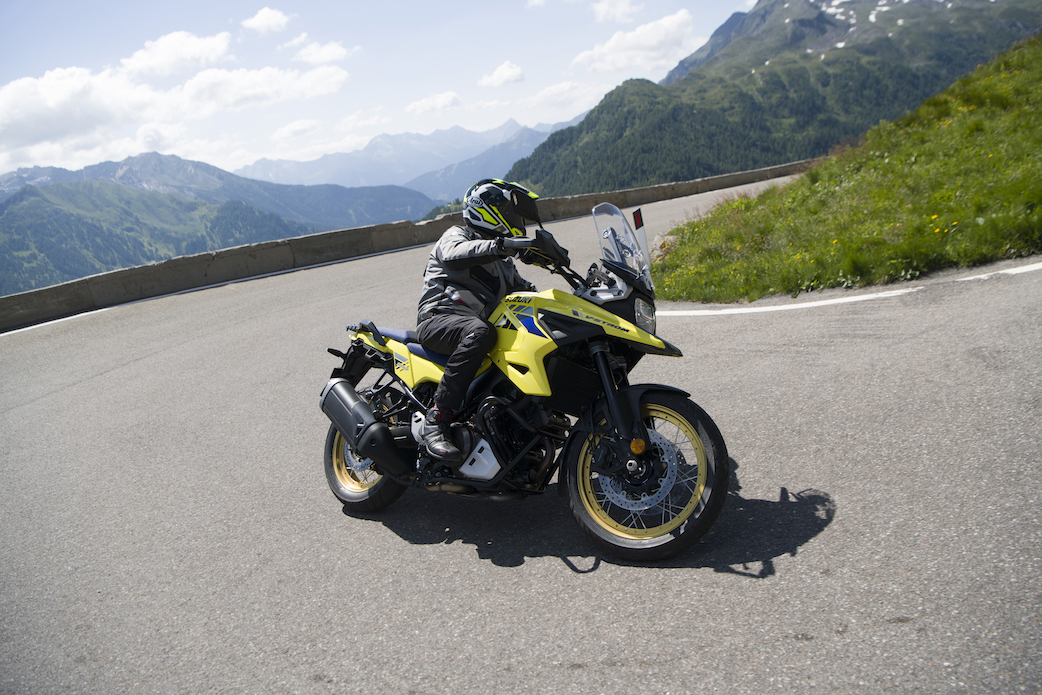 Handling and brakes
To say a new bike launch involves spirited riding would be an understatement. To be honest, the pace is usually faster and the bikes are pushed harder than I ever would ride back home, but it is a lot of fun and acts as reminder of just how nimble big adventure bikes like the V-Strom 1050XT can be.
As we headed into the mountains of Andalusia, I was impressed at how well the V-Strom handled the pace. The steering felt incredibly light, agile and responsive, with the smallest of inputs causing the bike to dart into corners.
This, combined with its narrow profile, tricked my senses into thinking I was on a much smaller machine, just as it did at slow speeds. I couldn't help but joyously flick the big 1050XT between turn after glorious turn as we snaked our way up and down mountainsides, the Bridgestone Battlax Adventure A41 tyres providing plenty of grip on the smooth road surface.
When I did overcook a corner (which may have happened once or twice), the instant bite provided by those twin front discs, followed by a smooth progressive braking as I squeezed on the lever further, provided more than enough controlled stopping power to get me out of trouble.
The V-Strom's spirited performance in the mountain twisties was aided by a raft of technological wizardry working furiously behind the scenes to help keep me upright and allow me to push my riding harder.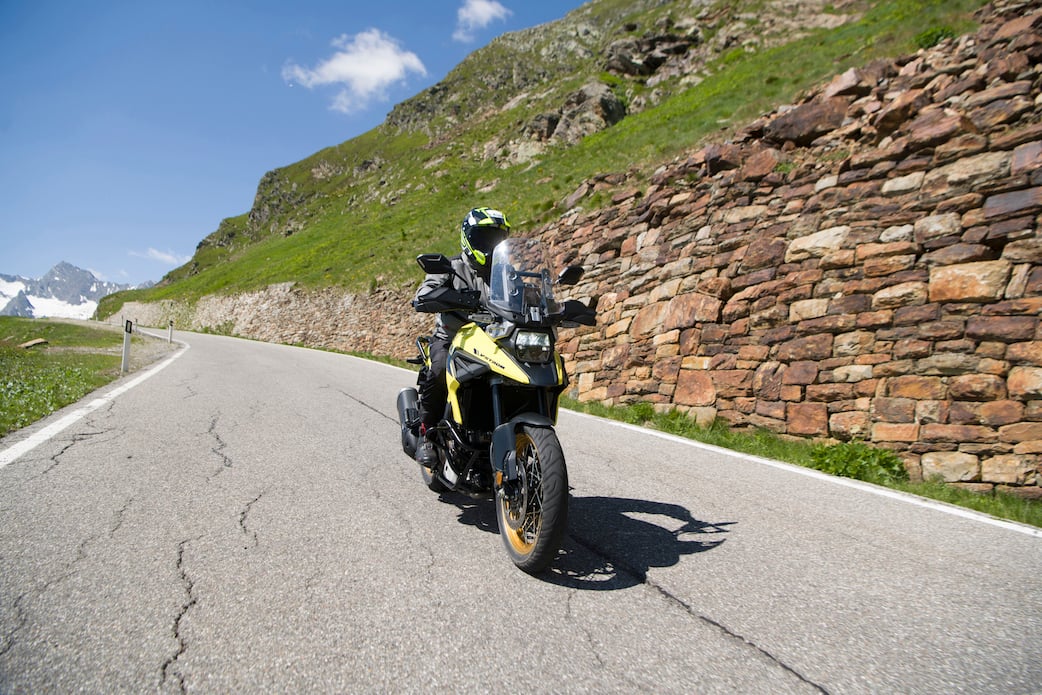 At the heart of this is an internal measurement unit that constantly measures the pitch, roll, and yaw of the motorcycle. It feeds the data it collects to a series of rider aids that influence your ride to varying degrees.
For example, the Motion Track Brake System measures the posture of the bike, together with the front and rear wheel speeds, allowing the ABS to activate when the bike is leaning into a corner as well as in a straight line. The Load Dependent Control System detects if you have a passenger and adjusts the braking response proportionately. There's also hill hold control, a slope dependent control system, and adjustable levels of traction control.
This is all clever tech and enables the V-Strom 1050XT to keep pace with its rivals from a rider aid perspective. However, when I was pushing the bike hard, I sometimes felt a disconnect from the road, a slight vagueness that left me working harder than usual to push the bike around turns.
Whereas some motorcycles corner on rails (like my current long-term bike the KTM 790 Adventure), the V-Strom needed more input from me when I was pushing harder than I really should on a public road.
I suspected it might have had something with to do with all that technology working overtime in the background, but the occasional lack of feedback from the road was disconcerting, particularly mid-corner when precise handling is a must. However, as soon as I backed off a little, the V-Strom's impeccable road manners and handling returned.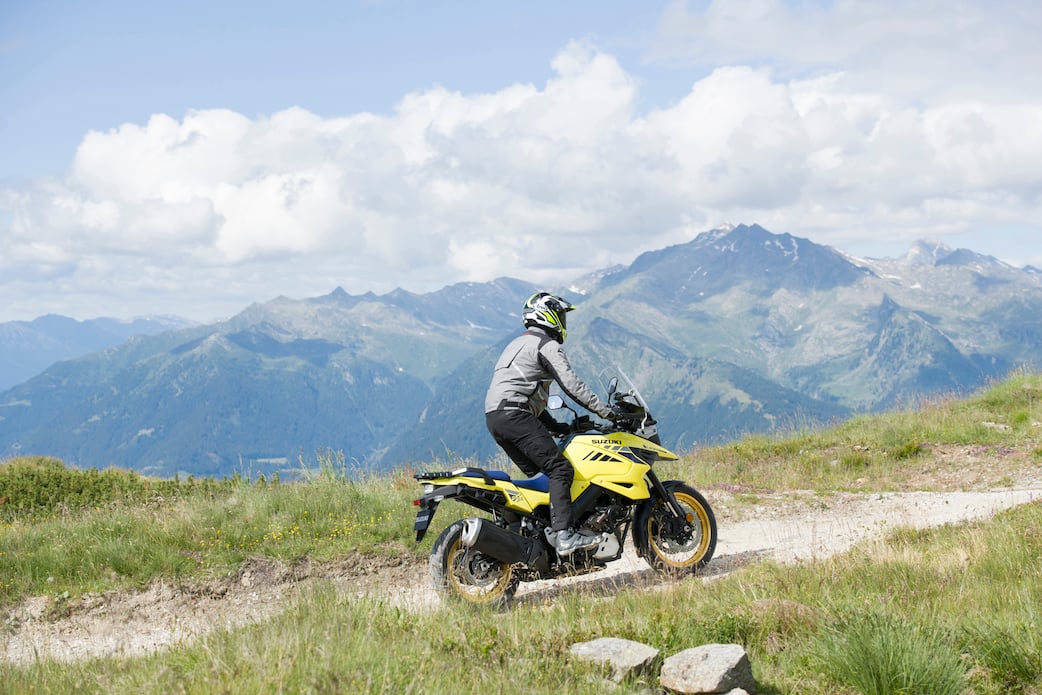 Hitting the trails
A few miles further on, our ride leader pulled over at the start of a gravel trail and waited for our gaggle of riders to gather together once again. Historically, the V-Strom has always been more of an adventure touring machine than a bona fide dual sport bike. While it's been capable of being ridden off road, it was really more suited to touring on tarmac rather than conquering gnarly trails.
On paper, the new model looks like more of the same with a relatively small 160mm of ground clearance and rather limited 160mm suspension travel, front and rear.
As our group made its way down the gravel trail, I purposely waited behind to give myself a gap to the riders ahead. I wanted to enjoy riding the V-Strom in the dirt without being hemmed in by a herd of other bikes and clouds of dust.
Once on my own, I selected rider mode C for the smoothest throttle response, stood up on the pegs, and made my way along the trail. It was a relief to escape the sun and feel the coolness of the forest as rays of light darted through the trees and onto the trail ahead.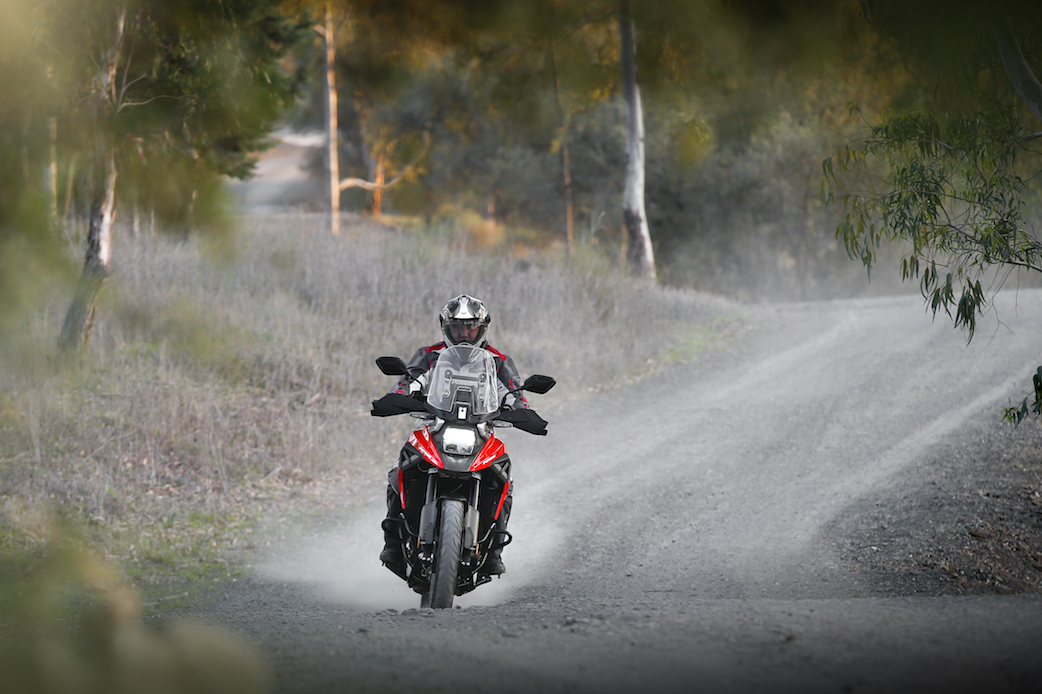 The surface was dry, hard-compacted gravel and mud, just the type of light off-roading the V-Strom should eat up. The bike was a joy to ride as I leant on the pegs from left to right to steer along the snaking track. The standing position felt natural and relaxed and the bike was perfectly planted on the trail.
I could have spent the rest of the day cruising alone through the forest, but all too soon I caught up with the riders in front and we pulled over for another photo stop, before retracing our steps. Later in the day, we got the chance to ride the V-Strom 1050XT on a stretch of rockier terrain, but that was the sum of the day's off-road riding, which was a shame because I'm certain the V-Strom could handle a tougher test.
True, it has limitations off road. At 247kg, it carries a lot of weight, and the 19" front and 17" rear spoked wheels aren't optimised for rolling over bigger obstacles. I'd also add more protection, including a sturdy bash plate. However, the V-Strom is a willing companion on lighter trails, and if you slow the pace, it will take you over more challenging terrain with care.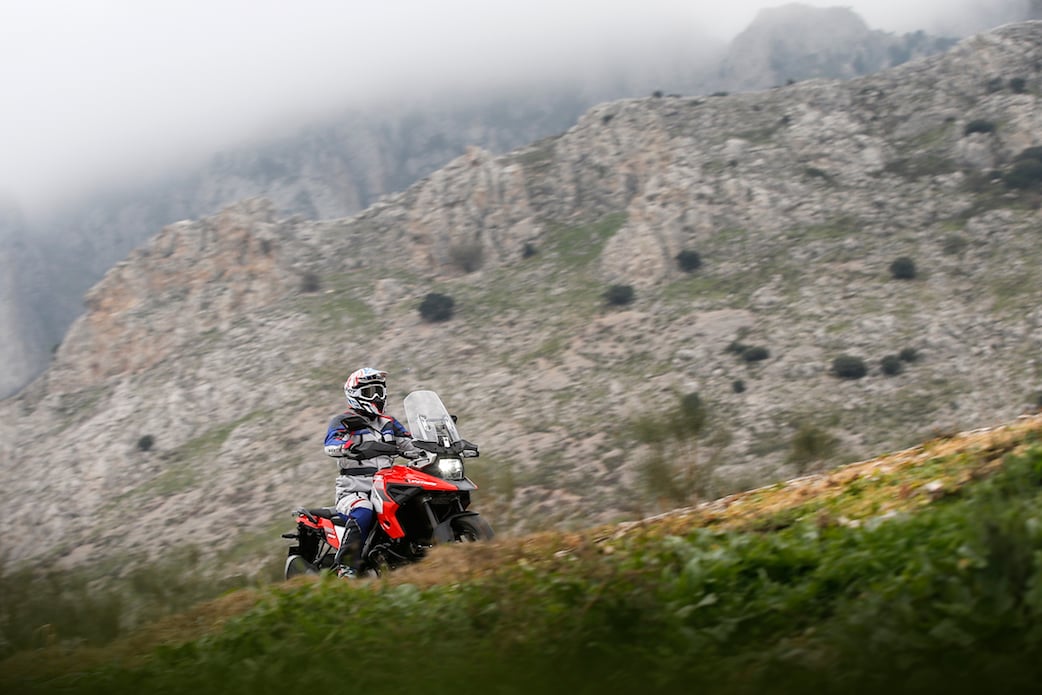 Heading home
After our off-road excursion, we sped our way to the mountain-top city of Ronda where we were treated to a delicious paella filled with chorizo and chicken. I couldn't help but return for a second helping, despite the fact I knew overeating would risk needing a snooze in the afternoon sun.
I needn't have worried about feeling sleepy in the saddle because the rest of the ride was spent on the magnificent A397. This 30-mile ribbon of tarmac twists its way from Ronda, down through the mountains, to the coast. It's a must-ride if you ever find yourself in this part of Spain. Unfortunately, it was busy which meant much of the ride was spent leapfrogging traffic on short straights, before diving into tight turns clinging to the edge of the mountainside.
The V-Strom 1050XT was perfectly at home doing this work, providing instant bursts of acceleration, quick handling, and plenty of controlled stopping power to slip back in between the lines of cars and lorries to avoid oncoming traffic.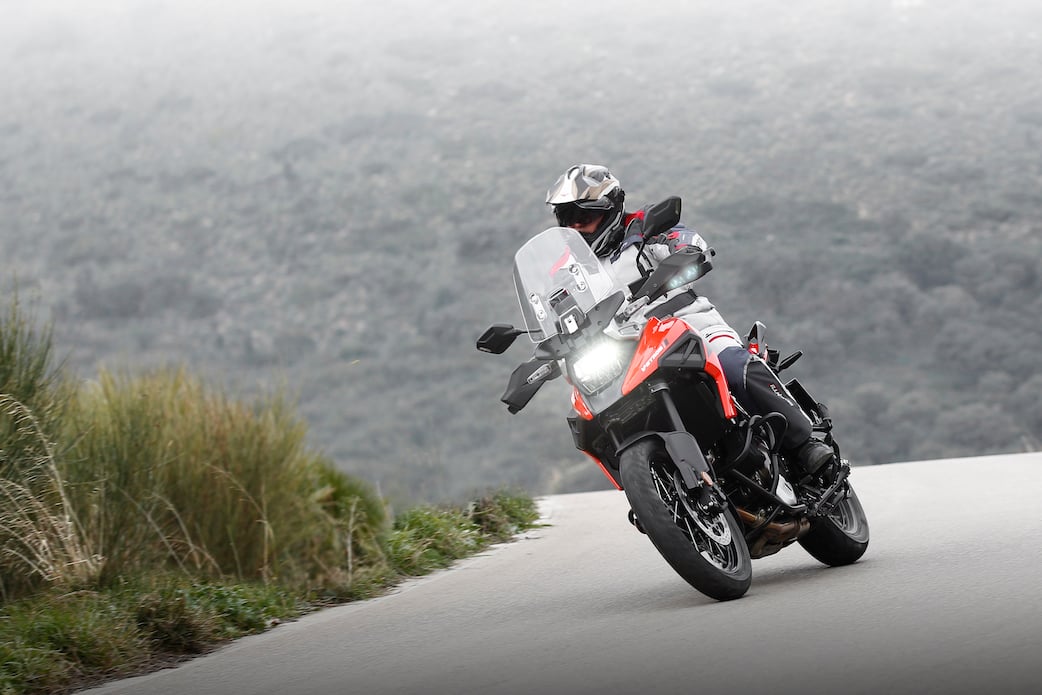 Conclusion
Despite the traffic, it was a fun ride, and as I parked up outside my hotel on the Spanish coast, I was genuinely sad that my time on the V-Strom 1050XT had come to an end. I would have liked nothing more than to throw on some luggage and explore more of Spain for a couple of weeks. In fact, the 1050XT has the power and comfort to ensure long-distance touring will be a very pleasurable experience indeed.
Sadly, I needed to give the bike back, and as I switched off the engine and walked away, I found myself looking back once, twice, then a third time with admiring glances. The V-Strom had got under my skin in a way plenty of bikes don't.
While it still may not possess the same level of prestige as owning a more exotic or expensive machine, such as a BMW R 1250 GS or a Ducati Multistrada 1260 S, there's no denying it's a desirable motorcycle and one that deserves to be on the shopping list of anyone in the market for a new adventure bike. That three-pint problem just got a bit more complicated. Now, whose round is it?
Suzuki V-Strom 1050XT – The ABR Verdict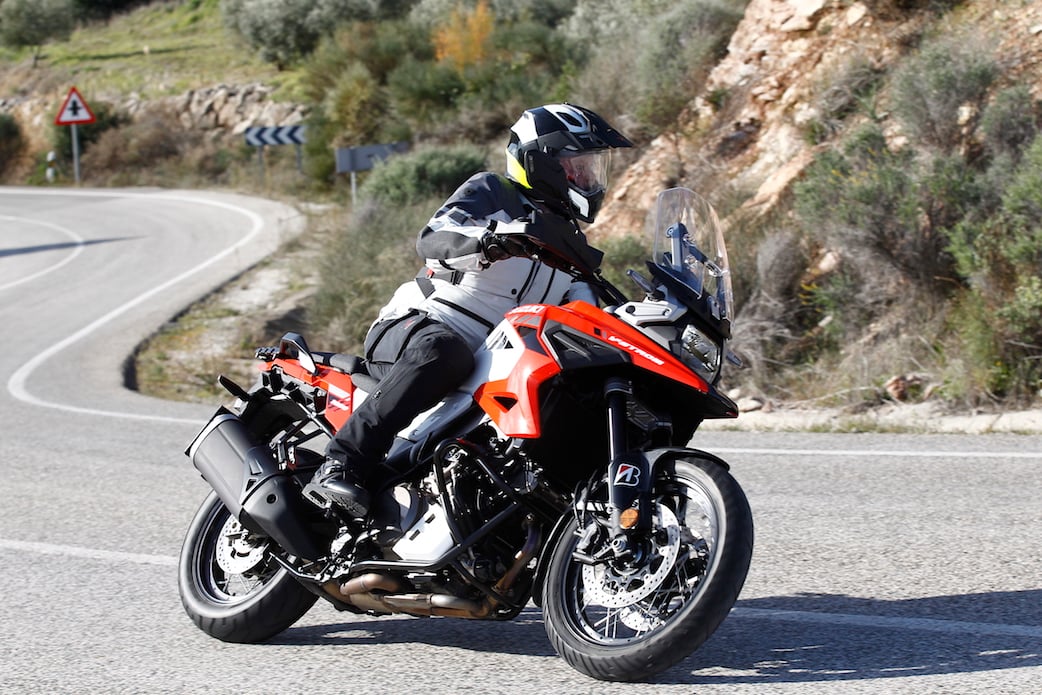 As a commuter
Whether your commute involves congested city streets, out-of-town A roads, or motorway stints, the V-Strom will prove an excellent commuting partner. I negotiated plenty of traffic in Spain and the bike proved adept in all situations.
As a weekend tourer
The V-Strom 1050XT would make for a superb weekend tourer. The comfort and power available on the motorways will leave you fresh and ready to exploit that agile handling and eager power delivery when you reach the fun roads. For the soundtrack, we'll tee-up Freeride by the Edgar Winter Group on our headsets.
As an off-roader
The V-Strom 1050XT is more than capable of tackling gravel trails, dirt roads and general light off-roading. However, if you plan on tackling tougher terrain with any regularity, you'r better off looking at a more off-road focussed bike.
As a continental road tourer
I can't think of a single reason I wouldn't want to stick on some luggage and head to the Alps for a couple of weeks on the V-Strom 1050XT. It is a superb adventure tourer that will whisk you along those pesky French toll roads and have you carving along Alpine twists in no time.
As an RTW overlander
Stick to roads and light trails and the V-Strom 1050XT will take you around the world with ease. For more extreme RTW adventures, there are better suited bikes out there. All those fancy new electronics could also prove a tough fix in remote areas if something were to go wrong.
As a pillion carrier
I'm sure plenty of V-Strom 1050XTs will be bought with pillion travel in mind, and for good reason. There's plenty of cushioning and room at the back to make pillion travel an enjoyable experience, and there's enough power on tap to ensure two-up travel isn't a struggle.