Despite riding and writing about bikes week in, week out, the excitement of a new bike arriving at the ABR offices never wears off.  As soon as we hear the unmistakable growl of an exhaust approaching, we always jump up from our desks and outside to discuss said bike in detail.
Some keep us occupied for longer than we'd care to admit, while others aren't quite as beguiling, but there was one bike in particular that caused quite a stir the other week.
It was ridden by long-term ABR contributor Dave, of 'Ask Dave' fame. He appeared early one morning on his brand new Suzuki V-Strom 1050XT, something of a surprise given that he'd been the owner of two BMWs the last time we'd seen him. Like a proud new father he talked us through the gleaming bike stood before us and the reasons that he'd ditched both his F 800 GS and R 1200 GS for it.

After Dave headed off to scrub in the new rubber on the roads of the Cotswolds, ABR editor James and I headed inside where conversation about the new V-Strom continued in full flow.
We've both spent time on the V-Strom, James at the international launch, and both of us on the long-term review bike we had in the garage in 2020. We agreed that, while the V-Strom may not generate the hype and headlines that other big adventure bikes do, for prospective buyers hitting showrooms this summer, it may just be the the best value 'big' adventure bike around right now.
So, to give the trusty V-Strom the credit it deserves, here are five reasons why we think this could well be the case.
How much?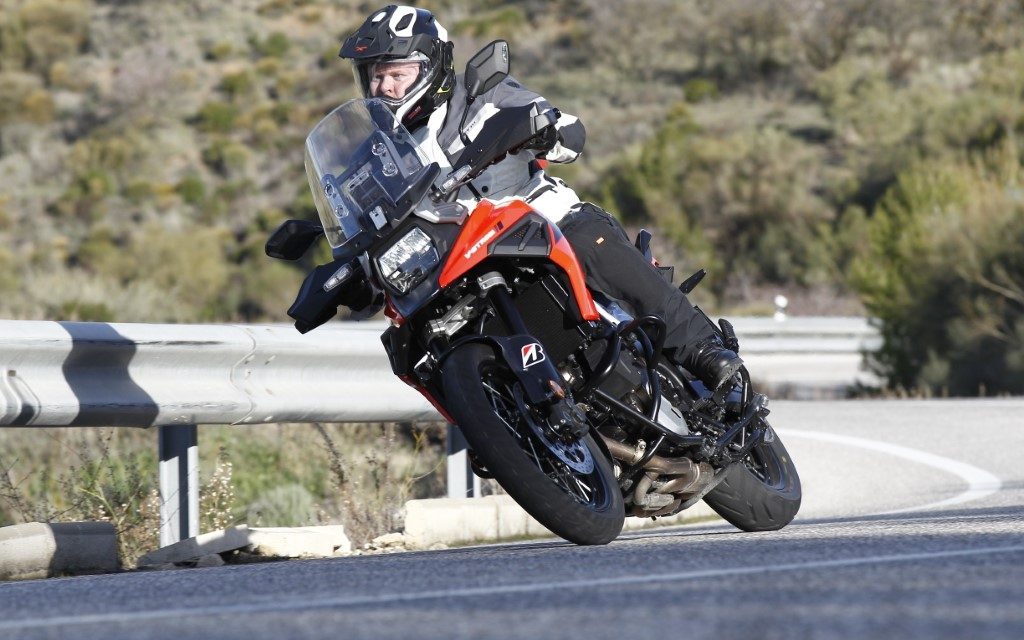 I'll kick off the five reasons with the most obvious of them all, the price. Suzuki has long held a reputation for producing competitively priced bikes, and the V-Strom 1050XT is no different.
It's available for less than £12k, a relative bargain for what is the premium offering in the V-Strom range, particularly when you look sideways at some of its competitors in the market (think the Honda Africa Twin Adventure Sports starting at £14,649, or the R 1250 GS Adventure starting at £14,905).
For your money, you get spoked wheels, a complete range of electronic rider aids (we'll touch on those in a second), crash bars, hand guards, an adjustable screen and seat, and a centre stand, all as standard.
On top of that, the V-Strom 1050XT and 1050XT Tour are both available as part Suzuki's Summer Savings offer, with deals on finance and the chance to bag £500 towards Suzuki Genuine Accessories to kit out your bike ready for your next tour. So, what else do you get for your hard-earned cash?
On-road performance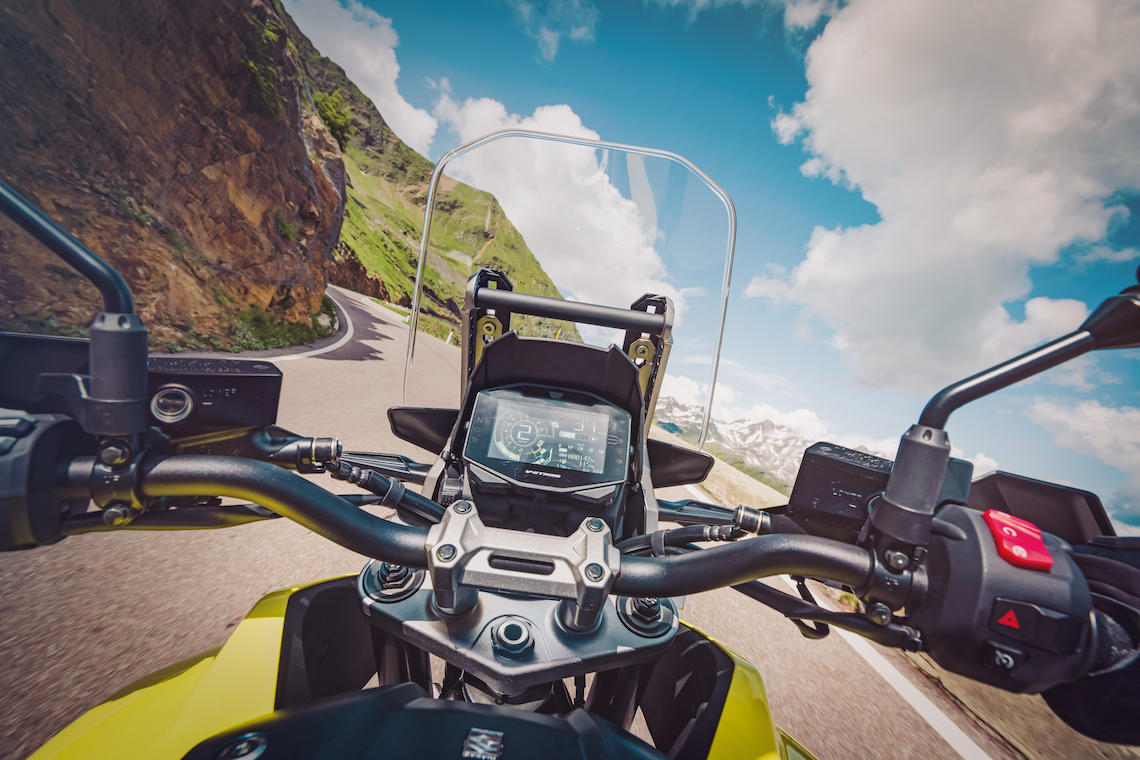 A competitive price would be nothing without the performance to back it up, and happily the V-Strom 1050XT delivers thrills and excitement from the saddle.
The 1,037cc V-twin produces 105bhp, more than enough to cruise and overtake effortlessly at motorway speeds, and it's a ball when you come to twisty mountain passes, where the V-Strom is nippy and exciting through the bends. It's also torquey across the rev range, capable of pulling you, your luggage, and a pillion up steep mountain passes with ease in whatever gear you find yourself in.
Power isn't everything though, and one of the stand-out qualities of the V-Strom is just how well it handles.
It feels nimble and agile on mountain passes and the general consensus at ABR HQ from all of us who have ridden it is that the 1050XT feels lighter than the 247kg wet weight would suggest.
V-Strom 1050XT: Tour-ready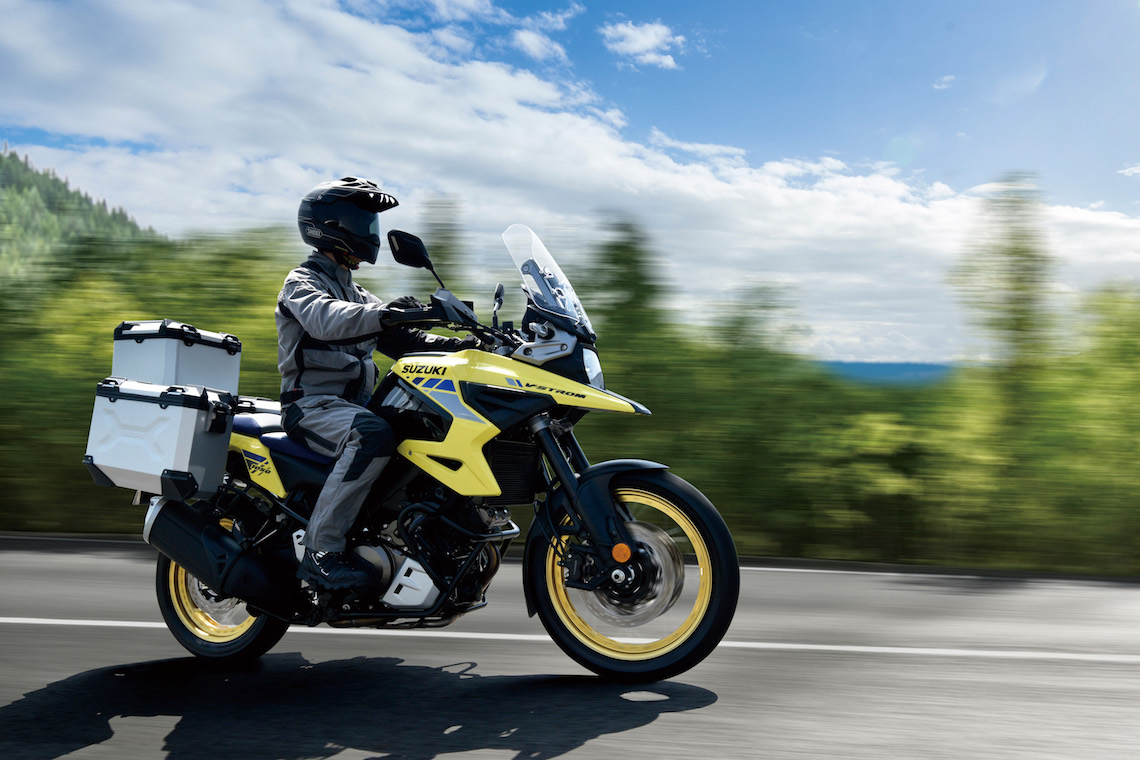 There are few things we enjoy more than travelling on two wheels, and the V-Strom 1050XT is a more than capable partner during a weekend in Wales, a fortnight in the Alps, or even a RTW trip.
Life in the saddle is comfortable over big distances. The well-padded seat and adjustable windscreen make it a pleasure to ride all day, the 20l fuel tank will keep you going for over 200 miles between fill-ups, and cruise control, which comes as standard, means those long stints on French toll roads are a little easier on the wrist.
There's also ample space for a passenger, with wide grab rails and a soft perch for your pillion should you tour two-up.
If you're looking to take the new V-Strom away on your next tour, Suzuki is also currently offering £500 off accessories if you buy this summer. Check out the deal here.
Tech, tech, and more tech

While some may argue that technology on adventure bikes and good value don't go hand-in-hand, I'd beg to differ. Good rider aids can improve life in the saddle and provide a safety net if things go wrong on the road, and the V-Strom 1050XT offers an impressive amount of tech without breaking the bank.
There's cruise control, hill-hold control, downhill slope control to stop rear wheel lift, adjustable traction control, rider modes to temper throttle response, lean-sensitive ABS, and more, all powered by an inertial measurement unit that is constantly feeding back information to each aid about the pitch, roll, and yaw of the bike.
Many of these are expensive optional extras on competitors bikes, or even missing completely, so hats off to Suzuki for delivering a full complement of rider aids for a reasonable price.
The retro looks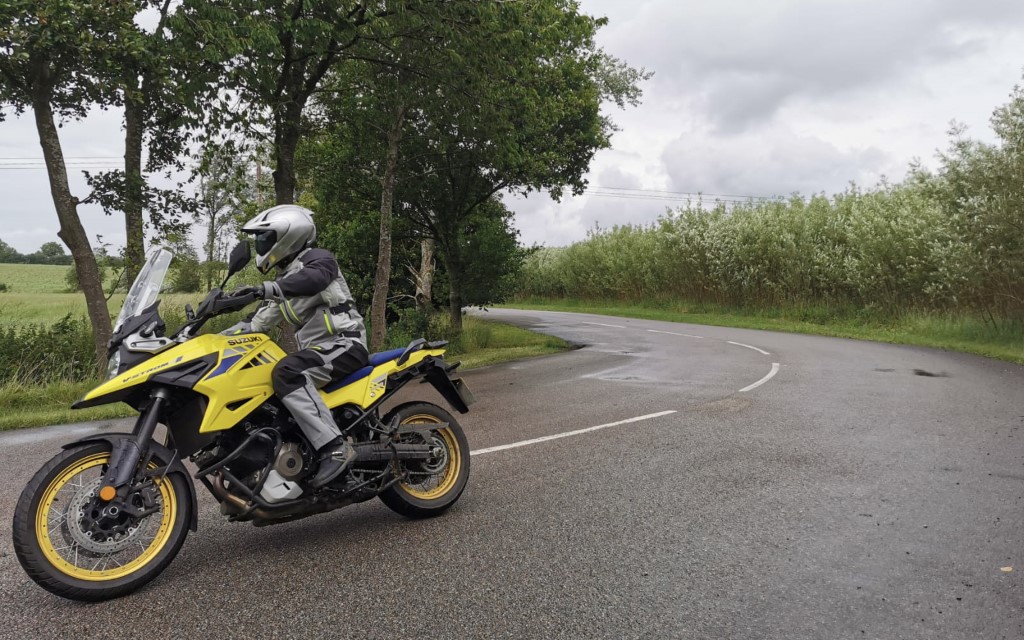 Last, but by no means least, are those looks. Of course, beauty is in the eye of the beholder and opinions can vary, but there's something about those retro looks, consciously designed to hark back to Suzuki's famous DR-Big, that gets my pulse going.
Dave's new bike and the long-termer we had in 2020 (pictured above) are both in the Champion Yellow, and it's a guaranteed head-turner that had me briefly day-dreaming of '80s Dakar rallies.
While I haven't been lucky enough to ride the V-Strom to Senegal yet (I'm still holding out hope), adventures around the UK did more than enough to convince me that the spirit of the DR-Big lives on in the 1050XT.
Is the V-Strom 1050XT the best value big adventure bike around?
So there we have it, five reasons why we reckon the Suzuki V-Strom 1050XT could be the best value big adventure bike on the market at the moment.
If you're interested in finding out more about the V-Strom, taking one for a test ride, or checking out the summer savings you can bag at the moment, head over to Suzuki's website for the full lowdown.