German helmet manufacturer Schuberth has announced the release of the E1, a flip up helmet designed to offer comfort, versatility and safety for both on and off-road riding.
It has been designed to combine the features and functionality of a flip up helmet with the look and feel of an adventure helmet.
Schuberth say the chin part of the E1 is easily unlocked and flipped up along with the visor and the peak making it simple to take it off or take a break. A scratch resistant visor with UV protection is also present as is an anti-fog screen.
Glare protection is also claimed to be taken care of thanks to a scratch resistant sun visor with 80% tint that is deployed with a lever on the lower edge of the helmet.
Having been developed in an in-house wind tunnel the helmet is said to offer low aerodynamic drag while a spoiler ensures the E1 stands naturally in the wind without weaving.
The adjustable peak can be utilised in three different positions offering versatility to those wishing to switch from on-road to off-road. This adaptability is further increased by the fact the helmet can be worn with visor and peak, with the visor only or with the peak only.
Those with an off-road persuasion will be pleased to hear that the E1 is equipped with a complex system of ventilation ducts within its inner shell as well as three independently controlled ventilation circuits. This has been designed to offer a pleasant and effective airflow for those who will be riding in strenuous off-road conditions.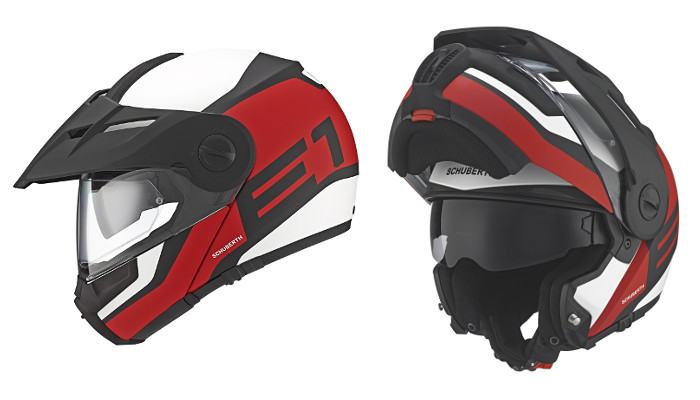 A glass fibre reinforced thermosetting matrix makes up the external shell of the helmet while the inner shell is constructed of EPS of different degrees of hardness for a perfect and optimum safety. Schuberth claim the helmet's Anti-Roll-Off-System (A.R.O.S.) increases safety further by ensuring a secure fit at crunch time.
Significantly, the interior trim of the E1 is said to be antibacterial, breathable, removable, washable and quick drying – essential features we love to see on all modern adventure-styled helmets.
The helmet is to be presented to the public for the first time at the EICMA motorcycle trade fair in Milan from 19-22 November and will hit shelves in the spring of 2016. It will be available in seven sizes from XS to XXXL and will be available in five solid colours (SRP: £479.99) and five graphics (SRP: £539.99).