If you thought the Arai Tour X4 was expensive you'll probably have a heart attack when you read the whopping great big price tag that the Schuberth E1 commands. At £539 it's £100 more expensive than the Arai, but that's mainly down to the flip-front technology and the amount of development that's gone into making this wonderfully versatile lid.
Out of all of the helmets on test, the E1 was the most rigorously tested by myself in a variety of situations.
I wore it on a Metzeler tyre launch where I took it around an oval track at speeds of 160mph and on twisting German roads, I wore it across the Alps for a few thousand miles and I also used it on a two day course at the Honda Adventure Centre for some intense off-road action.
It's safe to say that in all situations the E1 is a good helmet, and the flip front just adds to its versatility and comfort. Though while it performed well in all conditions, it didn't truly excel in any.
At high speeds the peak was responsible for head shaking resonance, and on the off-road trails the lid runs a little too warm for my liking. There are ventilation points aplenty, but the chin bar isn't as pronounced as on other adventure helmets, cutting off a major source of fresh, cooling air.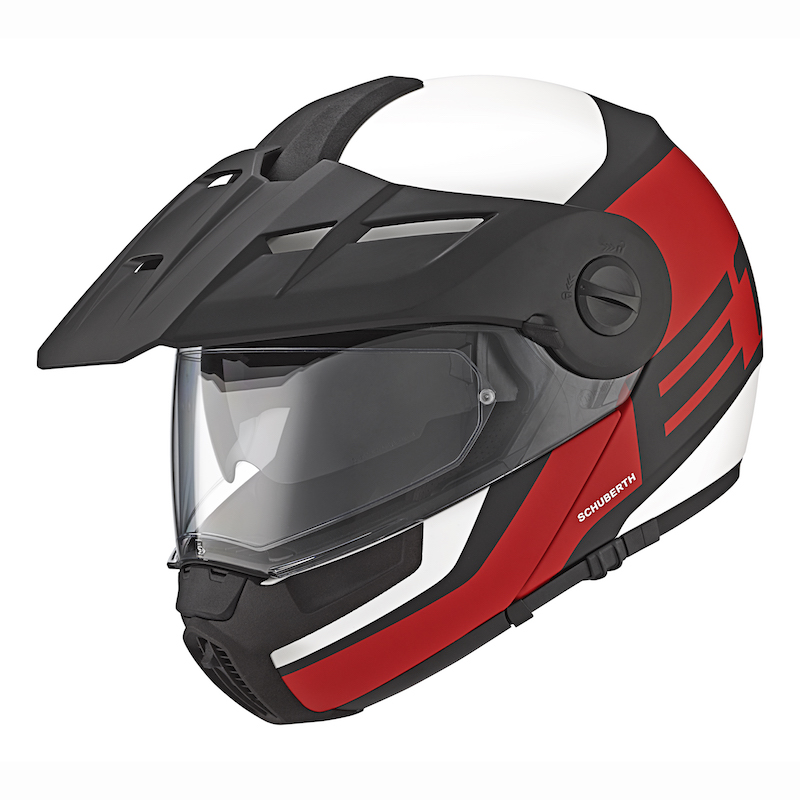 You can, of course, flip the lid up if you want to cool off (and I did, many times), but then you don't reap the protective benefits of an adventure helmet when riding in the dirt.
Despite this, on the A roads it was a pleasure to wear, and I suspect that this is where most users are going to take it. The internal sun visor is quality and simple to use, the peak offers a good amount of sun protection, and the comfort, at least for me, is top class.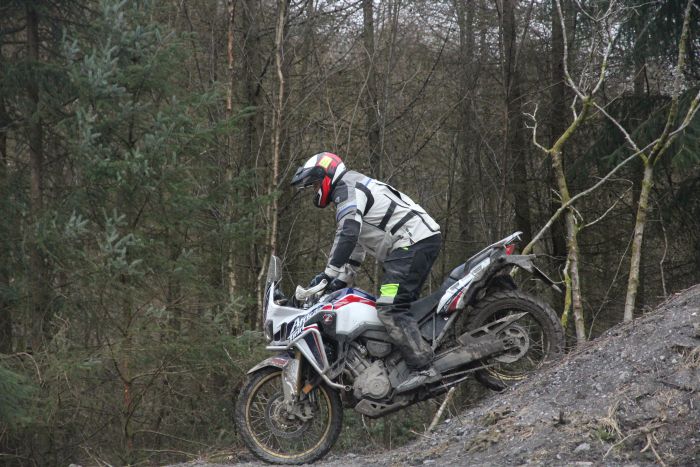 That being said, I would always recommend trying a helmet on before you buy it, as we all have different shaped heads, and what's comfortable for me might be a medieval torture device for you.
As you would expect from a helmet of this price, a Pinlock insert comes included, and when used the visor stays perfectly fog-free in all conditions.
Schuberth E1 verdict
All in all, if you want the convenience of a flip front helmet and the styling of an adventure lid, then the Schuberth E1 is the best on the market in this class. There are other flip front adventure helmets available (Caberg Tourmax (£199.99) and Scorpion ADX-1 (£229.99)), but out of this niche it's far and away the best quality.
It's one hell of an investment though, and you'll have to decide whether you're willing to pay such a premium for that feature alone.