One of the main grievances we all have with modern day adventure bikes is usually concerning how much they weigh. With many motorcycles weighing upwards of 200kg, we can't really be blamed for wanting to shave weight off of bikes. At the same time, not all manufacturers get the looks right and while a machine may be great on the inside, it can sometimes lack the looks to wow people. Well, that's where the Diablo Mini Exhaust is supposed to help out.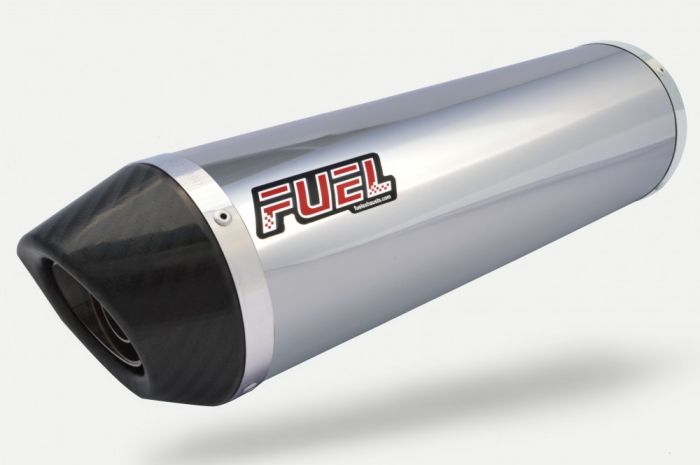 The Diablo is an aesthetically pleasing exhaust from UK based manufacturers, Fuel Exhausts and we managed to get our hands on the version for the KTM 1190 Adventure. All of the company's products are designed and manufactured in their factory in the Lake District where there's an emphasis on providing quality, easy to fit kit.
With a starting cost of £214.99, the Diablo Mini Exhaust for the KTM 1190 Adventure is part of a larger range that includes exhausts to fit a selection of adventure bikes (visit the company's website to see if yours is one of them) while offering riders the chance to customise the look of their Diablo by choosing between a range of finished and lengths.
For the KTM 1190 Adventure specific model, you can expect weight savings of over 4kg against the original silencer (the Diablo weight just 2.2kg) and a carbon fibre tip to add a sexy, aesthetic appeal.
As the name suggests, the company is marketing the Diablo as an exhaust to release the devil in your bike – while performance changes are difficult for us to measure, there's no doubting that there's a deeper, more fierce sound coming from the can. With the baffle in place the exhaust is fully road legal and as is the case with all Fuel Exhaust products it comes with a lifetime guarantee.
To find out more information or to check to see if they have a version that will fit your bike, head to their website at www.fuelexhausts.com.
Want to make sure you are kept up to date with all the latest gear news and reviews? Click here to find out how you can get your hands on all new issues and the complete back catalogue of Adventure Bike Rider magazine.