After a month of social media teasers, build up, and excitement, Italian manufacturer Ducati has unveiled the brand-new Ducati Multistrada V4, delivering a bike that it says will 'rule all roads'.
And wow, the Bologna-based manufacturer has delivered a stunning machine with sharper lines and more aggressive looks than the previous model, but which is still unmistakably a Multistrada.
But it's not only the bike's dashing good looks that make it stand out from the crowd, because Ducati has ramped up the power and given it a whopping 170bhp engine, making it the most powerful adventure bike in the world.
Here are the headline updates for the 2021 Multistrada:
A new four-cylinder, 1,158cc engine, producing 170bhp.
Front and rear-facing radar technology which supports adaptive cruise control and a blind spot detection system
37,000 mile valve service intervals
19″ front wheel (up from 17″)
22l fuel tank (up from 20l)
A newly designed adjustable windscreen
A redesigned TFT display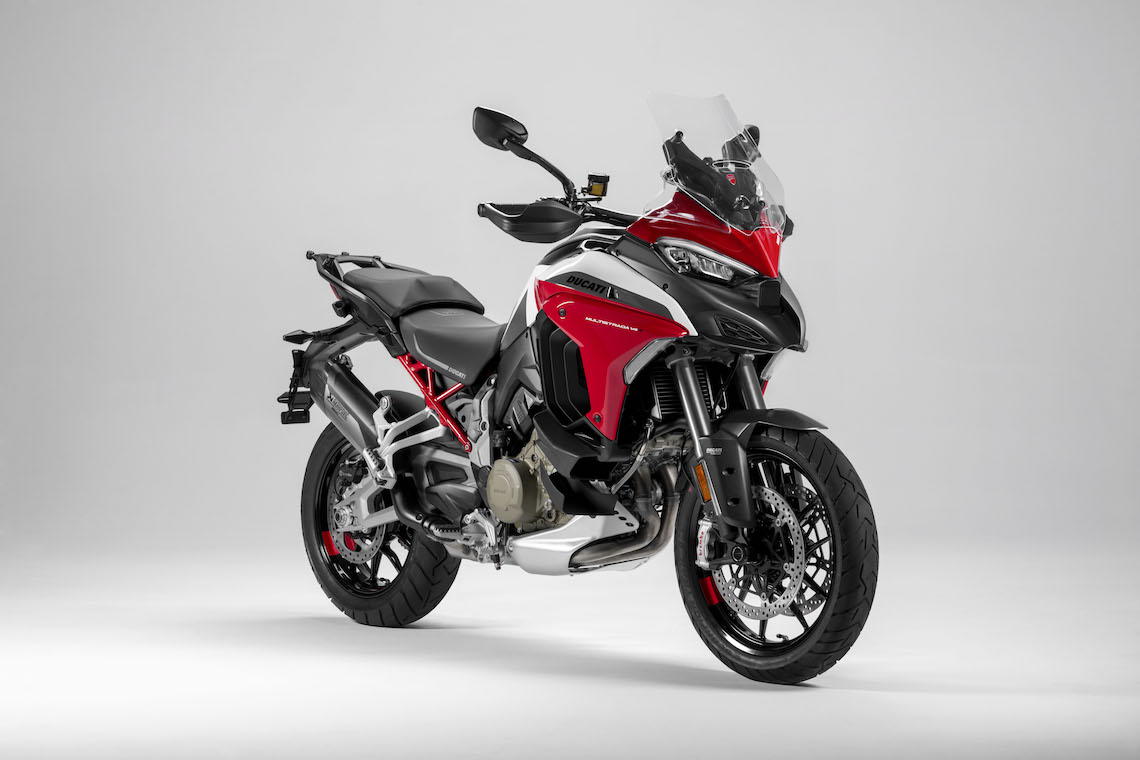 What's new on the Ducati Multistrada V4?
Ducati has announced three new variants of the new model, the base Multistrada V4, the Multistada V4 S, and the Multistrada V4 S Sport.
The headline news is the new four-cylinder, 1,158cc engine, which all three variants share. Producing 170bhp and 125Nm torque at 8,750rpm, it makes the new Multistrada the most powerful adventure bike on the market right now.
That's not all that's new on the engine. Ducati has introduced mammoth service intervals of 37,000 miles for valve clearance checks, which is likely to help reduce the ongoing cost of ownership. The less expensive oil service are suggested every 9,000 miles or 24 months.
Touring friendly features
There's also a new 22l fuel tank, an increase of 2l, which we expect to bolster the bike's touring credentials further by providing a longer range. A newly designed windscreen, which is adjustable with just one finger according to Ducati, should improve long-distance comfort.
These changes do come with a slight weight increase, with the base model weighing 217kg (dry) and the V4 S weighing 218kg (dry), up from a dry weight of 209kg on the previous standard Multistrada model.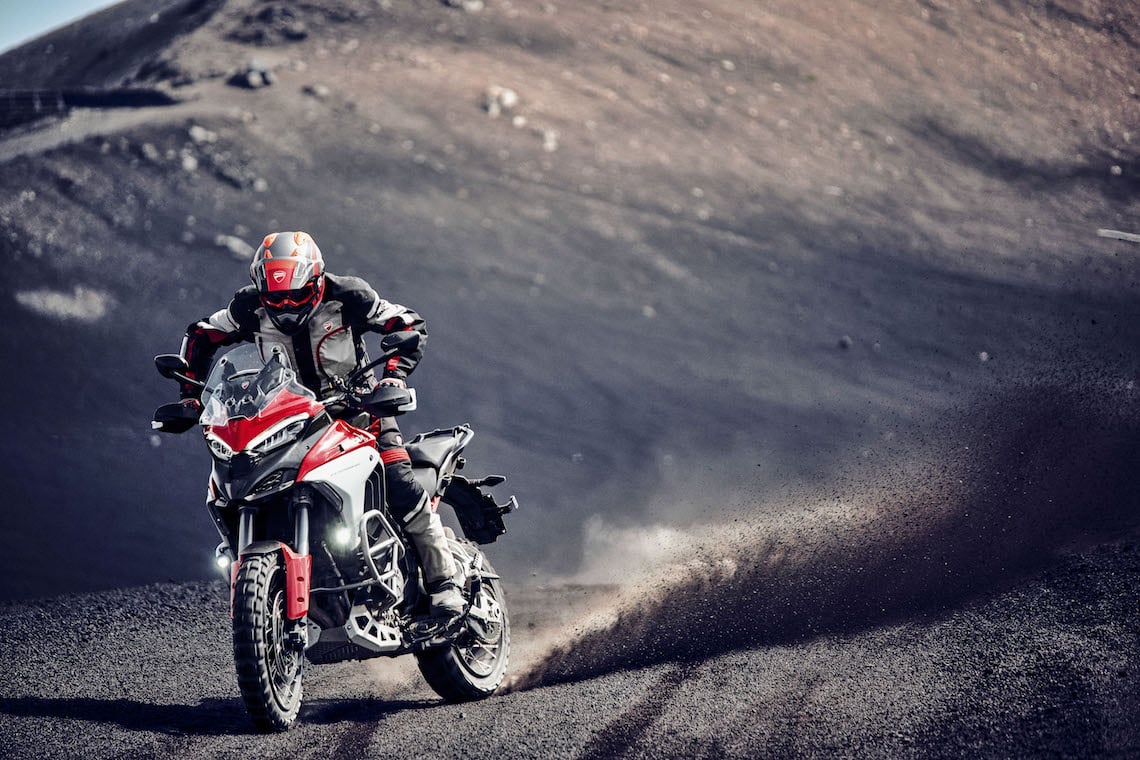 Electronic wizardry
Ducati has introduced some new electronic rider aids alongside the cornering ABS, traction control, and wheelie control which we saw on previous models.
The new Multistrada V4 will be the first motorcycle to feature front- and rear-facing radar technology, which will support adaptive cruise control (an optional extra) and a blind spot detection system, which will also alert riders to fast approaching traffic from the rear.
Alongside this, Ducati has unveiled a new integrated navigation system, which can be viewed through the updated TFT dash. It's something we're looking forward to seeing in the flesh, as we found the TFT on the current Multistrada to be cluttered and not particularly pleasing to the eye.
Three distinct variants
In terms of suspension, the base model Multistrada V4 comes with adjustable Marzocchi suspension and Brembo brakes, while the more expensive V4 S and S Sport come equipped with Skyhook suspension and Stylema brakes.
Despite this, all three models feature the same suspension travel of 170mm at the front and 180mm at the rear, as well as a 19-inch front wheel.
The S Sport also has a dedicated colourway and performance pack, which includes an Akrapovič exhaust, carbon front fender, and heated grips.
When can I get my hands on one?
The new models will be hitting dealerships at the end of November, with prices starting at £15,495 for the base model, rising to £19,995 for the V4 S Sport.
Check out Ducati's unveiling video below.
Want to test ride every adventure and touring bike in one venue?
Looking to buy a new bike? You can test ride the latest and greatest adventure and touring bikes from the world's leading motorcycle manufacturers at the 2021 Adventure Bike Rider Festival (25-27 June 2021).
Pick up your discounted tickets and save £10 by clicking HERE. Previous years have always sold out, and 2021 will be no different, so book today to avoid disappointment.