Oxford Products provide a range of textile jackets from £69.99 to £149.99 and the Oxford Montreal 2.0 is toward the upper end of the brand's range, coming in at a reasonable £120. The jacket comes with a two-year guarantee, a removable thermal liner and a fixed waterproof liner.
This jacket has a great ventilation system however its effectiveness is inhibited by the fixed waterproof liner that acts as a windbreak behind the openings. There are two large, vertical front vents which can be held open nice and wide with the use of press studs and this is a great feature that the other jackets in this review are lacking.
On the rear you get a single large exhaust vent which spans the width of the jacket. Again, there is a press stud to keep this open. On each of the arms there are vents on the cuffs backed with press studs to hold them open. These five ventilation points significantly aid you in warm conditions.
The Montreal comes with CE-approved shoulder, elbow and back armour and this is all detachable. The high impact areas are also constructed with a heavy-duty material and reflective strips finish off the safety features of the Montreal 2.0 jacket, making you more visible in poor lighting.
There are plenty of adjustment points throughout, with Velcro straps on the upper arm, waist and lower waist. This allows the wearer to get a great fit regardless of their body shape.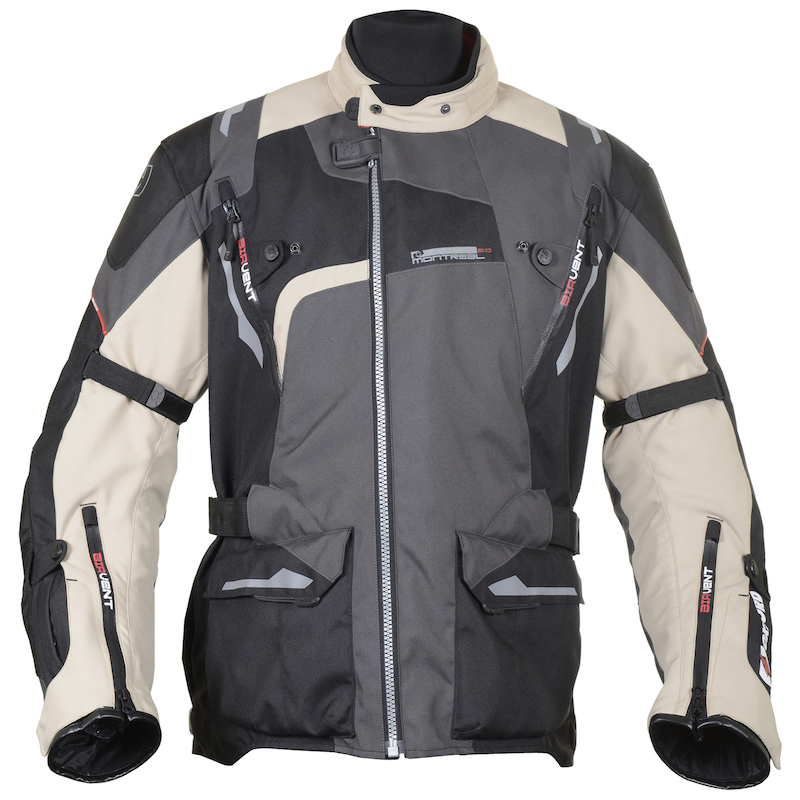 There are only two front pockets which may not be enough for some people, though you also get a large rear pouch and internal pocket, including a handy phone pouch.
An interesting feature is the built-in rain hood, which I completely forgot about until it started to chuck it down. A few cold trickles down my back had me quickly pulling over and making use of it.
It's a comfortable, breathable material which goes over your head and you fit your helmet as normal. The small part between the base of the helmet and jacket is waterproof and stops those annoying drips.
Oxford Montreal 2.0 verdict
On paper this jacket ticks all the boxes and in the real-world test it does not disappoint. With all things considered this is a fantastic jacket and I can't get over the price of it.