Öhlins say steering damper helps riders avoid crashes during sudden direction changes, minimises fatigue and arm pump whilst offering complete confidence during technical sections. The re-designed SD 2.1 features high-speed damping when needed but gives minimum interference at low speed due to its use of precisely created  components. Thanks to its RTC damping adjuster (Return To Center), the SD 2.1 may be used by riders inexperienced with steering damping; resistance for the rider can be minimised through opening the RTC valve. Riders searching for extra support and stability in both directions can use the RTC in a more closed position to achieve added stability.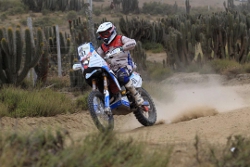 The SD 2.1 works just as effectively from a 'straight' handlebar position or from a steering angle ie whilst turning. The damper's pressurised system avoids loss of damping force due to temperature changes.Now thanks to a redesign of the unit and by use of a series of fitting kits, the damper can be 'swapped' from one machine to another.
Fitting kits for the SD 2.1 are available for all popular MX and Enduro models including Honda CRF R and X models, Kawasaki KX / KLX,  KTM EXC / SX, Suzuki RMZ, Yamaha YZ/WR, Gas Gas, Husaberg and Husqvarna ranges.
The system is priced at £309.73 + VAT plus per £188.73 + VAT for the mounting kits until March 1st when they will be subject to a price increase.
More information about products can be found on the Ohlins website.