The organisers of Motorcycle Live, in association with Bikesure Insurance, have come up trumps this year with a cracking deal on advance tickets.
Not only is there the option of an advance ticket – priced at £19.50 – which saves you £5.50 off the on-the-door price, you also have the chance to buy a '£25 Advance Ticket'.
This includes entry to the show and also comes with an Oxford Products Secure HD Max Disc Lock worth £25, which you collect during Motorcycle Live at the NEC in Birmingham.
That sounds like an absolute bargain, especially if you were planning to go along to the show anyway.
Golden Ticket
There are a whole host of other benefits of buying in advance.
You'll qualify for free motorcycle clothing insurance with show partner Bikesure Insurance, covering up to £1,000 worth of gear when you take out a 12-month policy with them.
You'll also be entered into the Golden Ticket prize draw and have the chance to win a variety of motorcycling goodies such as British Superbike Tickets, caps, limited-edition artwork and tickets to the National Motorcycle Museum, to name just a few.
Not to mention, if you already have a ticket, you won't need to waste valuable time queuing for tickets on the day.
Motorcycle Live takes place on 16 to 24 November, and its organisers understand that plenty of people may choose to drive rather than ride, especially if there's ice and snow around.
With this in mind, and following feedback from show-goers, the cost of parking has been subsidised, so it will cost just £10 for the day if you book in advance. Motorbikes are free, of course.
Adventure bike action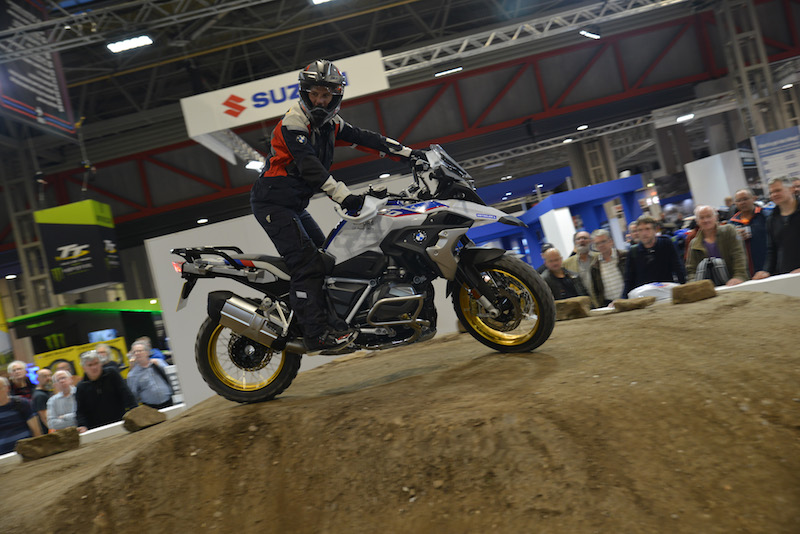 Motorcycle Live is an annual pilgrimage for motorcycle enthusiasts – including the entire ABR team – and we're pleased to see bikers being offered such good deals.
We reckon this year's show is shaping up to be one of the best yet with a long list of manufacturers lined up to show off their latest machines to visitors.
Quite rightly, adventure bikes will be playing a big role. As well as having the latest motorcycles from major manufacturers on display, visitors will be able to try out bikes from Honda, Triumph and Yamaha in the Experience Adventure zone.
Not only can you try out the latest adventure machines, visitors have the opportunity to learn some off-road riding techniques from expert instructors. The indoor dirt trail will be designed to mimic some of the challenging terrain you'll come across during a spot of green laning.
Those who like to stick to the road on their adventures can visit the Test Ride Zone which gives show-goers the opportunity to try out the latest bikes on the tarmac.
Perfect for non-bikers too
Motorcycle Live is also the perfect place for non-bikers curious about learning to ride, or those who are thinking about returning to riding. Free 20-minute motorcycle lessons, given by professional instructors, will be taking place throughout the show in the MCIA Ride area.
In fact, show organisers feel so strongly about encouraging non-motorcyclists to the show, that they're offering a limited number of free tickets to non-riders for Thursday 21 November when accompanied by a motorcyclist with a full price ticket. Check out the Motorcycle Live website for the full T&C's.
BMW will also be bringing its rolling road, giving non-riders the chance to swing their leg over a bike in absolute safety and learn the art of balance, throttle and clutch control.
Live shows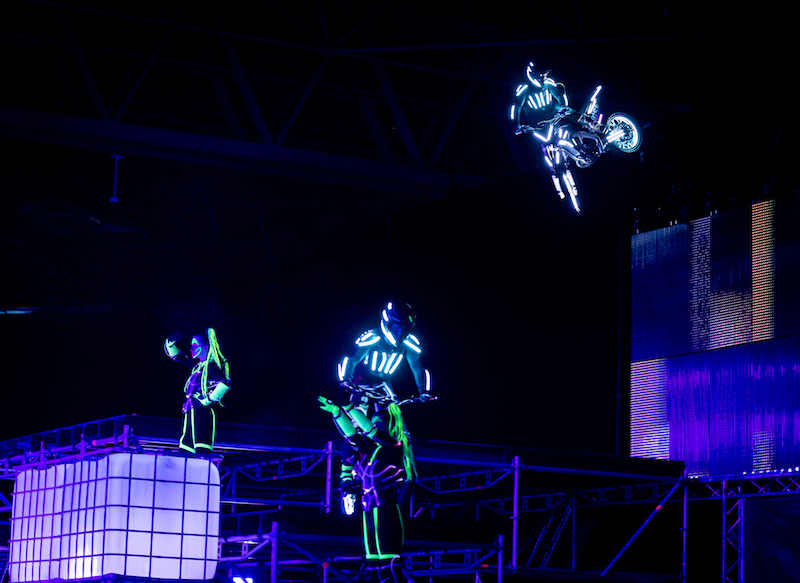 After you've finished drooling over the latest bikes and grabbed plenty of bargains at the huge variety of trade stands, it'll be time to marvel at the incredible skills of the Moto Cirque riders.
This spectacular show features world class stunt riding set amid a neon world of lights and lasers. It needs to be seen to be believed.
After you've finished drooling over the latest bikes and grabbed plenty of bargains at the huge variety of trade stands, it'll be time to marvel at the incredible skills of the riders in the spectacular live stunt show in the Moto-Cirque Arena.
Get your tickets today
We've already got our tickets for Motorcycle Live 2019 and we'd recommend you do the same. When you are there, please do wander over to the Adventure Bike Rider stand and say hello to the team. We're always keen to hear about your latest adventures. We'll also let you know about our exciting plans for the Adventure Bike Rider Festival in 2020.