As autumn and winter roll around, so does one of the most exciting parts of the year. No, not the holiday with a festive tree and white-bearded bloke crashing down the chimney, we mean the real Christmas for bikers. Yes Motorcycle Live 2018 is now less than a month away, and there are lots of reasons to get excited for the UK's biggest bike show.
Every year thousands of bikers flock to Birmingham's NEC to get a glimpse of manufacturer's new models, clothing and accessories. In anticipation for this year's show, we've joined forces with Motorcycle Live to highlight what to get excited for and what events you certainly don't want to miss.
New motorbikes
We all know why we go to Motorcycle Live. Seeing the new line-ups for 2019 before they hit dealers is something really special. Just being teased by the manufacturers of what we could end up with the following year is enough to get the adventurous mind churning with ideas. This year will be no different, with over 35 manufactures exhibiting at the event, including: Honda, Ducati, Aprilia, Harley-Davidson, KTM, BMW, Suzuki, Royal Enfield, Yamaha, Moto Guzzi, and more. It's like a who's who of motorbike manufacturers. Now the hard part comes when deciding what bike to actually buy. Hmm decisions.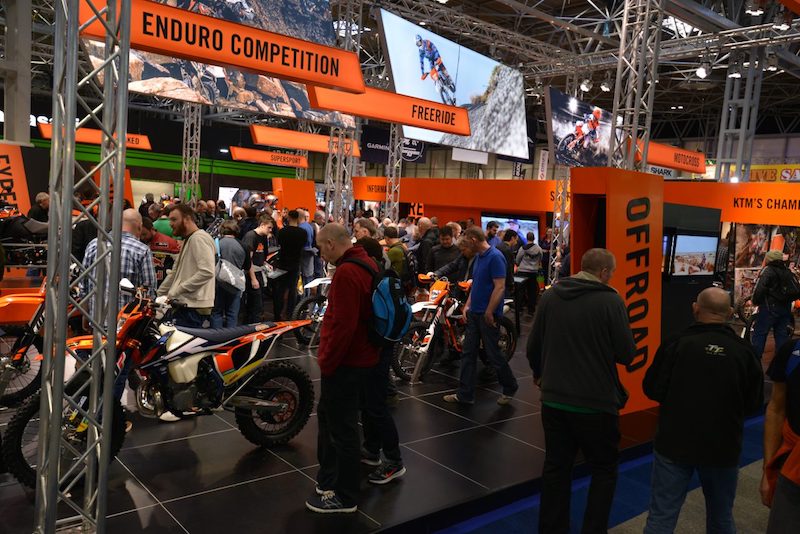 Experience Adventure
As you'd imagine, we heavily endorse this affair. Ever wanted to jump on a bike and explore what the world has to offer away from the black top? Well, at Experience Adventure you can start to get a feeling of what that's like by taking on the adventure bike skills course. As part of the introductory session, bikers will receive tuition and tips on a variety of things like body positioning, balance, and setup, across different terrain.
Just be aware that a full bike licence is required, and you must pass a breathalyser and competency test to take part. Slots for these sessions normally fill up extremely quick, so it's recommended to pre-book or turn up early on the day that you would like to participate. Check out footage from last year's event:
Youth AX Experience
This one is for any budding motorcyclists who are interested in adventure biking, Youth AX is made specifically for you. Aimed at kids between the age of 4-12 (no previous experience necessary), youngsters can practise on two mini-AX dirt tracks while parents can relax as guardians supervise the activity. Youth AX is completely free and gives kids the chance to ride electric AX machines. Coaches will be also provide instructions and give advice where necessary.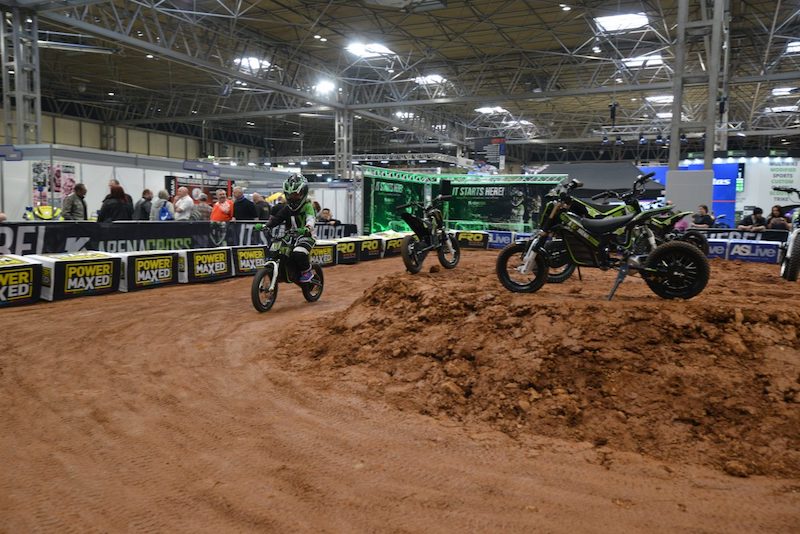 Grabbing that sweet bargain
Need some new gear, a new helmet or even a new bike? Motorcycle Live has so many gear and motorcycle exhibitors that it's hard not to feel like a kid in a sweet shop. Ordering online is all well and good, but to get the widest selection in one area, and to make sure what you're buying fits, Motorcycle Live simply cannot be beaten. Normally, you can also find a bargain or two, with companies reducing prices and offering better deals due to the masses of people attending.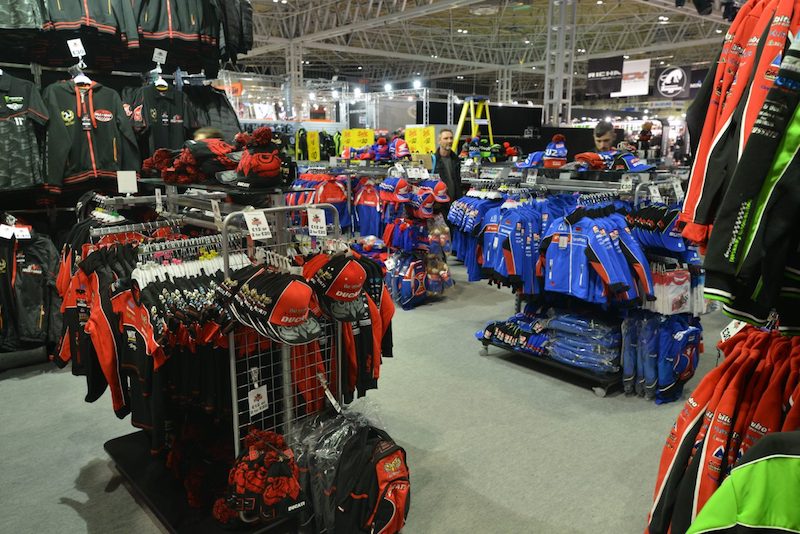 Meet riders and celebrities
Apart from having the chance to check out the latest bikes in the business, it's always cool to meet riders and celebrities from the world of motorbikes. Most prominently, Steve Parrish and Jamie Whitham will be hosting a number of quizzes and games daily at the Blackhorse Stage. You could even brush shoulders with Carl Fogerty, Dean Harrison, and Jonathan Rea, to name a few. The event is known for attracting celebrity bikers like comedian Ross Noble, adventure biker Charley Boorman or even singer James Blunt. Who knows who you could run into.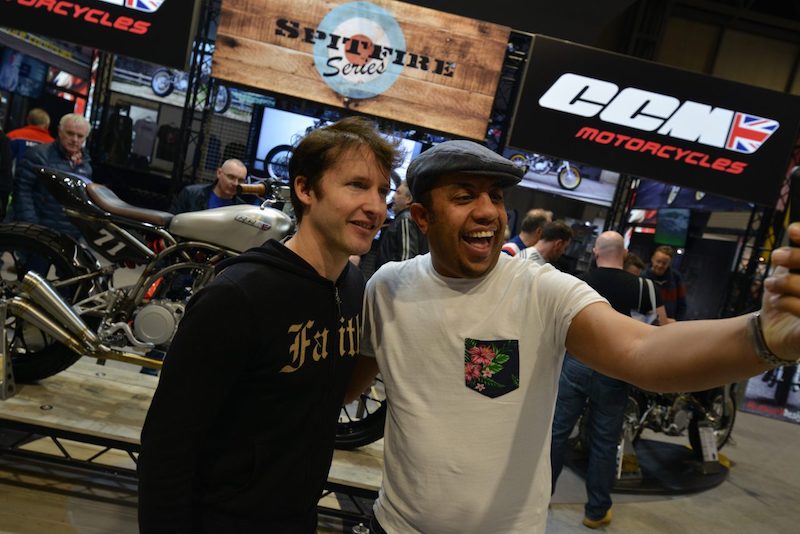 Classic Feature
The National Motorcycle Museum will be presenting a number of classic bikes for public display. The museum itself is situated just across the street from the NEC, so if you're interested in seeing the full-display, you're only a five-minute walk away. Bikes that are due to be shown include but are not limited to: a 1998 1500cc Norton Nemesis, 1943 350cc Triumph 3TU Prototype, and BSA Isolastic Prototype.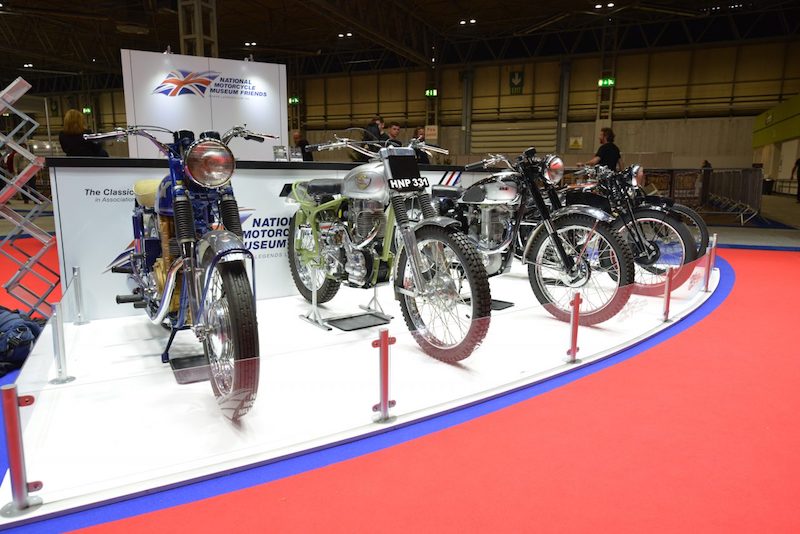 Moto Cirque and other new additions
New for 2018 and definitely the most intriguing of content to hit Motorcycle Live is Moto-Cirque. This Cirque du Soleil inspired extravaganza is set to bring 'high-tech thrills' with professional street bike, BMX, and motocross riders performing in choreographed showcases.
Expect a mix of colourful lights and lasers, as riders perform on brand-new layouts designed for this event. Performances for this exciting new spectacle will take place regularly, with two showings from Monday to Thursday (12pm and 2pm), and three showings on Friday (12pm, 2pm, and 3:30pm) and the weekend (11:30am, 2pm, and 3:30pm). Moto-Cirque promises not to disappoint.
Another new addition is Pipe Werx, Exhausted and Baffled. A competition held every day at 2:30pm, with host Jamie Whitham judging all contestants. The challenge set to all competitors is to see how fast you can change an exhaust after putting on lots of overalls. There are plenty of prizes to be had as bikers duke it out to see who can be crowned champion. To sign up, simply speak to one of the Blackhorse staff at the show.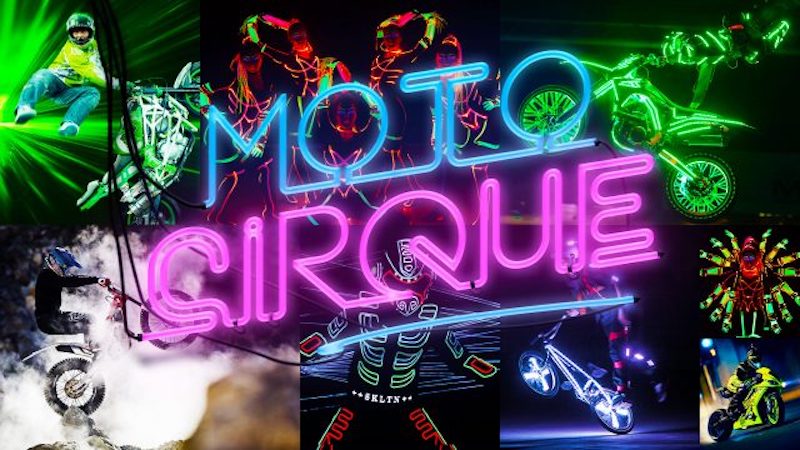 If that's not enough, to top it off ABR will be attending Motorcycle Live with our very own stand for all nine days, offering deals on subscriptions and other merch.
Motorcycle Live takes place from 17-25 November, with tickets now available to purchase. A standard adult ticket goes for £25.00 on the day, but if you pre-book tickets the price is only £19.50. We hope to see you there.
Are you attending Motorcycle Live 2018? Is there a certain bike you're excited to see? Let us know.