When it comes to switching out the worn tyres on your motorcycle after many happy miles, do you stick with what you know or should you go with a different type of tyre?
It's a dilemma I faced recently after discovering that the hoops fitted to my Honda Africa Twin were perilously close to the end of their legal life. And, with an eight-day, 2,000-mile tour of Scotland looming, it was a decision I had to make quickly.
Although the tour would mostly involve tarmac riding, I regularly take the Africa Twin on along green lanes, so I was keen to look for a tyre that would provide plenty of grip off-road, particularly with the wet winter months rapidly approaching.
That's why, with the help of tyre manufacturer Mitas and the good folks over at The Bike Tyre Store, I found myself riding in the direction of Scotland a few days later, equipped with a new set of rubber in the shape of the Mitas E-07 adventure tyre.
Mitas' 50/50 offering is designed to perform equally well on- and off-road and they didn't take long to impress me.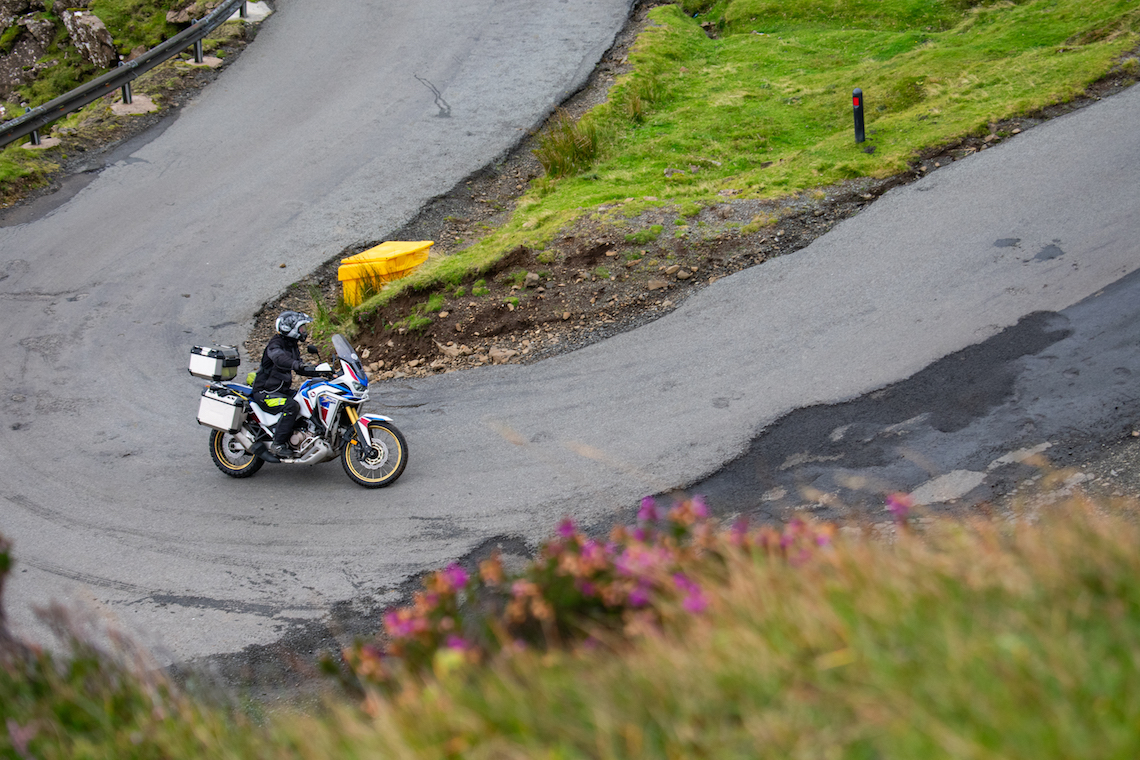 Mitas E-07 first impressions
While the M40 may not be the most fitting introduction to life for an adventure tyre, the sad truth is that the majority of the 9,000 miles wracked up on the Africa Twin's clock have been covered on motorways and A-roads. So, it was with some relief that I found the Mitas E-07 performed well at high speeds.
This was partly down to its closed block tread pattern which means there is a narrower gap between the blocks than you might find on other knobblies, particularly along the centre strip of the tyre. This led to a smooth ride with little vibration and it also helped the bike to stay planted and stable at higher speeds.
This also helped when it came to road noise, which can often be an issue with knobbly tyres. I was able to detect a slight hum at around 60mph but this disappeared entirely, or was at least drowned out by wind noise, when I reached higher speeds.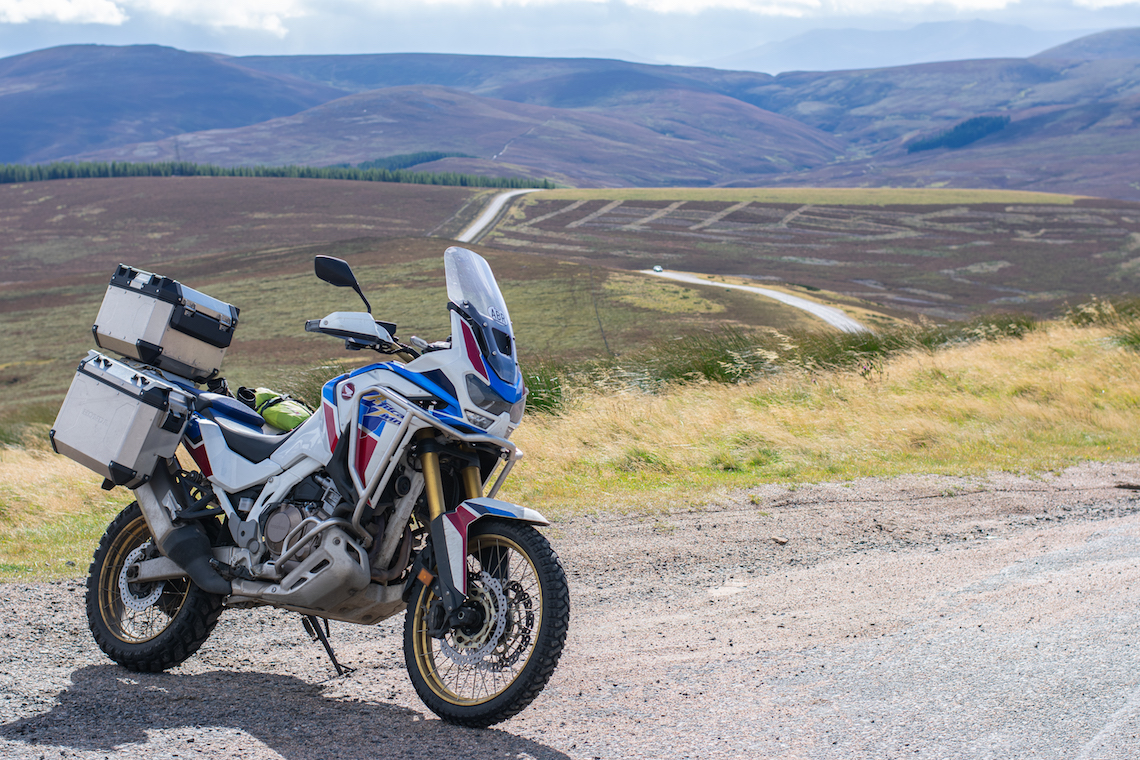 Performance in the twisties
With the motorway happily in my rear view mirrors and some fantastic Scottish tarmac ahead of me, the Mitas E-07 tyres really started to come into their own. I was pleasantly surprised at just how hard I could push them in the twisty bends and I was still finding grip as l leant further and further into turns.
The bike stuck to the road like a limpet and at a fuel stop I took a closer look to double check that the team at Mitas hadn't sneakily equipped mine with minuscule suction cups in place of the big blocks (they hadn't).
This impressive performance continued when the rain fell, as it did regularly during my time north of the border. From experience, it's during wet weather that I've found similarly rated adventure tyres lacking, particularly when cornering or under hard braking.
But, with the E-07s fitted, it was in fact my riding partner, riding on road tyres, who  was asking me to slow down over our shared intercom as I flew ahead, carving through the bends with a huge amount of confidence. No matter how hard I pushed the Africa Twin in the corners, I just couldn't find the limit of grip before reaching my own limit of courage.
Of course, I had to exercise some caution when braking hard in the wet, with the skinny front tyre hauling more than 250kg of bike to a stop, but I was happy to not feel the familiar slip of ABS kick in during my time away.
Although they come with a 50/50 label, the E-07s certainly didn't feel like a major compromise when it came to performance on the tarmac. So, how does such a strong tyre on the road perform off it?

Off-road
After returning from a successful outing on the blacktop, I was keen to test the tyres on some local green lanes.
After all, a 50/50 tyre is all about compromise and, since I'd struggled to find much evidence of the c word on the road, perhaps it would be evident off of it. Once again, I was very impressed.
Sure, more aggressive knobblies would perform better off-road, where the larger blocks and wider gaps in between them provide more bite and grip in terrain that offers less traction, but the E-07s still provided ample traction.
From rutted green lanes, long gravel trails, and slippery water crossings, the tyres carried a heavy Africa Twin and rider through some pretty challenging terrain. Although I did notice the rear tyre had a tendency to kick out a little bit more, likely due to the close block tread I mentioned earlier on, the well-spaced blocks at the edge of the tyre would always grip in and keep things from getting too out of shape.
Ultimately, the Mitas E-07 tyres performed very well off road. In boggier muddy areas, they slid around more than a chunkier knobbly would, but they still got me through those sections without fuss.
When it comes to longevity, the tyres have also performed well over 4,000 miles and I'd estimate there are at least another 2,000 miles of life left in them. It's also worth noting that well over half of these have been done fully loaded for touring or with a pillion on the back.
Conclusion
For riders looking for a tyre which will match the versatility of their adventure bike, I'd strongly recommend checking out the Mitas E-07. It's grippy and confidence-inspiring off-road, extremely good at high speeds, and sure-footed in the rain.
This combination has ensured that I haven't compromised on road performance, which will always be a key factor with the tyres that I choose for my bike, while also offering a confidence-inspiring hoop when my adventures take me off-road. Mitas has delivered a tyre that can do it all very well and, should I find myself needing another set of tyres before my next tour, I won't be looking for anything different.