Veteran overlander and best-selling author Sam Manicom was first to take to the stage at ABR Nights 2, sharing stories of the unique experiences he gained and the diverse peoples he encountered on his bike trip across the length of Africa. Sam, who is well known in the world of adventure and motorcycle travel, told of his journey across the continent, including through Egypt, Sudan, Kenya, Ethiopia and Uganda. Sam vividly recounted the highs and lows of his journey and the incredible people and cultures he met along the way, to a captive audience of ABRs and local folk alike.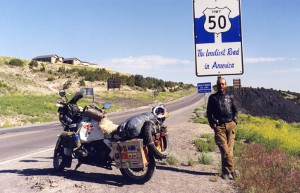 After a brief interlude and a chance to drink and socialise with fellow ABRs, our second speaker, adventure rider Norman Magowan, shared his own experiences of his amazing 35,500-mile ride through the Americas, from Chile to Alaska, with his wife Maggie. Norman richly described the various cultures and environments he encountered during his 15 month trip and also addressed and allayed the concerns of fellow ABRs who may be thinking of embarking on a similar trip, much to the interest and delight of the audience.
ABR Nights 2 was a truly insightful, entertaining and thoroughly enjoyable evening and as with the first of our ABR Nights, audience members were booking tickets for the third and final ABR Night which will be held on Wednesday 11 July 2012, also at the Riverbank Restaurant. Our guest speakers will be ABR legend Ted Simon and Dutch world travelling ABR, Sjaak Lucassen – a night of adventure not to be missed!
Following the sell-out success of the first two ABR Nights, early booking is recommended for the third and final ABR Nights event, to avoid disappointment. Drinks and refreshments will be available. Family and friends are welcome. There is also ample parking.
Tickets are £8 in advance and £10 on the door.  For tickets, please call 01789 450 000