Could the future really be electric? Mike Beddows certainly thinks it's a strong possibility as he heads to Cheshire to ride the KTM Freeride
I was invited to E-scape, the UK's first all-electric off road riding centre, to ride KTM's flagship electric motorbikes, the Freeride E-SX and the Freeride E-XC. After spending some time researching electric bikes I attended with an open mind, but I have to admit I couldn't really think of a market for the 'future' of motorcycling. While listening to KTM's presentation about the machines I wondered if the current market was something that I had overlooked in my brief investigation. Sure enough, KTM revealed that the bikes were aimed at the wealthier customer, the kind of person who would use an electric bike as his second or third bike, and even had a decent sized plot of land to ride on.
This seemed like a very limited market to be trying to satisfy but during the presentation I got to fully understand KTM's dedication to getting in on the ground floor with electric bikes and I applaud the company for its foresight. After a few moments something clicked. The future could actually include electric motorbikes. There will definitely be a market once the few flaws are rectified, and this will come as the technology becomes increasingly available. KTM's strategy of entering the market seems to me to be a very wise move. Presentations over, and philosophical mullings about the future of motorcycling done, I was allowed as much bike time as I wanted.
Meet the bikes
KTM had supplied both the Freeride E-SX (motorcross) and the E-XC (enduro) for use on the day. They both share the same motor and chassis but the E-SX is made for closed circuits only, whilst the E-XC is road legal. The bikes are light, with the E-XC being the heavier by 4KG at 110KG and this includes the battery pack which weighs 27KG. The batteries are charged using standard 240v electric sockets and charge, from flat, to 80% in 50 minutes, and 100% in 80 minutes – a fully charged battery will give you roughly 30-40 minutes of riding time, depending on how hard you ride. The battery of the Freeride has a service life of up to five years, or 700 charges.
They don't come cheap either; hence KTM's marketing strategy of targeting the wealthier person, the E-XC road legal coming in at a wallet breaking £10,299 (£6,700 for the bike which seems fairly reasonable but then you have to add £2,900 for the battery and £700 for the charger). The bikes have three power settings, the first being ideal for beginners; twist the throttle and there is a slight delay in the power output, the second setting is for more general use, and the third setting is extremely responsive; twist the throttle and the power is there instantly with no lag at all.
What's to like?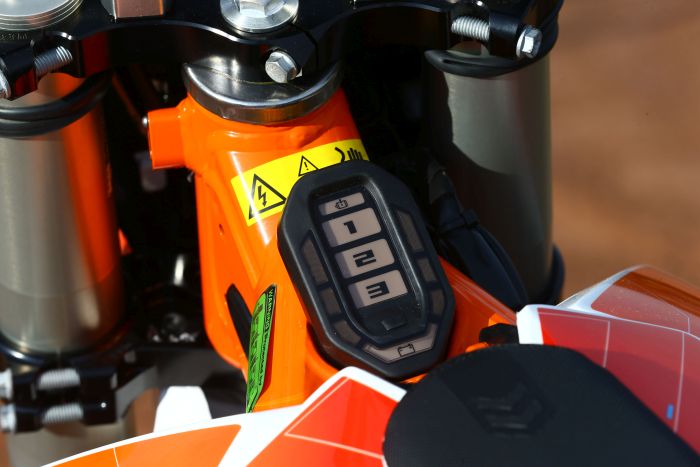 The obvious advantage of an electric bike is that there is no clutch or gears. It's a simple case of twisting the throttle to go, allowing you to put more thought into actually riding the bikes than gear selection when getting some air or riding into corners. The bikes are very low maintenance, the electric motor is a sealed unit though any repairs will have to be done by KTM. The absence of a clutch and gears means that the rear brake lever has been moved to where you'd find a standard clutch lever, allowing for left hand braking. It's a neat function and while it can take a while to get used to you realise that it's just like riding a pushbike.
In terms of power availability you can buy as many batteries as you can afford (though at just under £3,000 it's not likely to be many) and it's a simple couple of minutes to swap dead for charged and then you are up and running for another 30-40 minutes.
The bikes are silent running and not intimidating, something that would be a big plus when riding green lanes that are popular with walkers and horse riders, and for the environmentally conscious it's great to know that they emit zero emissions. Having three power settings makes the bikes suitable for beginners to experts.
What's not to like?
While you can swap the batteries over, if you're only riding with one then you'll find that the battery life is not particularly good and in my eyes this is the main flaw of the Freeride. E-scape sell 25 minute sessions on the track and this is largely down to the battery losing all of its charge within 30-35 minutes depending on how hard the bikes are ridden (normal sedate use may see 45-50 minutes from a battery).
This wouldn't be such a problem if you could charge on-the-go, but as it is the battery charger is big and bulky, meaning it cannot be carried on the bike. With this in mind the rider may need more than one charger in different locations if an A-B ride is required.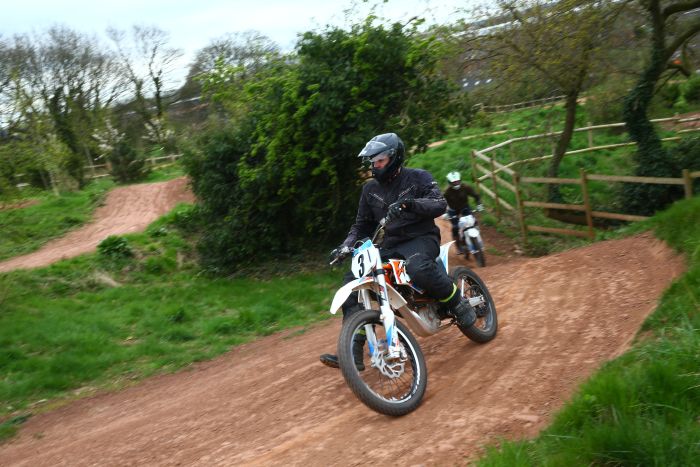 The verdict
The Freeride is a fantastic bike to ride. It's extremely simple to grasp the basics; after all, if you can ride a pushbike then you will be able to ride an electric motorbike. It's surprisingly nippy (even though it has a top speed of only 70kph (43mph)) and riding off-road is really good fun. It didn't take long to gain confidence in the saddle to attempt to drift around corners, and get some air from the numerous jumps at E-Scape. The killer question, would I buy an electric Freeride? Once the flaws have been ironed out then yes, yes I would. I can certainly see myself owning an electric bike in the future.
Is this the future of motorcycling?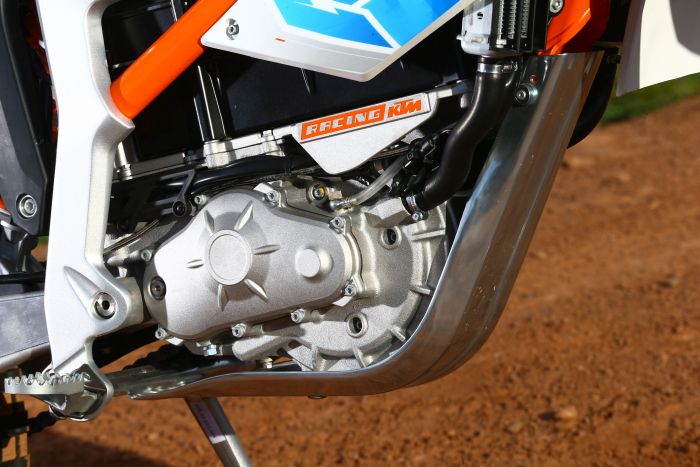 Battery sizes, or more importantly, increased battery life will improve as technology in the field of electric bikes gains momentum. I can see battery sizes shrinking, maybe even to the point that small additional batteries can be carried by the rider. It's also plausible that charging technology will get smaller and easier to carry as well. This, along with the battery, should give the rider a longer range, hopefully a full day, and at the end, whilst enjoying a meal in a bike friendly pub, or overnight in a B&B the batteries (or bike) can be plugged in to charge for the following day.
I can see the city worker using an electric bike to commute to work. Zero emissions and silent running in towns should drastically revolutionise commuting as we know it, while also making green laning appear more 'friendly' and less intimidating to those without motorcycles. The bikes are extremely nimble and easy to ride as well, and this should result in more people riding bikes rather than relying on cars and public transport. I predict a new future, and it's electric…
The venue
E-scape, located only half a mile from J11 of the M56, is the UK's only dedicated electric off-road riding centre. They have a beginner oval where novices can get to grips with the basics, a beginners loop, and an advanced loop which we had access to with the Freeride. There are plenty of tight corners and jumps and a few decent straight sections to really get some speed up. It should be pointed out that E-scape is more of a family orientated venue and not one where racing will be tolerated. It is a great place to learn, and the venue offers various reasonable priced classes to get riders up to speed. In fact, a couple of days after the KTM event I revisited E-scape and took my daughters, Amy (12) and Kate (9) along for their initial training. The tuition was excellent and my kids can't wait to go back, neither can I. Check out E-scape for pricing and the sessions on offer.
Quick specs
Freeride E-XC
Motor: Permanent magnet synchronous motor in a disc armature design
Max performance: 16kW (22bhp) @4500 rpm
Torque: 42 Nm from 0 rpm
Battery: Lithium-ion KTM PowerPack
Voltage (rated/maximum): 260V/300V
Charging time: 100% – 80 minutes / 80% – 50 minutes
Seat height: 910mm
Front wheel/rear wheel: 21"/18" Giant Rims
Weight: 110kg