Behind closed doors, at a research and development facility in the bustling Indian city of Pune, two new mid-size adventure bikes from KTM and Husqvarna are being developed, which the manufacturers hope will capture the imaginations (and wallets) of riders around the world.
That R&D centre is owned by the Bajaj Auto, one of India's leading motorcycle manufacturers, whose line up of small capacity machines account for more than 2 million sales each year.
Bajaj Auto also owns a stake in KTM and Husqvarna's parent company, KTM Group, which explains why the Austrian and Swedish brands' new 500cc parallel-twin adventure bikes are being developed in India, with the support of KTM and Husqvarna engineers.
What can we expect from these mid-size adventure bikes?
Currently, details about the bikes are scarce, but we can expect the new KTM motorcycle to be called the 490 Adventure which will slot it nicely between the 390 Adventure and the 790 Adventure in KTM's current line-up.
And, Husqvarna's new 500cc adventure bike, likely to be known as the 501, will be a smaller version of the stunning Norden 901 concept bike we saw at the EICMA motorcycle show last year that is slated for a 2021 release.
The 500cc parallel-twin engine will also be used in a number of road-based models, including in a new KTM Duke.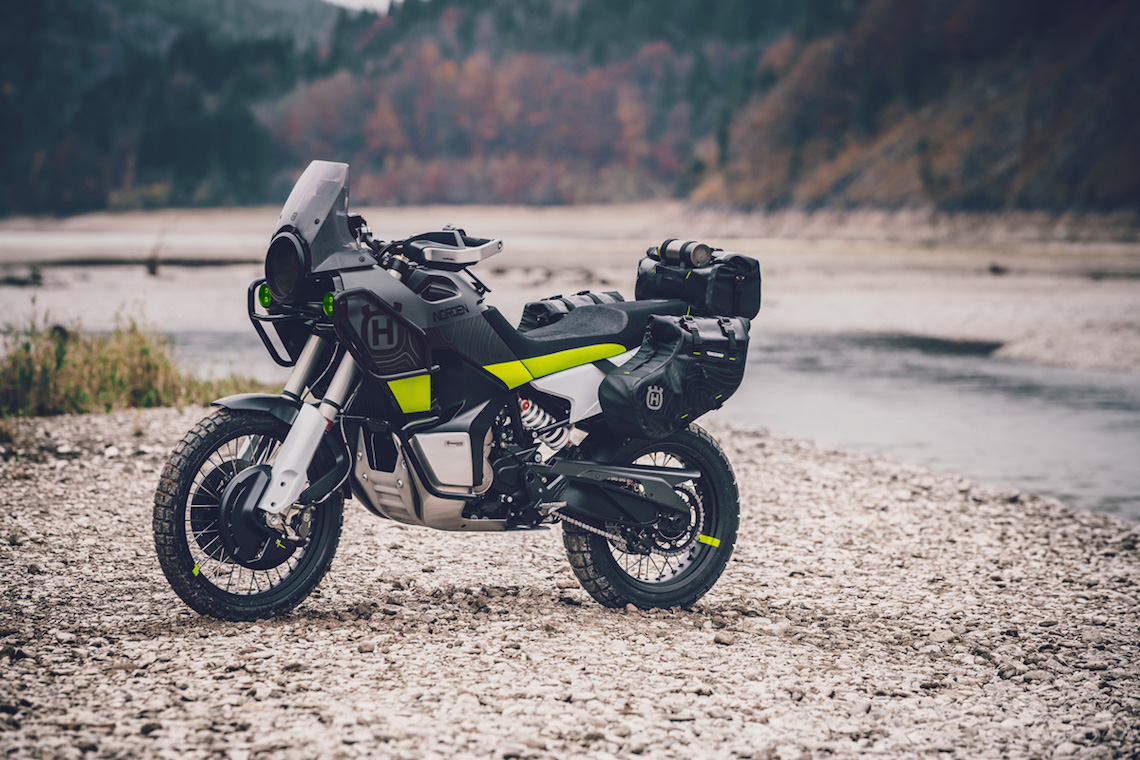 Husqvarna Norden 901 concept bike
KTM Group no doubt has its sales targets firmly fixed on emerging markets around the world where smaller bikes are more commonly ridden than larger capacity machines, and where the new 500cc motorcycle will be sold as a premium product.
However, here in the UK, they may well offer a solution for riders looking to step down from a larger bike, or younger riders wanting to take their first steps into adventure biking on an A2 compliant motorcycle.
If KTM and Husqvarna can combine light-weight versatility off-road, with comfort, performance and reliability on the asphalt, we may have a mid-weight hit on our hands.
And, we won't have too long to find out, with Stefan Pierer, the boss of KTM group, saying at least one of the new models could be introduced as early as 2022, in an interview with Le Repaire des Motards. 
Test ride every adventure and touring bike in one venue
Looking to buy a new bike? Perhaps you'd like to leave your decision until after you've gone for a test ride. In that case, the Adventure Bike Rider Festival 2021 is the place for you.
Ever major manufacturer will be in attendance, all with a full range of gleaming test bikes just begging to be ridden throughout the day.
Pick up your discounted tickets and save £10 by clicking HERE. Previous years have always sold out, and 2021 will be no different, so book today to avoid disappointment.