A new arrival for the next few weeks as the 1190 Adventure R arrives at ABR HQ. First impressions are really positive; it feels light, agile, manageable; a very different bike to the R1200 GSA that we've also been riding in recent weeks.
Being the R model (as opposed to the standard Adventure model) it has the 21-inch rear wheel, 18-inch rear wheel, increased ground clearance, shorter screen, wider bars and, on this bike, the knobbly tyres. It doesn't however come with the electronic suspension of the standard bike, but is still fully adjustable, with four different riding modes (rain, street, race, off-road) easily switchable using the thumb controls on the left hand.
New arrival at ABR HQ: the KTM 1190 Adventure R
Peak power of 150bhp gives the bike plenty of pace, with it much further up the rev range than on the GSA. Hard to say how it handles on the road given that it's running the knobblies, but everything hints at it being a massive amount of fun. The controls too are good. The clutch is light, the gearchange clean and precise.
Where it lacks compared to the GSA is the screen protection and road presence. For long distance two-up cruising the GSA is still hard to beat, but for actual, real-world adventure, off the beaten-track, even on the initial first ride back from the KTM offices, you'd have to say the Adventure R is more useable, not to mention more exciting bike. Looking forward to covering more miles on it, with the KTM, and the GSA, both heading for Nice in France, courtesy of FlyBikeFly. The plan is to do a proper comparison between the bikes whilst we're out there for issue 22 of ABR, due out end of April.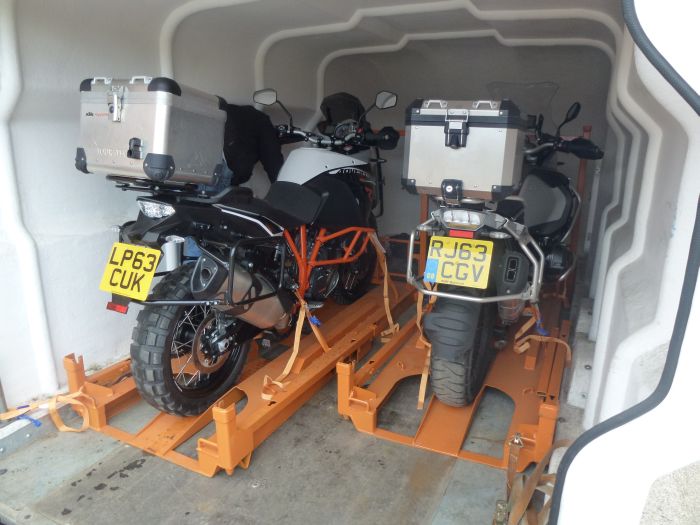 The bikes being loaded up by FlyBikeFly to be taken to Nice