Kawasaki has unveiled a new KLR650 for 2022 in the North American markets, reviving the cult classic dual-sport motorcycle that has captured the hearts of plenty of adventure bikers.
The iconic bike, which was originally launched in 1987 and was previously redesigned just once in 2008, proved popular with riders who looked for a simple adventure bike with bullet-proof reliability. It was finally taken out of production in 2018 but will return next year with a number of updates compared the previous model.
However, it seems Europe-based fans may be left wanting, as there's been no news released on whether the new model will be sold on this side of the pond. Indeed, North American bikers will also have to wait, with the model set to be released later this year or early in 2022.
So, what's new on the 2022 Kawasaki KLR650?
Fuel injection for the single-cylinder, 652cc engine
New digital instrument panel
LED headlight
Optional ABS
Larger front brake disc
Re-designed bodywork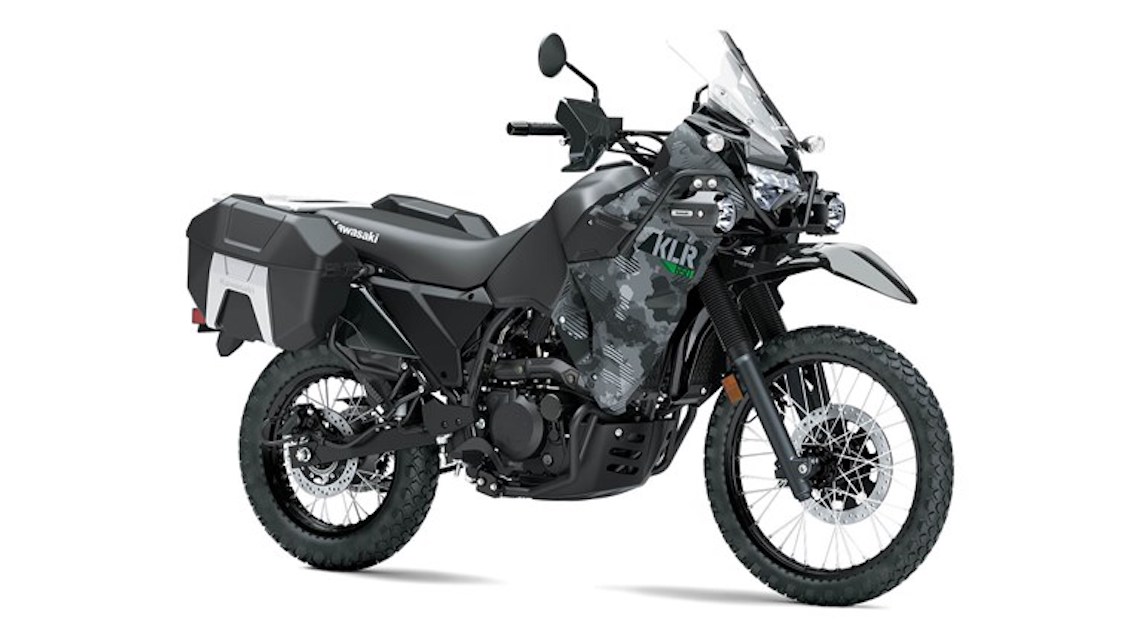 Kawasaki KLR650: What's new?
Kawasaki's tried and trusted 652cc single-cylinder, liquid-cooled engine now comes with fuel injection for the first time. Kawasaki claims that this change will allow the KLR650 to cover more miles between fill ups, especially when combined with what it says is more 'useable volume' in the 23l fuel tank, which it has achieved by placing the fuel pump directly underneath the tank.
The manufacturer also says revised cam profiles and changes to the exhaust pipes also result in improvements to low and mid-range power and torque. Alongside these tweaks, the Japanese manufacturer has made changes to the five-speed gearbox, which it claims makes for smoother and lighter shifting.
The most notable new addition is ABS, although Kawasaki is yet to announce if it's switchable or not for off-road use. For the purists, models will be available without the rider aid. The inclusion of ABS also means the bike could be sold in European markets, where it's been a legal requirement on new bikes since 2013, although there's no word yet on when, or even if, this could happen down the line.
Up front, there's a new single 300mm brake disc that Kawasaki claims delivers more braking power, while at the rear the disc has been thickened to improve heat dissipation under heavy braking.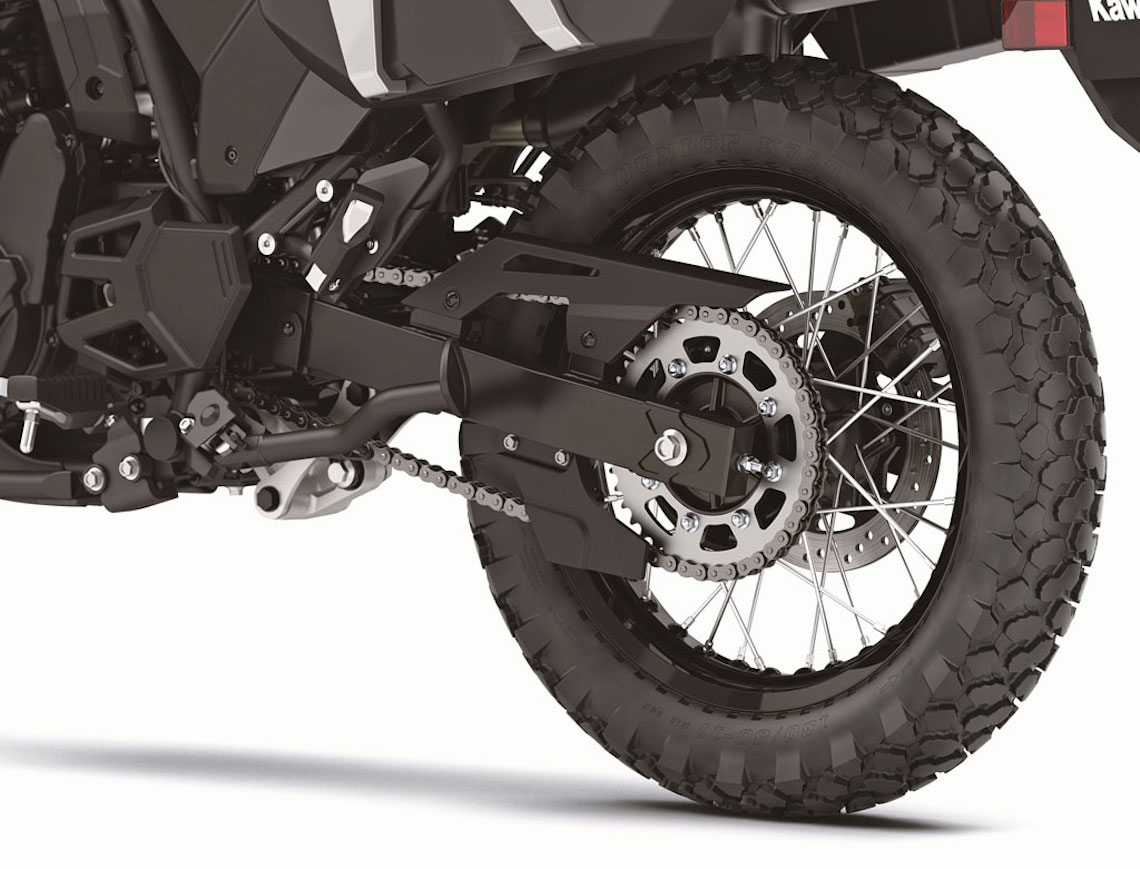 When it comes to chassis changes, there have also been a few tweaks that should improve the KLR650's mile-munching capability. Kawasaki claims a new rear subframe, which is now integrated with the main frame rather than bolted on, will improve performance on the tarmac by increasing torsional rigidity. The swingarm is also 30mm longer, which the manufacturer suggests will improve handling while cruising on tarmac, by providing a longer and more stable wheelbase.
Alongside this, the handlebars and footpegs are now rubber-mounted to reduce vibration and increase comfort in the saddle during those long cruises on the motorway.
Suspension remains the same as the previous model, with 41mm forks providing 200mm of travel at the front, while an adjustable Uni-Trak system at the rear provides 185mm of travel. Tyre sizes also remain the same, with a 21-inch front wheel and a 17-inch rear, both of which fit tubed tyres. This all points toward the KLR650 being more than capable of tackling some gnarly terrain off-road.
However, the new bike has undergone some weight gain. The entire ensemble now weighs in at almost 207kg, an increase of almost 11kg from the previous model. This may concern some riders who prefer to stick to trail riding, where the extra weight will no doubt be more noticeable.
On the electronics front, the bike remains almost as spartan as previous models. LED headlights now light up the road ahead and there's an all-new LCD screen, which looks a little like a digital watch from the '80s. It may look old-fashioned but it features the basics of a speedometer, odometer, trip metres, fuel gauge, a clock, and indicator lamps. For bikers looking for a few extra creature comforts, heated grips, a USB socket, and LED auxiliary lights are all available as optional extras.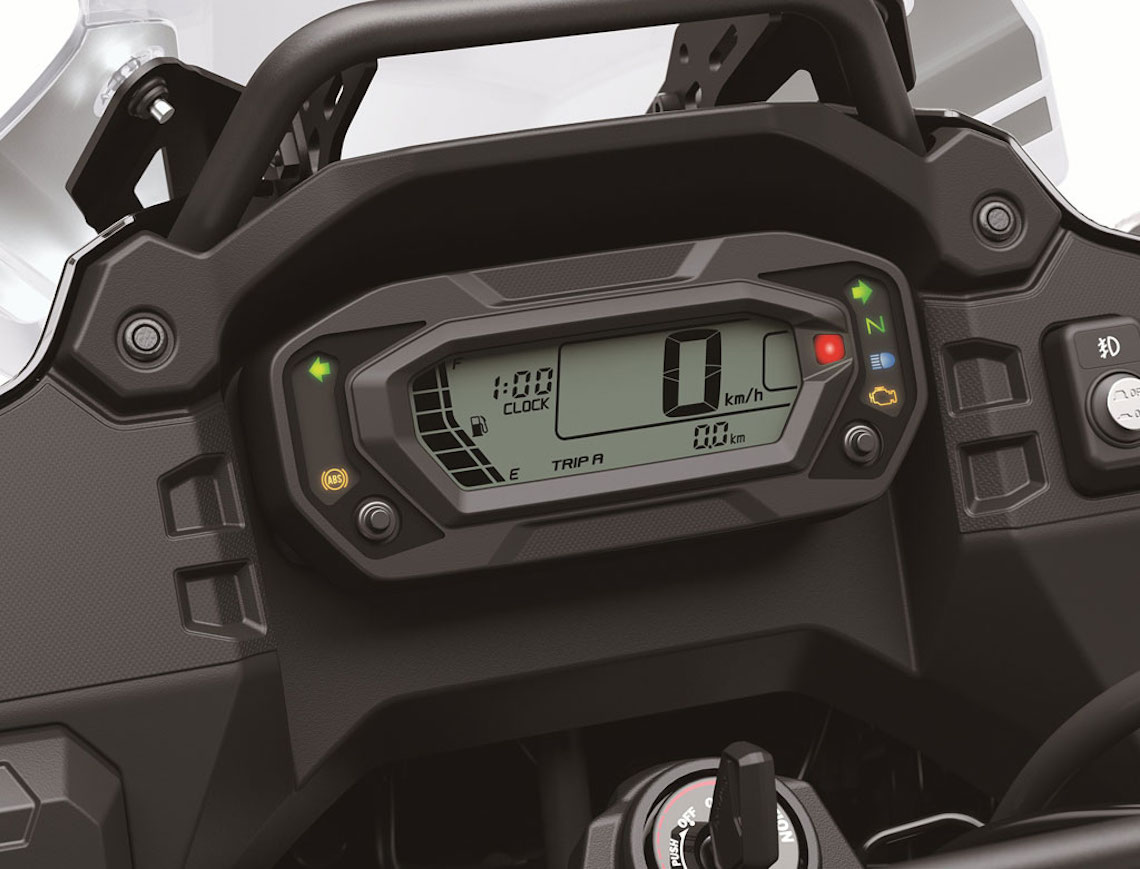 Will we see it in the UK?
The big question is whether British riders will be seeing the new KLR650 in the UK any time soon.
Due to European emissions laws, the KLR650 wasn't sold on this side of the pond. And, despite there undoubtedly being a market for a no-thrills adventure bike like the KLR650 in the UK and Europe, there's no news of this happening yet.
This is a shame as, judging by the American pricing, the KLR650 ABS would set you back $6,999, or just over £5,000. That's seriously good value for a new adventure bike, putting it into competition with the likes of Royal Enfield's Himalayan.
You can watch the KLR650 in action below: