Remember that training montage in Rocky IV? You know, the one where Sly's running through the Russian wilderness. There's snow up to his waist, Hearts on Fire providing the soundtrack, and every so often the camera cuts to shots of him chopping wood, doing sit ups or shoulder pressing a wagon…
I don't know about you, but whenever I watch that, I feel an incredible urge to put on my sweats, run around the block and shout 'Dragooooo' from the top of a mountain. It lights a fire inside me and for the next few days I picture myself losing my belly and fighting juiced-up Russians.
That sort of raw motivation and inspiration is hard to come by, but when you find it, boy is it special.
So, how do you take that feeling and transfer it to adventure motorcycling? It's definitely true that sometimes the only thing you're missing to fuel your next adventure is that flash of inspiration. That Rocky IV montage.
Watching epic videos, reading well-written travel reports, or even staring at iconic images will help stir that emotion. But there's nothing quite like hearing tales of adventure from the mouths of those who have lived them to get you inspired, motivated, and ready to plan your next big trip.
That's exactly what you'll find at the 2021 Adventure Bike Rider Festival. On the weekend of 25-27 June 2021, 12 of the most inspiring, entertaining, and downright excellent adventure motorcyclists will be joining us in Ragley Hall, Warwickshire ready to share their tales from the road with you.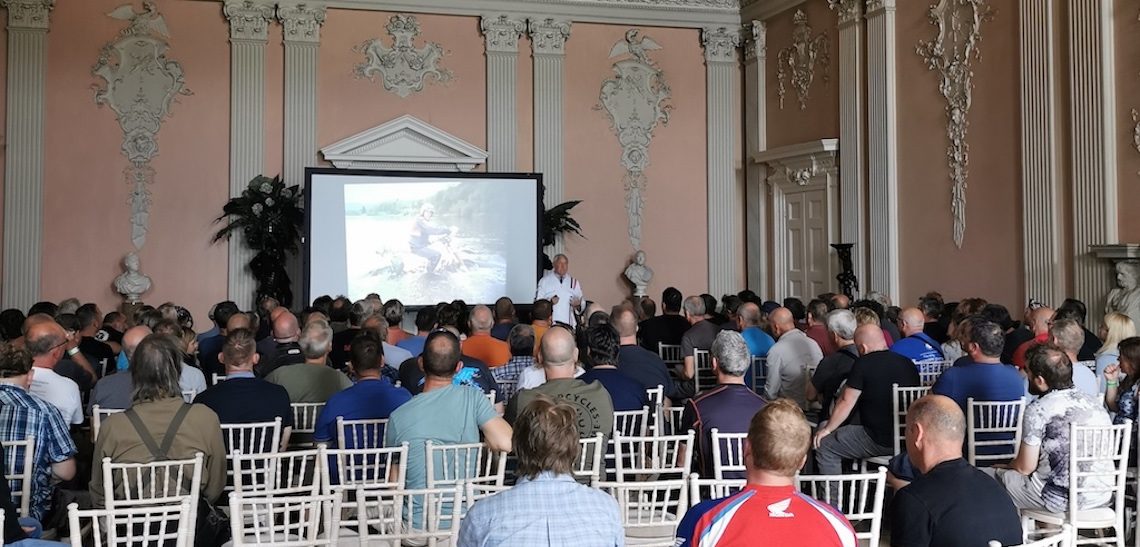 Tales like:
Riding to the frontline with ISIS in Mosul, Iraq
Becoming the first British woman to motorcycle around the world
Living life on the road for 16 years
Motorcycling through the wilds of Siberia in the middle of the Russian winter
Engineering a raft out of a BMW GS to sail around the notorious Darien Gap
Touching tyres on all seven of the world's continents, including Antarctica
These talks will be held in the Great Hall of the Ragley Hall, the ancestral seat of the Hertford family, and entry will be free to all festival goers.
The Adventure Stage is just one of many attractions at the Adventure Bike Rider Festival. There will also be a purpose-built on-site 20km-long adventure trail, test rides of all the latest adventure bikes, guided road and green lane rideouts and much more. To find out more about the ABR Festival and what's going on head to this page.
Who's talking at the 2021 Adventure Bike Rider Festival?
It is a pleasure to announce that, over the weekend, the following adventure motorcyclists will be holding sessions on the Adventure Stage. 
Elspeth Beard
First British woman to motorcycle around the world.
Billy Ward
Adventure motorcyclist and Charley Boorman's manager.

Austin Vince
Creator of Mondo Enduro and enigmatic motorcycle adventurer.
Simon and Lisa Thomas
The couple behind 2 Ride the World, spent 16 years riding around the world.
Chris Scott
Legendary overland biker and author of Adventure Motorcycling Handbook.
Matt Bishop
One half of the Sidecar Guys, first to ride around the world on a sidecar.
Reece Gilkes
The other half of the Sidecar Guys. Went around the world in a sidecar.
Sam Manicom
Motorcycle travel author who rode around the world for eight years.
Steph Jeavons
First woman to motorcycle on all seven continents (yep, including Antarctica).
Dylan Wickrama
Sri Lankan adventurer and author who famously sailed around the Darien Gap on a raft powered by his BMW GS.
Spencer Conway
British adventure motorcyclist and star of African Motorcycle Diaries.
Ken McGreevey
A true diamond in the rough, Ken's stories of two-wheeled travel will have you captivated and entertained.
Feeling inspired? Get your 2021 Adventure Bike Rider Festival tickets today
Now's your chance to get tickets to the UK's biggest, friendliest, and most inspirational motorcycle festival for a special discounted rate of just £89 (full price tickets are £99) for three days with camping included.
We've only got a handful of these left and once they're gone they're gone, so click the button below to secure your saving. The price of ABR Festival tickets won't be this low again.