When lockdown hit the UK earlier this year it dealt a swift end to any plans, tours, and trips that adventure bikers had pencilled in. Everyone felt the sting, but some decided to take the opportunity to spread positivity amid the frustration.
Two people who did just that were Matt Bishops and Reece Gilks, known as The Sidecar Guys, a duo who travelled around the world on a homemade scooter and sidecar outfit in 2018 and 19.
Their lockdown brainwave was the Armchair Adventure Festival, a weekend-long online event featuring interviews with some of the biggest names in the two-wheeled travel industry.
It proved a stand-out success, capturing the attention tens of thousands of adventurers who found themselves sat at home with no way of keeping occupied. I caught up with Matt to find out what had inspired the online festival and what else they'd been up to since returning from that epic trip.

Riding pillion in South America
The world goes into lockdown
In the year since they've been back, Matt and Reece have been busy. Matt wrote a book about their adventure while Reece set about putting together a short film series that covered the trip. But, as the pair prepared to launch both earlier this year, world events had other plans…
As Matt remembers: "We'd decided we were doing this book and the film, and we planned to launch the book at the ABR Festival. Then it became clear all the events were going to get cancelled, and we realised we had no way of promoting it!"
However, the pair weren't put off by the turbulent events of early 2020. "We thought, maybe we could host our own festival online and we could do it for the NHS. It was the start of lockdown, and it looked like people were losing their minds! So we went for it."
Like a lightbulb going off in his head, Matt had stumbled upon something that adventurers across the world had been crying out for: "I thought the idea up and then couldn't sleep that night, I had to get the ball rolling!" The Armchair Adventure Festival was born.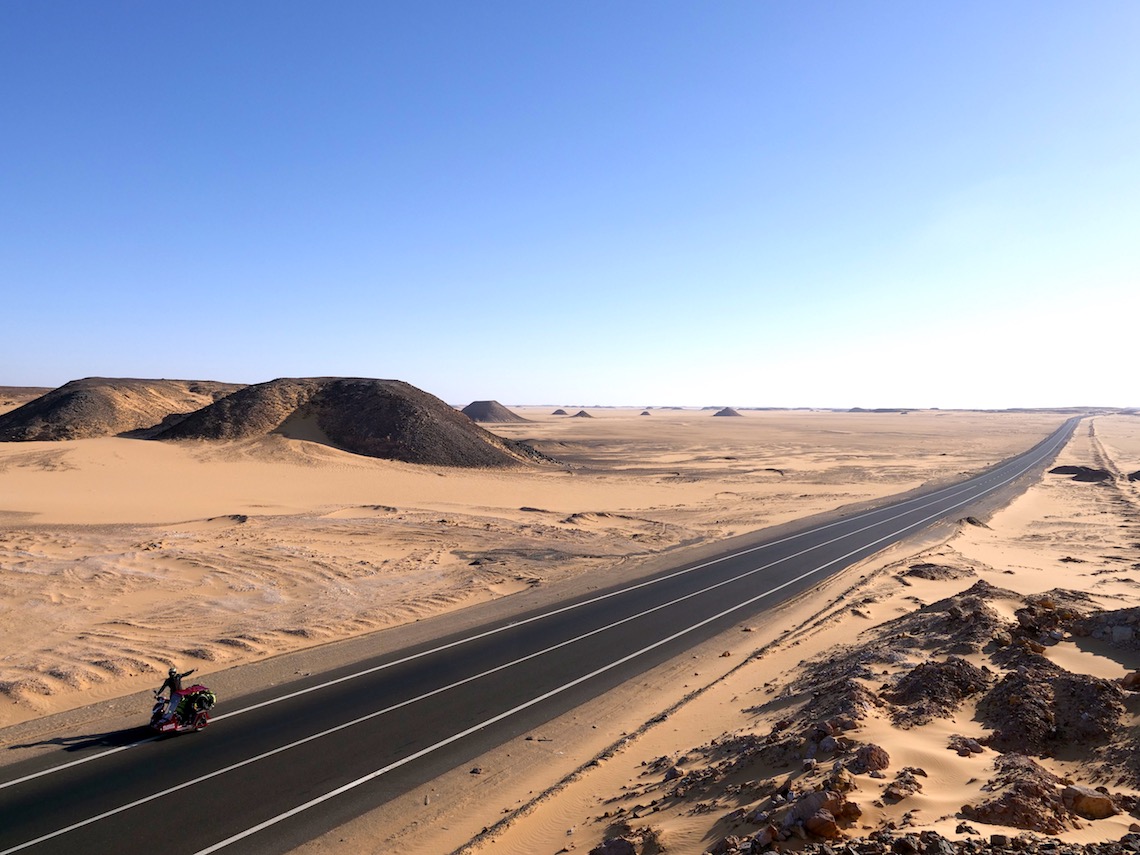 Riding through the Sahara
Inspiring the armchair adventurers
Matt began talking to adventurers who'd helped the pair out with their own RTW trip, but it was a call with Billy Ward that helped them realise just how big their virtual festival could be.
"I called up Billy Ward and said 'We're going to host this festival online and want to raise some money for the NHS'… Billy was all over it, and said 'I'll see if I can get Claudio [Von Planta] and Charley [Boorman] involved'… I mean, these were our heroes!"
The Armchair Adventure Festival resonated with many who found themselves stuck at home as travel plans and tours were cancelled. Quickly social media and biking forums were abuzz with the prospect of something that would beat the monotony of lockdown.
Reflecting on the festival, Matt says: "It was one of those things that was really wanted at the time. It was one way of talking about something positive, raising some cash for a good cause, and not moping around worrying about lockdown."
The festival was a success, and thousands tuned in from around the globe for a weekend of adventure escapism from the comfort of their own homes: "We had 20,000 views on the stream throughout the weekend. And, it raised about £9,600 for the NHS. In fact, we raised more money for charity doing that weekend event than we did riding around the world for 15 months!"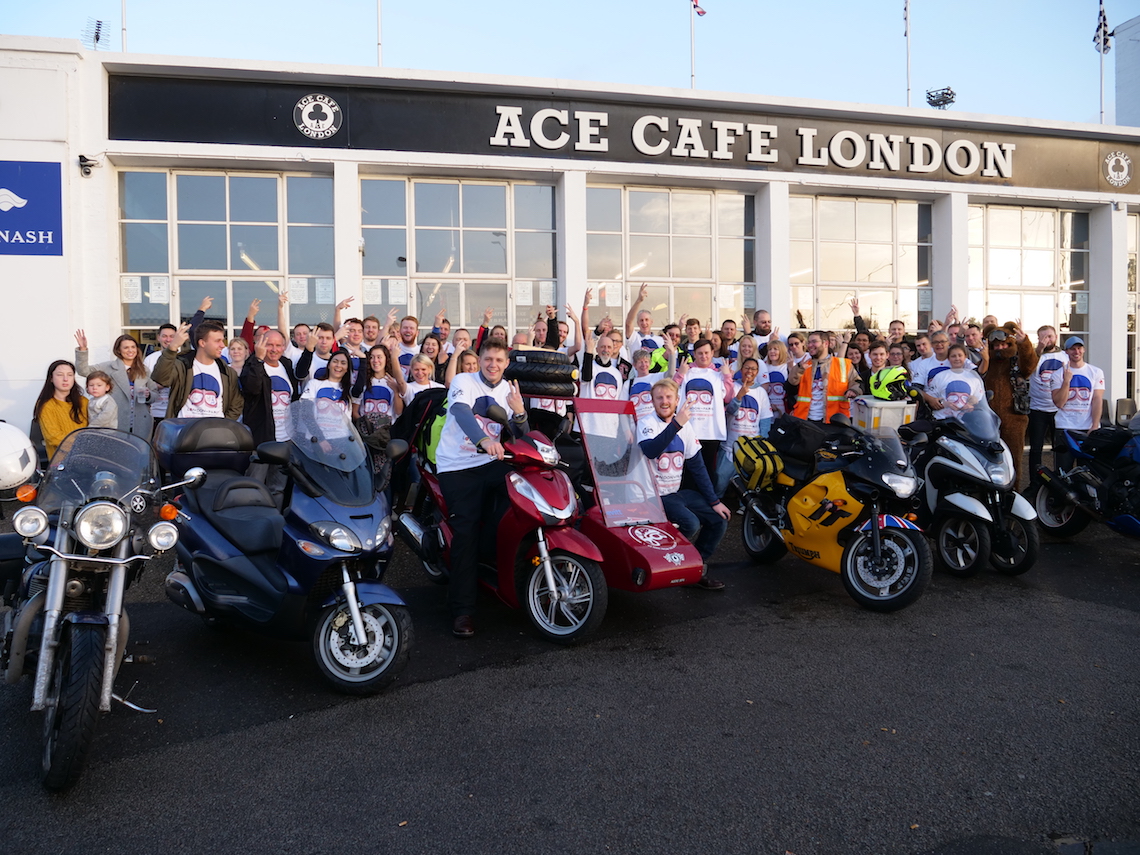 Leaving from London's iconic Ace Cafe
What's next?
After the success of the first Armchair Adventure Festival, the duo plans to put on more online events to keep people occupied during the uncertainty that lies ahead: "We're going to do monthly film nights, and to use winter, which is a bit of lockdown for many bikers, to do another big festival in November."
However, first on the agenda is the release of their brand new book, Our Ridiculous World Trip. Providing a humorous insight into just what it takes to go around the world on a scooter and sidecar, and the amazing stories that come about when you spent 15 months on three wheels. It's already attracted high praise from big names in the adventure biking world, including Ted Simon himself (you can read our interview with Ted here).
Matt is typically modest when we discuss the book: "Hopefully it's a good read. I mean, it's very stupid!" We wouldn't expect anything less from the guys who went around the world in a sidecar, and we can't wait to read their stories from the road.
Paperback copies of Our Ridiculous World Trip are available to buy today HERE, while Kindle versions are available on Amazon.

Hear the boys speak in person
The Sidecar Guys will be presenting at the Adventure Bike Rider Festival in 2021, alongside a number of other big names from the world of adventure motorcycling.
There's still time to pick up a discount ticket, saving you £10 off the listed ticket price. They will sell out soon, so pick one up today to avoid missing out. You can buy tickets HERE.